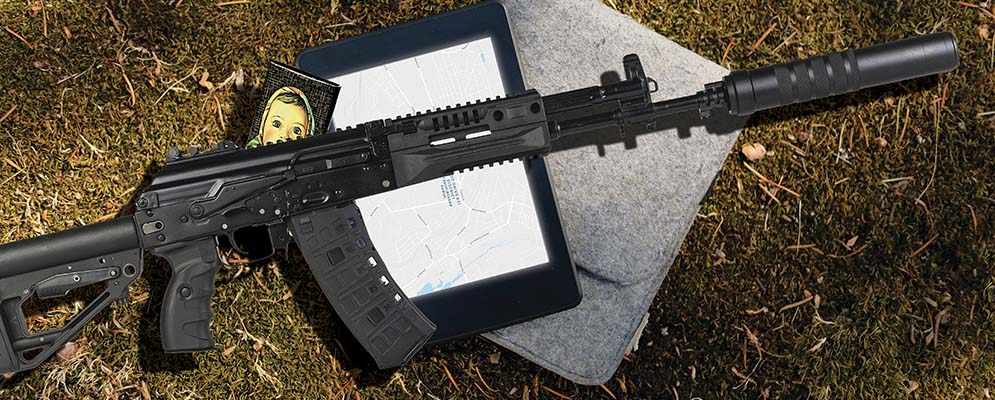 ABOVE: AK-12 right suppressed.

The "Ratnik" Trials
The "Ratnik" trials program was organized by the Russian Army as a result of the "Barmitsa" R&D program that has been conducted since about 2007. The "Barmitsa" (this codename refers to a part of the medieval Russian body armor) program was conducted to bring the Russian Army soldier's individual equipment up-to-date by creating and eventually adopting new combat uniforms for all seasons and geographic areas, new body armor and new communication and navigation equipment. Small arms were not on the list, because Russian Ministry of Defense (MoD) officials reported that existing stocks of AK-74 and AK-74M rifles could sustain the Russian military for many years to come, and there's no reason to waste money on new rifles. Despite that, certain elements within Russian SOF (Spetsnaz) structures sought weapons that would be more customizable and more combat-effective than existing Kalashnikovs.
It must be noted that even the Soviet Army knew that the AK-74 left something to be desired in terms of combat effectiveness (which was usually calculated as integral target-hit probability under various realistic scenarios). As a result, in 1994 the Russian Army adopted the unorthodox and quite complicated Nikonov AN-94 assault rifle, which offered significant increase in hit probability over the AK-74, especially in full automatic or burst fire and from unsupported standing positions. However, the AN-94 turned out to be a problematic child, running into issues with high manufacturing costs and quality control problems during the times when military budgets were especially tight. Only about 20,000 of AN-94 rifles were delivered to the Russian Army before its production stopped some time during the early 2000s.
AK-12 adjustable rear sight.
As the "Barmitsa" program gradually evolved into the more specialized "Ratnik" (Warrior) program, intended primarily to equip Russian SOF, Airborne and Naval Infantry troops, their "lobbyists" with the industry and MoD managed to enter requirements for new small arms into the trials agenda. Because it was initially an SOF / Spetsnaz thing, one major requirement was to deliver new rifles in two calibers—standard issue 5.45x39mm and the old, but still popular among Russian SOF, 7.62x39mm. It must be noted that one important reason why the old 7.62x39mm refuses to abandon the battlefield is that it offers a decent compromise of standard issue "supersonic" ammunition and special-operations-capable "subsonic" ammunition for suppressed use in one weapon. The other reason is that this ammunition is still extremely popular and easily available in most parts of the world.
Late in 2014 officials from TsNIITochMash (Central Research Institute for Precision Machine Building), and leading state-owned organizations responsible for developments and testing of small arms and equipment, announced that two remaining contestants (ZID and Kalashnikov) were selected for initial production of their weapons and for subsequent troop trials in the field. According to the statement, four weapons were to be produced, two from each manufacturer: 5.45mm A-545 and 7.62mm A-762 balanced action assault rifles from ZID and 5.45mm AK-12 and 7.62mm AK-15 from Kalashnikov Group. Following protracted field trials, early in 2018 the Russian MoD announced that it would recommend all four weapons for adoption, with balanced action rifles from ZID intended for the relatively small Russian SOF and Kalashnikov rifles destined for the main body of the Russian military. The latter family is the subject for this article.
AK-15 full kit.
The Rifle
The 5.45mm Kalashnikov AK-12 assault rifle (Official GRAU index "6 ? 70", or 6P70 in Latin script) is a 5th generation Kalashnikov-type rifle which is eventually intended to replace previous generations of 5.45mm Kalashnikov assault rifles (AK-74, AK-74M) in service with Russian and other governmental forces. The AK-12 project was commenced in 2011 by IZHMASH factory (now part of the "Kalashnikov" Group) as a private venture in an attempt to participate in the "Ratnik" trials which were held by the Russian Army.
During these years, the AK-12 rifle went through several modifications. The latest one, which was officially approved by Russian MoD and is described below in detail, was first displayed to the general public during a Russian Army-2016 expo in a Moscow suburb in September 2016. Compared to the previous version, the 2016-style AK-12 is said to be more reliable, more accurate and better suited to the latest military requirements. Its version chambered for a 7.62×39 M43 cartridge received its own designation of 7.62mm Kalashnikov AK-15 assault rifle (GRAU index "6 ? 71").
It must be noted that an earlier version of the AK-12, which was shown to the public in 2015, is completely dropped from future consideration due to cost and certain design issues. While it looked much more "modern" and "ergonomic" than the winning configuration, its ambidextrous controls and switchable charging handle were not sufficient to fulfill military requirements and surpass existing AK-74M rifles in terms of effectiveness, while maintaining similar or higher reliability. The present day AK-12, while looking slightly less "trendy," managed to win trials, fulfill all requirements and win the hearts and minds of the troops who extensively tested it across Russia.
As of this writing (Spring 2018), the Kalashnikov Group is gearing up to deliver first-production batches of AK-12 and AK-15 rifles to Russian MoD, with the first deliveries scheduled toward the end of 2018.
Specifications
Technical Description
AK-12 is a select-fire military weapon firing all existing types of Russian 5.45x39mm ammunition. The AK-15 is essentially the same weapon but adapted for the older, but still very popular 7.62x39mm ammunition, so the description below equally applies to both weapons.
Kalashnikov AK-12 assault rifles have the traditional Kalashnikov-type gas-operated action with long stroke gas piston and rotary bolt locking. The bolt has two large lugs that engage with trunnion, riveted at the front of the stamped steel receiver. Front trunnion, while conceptually similar to earlier generations of the AK, has a different top part with a new receiver cover interface and a new gas tube receptacle. The gas tube is permanently attached to the receiver and has a maintenance plug at the front, where it meets the newly designed gas block / front sight base. What looks like a manual gas regulator is in fact a simple removable plug, but if need arises, it can be easily replaced with a new plug with built-in gas regulator (this could be of particular value for a civilian version, when used by competition shooters). The top cover is also of new design. It is made of steel and has a permanently attached aluminum alloy Picatinny rail on the top. Locking to the receiver is achieved by a captive cross pin, located to the rear of the rear sight base. To remove the top cover, one has to rotate the pin head from its horizontal position and then pull it to the right as far as it goes. After that, the top cover can be separated from the gun. To achieve a stable and durable platform for all types of optics, including relatively heavy Night Vision / IR sights, the top cover has a spring-loaded pin at the rear which engages hook-shaped projections on the receiver. This powerful spring eliminates any play that might otherwise creep in after extensive field use and numerous disassembles of the gun. Because of this setup, the return spring guide is also redesigned and does not have top cover locking projections at the rear. The bolt carrier itself and the bolt are similar to that of previous generations of AK, with the charging handle permanently fixed on the right side of the carrier.
Kalashnikov demo team with AK-15, AK-12 and AK-15K.
The trigger and safety are more or less the same as before, with the addition of a 2-round burst mode (as per "Ratnik" requirements). The traditional Kalashnikov-style safety / selector lever is improved with the addition of a "finger pedal," so it can be easily operated by the index finger or thumb without breaking the grip.
The handguard is made from two lightweight alloy parts, upper and lower, and is attached by cross-pins to the gas tube and front of the receiver, forming a stable and rigid platform for accessories and protecting the barrel from external stresses and bending, because the barrel does not touch the handguard.
The AK-12 is compatible with all previous generations of the 5.45mm AK-74-type magazines, but it is normally seen with a new pattern of 30-round magazine, made from polymer and equipped with small transparent windows that allow easy assessment of remaining ammunition supply. The AK-15 is compatible with all styles of 7.62x39mm magazines used in previous generations, such as AK, AKM or AK-103. New polymer magazines for AK-15 are similar in design to those used in AK-12, but are of a more curved shape.
The rifle is equipped with a side-folding shoulder stock which is adjustable for length of pull. The stock has an all-steel hinge and is durable enough to withstand extensive use of the 40mm underbarrel grenade launcher. Iron sights consist of a shrouded front post, mounted on the gas block, and an adjustable rear aperture sight, installed on the removable base using an upper Picatinny rail. The rear sight has a windage adjustment knob on the right and range scale marked from 1 to 8 (100 to 800 meters in 100-meter increments).
The barrel is chrome-lined, as per long-standing Russian tradition, and is provided with an effective removable compensator / muzzle brake. Depending on the tactical situation, a bayonet or quick detachable sound suppressor can be mounted on the barrel. To further increase combat effectiveness of the rifle, it can be equipped with a 40mm underbarrel grenade launcher such as a GP-25 or GP-34. A cleaning kit and a three-piece cleaning rod are stored inside a shoulder stock tube; the polymer pistol grip has a removable container for small accessories such as spare batteries for a red dot sight.
AK-15K.
What Else?
There was much confusion created by the external similarity of the AK-12 and previous generation of the AK-74M family, upgraded with a "KM-AK" 6Ch63 ("6?63" in Cyrillic) modernization kit, which also adds Picatinny rails and a telescoping / folding M4-style shoulder stock to existing guns. As is clear from the description above, AK-12 is not an "AK-74M with modernization kit." For one, the AK-12 is about 0.5kg (1.1 pounds) lighter than either an AK-74M upgraded with KM-AK or an AK-200 (also known as AK-74M1, a new, factory-made AK-74 derivative with KM-AK upgrades), and its top cover design proved to be more durable and better suited for long-term use of optics and night vision / IR scopes. It is also more effective in terms of target-hit probability, although exact results are still held as confidential by Russian MoD.
A Whole New Family of Small Arms
Recognizing the potential of its new weapons, the Kalashnikov Group is set to offer a complete family of infantry small arms for the Russian military, law enforcement and possible foreign clients. Besides two basic rifles, Kalashnikov has developed two "compact" versions, the AK-12K and AK-15K, which feature shorter barrels and can be handy for CQB operations or as a PDW for vehicle and heavy armament crews. Another offspring of the project is the RPK-16, a magazine-fed 5.45mm squad automatic weapon with removable barrel, which deserves a separate article.