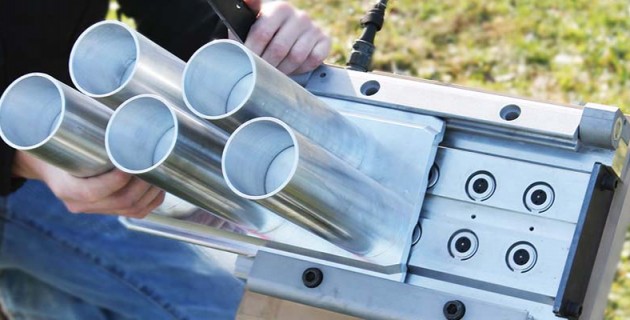 Combined Systems is excited to announce the expansion of its VENOM Non-Lethal Tube Launched Munitions System product line. In 2014 CSI made the push for enhanced capabilities by engineering and releasing two new launching systems.

The patent pending VENOM MC is a high capacity multi-caliber non-lethal launching system that features multi caliber capabilities. Users can now launch 37mm, 40mm, and 66mm non-lethal munitions from one launching system with ease. By simply switching the launching cassette, the remote-operated system delivers a variety of calibers and payloads from the same launching platform.
The VENOM V-TAC is a tactical version of the traditional VENOM launching system. With just one bank of ten 37mm munitions, this compact launcher can easily be mounted onto vehicles that are limited in terms of mounting space: such as ATV's and pick-up truck hitches.
These two launchers join the family of elite non-lethal munitions systems that began with the original VENOM, a USMC fielded system that features 30 barrels of 37mm munitions. Whether your mission is military, tactical, or peacekeeping, finding the non-lethal system that fits your mission has never been easier. To see these launchers in action, check out the videos on YouTube at CTSLessLethal, or visit us at SHOT Show 2015 in booth #20119. For more information visit www.combinedsystems.com