The United States Marine Corps put their best foot forward once again for the 30th annual Modern Day Marine (MDM) show at Quantico, Virginia. This year's show was very well attended by both vendors and USMC personnel, with many new vendors on display. Over 8,500 attendees, mostly USMC, kept the over 400 booths energized. The discussions at the show had most of the attendees and vendors very pleased and planning on returning the next year. MDM is always a highly rated show for interaction with not only the higher ranked and hopefully decision makers, but with the rank and file Marines. Most vendors are aware that this is what builds their brand as the young Marines move up in rank they remember the lessons learned not only on the battlefield, but on the display floors as well.

There were many booths for organizations supporting the USMC and veterans. One group in particular SADJ would like to bring to our readers' attention: The U.S. Paralympics Military Program. This group is working with the U.S. Paralympics to help sponsor more of the thousands of severely wounded veterans into the active sports programs they provide. www.usparalympics.org or www.semperfifund.org.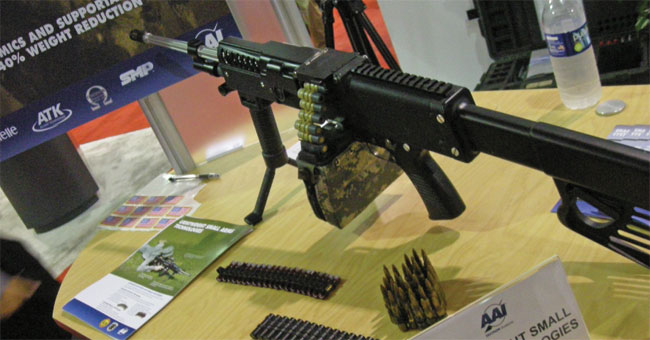 LSAT (Lightweight Small Arms Technologies) is a technology based program managed through the Joint Service Small Arms Program Office (JSSAP), located at the Army's Armament Research, Development and Engineering Center at Picatinny Arsenal in New Jersey. The focus of LSAT is a) Reduce the weight of weapons carried by warfighters by 35 percent, b) Lower the ammunition weight by more than 40 percent, c) Maintain or improve lethality and reliability over current systems, d) Improve ergonomics and logistics, e)Reduce training and maintenance time.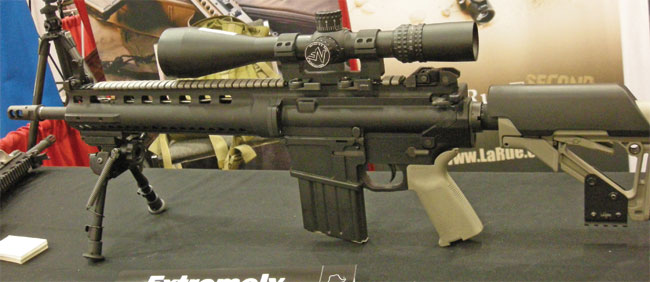 Prolific parts and weapons supplier LaRue Firearms presented several caliber variations of their Optimized Battle Rifle. The 7.62x51mm carbine version (shown) provides semiautomatic long range capability in a smaller package. (www.laruetactical.com)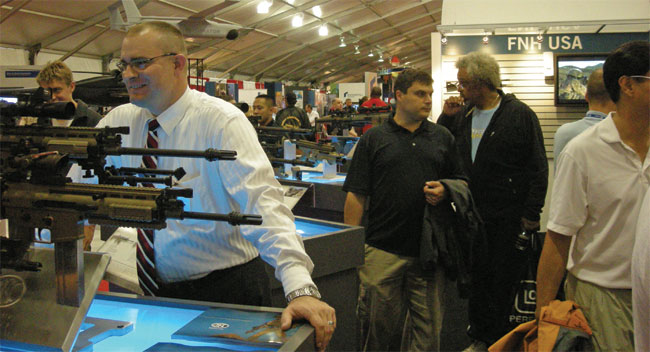 One of the busiest booths at the show was the FNH USA booth with its emphasis on small arms for the warfighter. The SCAR program was well received with a constant flow of Marines looking over the rifle system, and the sniper and M3M .50 displays were also busy. (www.fnhusa.com)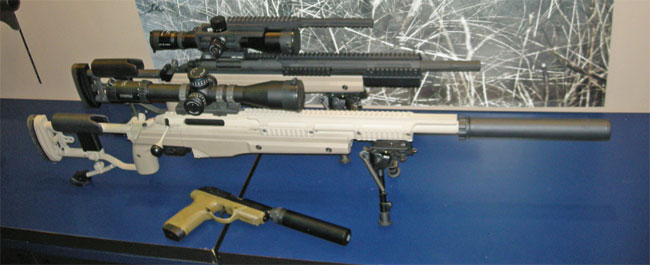 The TRG Folding Stock can be retrofitted to all TRG precision sniper rifles without any modifications to the weapon itself.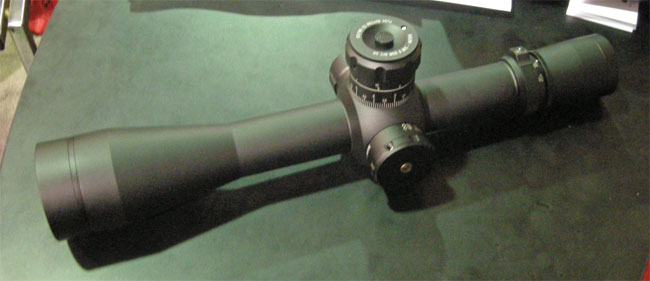 Leupold's new sniper upgrade, the MK4 6.5-25x50 ERT Front Focal scope has been accepted up to 3,000 units. (www.leupold.com)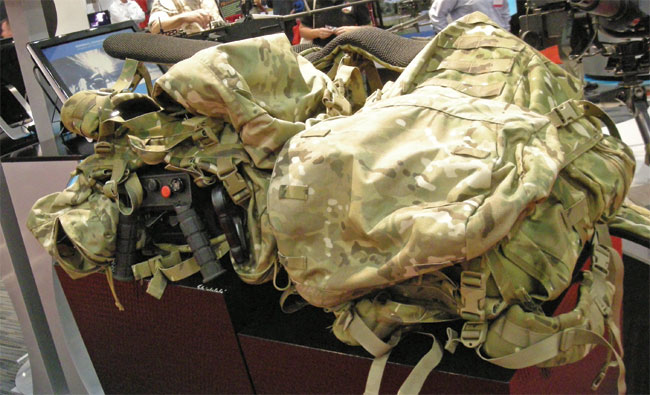 The General Dynamics MK47 Grenade Machine Gun is a lightweight new generation of launcher that has been well accepted by testers and users alike. The idea for making it squad portable was put to Eagle and they designed a 4 pack system for packing this out - one pack that is for the MK47 itself, the next for tripod and FCU, and the next (add as many as you want) to carry the soft box ammo carriers in either 32 or 48 rounds. The soft carriers reduce the bulk of the ammo containers, but once loaded, will fit inside the original ammo cans the 40x53mm linked grenades come in making for a quick fit in a Humvee or other vehicle. (www.gd-ots.com) or (www.eagleindustries.com)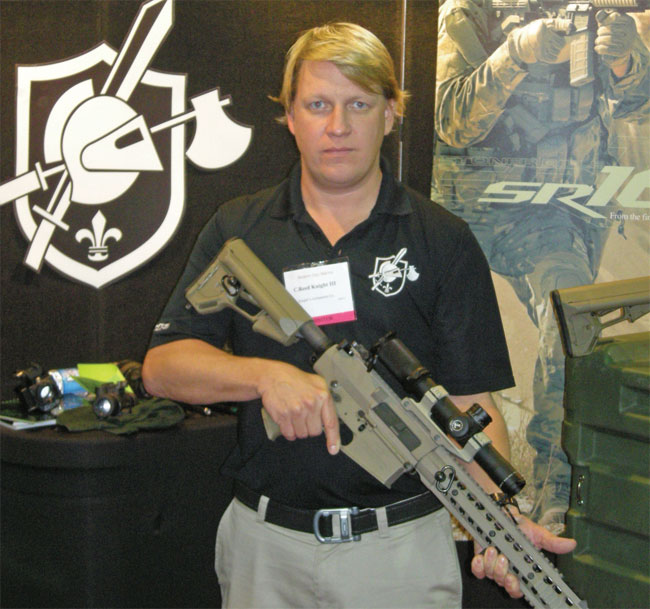 C. Reed (Trey) Knight III holds the M110 Carbine, the newly adopted 7.62x51mm sniper rifle in its shorter profile. The patented dimpled 'Heavy' barrel delivers expected HB accuracy and consistency results, while providing lighter weight and more rapid cooling. 7.62mm M110 Carbine (P/N: 25749) shown with Leupold 1.1-8x CQBSS (optional P/N 25884)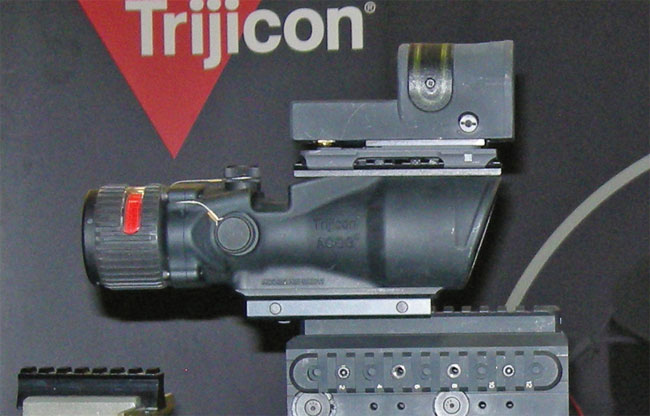 The Trijicon ACOG TA648MGO 6x48 sight and its top mounted Trijicon Reflex sight are combined with the Midwest Industries M2HB mount on a Vingtech soft-mount. This makes for a fast acting system upgrade to the M2HB .50 caliber machine gun. (www.trijicon.com)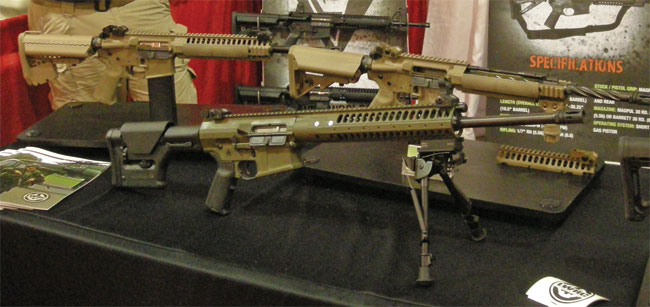 LWRC featured their M6-G series rifles with the reliable short stroke gas piston operation they are well known for in their M16 based platforms. The REPR in 7.62x51mm was quite popular with the USMC attendees and is a contender for consideration on sniper systems. (www.LWRCI.com)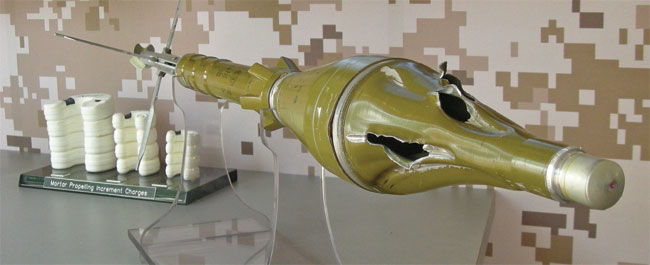 The ShotScreen RPG Defeat System is an active protection system that can be mounted on new or retrofitted LAVs and a variety of other vehicles and stationary platforms. The system releases a wave of small diameter, low velocity non-lethal pellets from several non-slewing locations to defeat multiple anti-tank type RPG grenades. To defeat an incoming RPG, two adjacent warheads are fired to form an overlapping pattern of pellets. The cloud of pellets travel to the intercept plane at a low rate of speed. This pattern, or 'shot screen,' intercepts the RPG round at close range from the protected vehicle and neutralized the RPG to nullify its lethality. This is done by short-circuiting the electrical path in the dual cone nose as shown in the picture. In an alternate version, it pre-detonated PG7s at a significant stand-off distance. (www.gd-ots.com)