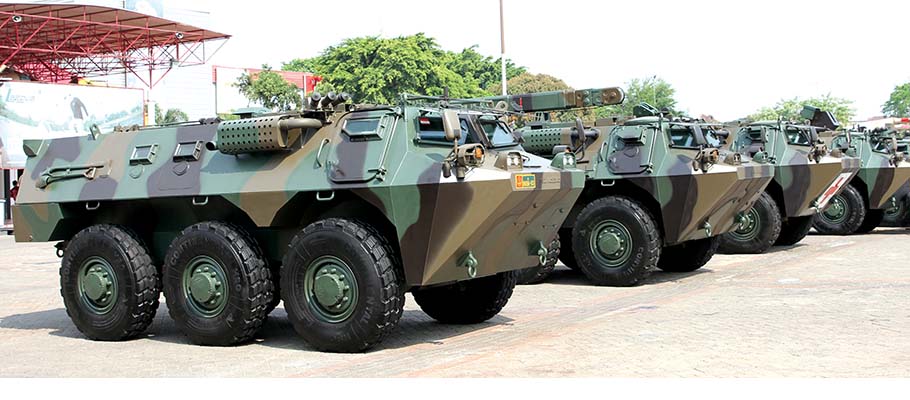 ABOVE: Some of the locally manufactured vehicles on display at Indo Defence 2014. These are all products of PT Pindad, with Anoa 6×6 armored personnel carriers closest to the camera.

From 5-8 November 2014, the Jakarta International Expo (JIExpo) Kemayoran, Jakarta opened its doors to eager visitors from Indonesia, Southeast Asia and across the world. The occasion was the sixth iteration of Indo Defence, a tri-service defense show that runs alongside Indo Marine and Indo Aerospace. This regional defense show has been held at this location in central Jakarta for the past three events.
Hosted by the Ministry of Defence of the Republic of Indonesia and organized by PT Napindo Media Ashatama, the show attracts a lot of attention from arms manufacturers from around the world. The large concerns from the USA, United Kingdom, France and Germany are all there, as well as the Russians who are usually out in force. Then there are smaller exhibitors from Eastern Europe such as Poland plus, of course, members of the local defense industry. Country pavilions included Indonesia, France, Germany India, Italy, Malaysia, Poland, Republic of Belarus, Russia, Singapore, South Africa, South Korea, Spain, United Kingdom, USA, Turkey and many more.
PT Pindad describe their new SS as a 7.62mm 'battle rifle.' Introduced in 2014, it is a completely new indigenous rifle that is available in three variants: Standard, Commando and Long Barrel (the latter for snipers).
The 4-day exhibition was visited by 20,568 trade visitors and professionals from across the world. In all, there were 672 exhibitors from 49 countries with 23 country pavilions at Indo Defence 2014, which represented a 30% increase over the previous show.
Accompanied by Coordinating Minister Political, Legal, and Security Affairs of Republic of Indonesia along with Minister of Defence of Republic of Indonesia, the Vice President Jusuf Kalla officially opened the show on 5 November 2014. Minister of State-Owned Enterprises of Republic of Indonesia and Minister of Energy and Mineral Resources of Republic of Indonesia also attended. On the third day of the exhibition, President Joko Widodo visited both the indoor and outdoor areas of the exhibition. The Coordinating Minister Political, Legal, and Security Affairs of Republic of Indonesia, Commander in Chief of Indonesian National Defence Forces, and Chief of Indonesian National Police joined the President on this visit.
It is obvious why defense manufacturers are keying into the Indonesian market. Indonesia is Southeast Asia's most populous nation, and it possesses a military that has long suffered from underfunding. However, the Tentara Nasional Indonesia (TNI) is seeing an enormous capability expansion fueled by escalating regional tensions that are encouraging defense growth in countries on the South China Sea fringes.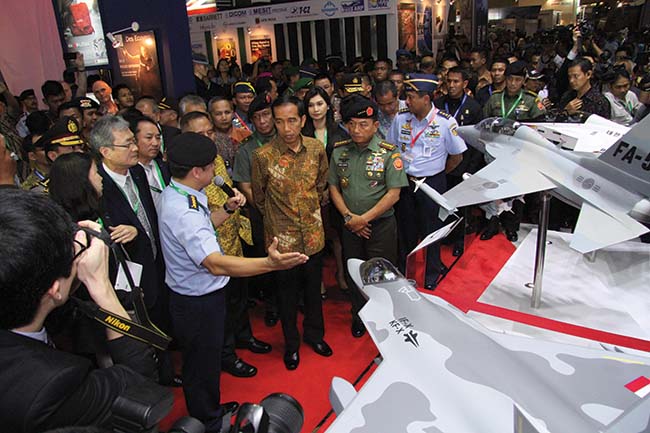 Indonesian President Joko Widodo listens intently to a presentation on South Korean fighter and trainer supersonic aircraft.
Indonesia's FY2015 defense budget enjoyed a 14% hike to reach USD 8.1 billion. Based on past allocations, approximately 22% of this will go on procurements. President Joko Widodo has ambitiously promised to raise defense spending from 0.8% of GDP to 1.5% by the end of the decade. With his new administration in power, such promises appear to show that the military will be prioritized. There are also indications that nationalism is rising, with more vociferous media coverage of intrusions into Indonesian territorial waters and airspace, for example.
Jakarta emphasizes local involvement in all major military imports, as mandated by the Defense Industry Law of 2012. However, no defense offset policy exists yet. The army (TNI-AD) has taken a major step forward as 103 Leopard 2A4 main battle tanks (MBT) and 42 Marder 1A3 infantry fighting vehicles from Rheinmetall enter service. The Leopards are Indonesia's first ever MBTs, of which 61 are being upgraded to an improved RI configuration. Unfortunately, neither of these new armored vehicles made an appearance at Indo Defence.
Other recent army orders include Nexter CAESAR 155mm truck-mounted artillery systems, Avibras ASTROS II multiple-rocket launchers, Boeing AH-64E Apache and Bell 412EP helicopters, and Thales Forceshield air defense systems. PT Pindad makes the Anoa APS-3 6×6 armored personnel carrier (APC), while Indonesia is cooperating with Turkey on a new medium tank design.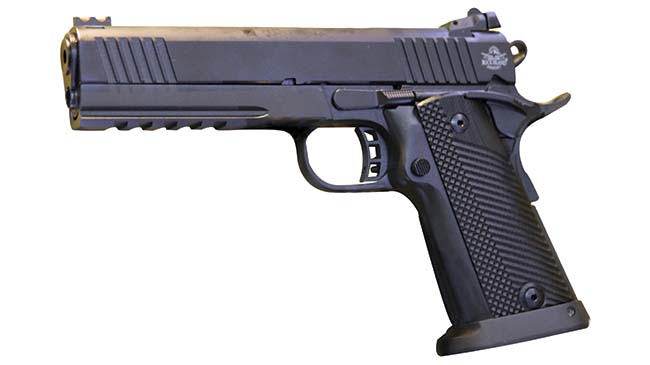 Armscor, the Arms Corporation of the Philippines that is based in Manila, was showing many of their firearms designed for the civilian market. The ever-popular Tac 1911-series pistol has a new family member: the M1911 A2 FS 22TCM featuring a 17-round magazine.

S&T Motiv had a K12 7.62mm belt-fed machine gun on display, as the South Korean company targets overseas sales for its new general-purpose machine gun. It is designed as a replacement for the M60 and it is currently being fielded on Surion helicopters.
This optical sight designed for sniper rifles is produced by BelOMA (Belarusian Optical & Mechanical Association) of Belarus. At the show, PT Pena Pundi Aksara (PPA) of Indonesia announced a formal partnership with BelOMA. PPA is aiming to market the whole range of BelOMA items for the Indonesian market.