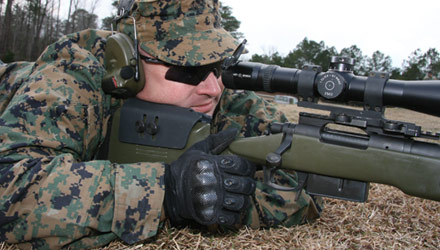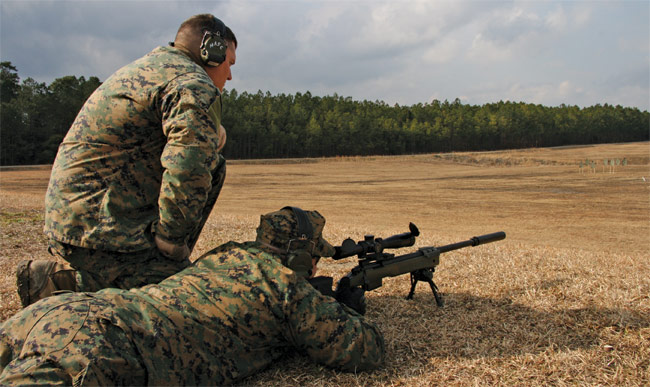 25 February 2010, Camp Lejeune, North Carolina. Sergeant Matt Yohe acts as a coach and spotter for Staff Sergeant Jason Salvog behind the M40A3 sniper rifle. Both Marines are instructors for MSOS' Advanced Sniper Course and contributed to the interviews that accompany this feature. (Robert Bruce)
"Don't underestimate your enemy.  They know the land and spend all day preparing to kill you.  Whenever you're tired of training and rehearsing, ask yourself if the enemy is resting."  – Sergeant Matt Yohe, Instructor, MSOS Advanced Sniper Course.

Sgt. Yohe speaks with authority based on personal experience from months of serious operations as a MARSOC sniper with the Combined Joint Special Operations Task Force – Afghanistan against hardened Taliban forces fighting on their home turf.  This tall and rawboned 29 year old fits most anyone's idea of a battle-hardened Marine, the product of eight years in the Corps' most hard-charging units including 2nd Recon Battalion before his assignment to 2nd Marine Special Operations Battalion
He also typifies the quality of the combat experienced Marine operators who are hand-picked for instructor duty at Marine Special Operations School.  According to MARSOC sources, they come from Marine Special Operations Teams after two deployments or more, and are nominated by their Battalions.
SADJ met and talked at some length with Yohe and several other instructors during our visit to MSOS, MARSOC's "Schoolhouse" at Camp Lejeune's historic Stone Bay.  These NCOs are an impressive lot who exemplify the right stuff by appearance, demeanor and no-nonsense interaction with outsiders.
Victoria per Scientiam
Marine Special Operations School is a regimental level command, formally activated in June 2007 but already operational months earlier.
Its distinctive unit crest evokes the heritage of WWII Marine Raiders in a blue shield emblazoned with five stars, an iconic Fairbairn-Sykes stiletto fighting knife and a motto in Latin that translates to "Victory through Knowledge."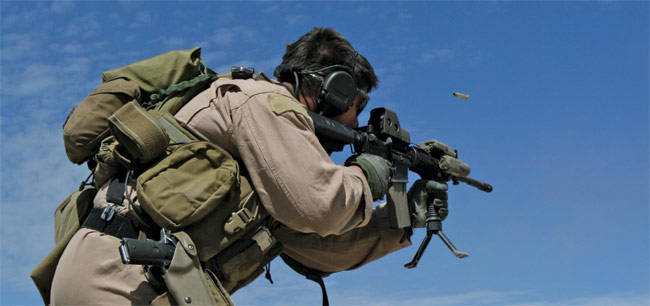 7 April 2009, Reno, Nevada. This photo puts us shoulder-to-shoulder with an operator from MARSOC's 2nd Marine Special Operations Battalion as he hammers silhouette targets with precisely aimed shots in rapid fire during Dynamic Assault training drills at the Washoe County Regional Shooting Facility. MSOS instructors provided SADJ with identification of his gear and weapons from head to toe: Peltor headset for MBITR radio, 5.56mm M4A1 SOPMOD Carbine with 14.5 inch barrel and telescoping buttstock with battery compartments, EOTech SU-231 reflex sight, PEQ-15 or LA-5 laser aiming module, SU-233 white light, Grip-Pod foregrip with drop-down bipod, M45 MEU-SOC .45 cal. pistol in Safariland 6004 1911 holster, Eagle Industries body armor load carrying system. (USMC photo by Lance Corporal Stephen Benson)
Most of its initial training cadre was composed of elements transferred in from the Special Missions Branch of the Marine Expeditionary Forces Special Operations Training Group.  These skilled and savvy Marine trainers are credited in large part with the amazingly short period from MARSOC's creation to its first elements being certified by U.S. Special Operations Command as fully mission capable.
MSOS, informally known as the "Schoolhouse," screens, assesses, selects and trains Marines and Sailors for Special Operations assignments in MARSOC; provides advanced individual special operations training; plans and executes the component exercise program.  It serves as MARSOC's training and educations proponent and is the link between MARSOC, USMC and SOCOM component SOF schools.  Additionally, it develops MARSOF standards, doctrine and TTP (Tactics, Techniques and Procedures), and serves as MARSOC's proponent for weapons and optics requirements
MSOS is organized with a Headquarters Company and five branches, each responsible for specific taskings that are critical to MARSOC's wide-ranging missions:
Assessment and Selection Branch is the entry point for personnel seeking to come aboard MARSOC.
Personnel Recovery/SERE Branch specializes in training programs that maximize survival, evasion, resistance and escape skills.
Exercise Control Branch develops and executes complex and ever-changing scenarios that challenge and validate mission readiness for MARSOC elements; notably the Marine Special Operations Battalions from teams to tailored task forces.
Language Branch teaches a wide range of tongues native to locations worldwide from Arabic to Urdu, with emphasis on those common to areas of particular interest to U.S. Special Operations Command.
Special Operations Training Branch conducts ITC (Initial Training Course) for NCOs and company grade officers who will be assigned as "operators" (properly known as CSOs – Critical Skills Operators) in the Marine Special Operations Regiment and it's the home for Special Operations advanced and specialty courses
Initial Training Course
The focus of our visit to MARSOC's Schoolhouse was Special Operations Training Branch, currently housed in an orderly formation of a dozen or so modular classrooms while construction is underway nearby on a more traditional campus.  There, Lieutenant Colonel Clark Watson, SOTB's Director, walked us through the high points of the Initial Training Course, a comprehensive SPECOPS basic training program that is the next step following Assessment and Selection for those seeking to become CSOs.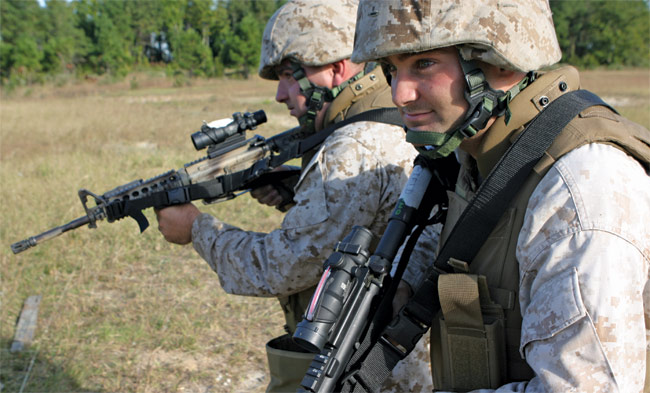 23 October 2008, Camp Lejeune, North Carolina. A pair of Marines from MARSOC's Special Operations Support Group practice M4 Carbine handling and aiming techniques with the Rifle Combat Optic, a 4 power Trijicon ACOG day scope, in preparation for live fire exercises in the Trainers Course of Instruction. "Every Marine is a rifleman" and that goes double for all members of MARSOC. (MARSOC photo by Private First Class Stephen Benson)
It's broken down into four phases of instruction, practice and evaluation, Watson explained, that require learned skills to be applied under increasingly adverse conditions.
As can be expected, students who have already demonstrated high levels of physical and mental toughness as an entry requirement are pushed much further in the first phase.  Escalating challenges include endurance, functional fitness and highly aggressive combatives.
During these first few weeks of long hours with heavy physical and mental stress, some otherwise "gung-ho" CSO candidates are likely to question if they have the right stuff for the job.  This is, of course, exactly as it must be.
We're told that amphibious training is often the most difficult for many otherwise tough and capable Marines.  Combat Water Survival Level Two is a prerequisite, but Watson emphasized that the realities of training for waterborne warfare require significantly higher capability.
The Assessment and Selection Preparation Guide emphasizes that swim requirements are done in utilities (fatigue jacket and trousers) but aspirants get a break by shedding their boots.  There's an "abandon ship" drill requiring a leap into the water from a six meter high platform, a 300 meter swim, ten minutes of treading water, and five minutes of survival float.
But that's just to get in.  It gets harder and harder in preparation for the course's amphibious exercises.
Watson also explained that the current class was only the third under the ITC designation and the curriculum had undergone some changes based on input from various sources including student evaluations, operational realities and other factors.  Also, because ITC is open to Marines in all MOSs (Military Occupational Specialties), the first part of the course acts as a sort of abbreviated and intensified version of the Marine Corps' School of Infantry.