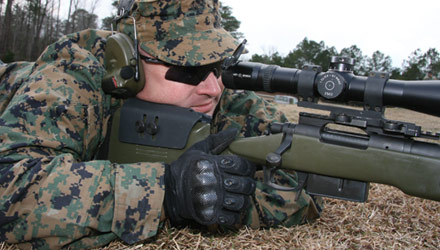 23 October 2008, Camp Lejeune, North Carolina. A view of silhouette targets through the Rifle Combat Optic shows a red aiming dot in the reticle. No batteries are needed because it's powered by a fiber optic collector in daylight and radioactive Tritium at night. The 4 power RCO makes the target appear four times closer than with iron sights and the unaided eye. It is also known by its civilian designation as the Trijicon Advanced Combat Optical Gunsight, a versatile and effective tool widely used throughout the U.S. and allied military and law enforcement. (MARSOC photo by Private First Class Stephen Benson)
SADJ:  What would you like to say to young men considering joining the USMC about why they should strive for assignment/acceptance in MARSOC?

Blackmon:  As a Marine you should always strive to be the best no matter what function you perform in the Corps.  MARSOC is the field that allows you to play at a whole new level.  You will be challenged nonstop both physically and mentally.  And if you try out for MARSOC you should know that special operations is not for everyone.  It takes a certain type of personality to complete Assessment and Selection, Individual Training Course, and to move on to be an effective member of a Marine Special Operations Team.
Salvog:  If you want to challenge yourself, be proficient in numerous skills and have the intestinal fortitude to stick it out, then give it a shot.  If not, there are many other necessary jobs in the military.
– – – – –
Take the Challenge
(Editor's Note:  All of this information and more may be found on MARSOC's extensive website www.marsoc.marines.mil.  Because many of the Marines and Sailors among SADJ's readership may be deployed to "austere" locations with limited or no internet access, we've provided a full printout of this section.) 
Specialized missions require not necessarily the best, but the "right" type of Marine.  MARSOC needs applicants who not only possess many leadership traits, but also demonstrate effective intelligence and a mental agility to solve complex problems under stress.  Since MARSOC often operates in austere and remote environments and comes in contact with people of different cultures; adaptability, determination, physical ability, interpersonal skills, and working well in a team, are also key.
25 February 2010, Camp Lejeune, North Carolina. Staff Sergeant Jason Salvog, an instructor in MSOS' Advanced Sniper Course, settling in behind an M40A3 sniper rifle. (Robert Bruce)
Assessment and Selection (A&S)
All billets in MARSOC require unique training, offer the potential for worldwide deployment and direct participation in combat operations.  However, at this time, only CSO applicants are required to attend A&S.
Once a Marine is qualified through the screening process, he will be invited to attend an A&S.  A&S is a mentally and physically challenging evaluation held five to six times a year at an undisclosed location.  The 19-day assessment enables instructors to identify Marines with the necessary attributes to complete follow-on special operations training and to conduct special operations missions.  A&S is highly competitive.  While our recruiters can provide potential candidates with a recommended training guide designed to physically prepare them for the rigors of the selection process, it is the applicant's responsibility to ensure that they are ready to meet the challenges of A&S.
Selection at A&S is valid for a member's career barring any disqualifying circumstances (adverse fitness report, courts martial, etc.) that may occur between selection and assignment to MARSOC.  Marines not selected for assignment to a CSO billet through A&S will not be assigned to an operational billet within MARSOC.  Depending on the circumstances, Marines who are not selected may be invited back to attend another A&S.
Screening is a Three-Step Process…Phase 1: Record Screening
MARSOC recruiters screen the records of all potential CSOs prior to slating a Marine for A&S.  This ensures that the candidate meets the MARSOC prerequisites and is medically qualified to participate in A&S.
Marines in support billets are only required to undergo a record screening to ensure that they meet the MARSOC requirements for their billet and MOS.
Phase 2: Physical Screening
Marine Special Operations School (MSOS) will conduct the physical screening once a Marine reports for A&S.  However, MSOS may also conduct periodic screenings at major Marine Corps installations.  This screening consists of a PFT and swim assessment.
Phase 3: Intelligence Testing, Psychological Evaluation and Final Medical Screening
MSOS will conduct the intelligence testing, psychological evaluation and final medical screening once a Marine reports to A&S.
28 April 2010, Camp Lejeune, North Carolina. Sergeant Joshua Webber, a Platoon Sergeant in Marine Special Operations Regiment, fires a 9mm M9 pistol on Stone Bay's Dodge City Urban Terrain Range. The live fire was part of the first Special Operations Training Course, designed to reinforce the fighting skills of MARSOC Special Operations Support Group personnel. (MARSOC photo by Sergeant Matt Lyman)
Critical Skills Operator (CSO) Prerequisites
CSOs are on the front line…and are assigned to MARSOC in operator billets, open to Marines from any MOS.  However, CSOs must complete the Commanding Officer's Screening Checklist to include a financial worksheet and security questionnaire, MARSOC Medical Screening Checklist, submit a copy of their Page 11 and Unit Punishment Book (if applicable).  Minimum requirements to attend Assessment & Selection are as follows:
Minimum GT: 105 (May be waived to 100 for exceptionally qualified candidates).
Minimum current PFT score: 225 (regardless of age).
Male.
Enlisted: Any MOS, E-4 to E-7 (E-3 applicants are screened on a case-by-case basis).
Officer: Any unrestricted ground officer, O-2 to O-4.
Must have a minimum of 2 years in service and no more than 17 years in service (may be waived for exceptionally qualified candidates).
No derogatory Page 11 entries within the last 12 months (may be waived for exceptionally qualified candidates).
No Non Judicial Punishments (NJPs) within the last year and with no more than two NJPs during the current contract.
No NJPs as a SNCO or officer.
No courts martial convictions.
No incidents with drug use or possession while in service.
No adverse fitness reports within the last 12 months.
Marines must pass the following criteria at A&S:
Perform an individual 12 mile hike with a fighting load of 45 pounds in 4 hours or less.
Pass a PFT with a score of 225 or higher.
Capable of passing the MARSOC Swim Assessment. Events will be conducted in the MARPAT uniform with no boots and include an abandon ship drill, treading water for 15 minutes, and swimming 300 meters
Eligible to obtain and maintain a secret clearance.
Must meet MARSOC medical screening criteria.
Must pass the intelligence testing and psychological evaluation.
Marines must have time on contract to attend A&S.  If necessary, you can apply for an extension to attend A&S.  Minimum tour requirement for enlisted CSOs is 5 years.  Enlisted Marines must be willing to re-enlist or extend to meet the minimum obligated tour assignment.  Officers must be willing to execute obligated tour assignment as a CSO.
Tour length for field-grade officers is three years; tour length for company-grade officers is four years in addition to completing the MARSOC ITC.
Direct Combat Support (DCS) are those Marines in the following MOSs: 0211, 0212, 0231, 0241, 0261, 0291, 0326, 0331, 0341, 0351, 0369, 0451, 0612, 0619, 0621, 0627, 0629, 0648, 0651, 0659, 0681, 0689, 0699, 0861, 2336, 2621, 2631, 2651, 2671, 2673, 2674, 2691, 5811, 5812.
These Marines do not fill operator billets.  However, since they are frequently required to deploy alongside Marine Special Operations Teams, DCS personnel must meet the same screening requirements as Critical Skill Operators (CSO), but are not required to attend A&S.
Combat Service Support (CSS) personnel are the active duty and reserve Marines who fill CSS billets within MARSOC.  CSS Marines may have the opportunity to deploy dependent upon mission requirements; however, they are not required to attend A&S.
Marines who want to come to MARSOC in a CSS billet will work with a MARSOC recruiter to complete a record screening, the Support Personnel Checklist, and the MARSOC interview process prior to assignment.
Additional prerequisites for CSS personnel are as follows:
No Non Judicial Punishments within the last year and no more than two NJPs during the current contract (enlisted only)(May be waived for exceptionally qualified Marines).
Minimum current second class PFT.
Eligible to obtain and maintain a secret clearance.
SADJ extends special thanks to MARSOC's Public Affairs Office for exceptional assistance in arranging interviews and photo opportunities during our visit, then following up with  additional information and graphic elements.