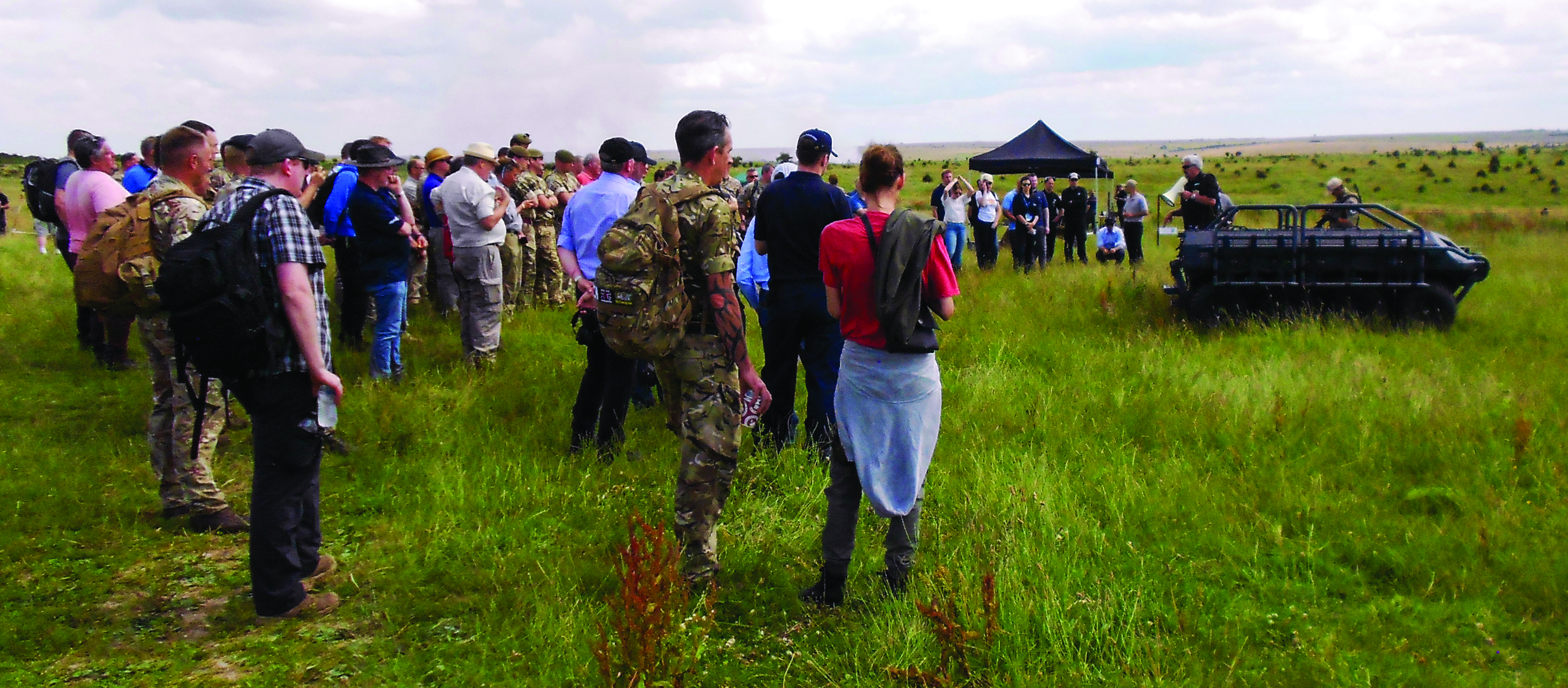 CLOSE COMBAT SYMPOSIUM
The 2019 Close Combat Symposium (CCS) was held at the Defence Academy of the United Kingdom (UK) over July 9 to11, 2019. Historically, it has its origins in the Small Arms and Cannon Symposium held for many years at the same venue.

The themes of the symposium this year were to "consider trends and developments in small arms, dismounted weapon systems, ammunition, sensors, optics and protective clothing and equipment. The revised theme of 21st Century Infantry also seeks to examine additional opportunities for capability enhancements in the near-term, some of which will require new development."
The 3-day symposia has an established format and opened for on-site registration at 0900 hours on the first day, followed by a full day of presentations. On the second day, delegates were able to attend a manufacturers' outdoor range day, where the opportunity to fire a number of different small arms types and view associated supporting equipment was provided. The final day's presentations at the Defence Academy location concluded in late afternoon.
The lecture program consisted of short presentations on various aspects of mounted and dismounted close combat together with infantry weapons and ammunition, which provided wide-ranging coverage of a diverse subject matter area to cater to the varied interests of those attending. Over the 3 days, the program offered 19 formal presentations which included panel discussions after each segment and covered the following areas.
Day One
The first day's presentations included:
Keynote: The (UK) Close Combat Plan—British Army HQ
The Future Threat—Defence Intelligence—MoD
Land Littoral Manoeuvre and Future Commando Force—UK Navy HQ
Transformation Fund—21st Century Infantry—British Army HQ (Unmanned Aerial Systems, Platoon Robotic Vehicles, Less-than-Lethal)
Engaging with Defence Equipment & Support (DE&S)—UK MoD (Soldier Systems, Innovation & Experimentation)
Force Development—Experimentation Opportunities—British Army
Unmanned Ground Vehicles: A Strong Ally for Dismounted Soldiers—Rheinmetall Canada
Development in Small Arms—Dan Shea, Phoenix Defence and Editor-in-Chief Small Arms Defense Journal
Day Two
Systems Engineering & Assessment Ltd:
The Range Day was again held at the Cranfield Ordnance Test and Evaluation Centre (COTEC), West Lavington, on the northwestern edge of the UK MoD, Salisbury Plain artillery and field-firing range. The Range Day this year, which provided attendees the opportunity to view and fire selected infantry small arms, also included a demonstration by Rheinmetall Defence of their Mission Master Unmanned Ground Vehicle (UMV).
Demonstrations of equipment and opportunities to live-fire weapons were provided by:
Beechwood Equipment Ltd
FN Herstal (UK) (Range Day Sponsor)
Brolis Photonics Solutions Ltd
Instro Precision Ltd
Qioptiq
NHMD Ltd.
Viking Arms (Defence)
Infantry Trials and Development Unit (ITDU) & Amvision-FCS13
Rheinmetall Defence
Ultimate Training Munitions (UTM)
Breakfast on arrival and a BBQ lunch were provided for all attending. The Range Day was followed that evening by the now traditional formal dinner held at the Swindon STEAM Museum of the Great Western Railway. Pre-dinner drinks provided the opportunity for informal networking, the dinner itself being held within the precincts of the museum with musical entertainment during dinner being provided by a local brass ensemble.
Day Three
The presentations covered on the third day included:
Precision Versus Rate—Cranfield Defence and Security
Enhancing Dismounted Combatants Lethality Through Fire Control and Training Systems—FN Herstal (UK)
Fighting in the Street—CR2 Streetfighter—Ultra Electronics/Royal Tank Regiment
How to Ensure and Maintain Fightability on Close Combat Operations with an Increasingly Technology-Driven Soldier System—Systems Engineering & Assessment (SEA) Ltd
Reducing the Error Budget—Infantry Trials and Development Unit (ITDU)/Riflecraft
National Armed Policing Group—Civil Nuclear Constabulary
When Computers Do the Wrong Thing—Captain W. Shepherd (Ret'd)—USN
How to Overcome the Problems of Delivering Safe and Reliable Training in Close Quarter Combat (CQB)—Ultimate Training Munitions (UTM)
Soldier System Integration—Tommy Works—British Army
Connecting the Dismounted Soldier—Glenair
UAV Enhanced Digital Networked Mortar Fire Control Systems—KWESST North America (Canada)
SHRIVENHAM 2020: SHOW MASTER INFO
LOCATION
Shrivenham, County of Oxfordshire, United Kingdom
The Defence Academy of the United Kingdom, Cranfield University, Shrivenham, UK is situated to the west of London off the M4 motorway and easily accessible from the main London airports. The nearest large town to Shrivenham for reference purposes is Swindon. Note: In recent years, the immediate area of and access to the Defence Academy has been via the "Watchfield" entrance off the A420 main road.
WEBSITE symposiaatshrivenham.com
CONTACT
Leanne Lawson, Symposium Organizer, Symposia at Shrivenham, Cranfield University, Defence Academy of the United Kingdom, Shrivenham, Wiltshire near Swindon, SN6 8LA
For symposium details and administration:
Tel: +44 1793 785 648
E-mail: leanne@symposiaatshrivenham.com
NEXT SHOW
Close Combat Symposium, October 20-22, 2020, Shrivenham, UK
FOCUS OF SHOW
This year's Symposium focused on current UK Infantry-mounted and -dismounted close combat developments and future capabilities and intentions, with opening presentations being delivered by leading members of the UK close combat community. Other presentations focused on infantry weapons, training and support to the UK civil community, supporting the Symposium's historical Small Arms and Cannon theme.
A concurrent trade show is also held in the adjacent indoor hall that is comfortable for attendees to mix with the vendors. Numerous vendor booths covering broad subject matters related to the themes of the Symposium were available for attendees to meet and talk with industry during coffee and lunch breaks.
STATISTICS
Overall, more than 140 delegates from the UK and the international community took part in the symposia over the 3 days, making this Symposium, again it is believed, the largest of its type in Western Europe.
 DRESS
Business "informal," meaning jacket and tie, or business casual depending on how you desire to present your company. Military are in duty attire. For the formal dinner, now traditionally held within the confines of the STEAM Museum of the Great Western Railway, dress base line for men is a dark suit with tie, ladies' comfortable evening wear (no jeans or tee-shirts in either case). Symposium staff are  on hand to help with your concerns on this.
HOTEL HINTS
Local hotels are listed with the Symposium information package. Most vendors choose hotels in Swindon or out on the M4 motorway area. There is UK military billeting for those who are eligible.
POWER & PLUG TYPES
220v 50 cycle, British 3-prong plugs
COUNTRY WARNINGS
The Swindon/Shrivenham areas are largely rural with the historic city of Oxford located to the north. The only warnings would be in certain parts of London or other major cities. The Symposium is in a rural area that is very safe. There are currently travel restrictions due to the coronavirus, COVID-19. Consult the CDC before booking travel.
 CULTURAL HINTS
The British are generally very polite, with the exceptions perhaps of rush-hour travel in London and other major cities.
 TIPPING
10% is generally fine in restaurants, less to a taxi. Taxis are either meter fare or pre-booked at an agreed price.
GETTING AROUND
Rental cars will have UK-style right-hand steering, and driving is on the left side of the road. Unless you know how to drive with a left-hand shift, order an automatic. We advise finding the first parking lot in sight after getting your rental car and learning the reverse geometry if you are a European or U.S. driver. Road roundabouts are common and do not pose a problem; always give way to the right, unless the road markings (rarely) advise otherwise. Trains are reliable; however, ticket purchases made on the day of travel can be extortionately expensive, pre-booking is strongly advised. A good guide for the latter is at nationalrail.co.uk. Bus travel is both simple and inexpensive. If driving, the show is within reasonable distance of Heathrow International Airport; travel due west on the M4 motorway to the Swindon exit and look for local directions to Shrivenham. For rail travel from Heathrow or Gatwick International Airports take a direct train service to Swindon.
MILITARY MUSEUMS
The Defence Academy Small Arms teaching collection may be visited by qualified visitors. Inquire with the promoters. In London, the Imperial War Museum in Lambeth and the National Army Museum in Chelsea are worth a visit. To the south of Swindon on the south coast is the Royal Armouries, Fort Nelson Artillery Museum situated in an old Victorian fort (built during the Napoleonic Invasion fears in the 19th century) and overlooking the historic Portsmouth Naval Base. Also within the Portsmouth Naval Base area are the Explosion Museum of Naval Firepower and the Royal Navy Submarine Museum. Further afield is the National Firearms Centre (the former MOD Pattern Room collection of small arms and light infantry weapons) at the Royal Armouries main site located in the northwest of England at Leeds. Admittance to the former is strictly by prior appointment only; although the museum itself is open to the general public.
TOURISM
Shrivenham is located within reasonable driving distances of the university town of Oxford, the Neolithic monument at Stonehenge and Shakespeare's home town of Stratford-upon-Avon. Try the following websites if planning a pre- or post-Symposium cultural visit: visitbritain.com or visitlondon.com.
 NOTE: All information subject to change. Go to cranfield.ac.uk/events/symposia-at-shrivenham for up-to-date information.