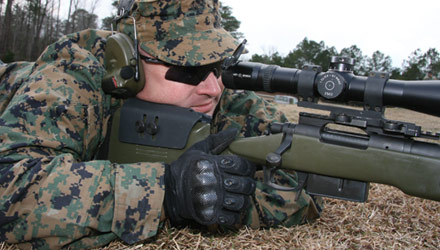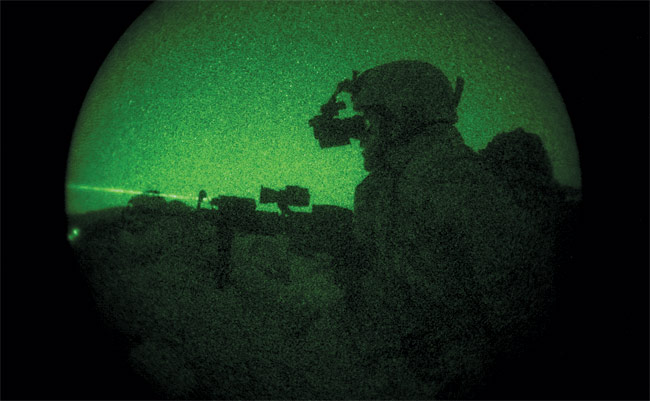 31 October 2007, Hawthorne Army Depot, Nevada. Seen in the eerie green light of a night vision equipped camera during a training exercise, a Marine from 1st Reconnaissance Battalion lights up his target with the invisible infrared beam from a laser illuminator module attached to his M4 series Carbine. Helmet mounted night vision goggles allow him to see what he's aiming at, a tremendous advantage during night operations. (USMC photo by Private First Class Shawn Statz)
While careful to avoid revealing too much detail, Watson listed many of the tasks that must be mastered to earn the coveted "operator" designation.

Basic field skills like land navigation, pistol and carbine marksmanship, individual and small unit tactics, patrolling, and casualty care are strongly reinforced.  A necessarily harsh dose of Survival, Evasion, Resistance, and Escape (SERE) is required, along with some classroom work on USSOCOM's unique Joint Planning Process.
Physical demands ramp up along with academic rigors, combining to identify early in the course students who are unlikely to make the grade.  Those who voluntarily leave or are dropped for academic failure return to their previous assignments without adverse entries in their official records.  If injuries or other waiverable factors are noted, there is a second chance and they can plug back in where they left off in subsequent courses.
As the weeks grind on the challenges become even more complex.  There's mission planning, special reconnaissance, more combat marksmanship with emphasis on CQB (Close Quarter Battle), amphibious operations, and Demolitions.  Communications is critical, requiring mastery of satellite communications, high frequency radios and data systems.
Interestingly, the foreign weapons block of instruction in previous versions of ITC has been cut back, reportedly due to time constraints in the packed curriculum.  Now, only the AK family of assault rifles – the most commonly encountered in the world – are included in classroom training and familiarization firing.  Other foreign weapons training can wait until after graduation and assignment to the Marine Special Operations Regiment.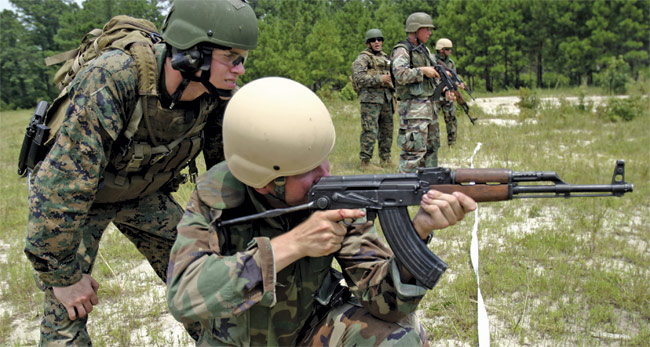 30 July 2008, Camp Lejeune, North Carolina. A training pipeline student with MARSOC's Special Operations Advisor Group coaches a foreign irregular force role-player from the fictional country of "Onslovia" during live fire with the ubiquitous AK-47. SOAG has since transitioned to form the Marine Special Operations Regimental headquarters and core personnel of the 3rd Marine Special Operations Battalion. (MARSOC photo by Lance Corporal Richard Blumenstein)
Colorfully named, structured tactical exercises mark transition periods in each phase.  Guile Strike is five days of close quarter battle from insertion to hit on target, Stingray Fury is an eleven day special reconnaissance mission and Raider Spirit tests students in patrolling, raids and recon over twelve days.
Derna Bridge
All of this (and a lot more that is not publicly revealed) builds rapidly and steeply toward a final exercise keyed to MARSOC's Irregular Warfare mission.
Everything in the course comes together with the three week long Operation Derna Bridge, named in honor of what was arguably the first Unconventional Warfare operation in U.S. history.  It was in 1805 that Marine Lieutenant Presley O'Bannon led Marines and foreign fighters in a successful attack on a strategic harbor fort in Tripoli, the first time that the U.S. flag was raised on foreign soil.
ITC's Derna Bridge forces students to use all of the skills mastered throughout the course while training, advising and operating with role-players realistically portraying a Partner Nation/Irregular force.
A sobering indication of the difficulty of this final exercise and the uncompromising standards of the course as a whole may be found in noting that fifty students in the class prior to our visit made it as far as this final exercise but only forty graduated.
We have subsequently learned that, beginning in June, the increasing demand for CSOs will be met by overlapping ITCs with the goal of qualifying up to 144 operators per training year.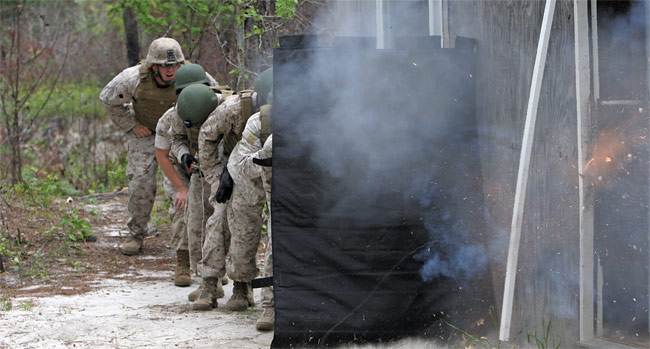 20 May 2008, Camp Lejeune, North Carolina. Marines and Sailors in the initial training pipeline for MARSOC's Special Operations Advisor Group are stacked behind a blast blanket, ready to rush inside the building, as a door buster charge does its work in a Demolitions Subject Matter Expert exercise. (USMC photo by Lance Corporal Michael Ayotte)
Follow-On Training
After graduation from ITC most are assigned to the MSO Regiment where these newly-minted operators continue a variety of live fire exercises to maintain a level of precision marksmanship with their M4 primary and M45 secondary weapons.  They also train to be proficient in the use of all organic MSO Team weapons as well as the non-U.S. weapons used by friendly and hostile forces where they are expected to deploy.
MSOS offers advanced-level courses for qualified operators in a number of subject areas including Special Reconnaissance, Close Quarters Battle, Sniper, Breaching, and Weapons Employment
All MARSOC Marines are required to undergo continual language training.  However, based on ability, certain Marines will be selected for follow-on language training at an Advanced Linguistics Course.
While Support Group personnel who deploy with MSO Teams to provide specialized capabilities have previously trained in many of the topics taught at ITC, MSOSG has created a demanding 22 day Special Operations Training Course.  Now, Combat Support Marines in Intel, K-9, Commo and other MOSs get a concentrated dose of war fighting craft with plenty of instruction and trigger time in weapons from 9mm pistols to .50 caliber machine guns.  They also gain a working knowledge of land navigation, radioing for fire support, casualty care, and many other combat skills that help them integrate with CSOs as valued members of  MSO Teams.
Weapons and Tactics Roundtable at SOTB
We were privileged to be given the opportunity to meet with a group of MARSOC Marine NCOs who specialize in weapons and tactics instruction at Special Operations Training Branch's ITC.  All of them are seasoned operators with combat experience, some with several deployments, and each one hand-picked to come to the Schoolhouse.
Accepting our promise that what was said would be accurately reported with no names attached, the informal roundtable discussion yielded a wealth of highly interesting and undeniably credible observations.  These Marines have a clear vision of what works in the real world and what they think needs improvement among the standard issue weaponry in MARSOC's armory.  What follows is to be taken as PERSONAL opinion, NOT official endorsement or criticism.