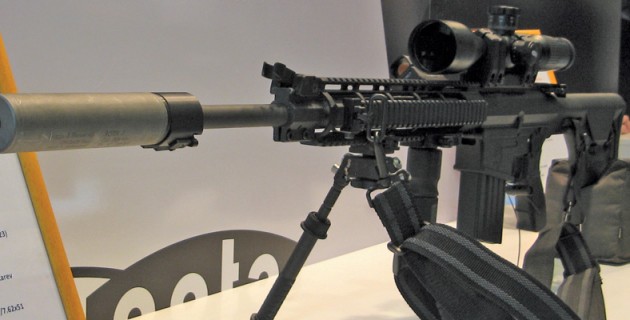 IDET, which means International Fair of Defence and Security Technology, founded in 1993, now takes place every two years in Brno in Moravia in the eastern part of the Czech Republic. It "is one of the biggest shows of defence technology in Central and Eastern Europe."  No objection to this claim, it's true.  In this region, this fair is consistently a feast of information for every military enthusiast.  But for people focusing on small arms, a visit to IDET has always been a sort of gamble.  Some years you can find a lot of highly interesting items including fresh new products in arms and accessories, in other years the harvest is considerably lower.  How did IDET 2013, which took place from 22-24 May, fare this year?

In this reviewer's opinion, this was not one of their better ones.  If anyone came here specifically to see small arms, their ammunition and accessories, they would be rather disappointed.  The only really new thing discovered was at the stand of Sellier & Bellot from Vlašim (since 2009 a member of the CBC/Magtech group).  First was the new service ammo IR-DIM Tracer in calibers 5.56x45mm and 7.62x51mm.  Both have tracer bullets that only a soldier equipped with a night vision device can see.  For law enforcement, S&B presented new 9x19mm Lead Free Bullet cartridges for SWAT teams, which has lower penetration and higher stopping power and rounds are less inclined to ricochet after hitting a window of a car.
In the field of small arms, nothing was shown that was really new.  That does not mean that there was nothing worth seeing or taking note of.  Traditionally excellent was the stand of Česká zbrojovka a.s., Uherský Brod, which presented its current CZ Army & Law Enforcement program comprehensive series of pistols CZ 75 SP-01 Phantom and CZ 75 P-07 Duty (still the first version here), SMG CZ Scorpion EVO 3 A1, and assault rifles CZ 805 Bren A1/A2 plus grenade launcher CZ 805 G1.  A bonus was the launch of a new book on the greatest Czechoslovak designers of small arms (highly recommended to everyone interested in famous Czechoslovak small arms, although the text is only in Czech), which took place at the CZUB stand in the presence of CZUB CEO Ing. Lubomír Kovařík.
A booth under constant siege was the stand of Meopta – optika, s. r. o., today a Czech-American company (thanks to a manufacturing and assembly branch in the USA), producer of respected precision optics including riflescopes, sniper scopes, reflex sights, night vision sights, etc.  This year Meopta celebrated their 80th anniversary, and at IDET they did it in a very attractive way – with the help of rifles of the LUVO company based on the famous M16 design and produced in Strakonice.
Other interesting items worth noting can bee seen in the accompanying photos.  But you never know.  Maybe the next show in 2015 there will be plenty of new and highly interesting news in Brno.
LEAD IMAGE + BOTH IMAGES ABOVE: Meopta, which celebrates 80 years, decided to present its scopes and sights on a rich variety of the rifles from the company LUVO Praha (Prague). The Meopta optics suited the LUVO rifles pretty well and the stand was crowded almost all the time.
As usual, the Army of the Czech Republic presented an overview of its actual infantry weapons. Especially noteworthy were two less common long arms: the M6A2 Carbine by Land Warfare Resources, Corporation in caliber 5.56x45mm NATO and the HK 417 assault rifle in caliber 7.62x51mm. In both cases, the versions used by snipers of the Czech Special Forces were displayed.
So-called 'rimfire assault rifles' are ubiquitous and at least one did not miss the IDET 2013 fair – it was an attractive Austrian model ISSC Model Sporting Rifle Mk 22. It was displayed in the company of one of the Kriss weapons.
Besides modern small arms, you could find many more-or-less 'veteran' models at the IDET 2013. Shown are some nice examples of AKM assault rifles at the extra large stand of the Excalibur Army spol. s.r.o., company, which was loaded with interesting army surplus items.