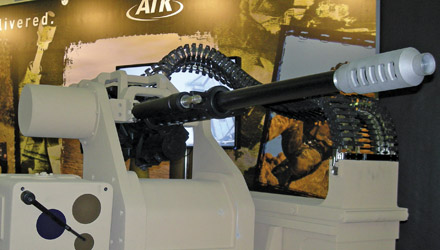 The 10th International Defence Industry Fair (IDEF) was sponsored by the Turkish Armed Forces Foundation under the auspices of the Ministry of National Defence on 10-13 May, 2011.  The show was held at the Tuyap Fair, Convention and Congress Center in Büyükçekmece-İstanbul, Turkey, and had record turnouts.
The majority in attendance was Turkish military and procurement, and the foreigners were typically influential buyers and end users from over 104 countries.  There were 633 exhibiting companies from over 45 different countries.  This, the 10th IDEF, shows remarkable growth from the already well attended earlier shows.  For example, the 5th IDEF in 2001 had 256 exhibitors from 30 countries, and official delegates were only there from 30 countries compared to the 2009 total of official delegates from 67 countries.  That is significant growth, and the exhibitors who attend can expect not only to reach the Turkish military market, but many of the shakers and movers in the international scene.  Exhibition space, the "Footprint" of the show, increased over 35% from the 2007 show to over 20,000 square meters.
Additionally, the following were in attendance:
Madagascar's President,
34 Ministers and Deputy Ministers,
12 General Staff Chiefs and Deputy Chiefs,
437 high-level foreign delegation members responsible of defense supply for their countries.
IDEF 2011 was visited by a total of 52,502 domestic and foreign professionals.  244 press members from 15 countries were also present.
Small Arms Defense Journal had its booth set up in a different place from the 2009 show and the thousands of magazines that we brought were quickly snapped up by attendees and exhibitors.  This, along with many conversations that we had with attendees, indicated a strong interest in small arms by many, and the flow of influential delegates gave us quality time with many of the people we had wanted to meet with.  That's high praise for show management for bringing these quality delegates to the show and getting them out onto the floor meeting people.
Istanbul is an exotic city, with millennia of non-stop historical importance.  Centrally located to the crossroads of the Mideast, Asia, and Europe, Istanbul is the ideal location for IDEF.  Visitors to the city can expect to not only do business at IDEF, but to also experience an amazing place.  The Grand Market (Bazaar) has been in continuous operation since the 12th century, with its covered avenues and many shops dating back beyond current memory.  This sprawling city has thousands of places for the attendees to explore, and we recommend planning for several extra days in the area to do so.
IDEF receives our highest marks for a military show featuring weapons: the show was well designed, the attendees flowed through the entire show, management went all-out to ensure that the exhibitors had their needs filled, and the attendees were the targeted group.  Almost everyone we talked with was planning on setting up and attending at the 2013 edition of IDEF.
Pages: 1 2