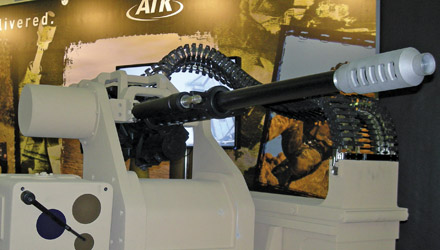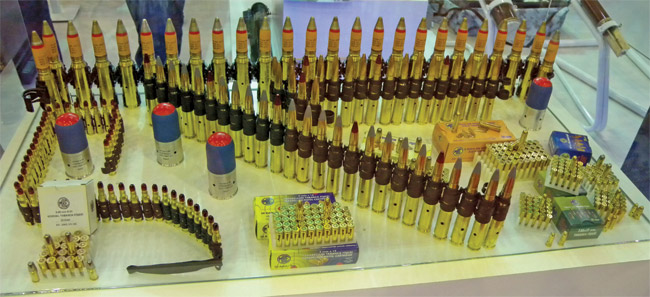 An array of Turkish made military grade small arms ammunition. In the rear is a belt of 20mm HEI that appears to be linked for the M139 revolver cannon, which has been in Turkish use for years. These utilize the 505 fuze as made by PSI in Georgia on the contracts.
The 10th International Defence Industry Fair (IDEF) was sponsored by the Turkish Armed Forces Foundation under the auspices of the Ministry of National Defence on 10-13 May, 2011.  The show was held at the Tuyap Fair, Convention and Congress Center in Büyükçekmece-İstanbul, Turkey, and had record turnouts.

The majority in attendance was Turkish military and procurement, and the foreigners were typically influential buyers and end users from over 104 countries.  There were 633 exhibiting companies from over 45 different countries.  This, the 10th IDEF, shows remarkable growth from the already well attended earlier shows.  For example, the 5th IDEF in 2001 had 256 exhibitors from 30 countries, and official delegates were only there from 30 countries compared to the 2009 total of official delegates from 67 countries.  That is significant growth, and the exhibitors who attend can expect not only to reach the Turkish military market, but many of the shakers and movers in the international scene.  Exhibition space, the "Footprint" of the show, increased over 35% from the 2007 show to over 20,000 square meters.
Additionally, the following were in attendance:
Madagascar's President,
34 Ministers and Deputy Ministers,
12 General Staff Chiefs and Deputy Chiefs,
437 high-level foreign delegation members responsible of defense supply for their countries.
IDEF 2011 was visited by a total of 52,502 domestic and foreign professionals.  244 press members from 15 countries were also present.
Small Arms Defense Journal had its booth set up in a different place from the 2009 show and the thousands of magazines that we brought were quickly snapped up by attendees and exhibitors.  This, along with many conversations that we had with attendees, indicated a strong interest in small arms by many, and the flow of influential delegates gave us quality time with many of the people we had wanted to meet with.  That's high praise for show management for bringing these quality delegates to the show and getting them out onto the floor meeting people.
Istanbul is an exotic city, with millennia of non-stop historical importance.  Centrally located to the crossroads of the Mideast, Asia, and Europe, Istanbul is the ideal location for IDEF.  Visitors to the city can expect to not only do business at IDEF, but to also experience an amazing place.  The Grand Market (Bazaar) has been in continuous operation since the 12th century, with its covered avenues and many shops dating back beyond current memory.  This sprawling city has thousands of places for the attendees to explore, and we recommend planning for several extra days in the area to do so.
IDEF receives our highest marks for a military show featuring weapons: the show was well designed, the attendees flowed through the entire show, management went all-out to ensure that the exhibitors had their needs filled, and the attendees were the targeted group.  Almost everyone we talked with was planning on setting up and attending at the 2013 edition of IDEF.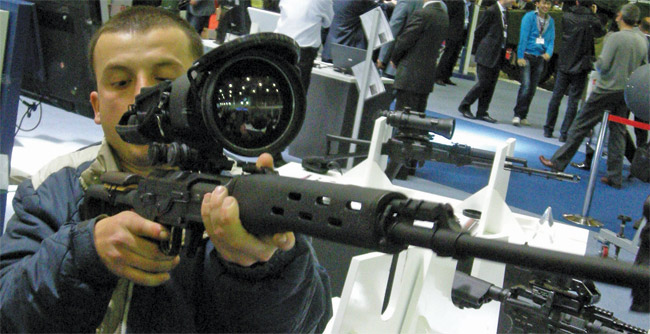 Aselsan is a large Turkish Armed Forces Foundation company, with a wide variety of offerings. Their quad IGLA-S remote station dominated the area, but in their opto-electronics section, the newest creations were found. The BOA Thermal Weapon Sight, mounted here on the newest model SVD Dragunov sniper rifle in 7.62x54R. The BOA weights just less than 2.1 kg with battery, and the LI-Ion or AA Batteries will provide a life of 12 hours. BOA has a 6x magnification for longer range detection, as well as an electronic 2-4x zoom. Features include polarity change, image freeze, image transfer to a heads-up display, as well as most other normal options. (www.aselsan.com.tr)
The Urban Tactical Shotgun-15 rounds, or UTS-15, is a new offering in 2011 from UTAS in Turkey. SADJ readers will note this was premiered at the IDEX show in February 2011 in Abu Dhabi. Essentially, this is a bullpup designed tactical shotgun with two magazine tubes; one holding 7 rounds, the other holding 6. UTAS retained the services of American firearms designer Ted Hatfield (pictured) to take the original Neostead Shotgun design they had licensed from South Africa, and make it ready for their market. This entailed a complete re-design of the internals. One interesting feature of this high-capacity, compact shotgun is that the three modes of feeding can be chosen: feed from right tube only, feed from left tube only, or feed from both tubes, alternating. (www.utasturk.com)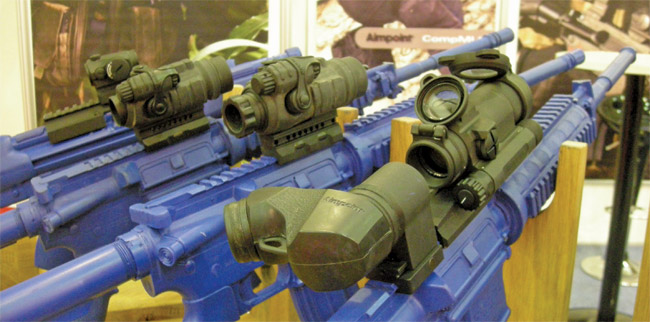 Swedish company Aimpoint had a full stable of their newest military products on display. Aimpoint's Concealed Engagement Unit (front) is a step up for the safety and concealment of military and LE personnel who require the ability to remain behind cover while sighting their weapon onto an enemy fighter. In situations facing heavy suppressive fire or sniper engagement, the new CEU offers the ability to use the Aimpoint red-dot system exposing only the weapon and operator's hands while keeping head and body safely behind cover. (www.aimpoint.com)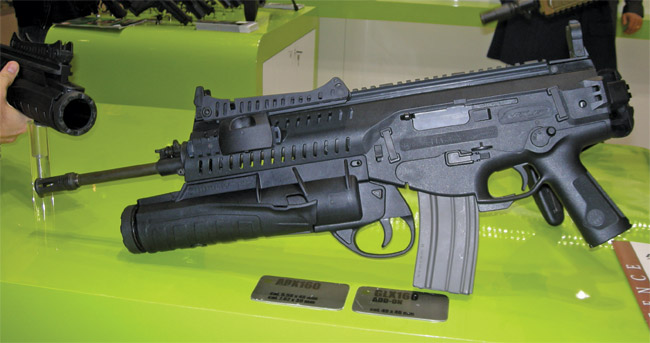 Beretta's new assault rifle, the ARX160, as previously covered in SADJ (Volume 1, Number 4) was quite popular as well. The unique 40x46mm grenade launcher module was displayed with its stand-alone stock. (www.berettadefence.com)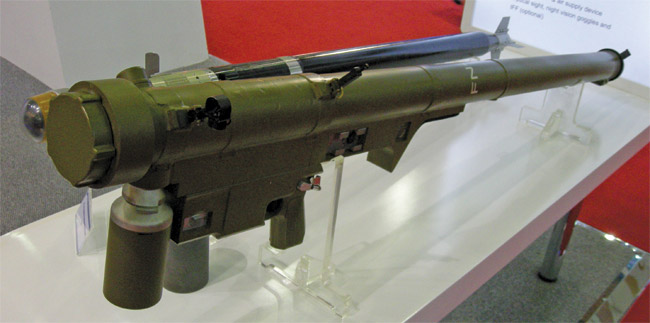 Aerospace Long March International presented the standard FN-16 surface-to-air missile, with its 6,000 meter interception range and anti-cruise missile capability.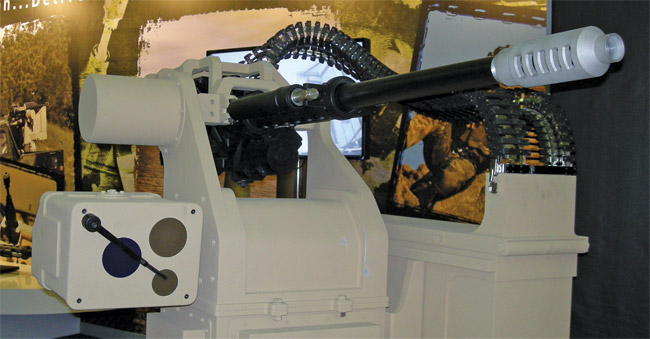 ATK's Modular Advanced Weapon System (MAWS) was designed to be a remote platform for ATK's 30mm link-fed M230LF heavy machine gun. Firing the 30x113mm cartridge at a rate of 200 RPM, with 144 rounds in the feed can, the MAWS is a formidable remote station. The M789 HEDP projectile weighs 236 grams, with 27 grams of PBXN-5 explosive. The electro-optics include: Forward Looking Infrared sensor; MWIR (cooled), auto-focus, auto-cal, electronic zoom, visible sensor, eye safe laser rangefinder, high intensity spotlight, and extended day color TV with continuous zoom. The MAWS can be customized for the end user's need, and can be platform or vehicle mounted. (www.ATK.com)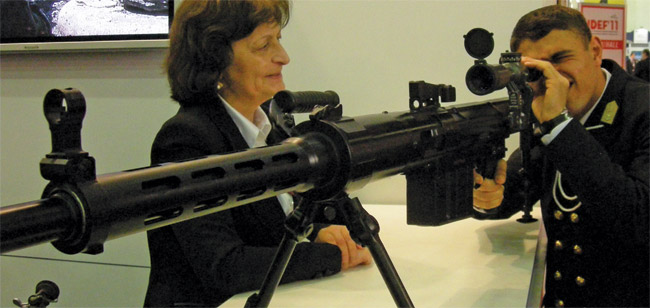 MODIAR had many of the products from their military production available from small mortars to ammunition and links. The IST-14.5 Anti-Material Rifle is a semiautomatic anti-material rifle that utilizes the full power of the modern 14.5x114mm round used in the KPV series. This rifle allows for approximately 2,000 meters of range, driving a 58.5 gram (MDZ Incendiary) or 63.9 gram (B32 API) projectile at approximately 950 meters/second. With the semiautomatic action and the five-round detachable magazines allowing for rapid second shots, this 33.8kg rifle adds new capability to the tactical squad. (www.mdi.gov.az)
Pages: 1 2