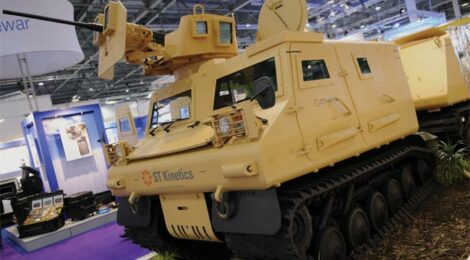 Last September's Defence Systems & Equipment International (DSEi) saw more than 25,000 people attend to see 1,280 exhibitors covering all areas of the defence and security market.  The exhibition covered the full remit of land, sea and air defence platforms and technologies but also marked the growing importance of security capabilities to armed forces around the world.

Indeed, in light of the increasing convergence between traditional defence and national security markets, Clarion Events, the organisers of DSEi, have made a subtle but important change to the name of the exhibition.  The event will still be known as DSEi but, going forward, this now stands for Defence & Security Equipment International.
Small Arms Support 
In terms of the small arms sector, DSEi 2009 included 95 exhibitors involved in firearms and ammunition while more than 400 exhibitors were displaying a wide variety of innovative personal and protection equipment for today's soldier.
Several exhibitors were showcasing cutting edge body armour.  MKU, which specialises in personal and vehicle protection, was showcasing its patent-pending Instavest ballistic body armour.  Designed to deal with different life-threatening situations, Instavest includes a new quick-release jettison system that divests the vest from the user's body within a split second in a single action.  Easy to reassemble and put back on, MKU envisions the vest being particularly useful in scenarios such as escaping from under an overturned vehicle, having to run through treacherous terrain while taking evasive action or jumping into waterbeds to avoid being caught.
A number of new sniper-orientated technologies were also unveiled during the exhibition.  Aero Sekur launched a new sniper suit poncho, which has been developed as part of the company's work for Italy's Future Soldier programme.  It provides effective camouflage in the multi-spectral range, while employing a new fabric that alters the detection capabilities of opto-electronic devices to protect the wearer.  Designed to prevent detection from night vision goggles during general use, the suit also provides shelter during prolonged night missions.  Meanwhile Ultra Electronics presented its latest Rifle Mounted Sniper Locator (RMSL) gunfire detection system.  These small, lightweight units have been undergoing field evaluation with UK armed forces, while mounted on SA80 rifles.  The units provide range and the bearing data of a hostile shooter to the soldier via an intuitive, integrated LCD display.  Sniper rifles specialist Truvelo was showing additions to its range of countermeasure sniper rifles.  According to the company, the 12.7×99 CMS has a modern design, incorporating all the requirements for countersniping and is expected to become the benchmark for this class.  Developed for urban warfare, the new CMS claims to provide an outstanding combination of calibre, compact design and lightweight construction, making it suitable for any type of mission.
Military Delegations
DSEi 2009 attracted the usual high levels of military delegations; 71 individual military delegations representing 49 countries, and including a United Nations delegation, attended.  The UK's First Sea Lord and Chief of the Naval Staff, Admiral Sir Mark Stanhope and Chief of Defence Material, General Sir Kevin O'Donoghue were two of several senior UK military personnel to attend the event.  In total, the event clocked up visits from 1,986 military and government attendees from 48 countries.
The UK MoD used the exhibition to make an important announcement about the first stage of its Future Integrated Soldier Technology (FIST) programme.  Quentin Davies, the UK's Minister for Defence Equipment & Support, revealed that the award of a £150m prime contract, covering the delivery and in-service support of equipment for Increment 1a of the programme had gone to Thales UK.  FIST is a major soldier modernisation effort for the British Army and is expected to take place in three phases.  Increment 1a, part of the first phase, covers surveillance and target acquisition equipment.
Spotlight on Force Protection
With the minds of many nations still concentrating on the International Security Assistance Force's operations in Afghanistan there was a particularly strong showing of the latest blast-protected vehicles entering the market.  Just over 290 exhibiting companies were involved in land vehicles and there were approximately 100 vehicles on display in the halls.
The British Army Export Support Team area considered the UK's Comprehensive Approach to Operations while using Krulak's 'Three Block War' concept as a vehicle for the demonstration.  The area featured four quadrants.  The first covered High Intensity Operations, the process necessary to secure an environment in which to conduct subsequent operations.  The second quadrant – Maintaining a Secure Environment – covered ways to ensure an area is safe against a variety of potential threats such as insurgency or sectarian focused civil disorder.  Equipment here included Allen Vanguard's anti-IED robot, which provides mission support for EOD technicians in both law enforcement and the military, and Universal Target Systems' Vigilant UAV system, which can be used in most conditions over both land and sea to collect different forms of data via state-of-the art sensors.
The third quadrant focused on Peace Support Operations (PSO).  Often conducted under the mandate of a coalition, such as the United Nations or NATO, this can necessitate a wide range of equipment and capabilities.  In this area soldiers from the British Army Export Support Team demonstrated CyberFlight's E-Swift Eye – a lightweight, hand-launched UAV, which can be set up in five minutes and has a flying time of around one hour before it needs recharging.  Lifesaver Systems' water bottle, which produces filtered, sterile drinking water quickly and easily, was also tried out in front of visitors.  The final quadrant looked at Humanitarian Operations where medical and infrastructure support tools are needed to respond to humanitarian disasters such as famines, floods and earthquakes.  Prometheus Medical's first medical response equipment was among the items showcased here; with an emphasis on getting medical help to troops within the 'golden hour' and equipment included a blast & modular bandage, tactical medical bag and Team-8 stretcher, which can be safely pulled along by one soldier if necessary.
Waterside Features
With its prime waterside location at ExCeL, DSEi is unrivalled in the levels of marine-related equipment on display both inside the halls and in terms of the visiting ships moored outside the halls.  These included Type 23 frigate, HMS Somerset – a world leader in the anti-submarine warfare environment.  HMS Somerset is deployed around the world to undertake a wide range of tasks including embargo operations, using boarding teams inserted from the ship's boats or by Merlin helicopter, disaster relief work and surveillance operations.  The Royal Navy's HMS Mersey made a repeat appearance at the exhibition and the Royal Netherlands Navy kindly sent HNLMS Luymes, one of two recently built hydrographic survey vessels.
Adjacent to the ships, the waterborne demonstration was organised on a larger scale than before with a group of companies working together to organise a co-ordinated shipboarding activity, dubbed Operation Vision.  The exercise featured an advanced performance pursuit and patrol vessel and UAV helicopter.
This year's event also made even more use of ExCeL's excellent outside space with a group of companies setting up shop in the waterfront exhibition area, close to the waterborne demo viewing bridge.
DSEi will be held, once again, at ExCeL in 2011 from 13 to 16 September.  For more information please contact the DSEi marketing team at Tel: +44 (0)20 7370 8551 or email: marketing@dsei.co.uk.