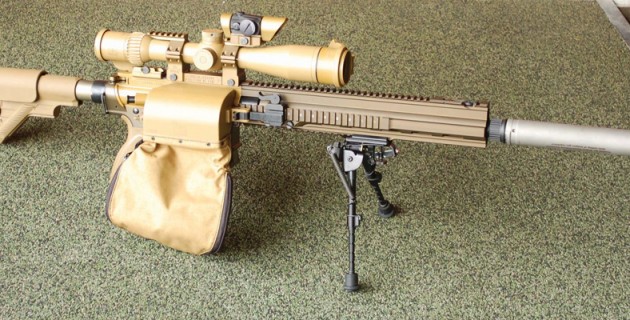 ABOVE: The H&K G28 'Designated Marksman Rifle (DMR) fully outfitted with optic, suppressor and spent case catcher, overall finish reflecting current operational requirements.
The B&T AG (Brügger & Thomet) Police Equipment Show took place over the 12-13 of June 2013.  The show, which is an invitation only event, is organized by Brügger & Thomet and takes place in their home city of Thun, in Switzerland.
The show, as the name implies, is aimed at the law enforcement community and is held at the large spacious Swiss Army range facility of Guntelsey on the outskirts of Thun.  There were two indoor exhibition areas, the ground floor and first floor of the range firing points where nearly 40 manufacturers and distributers had more than ample space to display their product lines.  Outdoor displays included a full-size electric target range demonstrator.
On both days a number of formal presentations and demonstrations of products were given, these included a briefing by Mark Zimmerman on 'The Police Carbine,' B&T's Proposal for the Future.  The briefing covered new developments underway at B&T that included the rifle calibre modular carbine in addition to the B&T Police Carbine in submachine gun configuration; the latter already in service with a number in service with users, was originally chambered in .45 ACP calibre, but is now being offered in the ubiquitous military and police calibre of 9 x 19mm.  A number of briefings covering regional issues by official agencies were also given.  Reflecting the multi-lingual status of Switzerland the briefings were generally offered in a choice of languages.
On both days, live-firing demonstrations were held of B&T and other attending manufacturers' product lines on the 50 metre range.  This was also a hugely successful opportunity for those attending to live-fire an extensive range of law-enforcement firearms that also included the opportunity to fire, side-by-side, various weapons fitted with or without B&T suppressor units enabling attendees to appreciate levels of sound suppression obtained with the B&T suppressor product line.
For those not familiar with the host company, B&T AG, as they are now known, began as manufacturers of firearm suppressors in 1991, moving on to manufacture complimentary accessories for use with their suppressor product line.  As an ever growing customer base expressed their wish for a complete weapon system, B&T began production of complete weapon systems in 2004, initially having obtained the manufacturing rights to the Steyr Tactical machine pistol (TMP) their own product-improved MP9 version of the TMP was offered.  The company now designs and manufactures a range of weapons in addition to others described in this article such as the APR308/338 precision rifle, the SPR300 rifle and GL-06 stand-alone grenade-launcher.  B&T is a registered NATO supplier (NCAGE SV178) and certified to ISO 9001: 2008.
A reception sponsored by Brügger & Thomet was held on the evening of 12 June at the Hotel Seepark on the shore of Lake Thun.  The view from the terrace was impressive, reminiscent for those of us who live in less picturesque places, of Swiss chocolate box images.  A lavish spread of food and drink was provided and the event was very well attended.  The social get-together and the ability to meet and talk with not only those exhibiting, but also those attending as visitors provided a unique opportunity for those in the collective law enforcement community to 'network' to the mutual benefit of all.