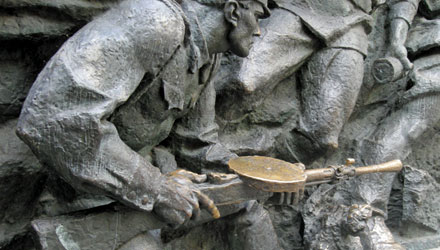 Arms & Security Kyiv is the Ukraine's yearly military, police, and hunting show.  It is a smaller show than the big internationals, but it is well attended.  The first day was a lot of Ukraine military with a smattering of Russian military as well.  The next two days were comprised of military and police attendees in civilian clothing, and civilian hunting enthusiasts.  There were quite a few knowledgeable people about small arms, with their orientation towards the old Communist Bloc weaponry.  However, the Western influence can be seen in many designs, with European weapons from FN Herstal and B&T moving into the military and LE communities.
In the Ukraine, private ownership of handguns is difficult if not impossible for most.  Ukrainians as a whole are very interested in handguns, so to adjust to the "no real bullets" laws, most self-defense handguns are made to fire special caliber rubber bullets in .45 and 9mm calibers.  These are classified as "Traumatic pistols."  At the show, most handguns could be seen in both standard and "Traumatic" configurations.
The indigenous arms industry appears to be doing well, with a number of quality manufacturers up-grading or modifying older designs, and adapting to the world market.
Pages: 1 2