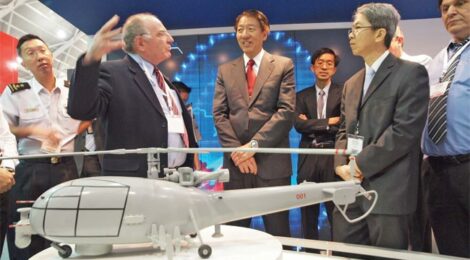 Over 150 exhibitors from 23 countries gathered in the sunny Singapore Spring for IMDEX 2009.  This was the seventh biannual IMDEX, and it was opened by the Deputy Prime Minister and Minister for Defence, Mr. Teo Chee Hean.  While this is a Naval show, not a small arms show, SADJ had come to the show on business, and we were pleased with the opportunities there.  This is a professional show, and it is well run.  Interestingly, more than 20 warships from over 14 countries were on display as well, and the attendees could board many of them.

Over 5,500 trade visitors from 55 countries and 45 delegations from 36 countries filled the 10,000 sq. meter building.  This was also the first year that the U.S. set up a Country Pavilion, and there were nine Country Pavilions in total.
As noted, small arms were not in evidence in the displays.  However, concurrent with the exhibition were conferences and seminars and number of them were quite timely and relevant to our small arms defense related readers.  These included:
Global Piracy and Armed Robbery Trends: Role of ReCAAP
The Malacca Straits Patrol
Border Protection in Australia
The South China Sea: from Politics to Collaboration
SADJ Recommendation: if you have interest in the Naval side of things, this is a good show to attend and set up at. If not, then there are more small arms oriented shows in the area- Defense Services Asia in Kuala Lumpur, IndoDefence in Jakarta, Defense & Security Thailand, and BRIDEX  in Brunei to name a few.
IMDEX VISITOR PROFILE
Defence Ministers
Chiefs of Navy
Chiefs of Coast Guard
Secretaries of Defence
Senior Members of Defence Research Establishments and Government Agencies
Official VIP Delegations
Senior Naval, Air Force and Procurement Officers
Senior Officers from Coastguards, Police, Customs and Immigration services
Officials from major maritime-related organizations
Defence Contractors & Suppliers
IMDEX EXHIBITOR PROFILE
Manufacturers and suppliers of:
Command and Control System
Communication & Data Links
Data & Intelligence Systems
Decoy Systems
Diving Equipment
Electronic Warfare Systems
Helicopters
Integrated Combat Systems
Maritime Patrol Aircraft
Missiles
Navigations Systems & Software
Propulsion Systems
Radar
Simulation & Training
Sonars
Surface Platforms,
Submarine & Submersibles
Surveillance Systems
Torpedoes
UAVs, USVs, UUVs and RPVs
Underwater Systems
Warship Builders
Weapons & Sensors