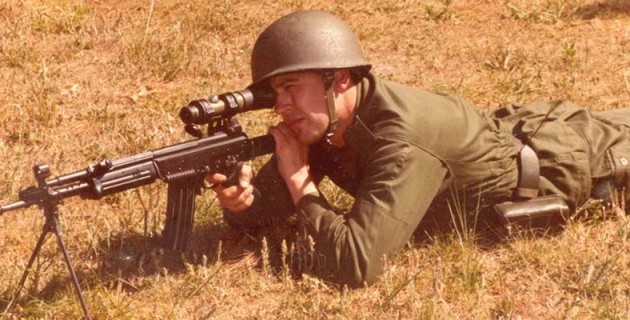 ABOVE: This particular example of a scoped Argentine rifle shown in a publicity photo has the cocking handle on the left side and, barely discernible, an FAL carrying handle folded down.
From the turn of the 19th to the 20th century, Argentina, like many of the world's countries, was primarily equipped with bolt-action Mauser rifles acquired directly from DWM (Deutsche Waffen und Munitionsfabriken) beginning with the M1891 (about 180,000 units) and followed by the M1909 (about 130,000 units purchased in the 1909-1911 period), all in the 7.65x53mm chambering, the so-called Argentine Mauser round. The local Arsenal Esteban de Luca (a.k.a. Fábrica de Fusiles de Buenos Aires) started producing replacement parts for the rifles, including barrels, in 1915. Between 1947 and 1959 or so, state-owned Fabricaciones Militares locally produced about 20,000 shorter (556 mm barrel) Engineers/Cavalry carbine variants of the standard rifle (this had a 740 mm barrel) at its Fábrica Militar de Armas Portátiles "Domingo Matheu" (Domingo Matheu Small Arms Military Factory), in Rosario, Santa Fé Province. For the record, the different Mauser models remained in Argentine Army use until gradually replaced by the 7.62x51mm FN FAL from mid-1957. Following the delivery of initial Belgium-made batches, local manufacture at the Domingo Matheu Factory started in 1959, when 500 examples were completed, but production output would eventually reach about 10,000 units per year. It is estimated that 120,000 FALs were manufactured in Argentina before production finally stopped in the mid-to-late 1990s.
Shortly after World War II, when the U.S. M1 Garand, the Soviet SVT series, and the German G43 and StG44 had shown the new shape and fashion of the infantryman's rifle, the Argentine Army thought it was also about time to follow suit, if possible, involving local manufacturers. Since the country lacked the basic technical knowledge involving the design and production of semi-auto weaponry, external inspiration was required. This came in the form of the German StG 44 assault rifle that somehow found its way to that South American country in around 1947. Using a reverse-engineering process, personnel from CITEFA – Instituto de Investigaciones Científicas y Técnicas de las Fuerzas Armadas (Armed Forces Institute for Scientific and Technical Research) in association with those of Fábrica Militar de Armas Portátiles "Domingo Matheu" produced their local clone of the Sturmgeweher, which received the designation CAM 1. At the same time, Army's Fábrica Militar de Cartuchos "San Lorenzo" (San Lorenzo Military Factory of Cartridges), also in the Santa Fé Province, tooled up for the production of the 7.92x33mm round used in the rifle, and some test batches came out for use in the unknown number of CAM 1 prototypes that eventually emerged from the Domingo Matheu Factory. For unknown reasons, however, plans for the full-scale manufacture of the rifle gradually came to an end in about 1953-54.
Another attempt also dating to the early-1950s apparently came from the Argentine Navy with the reported technical support of H.A.F.D.A.S.A. – Hispano Argentina Fábrica de Automóbiles S.A., a small Buenos Aires-based manufacturer of submachine guns and semiautomatic pistol-caliber carbines. This eventually materialized in the form of a modified M1 Garand rifle in 7.65x53mm caliber, of which at least one prototype was completed by Fábrica Militar de Armas Portátiles "Domingo Matheu" in 1953. The most noticeable external features of what was simply called the Fusil Semiautomático (Semiautomatic Rifle) were an elaborate aluminum handguard with vertical ventilation openings lengthwise and revised, slimmer contours for the shoulder stock.
It is also reported that the Argentine Air Force had earlier played around with the idea of a local manufacturing program of Melvin Johnson's M1941 semiautomatic rifle, some mention of a so-called M1947 (a semi-auto carbine derived from the M1941 machine gun) for Argentina having occasionally emerged. It would take about two decades for a new move towards an indigenous rifle project to get started in that South American nation.
In 1975, the Estado Mayor General del Ejército (Army General Staff) sent to the FMAP-DM the preliminary technical requirements for a 5.56x45mm FAA (Fusil de Asalto Argentino, or Argentine Assault Rifle). Design responsibility was given to a team headed by Enrique Chichizola, and by 1977 the basic parameters of what was called "Proyeto Código 10.0187" had been defined. In mid-1979, after about seven months of actual building work, the first of five test prototypes was completed.
With numerous modifications dictated both by the early test program and by consecutive changes in the official requirements, a pre-production batch of approximately 50 units was completed at the Domingo Matheu Factory; the guns being subsequently delivered for actual evaluation and field testing by Army units, with emphasis on those so-called "special" outfits such as airborne, commando, and mountain troops. This took place in the 1982-1983 period. After having been called the FAA, the gun was later named FAA 81 and, finally, FARA 83 (Fusil de Asalto República Argentina 1983). It is estimated that, all in all, only a few hundred examples of the rifle were completed before the program was cancelled by the President Carlos Menen administration in the mid-1980s because of insufficient funds available.
Along its evolutionary period, the modifications applied to the Argentine assault rifle resulted in numerous technical specifications changes. Basically, it was a selective-fire weapon (about 700-750 rounds per minute in full auto) and was gas-operated with a pretty conventional piston/rod/bolt carrier configuration, breech locking being provided by a two-lug rotating bolt. The 452 mm long barrel (six RH grooves, pitch 1:9 in) was adequate both to the common M193 round of that time and to the new SS109 cartridge that was finding its way into the military market. Feed was provided by proprietary steel-made 30-round magazines, but it was planned to have them replaced by AR-15/M16 models for future large-scale production weapons.
The rifle's body was made primarily of steel stampings, the upper and lower receivers articulating away from each other at about half way the length. The first prototype had a foldable wooden stock, but this subsequently gave way to a synthetic unit with a small internal compartment that housed cleaning material. However, most weapons made for the troop evaluation program were fitted with a tubular metal stock based on that used in the Para-FAL rifle, plus the addition of a plastic cheek rest in which the cleaning kit was accommodated.
The final FARA 83 specifications are as follows: length overall, 1,000 mm; length with the stock folded, 745 mm; height over magazine, 260 mm; weight with empty magazine, 4.16 kg; weight with full magazine, 4.52; weight of optional foldable bipod, 0.4 kg.
As a postscript, in 1989-90 Fábrica Militar de Armas Portátiles "Domingo Matheu" made another attempt to give the Argentine Army a 5.56x45mm rifle. This took the form of a modified 7.62x51mm Para-FAL rifle re-barreled for the new round and fed by 30-round Steyr AUG plastic magazines. Although this worked adequately, the program did not mature enough to enter production. Maybe because the resulting rifle was too heavy for the caliber involved.