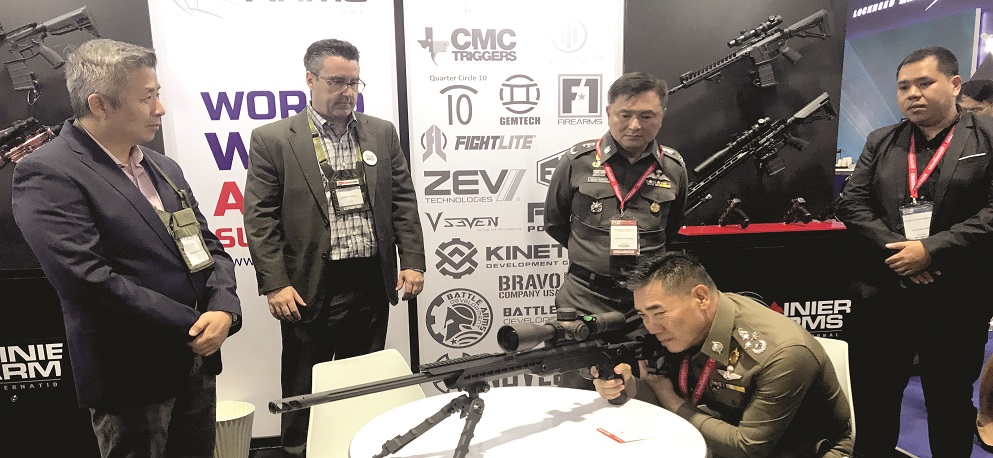 Defense and security companies looking for growth overseas are taking a national approach to international trade events
In an increasingly dangerous world, security is a growth market, and competition lurks around every corner. From surveillance and weapons to equipment and training, defense and security companies are taking a national approach to international trade events, exhibiting as part of their official country pavilions to attract more attention from foreign government, military and private sector buyers around the world.

The current wave of interest in international sales is a textbook business response to four primary market factors:
globalization and easier access to international markets.
regional economic growth and prosperity, particularly in emerging markets.
an uptrend in modernization, capitalizing on new technologies and innovation to ensure effectiveness and interoperability.
fast-changing defense and security requirements to address shifting threats within and across national borders.
Around the world, trade events are the proven face-to-face marketplace. The practice of packing an exhibit hall in a "destination" location with the industry's most competitive companies and inviting qualified buyers to come "kick the tires" is a tried-and-true model for international marketing and sales.
The national pavilion amps up the action, wrapping participating exhibitors in their country's flag as a symbol of greater, more purposeful long-term business relationships.
"National pavilions are a patriotic expression of collective industry pride, presented in the spirit of global partnership," said Tom Kallman, president and CEO of Kallman Worldwide, organizer of the USA and Canada Partnership Pavilions at well-established global trade events including Defense & Security (Bangkok), Expodefensa (Bogota), Defence Services Asia (Kuala Lumpur), Land Forces (Australia) and the three-show Milipol series (Paris, Qatar and Asia-Pacific), as well as newer homeland security events such as Australia's CIVSEC and the NATSEC companion to DSA.
"From nation to nation, the national pavilion is an invitation," said Kallman. "Come see the best our country has to offer, and let's work together for mutual long-term success."
As the world's leading aerospace, defense and security supplier, the United States is often the largest national presence at international industry events (excepting the host country's home-field advantage), amplifying America's year-round presence and interests in the region.
For example, the collective participation of more than 40 major American manufacturers, technology innovators and a wide scope of supply-chain leaders exhibiting at DSA 2018 was a strong indication of how important Malaysia and the Indo-Asia-Pacific region are to the United States, and that buyers and influencers throughout the region are likewise looking to the U.S. for innovative solutions and partners to help ensure their long-term economic and homeland security.
"DSA is an opportunity to strengthen the already excellent relationship between the U.S. military and the Malaysian Armed Forces, and it presents opportunities for all visiting military delegations seeking best-in-class capabilities," said Kamala Shirin Lakhdhir, U.S. Ambassador to Malaysia, at the beginning of last year's show. "The United States believes in the importance of building long-lasting partnerships that promote security and prosperity, including through global trade."
National pavilions are prominent, and also practical. They give participating exhibitors — especially small- and medium-sized enterprises (SMEs) — instant equity and scale on the show floor. That's the reason Rick Fox, President of Waypoint Counter Surveillance of Whitby, Ontario says he decided to exhibit with Kallman in the Canada Partnership Pavilion at the upcoming Milipol Paris 2019.
"The Canada Partnership Pavilion positions Canada as a global player, and that perception extends to us as a Pavilion exhibitor," said Fox. "Exhibiting in the Canada Partnership Pavilion at Milipol Paris this year will make it easier for visitors to find our company at the show. And thanks to the added confidence we get from working with Kallman Worldwide — from producing and installing our graphics to arranging for delegations to visit our booth — it will be easier for us to focus on meeting customers."
The same goes for individual Canadian provinces or American states whose economic development agencies often host their own branded pavilions featuring smaller co-exhibitors within the larger USA Partnership Pavilion space. Their goal is to generate new business and create jobs back home by growing regional exports, helping exhibitors expand overseas through production or distribution partnerships, and/or recruiting international partners to establish or participate in state-based operations.
The shared services or co-op model makes it more cost-effective for small companies to test the waters in an overseas market before diving in.
"We want people to know that Idaho is more than potatoes, and we're doing a lot to market and promote our state's aerospace, advanced manufacturing, technology and innovation leadership, but nobody goes to an international aerospace, defense or security show looking first for Idaho," said Sarah Massie, Senior International Trade Specialist for the Idaho Department of Commerce. "They do look for the United States, because they equate the USA with high quality and innovation. By hosting our Idaho pavilion within the USA Partnership Pavilion we're able to capitalize on America's international reputation for quality to expand Idaho's footprint around the world and bring added value to our state-based co-exhibitors on-site and our communities back home."
Of course, there is no substitute for the prestige of presenting a big name brand in a national pavilion on the international exhibit floor. For example, amplifying a legacy of leadership and innovation that spans three centuries, a SIG SAUER spokesperson says the manufacturer gains an extra market advantage by exhibiting in the USA Partnership Pavilion at global defense and security events.
"It's important for SIG SAUER to have a strong presence at international tradeshows to showcase our innovative products that are used by elite forces worldwide, and to introduce our latest developments in next generation weapons to the international marketplace," said Samantha Piatt, Manager, Communications & Media Relations at SIG SAUER, Inc. "Our participation in the USA Partnership Pavilion provides a full-service business-to-business experience and expands our visibility at international tradeshows. Further, by collectively grouping the U.S. manufacturers together in the Pavilion, it has increased our presence as an exhibitor, and made our booth at these shows a top destination for visitors."
EXPORT EVENT SUCCESS SPOTLIGHT
Waypoint Counter Surveillance
"Over the past 10 years we have participated in exhibitions with partners across Europe and the far east as well as in the U.S. While we provide many advanced Technical Surveillance Countermeasures (TSCM), surveillance and intelligence related products and systems to customers around the world, our focus during these exhibitions was in support of distribution partners with a few select products. In the process of strengthening our distribution networks, it's become increasingly apparent that trade shows are an opportunity to strengthen our own brand, too. In particular, we've seen direct interest among international delegations in our selection of non-linear junction detectors, RadioInspector TSCM spectrum analysis software and Wi-Fi Inspector analysis system. We look forward to exhibiting with Kallman Worldwide in the Canada Partnership Pavilion at Milipol 2019 in Paris to continue this brand marketing strategy."
Rick Fox, President
TOP DEFENSE AND SECURITY EVENTS FOR EXPORTERS
MILIPOL PARIS 2019
November 19-22, 2019
2017 Highlights
1,005 exhibitors from 53 countries
29,939 visitors from 151 countries
161 official delegations, 753 delegates from 77 countries
MILIPOL ASIA-PACIFIC 2020 (SINGAPORE)
March 23-25, 2020
2017 Highlights
270 exhibitors from 36 countries
6,700 visitors from 62 countries
70 official delegations from 11 countries
MILIPOL QATAR 2020
October 26-28, 2020
2018 Highlights
222 exhibitors from 24 countries
8,487 visitors from 101 countries
314 official delegates from 48 countries
EXPODEFENSA 2019 (Bogota)
December 2-4, 2019
2017 Highlights
269 exhibitors from 34 countries
12,500 professional visitors
74 official delegations from 30 countries
DEFENSE & SECURITY 2019 (Bangkok)
November 18-21, 2019
2017 Highlights
417 Exhibitors from 41 countries
16,122 visitors from 61 countries
218 delegations
DEFENSE SERVICES ASIA (Kuala Lumpur)
April 20-23, 2020
2018 Highlights
1,500 participating companies
50,000 visitors
350 Delegations from 44 countries
LAND FORCES AUSTRALIA 2020 (Brisbane)
September 1-3, 2020
2018 highlights
624 exhibitors from 26 countries
15,331 visitors
74 delegations