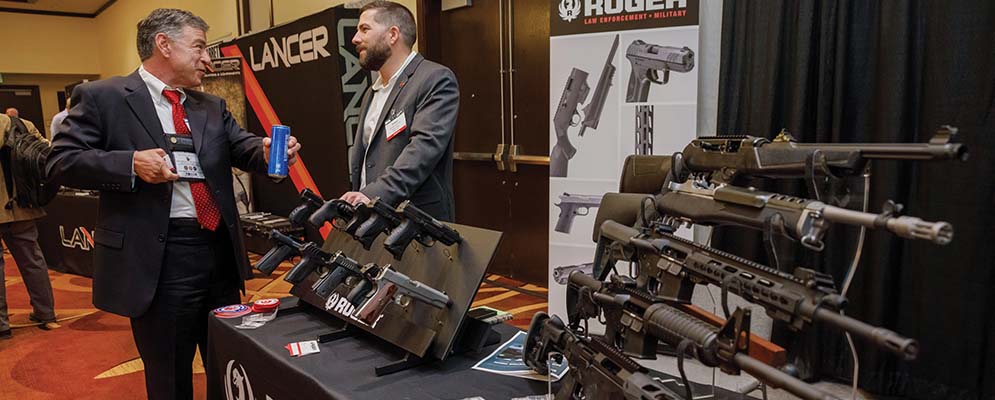 ABOVE: Mr. Graham Rockwell, Product Manager, explaining the Ruger Product Line to Mr. Howard Kent, CEO of the Armor Development Group, LLC.
NDIA's Armament Systems Forum provides the U.S. and International Allied Armament government and industry framework understanding of the evolving global requirements and capabilities. The forum agenda communicates the trends in armament systems and technology which are shaping the enterprise today and in the future. Speakers, presentations, exhibits and demonstrations are planned to enable communication, networking and collaboration to seek solutions to challenges in systems, technology, manufacturing and warfighter application.
The primary purpose of the forum is to provide attendees content that will shape the evolution of new capability to ensure readiness in the complex world environment. Forum participation is focused to strengthen the government–industry partnership across the full life cycle, from requirement to fielding.
The Division's activity is directed through three very active components: Small Arms Committee; Guns, Ammunition, Rockets & Missiles Committee; and Unconventional Emerging Technology Armament Systems.
Objectives of the Armaments Division are to:
Provide focus on integrated armament systems including those used by individual soldiers; utilized on crew-served systems; and integrated into land, sea and air platforms.
Provide assessment of current armaments and a vision of emerging military equipment and operational capability applying advanced technology in total armament systems.
Connect for Success
NDIA is your source for networking, knowledge exchange and business development opportunities with government and the defense industry. NDIA can connect you for success through association events, policy and local chapters. Select your membership category and join online ndia.org