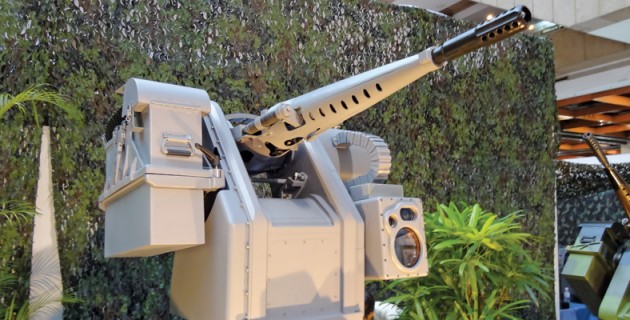 ABOVE: The XTM101 20x102mm weapon system. Intended for naval use, the system is capable of 360° rotation, and elevation from -15° to 85°.
The only military trade show in Taiwan, the Taiwan Aerospace and Defense Technology Exposition was held from August 15 – 18, 2013 in Taipei, Taiwan.  As the premier opportunity for the Taiwanese Ministry of Nation Defense to highlight equipment and capabilities, the show was hosted at the Taiwan World Trade Center, in the shadow of the Taipei 101 skyscraper.  Although the show was a means to highlight and display of Taiwan's military might, a number of international exhibitors were present to show off weapons currently in use with the Taiwanese military.
Pinnacle Forces Corp./Hurricane Butterfly
Pinnacle Forces and Hurricane Butterfly put on an impressive display on behalf of Barrett Firearms, LWRC Rifles, and Leupold & Stevens.  Of particular interest were the Barrett rifles on display.  The M107A1 semiautomatic .50 caliber rifle, and the Barrett MRAD bolt action .338 caliber rifle were very popular photo opportunities with show attendees from the military and law enforcement sector.
A number of optics from Leupold & Stevens were on display, to include the Mark 8 CQBSS 1.1-8×24 optic.  Currently in use with the U.S Marine Corps, the optic is frequently utilized on the Mk19 and M2HB weapon systems due to its reticle, but is equally capable when mounted to an M4 battle rifle.  Although limited to eight power front-focal plane magnification, the reticle offers range finding capabilities to 1,200m through the use of quick range indices built into the reticle.
Not to be left out, LWRC International was well represented with a large number of rifles on display, to include the .308 caliber REPR, and the 6.8mm M6 rifle that was recently adopted by Saudi Arabia.
Factory 205
Factory 205, Taiwan's small arms development center showcased a newly designed battle rifle chambered in 5.56×45.  Tentatively named the Multi-Utilization Special Purpose rifle, the rifle appears to be similar to an AR-15 or M4 from outward appearances but all similarities end three lug rotary bolt.  Fire controls are ambidextrous and placed in the same location as the AR-15/M4 rifle system.  The trigger mechanism is built into a removable trigger box that is easily designed to be replaced as a unit.
The unit is currently in development and pre-production.  Current specifications indicate that the rifle is capable of firing at 550 – 700 rounds per minute, from a 1/7 right hand twist barrel.  Overall length is 33.4 inches with the stock extended, 31.6 inches with the stock retracted, and 24.4 inches with the stock folded.  Look for a review of this rifle in the near future.
The Chung-Shan Institute of Science and Technology (CSIST) of Taiwan
Taiwanese Marine Corps requested an indigenous disposable rocket launcher for use.  In response, CSIST developed the Kestrel rocket launcher.  Made of Fiber Reinforced Plastic, the rocket launcher is lightweight, simple and man-portable.  Two type of rockets are available – High Explosive Anti-Tank (HEAT) and High Explosive Squash Head (HESH).  Launchers loaded with HEAT rounds are night vision compatible, while the HEAT rockets provide a maximum penetration depth of 400 mm.  HESH rockets are intended for bunkers, and other fortifications.  The Kestrel HESH round has a range of 150 meters, and is capable of producing a 70 – 90cm hole in 20cm reinforced concrete, or 30cm brick walls.  The launcher is disposable and is water, mud and sand proof for use within the harsh conditions of the modern battlefield.
Taiwan received large numbers of legacy weapons from the United States.  While the weapons systems may not be cutting edge, the weapon systems are still fully functional, and perform a vital role in Taiwan's national defense. A good example of this is the M39 20x102mm single barrel, five-chamber revolver cannon from the United States.  Developed after World War 2, the M39 system was used through the 1980s in a number of fighter aircraft, to include the F-86 Sabre, the F-101Super-Sabre, and the F-5 Freedom Fighter.  Following retirement from the U.S. inventory, a significant number of units were transferred to U.S. allies, to include Taiwan. Known as the T75 in Taiwan, this is made in Taiwan now.
Based upon a need for a short range automated self-defense system, and combined with a bit of ingenuity, CSIST developed the XTR-101 and XTR-102 automatic guns.  The two units share similar features, with the XTR-101 utilizing a single 20mm gun, while the XTR-102 utilizes two 20mm gun systems.   The XTR-101 is intended for the Taiwanese Navy, while the XTR-102 is intended for shore defenses and combat vehicles.
Intended as a short-range, automated defense weapon system, the XTR family features integrated optical day/night sights with integrated target identification software, target tracking, and fire control.  The systems are capable of 360° rotation, with a maximum rotational speed of 60° per second.  Elevation capabilities range from -15° to 85°.  The original M39 system utilized a right-hand twist progressive twist barrel with nine grooves, and was capable of firing 1,500 rounds per minute, at a muzzle velocity of 3,300 fps.  As the XTR system appears to use a shorter barrel length than the original M39 system, the effective range and muzzle velocity of the XTR system remains unknown.
Taiwan has a fully modern military with a robust arms industry.  Capable of building indigenous, locally designed and built armored vehicles, battle rifles, rocket launchers, and unmanned aerial vehicles, the Taiwanese military is well armed with capable weapons.  When presented with challenges in modernizing its armaments, examples of ingenuity and resourcefulness are abound, most notably in the XTR 20mm weapon system.
Taiwan is a thoroughly modern and vibrant city.  Unlike many cities within Southeast Asia, Taipei is remarkably clean, with a low crime rate and all the trappings of a modern urban city.
The next TADTE show is scheduled for August 2014.  Additional information may be found online at www.tadte.com.tw.