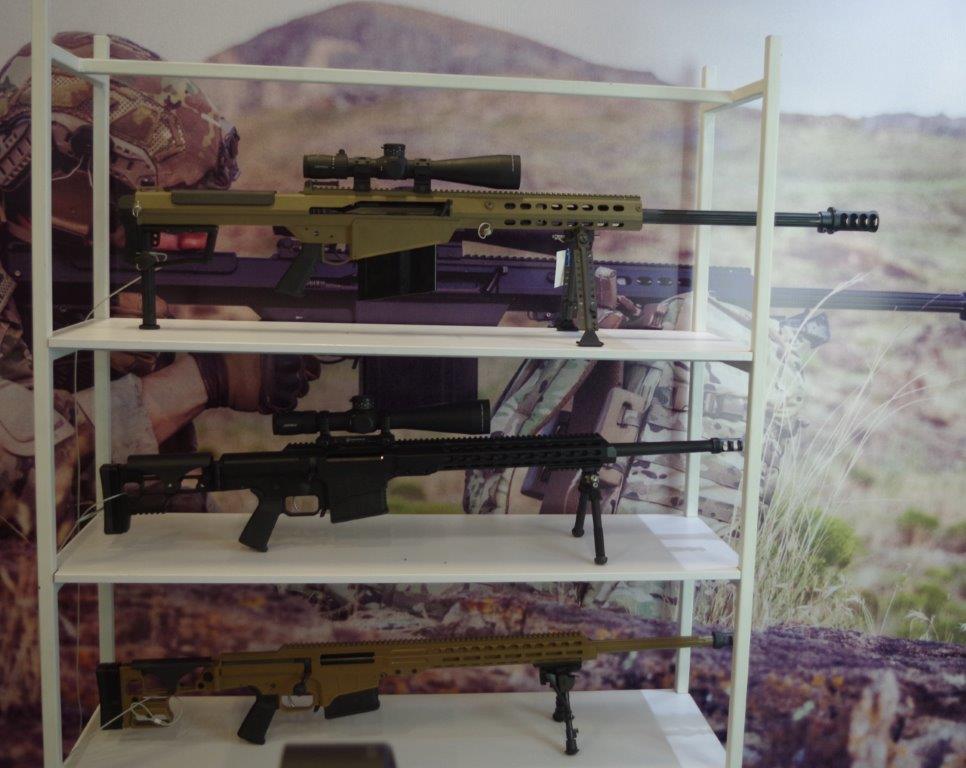 Expodefensa: A Hub Linking North and South America
By Julio A. Montes

Expodefensa was held for the first time in 2009 at Corferias International Business and Exhibition Center (Bogota, Colombia) as an event of a specialized nature for the technological development and innovation in defense and security. A decade later, on its sixth exhibit, the fair had industrial representation from 26 countries, to include 218 international and Colombian exhibitors. It hosted in six pavilions representing Brazil, Spain, France, Israel, the United Kingdom and the United States.
Small Arms 
Expodefensa last opened its doors at Corferias on December 2, 2019, with exhibits covering land, sea, air and space marvels. Israel Weapon Industries (IWI), an SK Group member, presented its new multi-caliber suppressed ARAD M-4-type assault rifle/carbine. IWI's ARAD is a weapon of modular design that enables the user to easily disassemble the rifle to exchange barrels to fire either 5.56x45mm or .300 Blackout. The Picatinny rail is an integral part of the upper receiver of the rifle to enable a variety of optics and other attachments. In addition, the weapon has M-LOK rails at the 3, 6 and 9 o'clock positions along the handguard and a telescopic buttstock which allows users to adjust the length individually for their particular needs. It is of modular structure that enables the user to easily dismantle and replace the barrel, and it is fully ambidextrous with controls on both sides of the rifle. The ARAD uses a short-stroke gas piston operating system with a two-position regulator mechanism which allows constant operation in all environmental conditions. A two-step enhanced trigger ensures both comfort and shooting accuracy. Additional features include a hard-anodized, monolithic aluminum MIL-STD 1913 rail in the upper receiver. The ARAD weighs only 2.85kg, and right now it comes with either a 292mm (11.5-inch) or 368mm (14.5-inch) barrel length . All metal parts of the weapon are corrosion-resistant, and it has a hammer-forged, chrome-lined, free-floating barrel, for enhanced accuracy and life cycle. In addition, the quick detachable barrel allows it to be replaced in a matter of seconds. It takes any NATO MIL-STD 5.56 steel, aluminum or polymer magazine. It has a retractable polymer stock, an ergonomic pistol grip, and it comes with four points for QD or cord/sling attachments.
The ARAD was presented along with another recently developed IWI rifle, the CARMEL, a conventional configuration multi-purpose, modular, 5.56X45mm caliber assault rifle. The CARMEL is made of superior steel, aviation-grade aluminum and high-strength, impact-modified polymer for outstanding performance in all environmental conditions. It has a short-stroke gas piston rotating bolt system with a three-position gas regulator, matched to a hammer-forged, chrome-lined, free-floating barrel, for enhanced accuracy and a prolonged life cycle. It is equipped with hard-anodized monolithic aluminum MIL-STD 1913 Picatinny rails at the 3, 6, and 9 o'clock positions to allow 100% compatibility with any available sights, devices or accessories. The rifle is equipped with a significantly efficient jump compensator for better shooter stability and uses any NATO MIL-STD 5.56 steel, aluminum or polymer magazine. The CARMEL is offered with four different barrel lengths. The weight of the rifle without a magazine or sight is 3.3kg. The CARMEL has a foldable and retractable folding polymer stock and can be fired with the stock folded; it also comes with an adjustable cheek-rest. It has an ergonomic pistol grip and three-point sling attachments.
Also present at the show was the UZI PRO pistol. It is a modernized Micro-UZI semi-auto pistol based on the UZI submachine gun. A couple of years ago, IWI offered to recycle all the Colombian National Police Mini-UZIs and their conversions to a newer, modern, standard. The Mini-UZI is a smaller version of the regular UZI. It measures 600mm (23.62 inches) long or 360mm (14.17 inches) long with the stock folded. Although the government did not take the offer, a new variant of the Mini-UZI was present at INDUMIL's booth.
Industria Militar (INDUMIL), the Military Industry company, was prominent among the exhibitors with its full range of products. INDUMIL produces a number of defense items including explosives and ammunitions, as well as a 40mm grenade launcher, a 40mm multiple grenade launcher and a 60mm mortar. However, INDUMIL is better known for manufacturing the Galil and Galil series of weapons. The Galil became the standard military and police rifle in 1992, replacing the HK G3. The Galil was produced by Israel Military Industries. Upon privatization of its small arms division, manufacturing of the Galil was passed to IWI. As INDUMIL developed a closer partnership with Israel, it assumed the manufacturing of the rifle under license in 2006, and by 2010, Colombian and Israeli technicians had worked together to produce the Galil ACE®. INDUMIL had modified 43 out of 96 parts of the rifle, retaining the mechanism of the Galil but reducing its weight by balancing the design and using modern construction materials.
INDUMIL produces the Córdova pistol, a semi-automatic handgun with polymer frame that uses traditional Browning-type short-recoil-operated action with a tilting barrel. It has a double-action trigger, with exposed hammer and ambidextrous slide-mounted safety/decocker lever. The pistol is equipped with a three-dot iron sight, removable grip backstraps (three sizes available) and a removable cover for a Picatinny rail under the barrel. It is named after Colombian War of Independence Hero, General Jos Mara Crdova Muoz (the "Ayacucho's Lion"). By 2019, INDUMIL was producing its Córdova 3.0 version with some 1,300 built so far. There is also a Córdova 9mm SMG that uses the same mechanism of the pistol and shares the same magazine. The weapon is obviously designed with the law enforcement and police market in mind. The Córdova family includes rifles and carbines that can be described as modernized Galil variants, with MIL-STD 1913 Picatinny rails, new molding and stocks. A 22LR subcaliber kit has been developed for the Galil/Córdova rifle family to make training and practicing more cost-effective.
U.S. Ordnance was well represented at every exhibit of the local armed services. The NATO M60E6 GPMG (general purpose machine gun) has effectively replaced all M60 and M60A3 machine guns in Colombian hands. Although the model uses the same basic chassis of the old M60, all those M60E6 assimilated by the Colombian military services are of new construction. The M60E6 retains the gas-operated, disintegrating link, belt-fed, air-cooled mechanism. It fires from an open bolt and features upgrades to include the special piston design on the quick-change barrel. Barrett came with a full variety of its products as did Dillon Aero with its well-known M134D and a wide range of weapons.
Deadly Aim from Above
Lockheed Martin and Sikorsky highlighted the depot-level maintenance facilities at Tolemaida Air Base. Sikorsky opened a full support office in Bogota in 2012 and followed with the establishment of a helicopter training center in Melgar. The Colombian Army, Air Force and National Police have acquired 103 Black Hawk aircraft since 1988, some 96 of them are still operating, and the Colombian Air Force is due to receive two additional C-130Hs from U.S. stocks.
BlueBird Aero Systems showcased ThunderB®, a 32kg, 4m wing-span tactical Unmanned Aircraft Vehicle (UAV) with a 24-hour endurance capability and extended control range up to 150km. Eyal Navarro, BlueBird Aero System's international sales director, explained that this small UAV is a perfect Intelligence, Surveillance, Target Acquisition and Reconnaissance (ISTAR) instrument, offering triple CCD, cooled IR and optional laser pointer payload. It is ideal for mapping on demand for open area as well as urban scenarios for military, peace keeping, low-intensity conflict, security, law enforcement, S&R, disaster management and commercial applications. It can carry small cargo capsules under each wing, which can be released automatically or by a GCS command. The capsule can reach the target with high accuracy following a ballistic trajectory or can be dropped with the aid of a small parachute to prevent damage to fragile items. Wander B VTOL is interesting in that provides a vertical take-off and landing option even in strong winds and on cloudy or rainy days, assuring high operational availability for up to 2.5 hours and a communication range of up to 50km. It is an electric, mini UAS optimized to facilitate covert, "over-the-hill" operations or extensive, day-and-night intelligence, surveillance and reconnaissance (ISR) missions in real time.
UVision company, on the other hand, showcased the Hero Family. This is a range of lethal loitering solutions for deployment from air, land and sea. It incorporates advanced airborne guidance, a unique cruciform configuration, navigation systems, abort and recovery capabilities, embedded simulators and C4 stations fully integrated with high-speed data links. Tal Shprung, simulator instructor, demonstrated its easy operational effectiveness. Shprung served in the IDF as Spike missile instructor. At Expodefensa, she demonstrated the Hero-30, a man-portable, short-range, lethal loitering system. The Hero-30 consists of a launcher, a man-packed tube much like any portable anti-tank missile launcher containing a loitering munition, a communication device/antenna and an operator control unit. The Hero-30 is capable of speeds of up to 100 knots and is ideal for anti-personnel missions. It has a weight of 3kg, with a warhead weighting 0.5kg. Its range (LOS) is 5, 10 and 40km, having an endurance of 30 minutes. The smallest of the family is the Hero-20, a man-pack portable and extremely lightweight smart loitering system. It is deployable within minutes, capable of loitering for 20 minutes and ideal for anti-personnel missions. It has a weight of 18kg, with a 0.2kg warhead. Its range is 10km.
INSTALAZA of Spain displayed its ALCOTAN-100 (M2), a man-portable 100mm caliber weapon that can be fired from confined spaces. The weapon consists of a reusable VOSEL (M2) firing control unit with integrated night vision. This sight calculates the target position and trajectory, measures the propellant temperature, calculates the projectile trajectory and shows the gunner the future aiming point to maximize the hit probability. The ALCOTAN-100 (M2) comes with anti-tank, dual-purpose, anti-bunker and multipurpose munitions, integrated in a disposable launching tube. Its range varies between 600m and 1,000m against area targets. It has an extremely high single-shot hit probability (SSHP) and produces no recoil upon firing. It has confined space firing capability and an integrated night vision firing control unit. INSTALAZA also displayed the C90-CR (M3) weapon system, a 90mm caliber launcher with anti-tank, dual-purpose, anti-bunker and smoke munition integrated in a disposable launching tube. The system includes a 2X optical sight and a firing mechanism, both disposable integral parts of the launching tube. An optional sight is the VN38-C that provides for night vision and can be attached and removed within seconds. The sight also provides for 3.3X magnification. It is the lightest 90mm caliber weapon system in the world, weighing 5kg. It is shoulder-fired with an effective range of 350m for point targets and 700m for area targets. The C90-CS refers to the disposable launching tube variant that can be fired from small confined spaces. The weapon includes a 2X optical sight and a firing mechanism as integral parts of the launching tube. It weighs 6.5kg, and it has an effective range of 350m. The C90 Reusable is the reloadable variant with an integrated 2.5X optical sight.
Tank Boat Concept
John Cockerill Defense exhibited its newest CPWS (Cockerill® Protected Weapon Station) armed with the Northrop Grumman M242 Bushmaster cannon firing 25x137mm NATO ammunition. John Cockerill Defense designs, manufactures, integrates and improves cannon-turret systems for the entire range of calibers, from 25mm to 120mm. The weapons systems are modular and designed to evolve, with a moderate cost, adapting to the needs of its users. The company's target is the upgrade of the Colombian's Commando APC armored vehicle, increasing the vehicle's firepower with a medium-caliber turret instead of the current 12.7mm machine gun/40mm automatic grenade launcher. Initially, it was proposed to be fitted on the EE-9/EE-11 armored vehicles, but these platforms are considered too old, and attempting to bring them up to modern standards would increase the cost too much and to the level that it would be better to obtain a new vehicle instead. The CPWS has an effective range that allows engaging targets at greater distances. The CPWS comes with a fully gyrostabilized commander's periscope capable to cover 360 degs. This allows for recording images, as well as target tracking. The weapon can be reloaded from inside the vehicle, 155 rounds of two different types being available. The gunner has a screen and a joystick at his disposal while the vehicle's commander is also equipped with a screen to monitor the gunner's engagements. The Cockerill CPWS turret has a total storage capacity of 155 ready rounds for the main gun, and it also contains a coaxial 7.62mm machine gun and can accommodate various supplementary systems such as grenade launchers. The turret and gun are equipped with a bi-modal stabilized high performance (thermal) day/night sight for 24-hour use. The aiming system provides the operator with panoramic 360-deg vision, independently of the position of the turret. Once locked onto the target, the gun automatically aligns with the aiming system. A ballistics computer guarantees the highest probability of hitting the target when firing on the move. The turret can easily be accommodated on the Colombian's 4×4 Commando and/or M113 APCs. The station has been successfully tested on the VAP and the Sherpa.
John Cockerill Defense also offered information on the Tank Boat®, a concept forwarded by the Indonesian PT Pindad, North Sea Boats (PT Lundin) consisting of an X-18 eighteen meter-long catamaran fitted with either a Cockerill 3030, a 3105 or a CPWS turret. It was indicated that John Cockerill was talking to COTECMAR on the concept. In fact, COTECMAR has developed a number of armored boats to patrol the rivers. The John Cockerill CPWS allows operations at night with its optronic package that includes a thermal imager beside a video camera and a laser rangefinder. The concept includes the APC-60 variant consisting of a boat able to transport up to 60 soldiers and equipped with the CPWS Gen.2 25mm/30mm remotely controlled turret with a bi-modal stabilized high performance (thermal) day/night sight for 24-hour use. The aiming system provides the operator with panoramic 360-deg vision, independently of the position of the turret. Once locked onto the target, the gun automatically aligns with the aiming system.
Although it follows the lines and heritage of the Navistar, company officials Andres Mejia and Luis Torres expressed that the chassis, including the engine, transmission and electrical train, are made in Colombia, easing logistics by tapping the local commercial market. It departs from a WorkStar® 7300 chassis, motorized by an International® Trucks diesel engine with a 6-speed forward synchronized automatic transmission. The vehicle has been designed as an independent monocoque mounted on a Navistar WorkStar chassis, with a V-shaped floor and protected compartment for the engine. It is said that it can withstand impacts up to 7.62x51mm caliber, as well as anti-personnel mines and IEDs. It has thermal and reverse cameras, 12 windows, 5 doors, 11 hatches and a crane system with a winch. The Xl can also be viewed as an evolution of the company's Hunter and Hunter TR-12 exhibited along the outside corridor.
The next show, Expodefensa 2021, is scheduled to take place November 29 to December 1, 2021.
EXPODEFENSA 2021 SHOW MASTER INFO
Location
Corferias International Business and Exhibition Center, Bogota, Colombia
Website
Contact
David Roukoz
+33 (0)1 44 14 64 82
d.roukoz@cogesevents.com
Léa Benassem-Durieux
+33 (0)11 44 14 51 14
l.benassem@cogesevents.com
Next Show
November 29-December 1, 2021
Focus
Expodefensa is an annual international trade fair focused on the scientific and technological developments in the field of defense and security. The exhibition showcases artillery systems, non-lethal weapons, military ground weapons ammunitions; as well as, defense and rescue systems to name a few.
Hotel Hints
Visit expodefensa.com.co/practical-information/useful-information for a list of our recommended hotels and preferential rates and packages for Expodefensa 2021.
Power & Plug Types
Electrical outlets and plugs Voltage: 110V covers a range of 100-127V. Outlets use the same connectors as used in the United States. See wanderingtrader.com/using-electronics-overseas-outlets-in-south-america for more information.
Country Warnings
Security in Columbia has improved significantly in recent years, adding safety measures for both tourist and business travel to Bogota. As with any urban area, be mindful and use caution. Be wary of a person claiming to be a plainclothes policeman, even with an ID. Don't accept drinks, cigarettes, gum, etc., that could be tainted with a colorless, odorless drug. Use the guidance of Expodefensa's personnel when booking travel arrangements.  Currently, there is a global health advisory due to COVID-19. Should you have questions or concerns, just ask. Enjoy the show in the beautiful tropical highlands of Colombia.
Cultural Hints
Bogota is a world class urban city, comparable to cities such as San Francisco, Washington D.C., Dubai or Berlin. Be prepared to experience a scenic city of contrasting cultures, where the old meets the new.
Tipping
Do tip: In restaurants tipping is not required but most people tip 10%, and the amount goes to the staff. Tipping in hotels follows most international rules. Tip any tour guides. Airport baggage handlers should be tipped when possible. Do not tip taxi drivers. See traveldudes.org/travel-tips/tipping-colombia-guide-where-and-how-much-you-tip/3220.
Currency
Colombian Peso. Approximately at press, 1.00 USD = 3,700 COP. For up-to-date international currency exchange rates, visit xe.com.
Getting Around
The best and fastest way to travel around Bogota is by a taxi or bus. The same applies if you are going from the terminal to the city center; you can take a bus or TransMilenio, but it's best to go by taxi. See colombia.travel/en/practical-information.
Military Museums
In Bogota's La Candelaria Historical Center, visit the Military Museum of Colombia to see over 200 years of Colombian military history. For more information, see museomilitarco.com/en.
Tourism
Bogota's travel guide is a great resource for gathering information regarding an upcoming trip to Colombia: colombia.travel/en.
NOTE: All information subject to change. Go to expodefensa.com.co for up-to-date information.