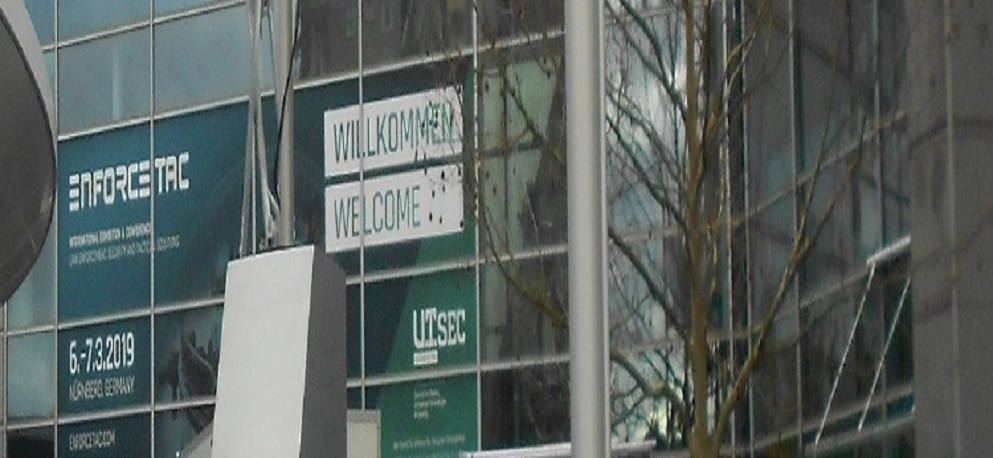 Eighth Year Sees Increase in Visitors
The 8th edition of Enforce Tac was again billed as the "International Trade Fair for Command, Control and Operational Equipment used by security agencies" was held March 6–7 at the NürnbergMesse Exhibition Centre in Nuremberg, Germany. Running concurrently and immediately adjacent with Enforce Tac 2019 was the Unmanned Technologies & Security (U.T.SEC) exhibition, with the latter including a "Summit for Drones" this year. The two 2019 events, which are not open to the general public and require documentary evidence of professional status for entry, attracted around 5,000 visitors this year, up 35 percent in numbers compared with last year. The Patron at this year's EnforceTac was Horst Seehofer, the German Federal Minister of the Interior, Building and Community.

The event continues to grow in size, and this year Enforce Tac 2019 relocated to the larger area provided by exhibition Hall 12. Exhibitor numbers for both events were also up 25 percent over the previous year with an excess of 304 exhibitors (243 in 2018) attending from around the world. Access to the event is via the conveniently located Messe Mitte (centre) entrance which is adjacent to the various entry points for road, metro and car parking.
The extended exhibitor focus is on law enforcement firearms, ammunition, both operational and less-lethal, ballistic accessories, optics, information and communications technologies, search and rescue apparatus and uniforms, with the latter primarily of a service nature including stab and bullet-proof vests, shields, helmets and training accessories.
To provide added value for those attending Enforce Tac, a series of presentations organized by the European Police Trainer Conference 2019 and sponsored by the Polizeitrainer in Deutschland e.V. (Police Trainers in Germany, PiD), were available to attendees that offered up-to-date briefings on subjects of current interest to police, security agencies and customs officials. Day One of the two-day program consisted of a number of presentations covering such areas as the security response to "Attacks on Nuclear Facilities," "The Reality of School Violence," "Use of Firearms in a Knife Attack" and "Ballistic and Wound Ballistic Aspects of Non-Lethal Projectiles"—a subject very much at the forefront of law enforcement agencies.
Day Two consisted of practical training and covered such areas as "Rescue and Evacuation from the Red Zone," "Low Light Operations for First Responders," and "Fighting in Urban Terrain with Short and Long Weapons," the latter presented by B&T. AG provided an insightful briefing on the benefits and disadvantages of short-barrelled firearms and the varying ballistic performance to be expected from the use of such. Presentation commentaries were available in both German and English.
Enforce Tac has, since its inception, traditionally preceded the internationally known International Hunting & Sporting (IWA) Trade Fair also held at the NürnbergMesse Exhibition Centre, allowing those attending the former, to attend the latter, which was held over March 9–11. IWA itself continues to grow in size and popularity (vying with the U.S. Las Vegas Shot Show for size), with individual halls now being themed along specific product lines. Hall 5 remains the home of the large U.S. Pavilion (With SADJ's booth in its usual location) but is now complimented with a growing craft-custom and utility knife area.
Show Highlights
On display was the innovative "PROTECTILE." This less-lethal device offered by an Austrian developer (that wishes to remain anonymous) comprises a 2-inch spherical composite material projectile which fits into the muzzle of a pistol. When a bulleted cartridge is fired, the impact is absorbed internally by the projectile while at the same time, by design, only a minimal amount of energy is transmitted to the "PROTECTILE," which then functions as a "less lethal" device. Carried in a belt pouch, the "PROTECTILE" can be instantly selected for use as an alternative less-lethal response in a rapidly changing threat scenario.
The folding compact M3D pistol was exhibited by Las Vegas' Full Conceal's booth. Full Conceal offers various models of Glock Gen4 pistols which have been modified to provide a folding pistol-grip. In the fully folded position and fitted with a large-capacity 22-round magazine, the M3D variant measures only 6.9 inches in length and 3.9 inches in height. A "Micro Conversion Kit" is also available to provide a carbine-type configuration.
Seen for the first time at the show was the Glock 46 self-loading pistol. For several decades now, the basic Glock operating system has remained unchanged, with only the odd tweak here and there ("New York" trigger?), so it was a surprise to discover the Glock Model 46 with a rotating barrel and multi-lug locking system. Developed at the request of the German police to meet regulatory needs, the pistol has already entered service in what has become the internationally standard law-enforcement caliber of 9x19mm.
The Enforce Tac visitor was also offered various briefings held in the indoor presentation area and at outdoor demonstrations, 11 in number, held at different times over the two-day show. Depending on the presenter, commentary was available in either German or English.
Show Reminder
Entry requirements: Enforce Tac has strictly defined credentials for access, which must take the form of an official identity card or written confirmation from an approved security authority. Media access is via application to the Media Centre located at the Messe east entrance (Eingang Ost). Pre-registration is available for both eligible visitors and Media.
Enforce Tac Show Master Information
Location
Nuremberg, Germany
Exhibition Venue
NürnbergMesse Exhibition Centre
Website
Contact
Exhibition Service Team
T +49 9 11 86 06-80 00
F +49 9 11 86 06-80 01
Next Show
March 4–5, 2020, NürnbergMesse Exhibition Centre
Focus
Enforce Tac provides the latest developments from the world of law enforcement, security and tactical solutions and opportunities to establish new field contacts. The annual show offers accompanying workshops and conferences that appeal to security experts from the police, judiciary, border protection, customs, military police or armed forces.
Enforce Tac has strictly defined credentials for access, which must take the form of an official identity card or written confirmation from an approved security authority. Media access is via application to the Media Centre located at the Messe east entrance (Eingang Ost).
Dress
Business casual.
Hotel Hints
There are hotels close to the underground train stations, private apartments, rooms or homes to rent, and even a campground at Knaus Campingpark which is within walking distance of the exhibition centre. There are several hotels located near the exhibition centre. For further accommodation information, contact Nürnberg Tel +49(0)9 11.86 06-80 20, Fax +49(0)9 11.86 06-84 47, or hotels@nuernbergmesse.de.
Power & Plug Types
230V/50Hz, use an adaptor.
Country Warnings
Be advised that increased caution should be used in Germany due to terrorism threats. Visitors should be aware of their surroundings in tourist and public areas and have an emergency plan.
Cultural Hints
Nuremberg offers a wide variety of restaurants, nightlife and shops along with its many historical sites.
Tipping
Tipping ranges from 5% for small orders to 10% for good service at restaurants. The 10% rule is mostly aimed at restaurant bills of 10 euros or more.
Currency Type 
Euro (EUR). For conversion rates use www.xe.com.
According to TripAdvisor, some hotels, restaurants and other venues will take credit cards, but by far the majority does not. When shopping or consuming anything, it's always wise to ask in advance; otherwise you'll be expected to pay in cash. Personal checks are no longer used in Germany.
Getting Around
Attendees can get to the venue by train and car. Fast trains such as the ICE, IC and EC regularly call at the centrally located Nuremberg Central Station. From the Central Station, the U1 underground line towards Langwasser-Süd gets you to the "Messe" station in eight minutes. You can easily call up these and all other local transport connections to the exhibition centre Nuremberg via the VGN (Verkehrsverbund Großraum Nürnberg GmbH) connections search.
All underground stations are at least equipped with a lift that goes directly from platform level.
By car use the motorways A3, A6, A9 and A73; you can access the exhibition centre directly via a well-developed network of feeder roads. Simply enter the special destination "Messe" or the address "Karl-Schönleben-Strasse, 90471 Nürnberg" in your navigation system as the destination. In Nuremberg, a modern traffic and parking guidance system shows you the way to the exhibition centre. It responds dynamically to the current traffic situation and directs you to one of a total of 14,000 parking spaces at the exhibition centre via clear access roads.
Taxis can take you from the airport to the exhibition centre in approximately 25 minutes, costing about 27 Euros or $33 per journey. Rental cars are available at the Nuremberg Airport from many familiar companies such as Avis , Hertz and Sixt.
Military Museums
Military Garrison Museum located in the former air raid shelter "Hohe Marter" is devoted to the military history of the region, from the Free Imperial City (to 1806), the Royal Bavarian Army (to 1918), the Reichswehr (to 1933) and Wehrmacht (to 1945) to the U.S. Army and the Bundeswehr of the present era.
The museum illustrates military life with weapons, uniforms and objects related to military organization, as well as with large-scale dioramas (including a segment of a 1916 trench, a 1944 command post and a room in a Bundeswehr barrack).
Tourism
Nuremberg has plenty to offer for sightseeing. Dutzendteich Lake is right next to the site of the exhibition centre where locals meet for pedal boating or in-line skating, stroll along by the lake or relax in the beer garden. Walking tours of the city and medieval sites are available. And for those interested in history visit the nearby former Nazi party rally grounds or the largest cultural museum, the Germanisches Nationalmuseum or see Memorium Nuremberg Trials Court 600, the courtroom where the original Nuremberg trials were held. Here you can visit the permanent exhibit in the Palace of Justice which focuses on the background to, course of and legacy of the Nuremberg trials.