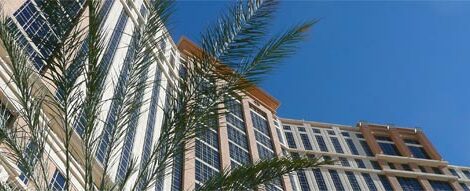 The term "SHOT Show" while unbeknownst to some, is to anyone involved in the world of firearms and all things outdoors, the show to attend.  The word SHOT as it is used here stands for Shooting, Hunting and Outdoor Trade show.  It is roughly the size of a small city and is usually held in alternating cities located in different geographic locations in the United States.  The last several years it has alternated between Orlando, Florida and Las Vegas, Nevada.  This alternating location enables people from all over the U.S. to attend without having to cross the entire country.  This year the show was held in Las Vegas at the Sands Expo and Convention Center and Venetian Hotel.  The show is not only for outdoorsmen and women from the U.S. but draws media and end users from all over the world.  Show records indicate that overall attendance was over 58,000 with 1,800 exhibiting companies.  The show has come to be known as the place that manufacturers introduce their latest and greatest products for the coming year.

In the past 25 years a lot of different trends have emerged.  It seems that the new products that show up every year are generally market driven; and rightfully so.  In the years prior to 9/11, black rifles and tactical items were a very small part of the total industry.  In fact, up until just a couple of years ago, machine guns or targets with a human face or shape were strictly forbidden at the SHOT Show.  Now, "Tactical" is the new buzzword and is what sells.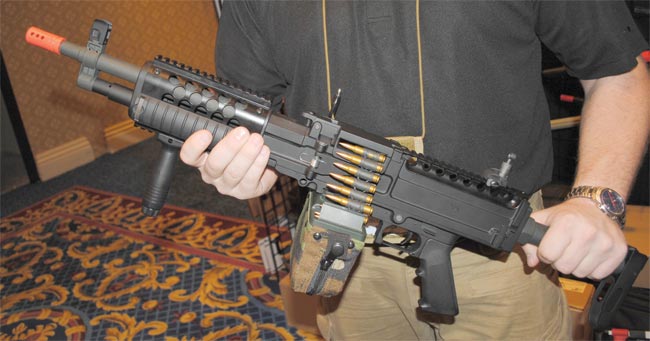 Airsoft guns, once thought of as high priced toys, are now used as serious training tools. The realism of the guns is amazing right down to the actual weight of their real counterparts. They are available in everything from revolvers to 5,000 round per minute copies of the GE Minigun.
The tactical arena of new rifles, optics and accessories introduced this year at SHOT was staggering.  In the way of rifles, more highly sophisticated 5.56 AR-type rifles are starting to emerge as well as several new 7.62 AR types.  Many new "heavy" calibers such as .50 BMG, .338 Lapua, and .416 were prevalent.  Piston driven guns in both 5.56 and 7.62 calibers are now the "hot" item because of longer wear, cleaner operation and their ability to run cooler for longer periods of time.
This year SIG Sauer introduced their new piston driven AR-15/M16 type 5.56 rifle designated the Model 516.  The SIG 516 uses a 3-position (4-position optional) gas regulator and is available in semi and select-fire variants (military and LE only).  It comes in several models with a wide range of barrel lengths from the 7 inch Personal Defense Weapon (PDW) to the 20 inch Precision Sniper.  SIG also introduced their new Model 517, a piston driven 7.62 (.308) rifle.  These new AR-10 type rifles will also come in several models from the tiny 12.5 inch Tactical Patrol to the 20 inch Precision Sniper.  All models offer free-floating threaded barrels, quad rail forearms and full length Picatinny M1913 rails.  Also new from SIG this year is their P522 pistol.  This gun is a pistol sized version of the .22 LR, SIG 522, which was introduced last year at SHOT.  The P522 features a 10-inch 1/2 x 28 threaded barrel, Picatinny railed upper receiver and is available with either an alloy quad-railed forearm or a Swiss-type polymer hand guard with the retro look of the SIG 550.  It is shipped in a hard case with a 25-round magazine.

Dillon Aero displayed their M134 Minigun systems. These guns fire upwards of 4,000 rounds of .308 per minute and can be mounted on almost any vehicle including this GMC Yukon XL for the ultimate in executive protection.
Manufacturers introduced a multitude of .22 LR firearms this year.  With ammunition prices reaching staggering highs in the last 12 to 18 months, there has been a resurgence in the diminutive little .22 LR round that has brought about a renewed interest in .22 caliber firearms.  Some of the new guns are old favorites that have been remodeled to look like their tactical centerfire brethren, while others are completely new firearms built from the ground up to work with the .22 LR cartridge.  The fact that they look just like their black rifle "big brothers" is just an added plus.
Umarex USA, who at last year's show created a buzz when they introduced a Walther made, Colt licensed .22 LR replica of the M4, has done it again this year.  They showed off their new H&K licensed MP-5 and HK 416 .22 caliber replicas.  There will be two models of the MP-5, one with what looks like a muzzle mount suppressor to cover the 16-inch barrel and another with a shrouded barrel that mimics the MP-5 SD.  There will also be two models of the 416.  The first is the full length rifle version and the other a pistol version – again with a shrouded barrel that makes it look like an integrally suppressed gun.  All models will carry HK trademarks and will work just like their larger caliber cousins except without the full-auto feature.

The Gun Room Company was showcasing their new .338 Lapua rifle. The piston driven, semiautomatic gun features a rail forearm, 10-round magazine and very effective muzzle brake.
Sturm, Ruger and Company was on hand with the SR-22 that has been on dealers' shelves now for several months although a lot of people still hadn't seen one.  The SR-22 is basically a Ruger 10-22 inside a "shell" that covers the receiver and makes the gun resemble an AR-15 type rifle.  Ruger used the smart approach and turned a proven gun into a look-a-like of a tactical rifle.  The 10-22 has been around since the 1960s and they all run like sewing machines.  Ruger has produced over 6 million of the great little guns.  Now the new gun features a collapsible AR type stock, threaded barrel with flash hider, Picatinny optic rail and a tubular free floating forearm.
The company ISSC, LLC was on hand with their Austrian designed .22 LR copy of the FN SCAR rifle designated the MK-22.  This is one great looking rifle.  It is fed with either 10 or 22-shot magazines and can be ordered with either a fixed or folding stock.  They also have two models of a new .22 LR handgun that resembles the Glock with an exposed hammer.  One model looks like a Glock compact with front dust cover rail for adding a light or laser.  The other is a long slide model complete with an actual working ported barrel.  The guns have match barrels and triggers and have 5 different safeties that work independently of one another.  They also have polymer frames and adjustable rear sights.  These guns are very accurate and totally reliable.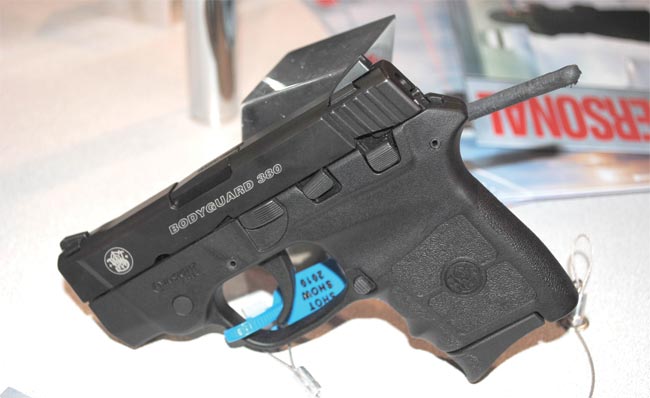 Smith & Wesson has introduced their new Bodyguard .380 pistol. The new pistol features a polymer frame and an integral ambidextrous control laser sight. There is also a .38 special revolver with laser in the Bodyguard lineup.
Another .22 handgun worth mentioning will shortly be available from American Tactical Imports.  The gun is made by the German company German Sport Guns and is a copy of the Colt 1911 .45.  The new pistol has lots of bells and whistles including a beavertail safety, match trigger, ambidextrous safety, adjustable sights and checkered wood grips.  The gun is hefty and feels like a .45 in your hand.  It is fed from a 10-round magazine and is dubbed the GSG 1911.  The best part is that the gun is slated to have a retail price of just $349.  They also had on display a new 12 gauge shotgun that they will be distributing.  The gun is called the AKDAL 1919 SGA and looks like an oversized AR-15.  It is recoil operated, fires 2-3/4 inch shells and is fed from either 5 or 10- round detachable box magazines.  It will be available in either camo or black.
Bushmaster had their long awaited ACR (Adaptive Combat Rifle) at this year's show and promised show-goers that the rifle would indeed be shipping in the next several months.  The rifle will initially be available in 5.56mm but will also later be produced in 6.8mm.  It is a piston driven, modular firearm that can be configured to fit a wide variety of users and missions.  It features a monolithic upper receiver with full length Picatinny rail.  This allows optics, sights and night vision devices to be mounted along the same sighting plane.  It also has a quick detach forearm that hides the tool-less quick change barrel.  Barrels will be available in different lengths as well as different calibers in the future.  It will be available in two different models.  The first will be Basic ACR that comes with standard A2 "birdcage" flash hider, high-impact composite forearm that accepts rail inserts and a fixed stock.  The other model is the Enhanced ACR that features upgrades such an aluminum railed forearm, an excellent AAC (Advanced Armament Corporation) Blackout flash hider and a folding 6-position telescopic stock.  The new ACR is totally ambidextrous and will be able to be ordered in either black or coyote tan.  The rifles will be shipped in a hard case with one 30-round MagPul P-Mag.  For those who haven't been following the ACR saga, this rifle is now a joint venture between Bushmaster, MagPul and Remington Defense.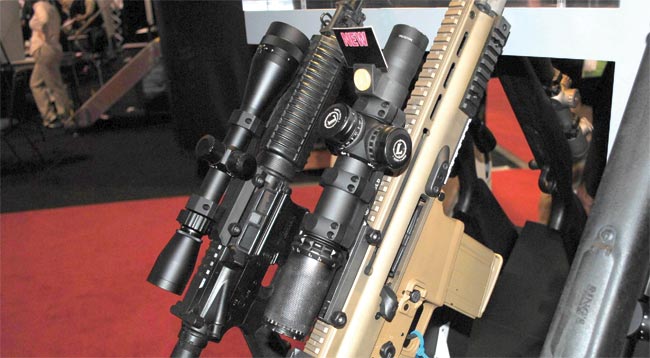 Leupold picked the SHOT Show to introduce their new Tactical Optics line. The optics are specially designed for tactical situations. Not only will they have scopes and reflex sights but a line of tactical lights as well.
FNH USA drew a lot of attention to their booth with the introduction of the new civilian version of the SCAR Heavy called the SCAR 17S, which was preceded at last year's show with the introduction of the 5.56 SCAR 16S.  This rifle is a .308 version of the Special Operations Combat Assault Rifle.  It is the same rifle that the military get only without the select fire feature and a different flash hider/compensator.  The rifle is totally ambidextrous with magazine release and fire controls on both sides and a reversible charging handle.  It is piston driven with a 16-inch chrome lined barrel and folding front and rear sights.  The stock on the SCAR 17S is both folding and collapsible with a 2-position cheek piece for locating the shooters cheek for either the iron sights or optics.  The gun can be fired with the buttstock in the folded position.  FN was also showing their line of SPR guns.  The Special Police Rifles are bolt-action sniper type rifles in either .308 or .300 Short Magnum.  These rifles are available in a variety of barrel lengths and with several different McMillan stocks.  They feature either 20 or 24 inch chrome lined hammer forged barrels and come with M-1913 Picatinny optic rails already attached at the factory.  The rails can be either steel or titanium depending on rifle weight requirements.  FN also introduced their new FNX handguns at the show available in 9mm and .40 S&W.  The pistol is double or single action with a decocking lever that allows it to be carried either cocked and locked or hammer down in a decocked mode.  It has a modular grip and comes with several backstraps with different checkering and profiles to fit a variety of hand sizes.  The gun is designed with a different grip angle and position so the bore sits lower in the hand.  This in turn produces less recoil and reduced muzzle flip for faster follow-up shots.  A new style rear sight helps the shooter's eye pick up a sight picture quicker.  The guns have the added feature of a dust cover rail for adding accessories of choice.  The pistols are totally produced in FN's Columbia, South Carolina plant.
Pages: 1 2