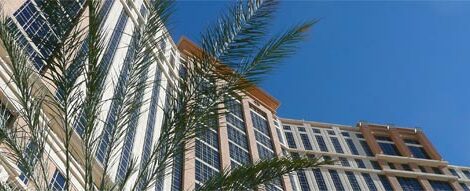 Firearms aren't just black and blue anymore. Steve Lauer of Lauer Custom Weaponry is the sole manufacturer and source for Duracoat firearm finishes. Duracoat is a spray on finish that comes in just about any color imaginable. With their die-cut templates, any kind of camouflage can be achieved like this year's new Rhodesian pattern.
Savage Arms, a company long known for its line of economical highly accurate rifles, have now moved into the police arena with their new Law Enforcement Series.  These new rifles have recently been adopted by the New York State Police Mobile Response Team.  The latest in this series is designated as the Model 110BA and is available in the hard hitting .338 Lapua and .300 Win. Mag.  This new rifle features an all-aluminum AccuStock, the Savage AccuTrigger, a 5-round detachable box magazine and the MagPul PRS stock.  Button rifle barrels offer increased accuracy and have aggressive muzzle brakes to tame recoil.  The stocks on these rifles will take AR-15 type buttstocks and pistol grips so they can be customized to individual tastes.  The rifles have a full-length top Picatinny rail for mounting any variety of optics.  There are even side rails for mounting lights and lasers.  Also new from Savage, and in the same vein as tactical .22's, is their new Mark II TRR (Tactical Rimfire Rifle).  This extremely accurate .22 LR gun incorporates the Savage AccuTrigger that is user adjustable.  Other items of mention include an oversize bolt handle, a high comb sniper looking synthetic stock and top and side mounted rails for optic, light and laser mounting.  This rifle would be a great economical trainer or varmint gun.  The only thing that could make this gun any better would be 1/2 x 28 barrel threading for mounting a suppressor.  That would make it a useful tool for law enforcement for taking out lights or dealing with drug lab guard dogs.  This gun will also be available in the flat-shooting .17 HMR.

The MAC-10 has been a part of America's firearms history since the 1960s.  It has had a varied life and has been used on both sides of the law.  Early guns worked flawlessly but in later years manufacturing shortcuts and sometimes shoddy workmanship gave the MAC-10 and MAC-11 a bad reputation.  A Georgia company known as Masterpiece Arms now produces what may very well be the best working MACs of all time.  The guns now come in a variety of calibers and features several innovations that make them well worth owning.  Their guns can be had in long barreled versions, pistols and submachine guns (to qualified buyers).  They recently introduced a MAC in .460 Roland.  This powerful cartridge is designed to attain .44 Magnum level performance.  The overall cartridge length is identical to the .45 ACP but the case is 1/16th of an inch longer.  The performance of the .460 Roland is nearly double that of the .45 ACP round.  Quite impressive for a pistol or submachine gun.  The guns have threaded barrels, scope mounts, side charging handles and are fed from 30-round magazines.  Not resting on their past accomplishments, Masterpiece Arms introduced a new MAC at this year's SHOT show: the MPA22T.  This is a gun the size of the MAC-11 .380 but chambered in .22 LR.  The new little gun has a 4-inch threaded barrel with muzzle brake and is fed from a newly designed 26-round polymer magazine.  It is available in either the traditional top-cocking model or a side cocking model with scope mount.  The MPA22T will give shooters a MAC-10 style platform but in a firearm that is affordable to shoot with light recoil and low noise.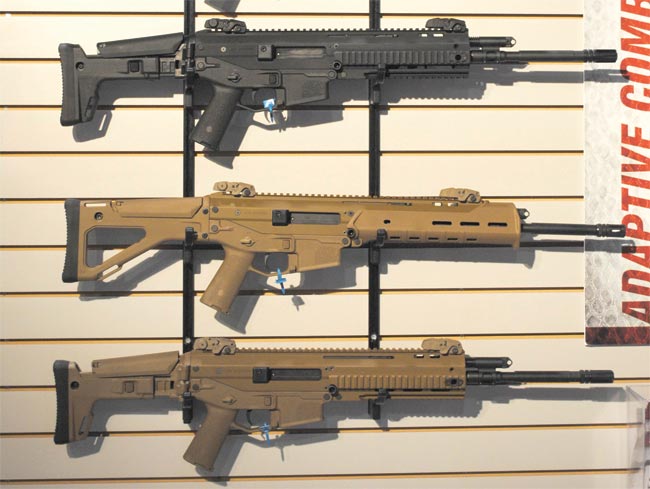 Bushmaster says that their long awaited ACR (Adaptive Combat Rifle) will be at dealers by March for the Basic model and May for the Enhanced version. The rifle can be configured for any mission by changing barrel length, caliber and stock in a matter of minutes.
SHOT Show is not only about firearms but also the accessories and related gear that go hand in hand with them.  Whether its optics, magazines, parts or anything else that can be used with or on firearms it can be found at the SHOT Show.  For every new firearm introduced there are literally dozens of accessories also introduced.
Optics always play a major part in firearm related innovations.  This year, Burris has a new addition to their line of high quality scopes.  The new scope, called the Eliminator, is a scope that in a split second ranges your target, calculates trajectory and illuminates a correct holdover point of aim.  This is all done using a laser coupled with internal electronics that do the calculations for the shooter.  Now there is no reason to miss that important shot.  The scope comes with a listing of nearly 600 factory cartridges along with a 2 digit number associated with each.  A couple of button clicks is all it takes to enter the drop number to match the specific ballistic performance of your cartridge.  Then just look through the scope at the target, press a remote button that you can locate on the firearm's forearm and the scope gives you a digital readout in yards or meters to the target and automatically gives you an adjusted red aiming point superimposed on the target.  Burris offers a line of Extreme Tactical Optics to work with any firearm that you may have a need to mount them to.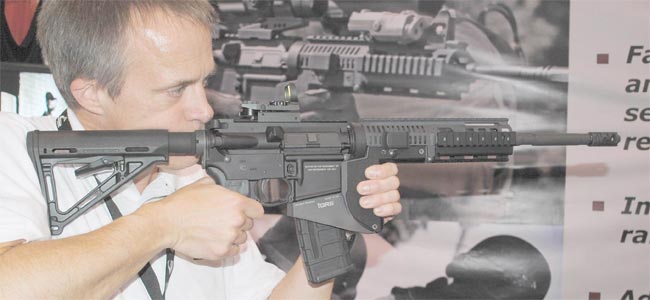 Grauer launched an innovative new product this year. Called the Integrated Grip Rail System, it is designed to improve weapon control and faster reloading of AR-15/M16 type weapons. It incorporates a funneled front magazine well grip with a forearm rail system with laser/light switch integration.
EOTech presented their new EXPS holographic sight.  After introducing the new EXP sight last year this new sight is a natural progression.  The EXP is EOTech's extremely small sight with about half the footprint of the original sized EOTechs.  It uses one CR 123 lithium battery that provides 600 hours of run time.  The battery is mounted transversely across the front of the sight to keep it very short front to back.  This makes for a lot of extra rail space on the top of the host firearm.  This in turn allows for more room for mounting magnifiers, front mounted night vision devices or both.  This year's new EXPS moves the operating buttons from the back of the sight to the side and also has the advantage of a quick detach throw lever mount.  The new EXPS can be ordered with a choice of 3 reticles: a single dot, dot in a circle and a dual dot with aiming points for 200 and 500 yards.  The electronics of these new sights allows for run times in weeks or months.  Some sights even have run times in years!
Suppressors add a whole new advantage to tactical firearms.  Being able to suppress the sound of a firearm being fired has the advantage of protecting the shooters hearing as well as disguising the shooters position.  Suppressors, or silencers as they are sometimes erroneously called, are another one of those items that used to be taboo at the SHOT Show.  AWC Systems Technology was one of the first to build commercial suppressors.  They were on hand to show off their new AWC M91 BDR (Breakdown Rifle).  This takedown rifle can be broken down and reassembled repeatedly with absolutely no change in zero or accuracy.  This rifle system is available in .223 or .308 calibers with either right or left hand bolt and in barrel lengths of 16.5 or 18.5 inches.  Other calibers are available on a custom basis.  Instead of breaking down at the wrist of the stock, like other designs, where the stock is weakest, these new stocks break down farther back at the thicker part of the stock.  This allows for 2 alignment rods as well as a steel anchor rod.  This makes for a very strong breakdown rifle with repeatability.  The gun's barrel is threaded and fitted with a Hyper Dyne muzzle brake.  The BDR and its Thundertrap suppressor come in a fitted Pelican case along with a "T" handled torque wrench and room for bipod and ammunition.

McMillan Firearms Manufacturing displayed their TAC-50 rifle shown here with the optional optic and night vision set-up. Chambered in .50 BMG, it is a long range bolt action rifle with a 5-round detachable box magazine.
These days night vision companies have their fair share of the display space at the show.  While the traditional green colored night vision is still very prevalent, the newest, latest and greatest is thermal imaging.  To put it very simply, thermal imaging can detect very minute temperature changes in things.  Being that everything on earth gives off slightly different temperatures, thermal imaging devices detect the changes and turn them into recognizable images.  They create pictures of heat rather than light.  The advantage is that thermal devices are not affected by bright lights, shadows, smoke or light fog.  They can also allow users to see through walls and into vehicles.  One of the biggest and best known manufacturers of thermal imaging is FLIR.  They have been making thermal devices for the government, the military as well as everyday consumers for over 30 years.  Their products are used in industrial and scientific applications and are even used in the automotive industry.  Some of the newest BMWs have on board thermal imaging that allows drivers to see better at night.  FLIR was on hand to show the advantages of their new handheld thermal night vision camera referred to as the H-series.  This new camera offers an affordable thermal device for just about any size law enforcement entity and even consumers.  The H-series offers multiple lens options so it can be tailored to just about any situation.  It has an SD card slot for onboard recording of video and images.  It also has a USB port for uploading to a computer and for downloading upgrades.  The unit goes from standby to on in less than 2 seconds making it ready instantly.  It is shock resistant and fully submersible.  There is also a wireless connectivity kit that allows the camera to transmit from remote locations or vehicles.  The H-series will sell for a retail price of $4,999 and a consumer version with fewer features for just $2,999.
It is unfortunate that space constraints limit what can be covered in a single story as this represents only a very small portion of the new products and companies that were at this year's show.  With all the new products, this year promises to be a very exciting year in the industry.

Arsenal, Inc. is known for producing AK series rifles that are top of the line. This year they announced the new SGL41 series, a .410 x 3 inch shotgun. The shotgun is done in the AK-74 style with black polymer furniture, muzzle brake, optic rail and is fed from a 4-round magazine.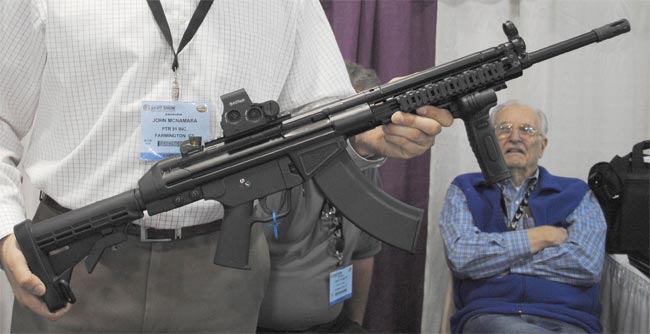 PTR 91, Inc. now has an H&K 91 style rifle in caliber 7.62 x 39 called the PTR-32. It is a copy of the rare H&K 32. This rifle has the reliability that PTR 91 has become known for but in a caliber that is more affordable to shoot than .308.
Pages: 1 2