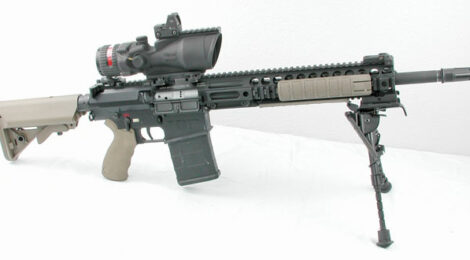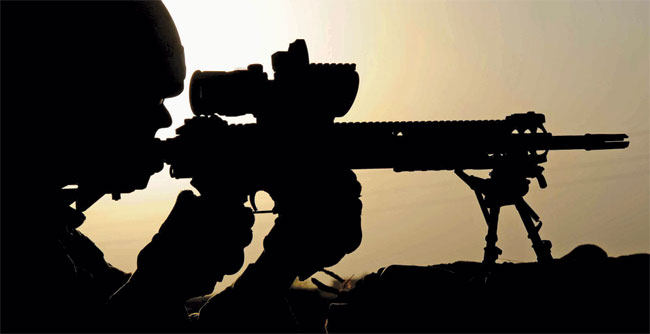 A soldier from the 1st Battalion the Scots Guards looking through the scope of his Sharpshooter rifle. Members of B Company, the 1st Battalion The Scots Guards and the soldiers from the Royal Dragoon Guards working jointly with Afghan security forces have been keeping traffic moving along the key access road of Route 601 in central Helmand. The tarmac road that connects Lashkar Gah in Helmand with Kandahar city to the East is a key transport and commercial link for both Afghans and ISAF forces. (©UK MOD Crown Copyright 2011)
Greg Felton of Law Enforcement International (LEI) in the UK, was trying to meet the requirements of a friendly Government to supply a 7.62x51mm "Designated Marksman Rifle."  No product on the market met the client's particular specifications.  Greg brought in Karl Lewis of Lewis Machine & Tool (LMT) from the U.S.  After much brainstorming about the needs to be filled by this new rifle, Karl and Greg started in on the project.  The client wanted select-fire capability, but the first designs were kept to semiautomatic only, with a 16-inch barrel.  By good fortune, as final development and trials on the semiautomatic were completed, the British MOD published an "Urgent Operational Requirement" (UOR) solicitation for such a rifle for immediate deployment in Afghanistan.  The rifle was submitted for trials and the design won the competition, was contracted for and designated as the L129A1 rifle, with the vernacular name as the "Sharpshooter Rifle;" comparable to the U.S. DMR (Designated Marksman Rifle).  LMT and LEI have now finished development of the select-fire version, as well as some rifles with shorter (13.5-inch) barrels and other options – but that's another story…

In essence, LMT's semiautomatic rifle, the LM308MWS, has been selected by British MOD as the new Sharpshooter rifle.  The version of this rifle was in competition with the FNH SCAR-17 (Mk17 Mod 0), the HK model 417, Sabre Defence's XR-10 and offerings from Knights and Oberland Arms.  When the competition was over, LMT's rifle was designated as the L129A1.  It has been several decades since MOD has changed rifles for the longer range duties, and the new L129A1 is geared towards the 800 meter ranges being encountered in today's combat environment.  The AI .338 bolt action replaced and upgraded the AI L96 7.62mm several years ago.  "Sharpshooter" is a completely new role for the British Army.  Quick reaction, rapid follow up shots, long range, harder hitting than 5.56mm is the idea for the L129A1, but the sniper rifle is still a bolt action.
Greg Felton (LEI) explained the ammo requirement to SADJ:  "The ammunition criteria stated by the MOD was that the rifle was to be able to use both RG 155-grain sniper ammunition, plus M80 ball and tracer, including de-linked machine gun belts.  In the end during their trials with the various competitors, they found that the 155-grain fired so much better than the standard ball that it was made the official issue ammunition for the weapon.  As to what it is "matched to," we (Karl & I) designed the rifle to use both standard ball and 168-grain Match.  With a 1:11.25 inch twist it works well with these weights, however, the heavier 175-grain projectiles need a faster twist for best results at longer ranges."
The LMT Monolithic Rail Platform is a one piece milled upper receiver that includes four rails to the front, providing a stable platform for returning devices to zero on installation.  It also allows for a free floating barrel that is interchangeable for different lengths, although not in this particular issue.
The initial order of 440 L129A1 Sharpshooter rifles has been added to several times now.  The L129A1 has been in combat in Afghanistan since April 2010, and has received excellent field reports from the troops.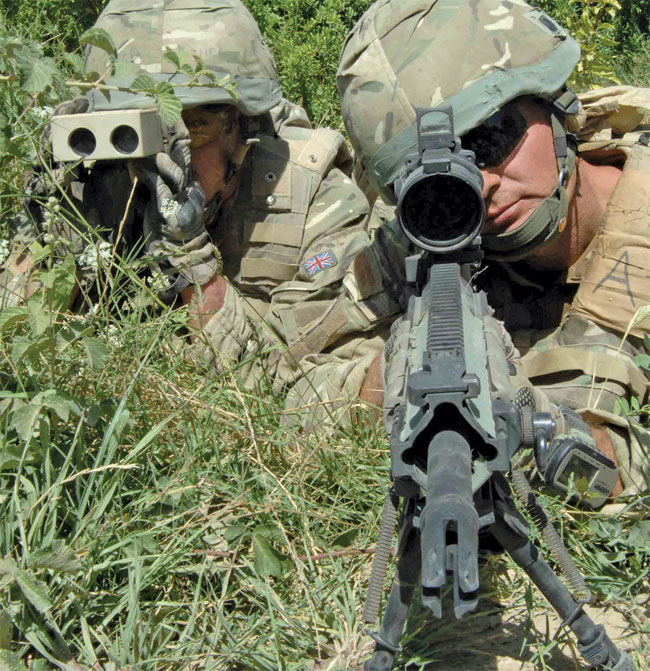 Royal Marines from 40 Commando observe the area surrounding Sangin of Afghanistan with the newly introduced L129A1 or Sharpshooter 7.62mm rifle. Both Marines are wearing newly issued Mk7 helmets and Mk8 Osprey body armour and are dressed in Multi Terrain Pattern (MTP) camouflage. (©UK MOD Crown Copyright 2011)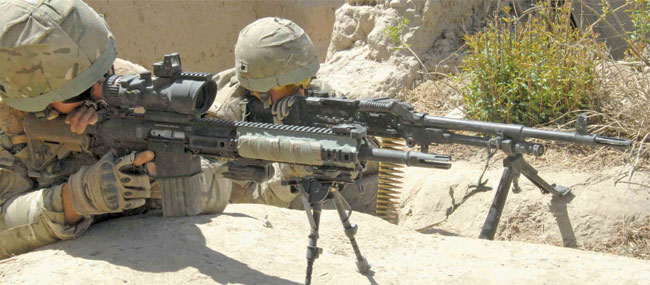 A Royal Marine (foreground) from 40 Commando is pictured using an L129A1 Sharpshooter rifle on operations in Afghanistan. His colleague in the background is using a General Purpose Machine Gun (GPMG). (©UK MOD Crown Copyright 2011)
British L129A1 'Sharpshooter' right hand side.
Left side of L129A1 receiver sections.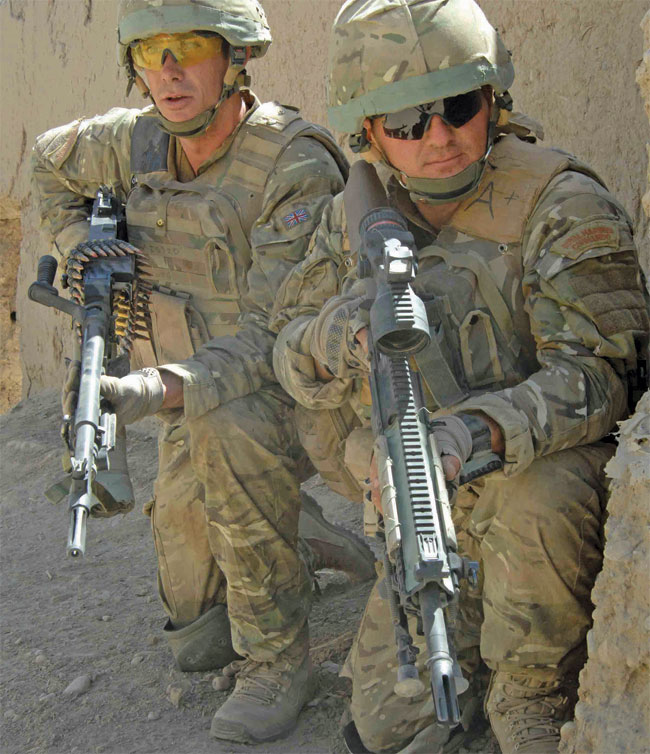 Royal Marines from 40 Commando on patrol in the Sangin area of Afghanistan are pictured (left) with a General Purpose Machine Gun or GPMG and (right) the newly introduced L129A1 or Sharpshooter 7.62mm rifle. Both Marines are wearing newly issued Mk7 helmets and Mk8 Osprey body armour and are dressed in Multi Terrain Pattern (MTP) camouflage. (©UK MOD Crown Copyright 2011)
L129A1 "Sharpshooter" Specs
Caliber:
7.62x51mm NATO
Operation:
Gas Impingement, rotary locked Stoner-style multi-lug bolt
Weight, empty w/ ACOG:
14 lbs/6.4 kg
Length, overall: 
with SOPMOD collapsed: 36.5" (927 mm)
with SOPMOD extended: 39.0" (990 mm)
Barrel: 
stainless steel barrel w/ Tactical Flat black matte finish – 1:11.25-inch right hand twist
Barrel length: 
16 inches (406 mm)
Magazine: 
20-round PMAG
Sights: 
Tactical Iron Sights and Trijicon TA648-RMR-UKS (NSN: 1005-99-305-9104)
Status: 
In service with British Armed Forces
Manufacturer:  
Lewis Machine & Tool Company
1305 11th Street
West Milan, IL 61264   USA
www.lewismachine.net
Importer: 
Law Enforcement International
www.L129A1.com