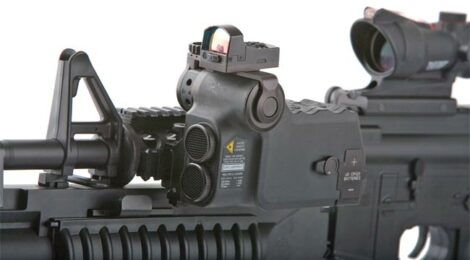 Vectronix and Wilcox Industries have jointly developed a new weapon sight for stand alone and under-barrel 40mm grenade launchers.  Utilizing a laser range finder, ballistic computer, and an articulating mount, the RAAM (Rapid Acquisition Aiming Module) increases the probability of first round hit with 40mm rounds.

Outfitted with three separate lasers, the RAAM features a visible laser, IR laser, and range finding laser within a single compact package.  Use of the RAAM is surprisingly simple.  The grenadier "aims" the RAAM at the desired target.  The laser range finder within the RAAM determines the distance to the target, to include any angle of declination or inclination.  The range finder will calculate and provide distances in 1 meter increments.  The laser range finder has a range capability of 50 meters, to a maximum distance of 2,000 meters.  Clearly a 40mm grenade can only be fired to a maximum of 400 meters; however, the laser range finder can be used for target acquisition and identification for support weapons and close air support.
If the grenadier determines that the target is within range, the range data is sent to the ballistic computer to calculate a firing solution.  Once a firing solution has been calculated, the point of aim is automatically adjusted, so that the grenadier need only place the red dot on the target.   The aiming module is an easy to use and familiar red dot sight.  The ballistic computer will calculate a firing solution to a distance of 400 meters.
The RAAM may be the grenadier's new best friend.  Weighing less than a pound, the ballistic computer will compensate for slope to the target position.  No longer need a grenadier worry about firing short when firing upwards.  Programmable for different types of ammunition, the RAAM utilizes two CR123 batteries, is night vision compatible, and mounts to either an M203 or M320 via standard Mil-Std 1913 Picatinny rails.
In an interesting development, the RAAM was selected by the British Ministry of Defense for the Future Integrated Soldier Technology Program.  Initial orders are reportedly 2,300 units for use within the British MoD.
Look for an in-depth review of the RAAM in a future issue.