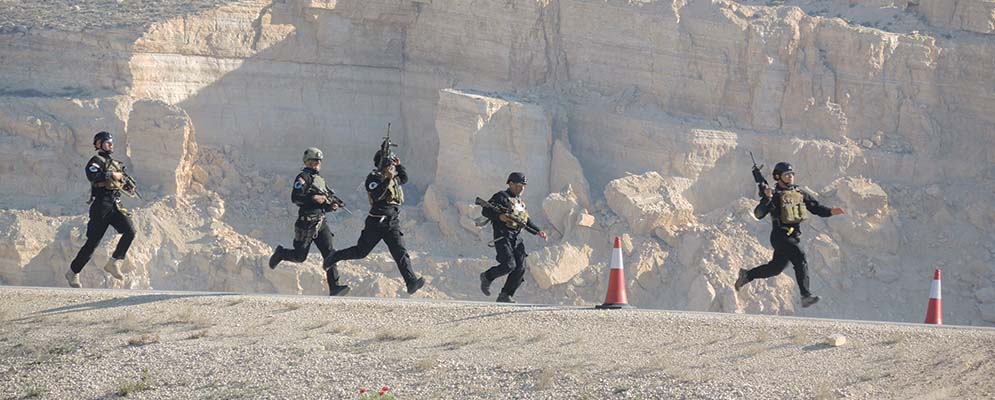 SOFEX 11th Edition 2016: Networking for Global Security

The Hashemite Kingdom of Jordan The Hashemite Kingdom of Jordan is host to the SOFEX military trade show held every two years in Amman, Jordan. Regionally, this is one of the most important shows that concerned people can attend.
It's not just the juxtaposition to current combat areas—Jordan has always been a meeting ground for concerned military groups. Vendors report a lot of success if their products meet the current threats, but the Jordanian Armed Forces have always looked at different possible solutions to the threats and tried many—in other words, if you have an innovative weapon or military product, the odds are that there will be people in authority willing to give it a test. And those people are definitely at the SOFEX show, looking to talk with the vendors.

This atmosphere attracts a lot of interesting companies, thus, SOFEX has become a gathering place for interested end users as well. A lot of exhibitors were from US companies, as always. This doesn't mean that the Russians and Chinese weren't heavily represented—they were and had their own buildings. It's just that a plethora of US small arms manufacturers were there at the show, with real weapons on display instead of just posters. That tends to draw more interest. Poland, Bulgaria, Serbia, France and the UK also had heavy representation.
Every two years SOFEX coincides with the annual KASOTC Warrior Competition, so SADJ attended both on one airline ticket (see the sidebar). While the SOFEX show has a concentration of vendors in a variety of buildings around a central parade ground with outdoor exhibits, there is also an air show and numerous demonstrations of tactical skills. The heliborne assault that is presented is not only visual but a crowd pleaser. Special forces troops ride in to rescue "hostages" in a very high speed and theatrical manner. So, the show is broken up for the attendees by outdoor events that are right on premises and don't take the attendees away from the displays for very long. All in all, a very satisfying event and SOFEX, while a mature show, shows all the signs of continued growth.
The next SOFEX is scheduled for May 8-10, 2018 (MESOC is the 7th).
Every two years in Amman, Jordan, in conjunction with SOFEX, The Middle East Special Operations Commanders Conference (MESOC) takes place under the high patronage of His Majesty King Abdullah II of Jordan, with the support of the Jordanian Joint Special Operations Command. MESOC is the official conference of the highly acclaimed Special Operations Forces Exhibition (SOFEX) going on to its 12th Edition in 2018.
MESOC presents an exceptional opportunity to participate in an unrivaled conference with over 750 delegates from the special operations forces and industry partners gathered to listen to in-field innovators and thought leaders. The MESOC program, made up entirely of special operations forces commanders from around the world, is crafted to provide the latest insights into the changing operational environment and the latest in technology applications.
MESOC 2018 will feature special operations forces commanders, offering briefings to political and military leaders, diplomats and industry representatives among Arab and international delegations headed by Ministers and Chief of Staffs, followed by opportunities for direct question-and-answer sessions between the audience and a panel of discussants, punctuated with regular, informal networking opportunities in between main sessions.
Sponsorship opportunities are available for private sector partners looking for the highest level platform to reach out to a high density of decision-makers. For more information, please contact MESOC at the following address:
Nour.hadid@inegma.com.
The Ukrainian company UkrOboronProm usually has a strong presence at SOFEX and has a variety of tank and anti-aircraft weapon systems.
Exhibiting Country List 2016
Australia, Austria, Belarus, Belgium, Brazil, Bulgaria, Canada, China, Czech Republic, Finland, France, Germany, Greece, Indonesia, Italy, Jordan, Korea (South), Kuwait, Lebanon, Norway, Pakistan, Poland, Russia, Saudi Arabia, Serbia, Slovakia, South Africa, Sweden, Switzerland, Thailand, The Netherlands, Turkey, Ukraine, United Arab Emirates, United Kingdom and the United States of America.
KASOTC 2016: The King's Challenge
"We have to understand that it is called 'international' terrorism, however, we as Special Forces, special operations units all over the world are not yet international. The bad guys always work together, have always been coordinating and have always been international. The good guys never have been. Progress has been made in intelligence-sharing, thus, we have to work together in order to defeat the bad guys' will. Soldiers know better than anybody whether their training is good or not. Soldiers will always know if the instructor coming in their country is showing [them] one 100 percent of what that person knows, or just showing [them] a bit. Our philosophy in Jordan is to share everything we have with our brothers and counter parts around the Middle East and beyond. At the end of the day if your partners are strong, you are strong." – King Abdullah II Bin Al-Hussein of Jordan
This optic for the RPG-7 is from Belarus. It is very innovative and helps simplify longer range aiming of the RPG-7 recoilless rifles.
KASOTC has always been a special project of the King's—he's a special operations trained fighter himself. From all accounts, he wasn't cut any slack in any of that training or operations and won't allow it for any of the Jordanian forces.
The Jordan Armed Forces/Arab Army hosted the 8th Annual Warrior Competition at the King Abdullah II Special Operation Training Center (KASOTC) held on May 2-6, 2016, with the participation of 27 teams from around the world. The competition always brings together the world's elite Military, Special Operations, Counter Terrorism and Law Enforcement Forces to compete to be the best of the best; the Warrior of 2016.
This year in its 8th edition the Warrior Competition coincided with the Hashemite Kingdom of Jordan's celebrations of the Great Arab Revolt Centennial and the approaching opening of the Special Operations Forces Exhibition (SOFEX) 2016. The Warrior Competition is also of interest to the participants of that exhibition in regards to small arms and military training and missions that could be used in the state-of-the-art ranges and facilities available at KASOTC.
The competition has undergone a complete transformation in the way the competition is designed which redefines the standard at which terrorism is faced and combated, taking the challenge to an unprecedented international height that echoes the ever changing threats. The transformation is reflected in every quest of the competition where the competing warriors demonstrate competencies and adaptability of marksmanship, endurance, teamwork, tactics and communications on the battlefield.
Jadara's J-9 Sniper Rifle is a bolt action rifle in .338 Lapua Magnum.
A special event was added to the competition to mark the centennial of the Great Arab Revolt, which featured weapons and equipment that date back to the time of the revolt in 1916. The Great Arab Revolt had a profound impact on the history and transformation of Jordan and prompted a new era which called for liberty, justice and equality that was led by Sharif Hussein bin Ali and the Arab tribes that rallied behind him.
Each competing team is comprised of 8 members that consist of 1 team leader, 5 competitors and 2 alternative members. All the teams adhere to the rules and regulations of the competition in regards to gear and equipment that are permitted to be used; furthermore, the competing warrior's capability is observed and judged by a panel of reputable international experts from various professional military and law enforcement backgrounds in the industry. The Colt Top Shot 2.0 event is an individual event that assesses the best shooter from each team, and one team member is selected to compete in it and receives a special trophy in the awards ceremony.
The Annual Warrior Competition is a combat-oriented competition that is based on physical ability, team work, communication and individual accuracy. It takes place at the King Abdullah II Special Operations Training Center (KASOTC) in Yajouz, Jordan. The Annual Warrior Competition is designed to build team spirit among contestants partnered against terrorism. The competition also facilitates sharing of best-practices, technology and hardware through gear and weapons display and live demonstrations by international retailers.
For more information, registration, media inquiries and sponsorship opportunities please visit www.warriorcompetition.com or email info@warriorcompetition.com.
Serbian company YugoImport represents many of the companies in Serbia—in this case, munitions from Sloboda and Krusik factories can be seen, as well as the rifles from Zastava.
About The King Abdullah II Special Operations Training Center
The King Abdullah II Special Operations Training Center, also known as KASOTC, is located in Yajouz, Jordan and is a one-of-a-kind facility. The 2.5 square kilometer site boasts over 250 million dollars' worth of cutting-edge training facilities and support structures. Its unique nature derives from an extraordinary combination of cutting-edge training, elite instructor and support staff and its integrated advanced technology. KASOTC offers tailored training courses or training support for clients with their own programs. Simply put, if special operations units are the tip of the spear, then KASOTC is the sharpening-tool that hones it.
2016 Winners
Country: Lebanon
The 8th Annual Warrior Competition has concluded, and this event had 27 teams representing 11 nations from around the globe.
First place:
Lebanon–Black Panthers–Team (2)
Second place:
Palestine–National Security Forces–NSF 101
Third place:
Canada–Canadian Special Operations Regiment
Jadara has partnered with the Russians to produce an indigenous RPG-32 rocket-fired, cassette reloaded ATGL and a new optic system.
Jadara has also taken the RPG-32 system and made it into a quad mounted salvo system for multiple target engagements.
King Abdullah II Bin Al-Hussein of Jordan
SADJ has attended several of the competitions and watched them get better every year. This year, there were 27 teams from 11 countries.