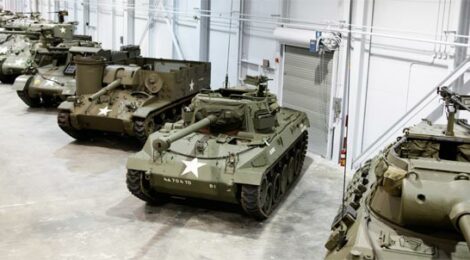 C. Reed Knight, Jr. is no stranger to most of the readers of SADJ.  His Knight's Armament Company (KAC) is an innovative major supplier to the US and many foreign military groups and most American forces are using at least one item of KAC's product line.  This includes the rail forends on their M16 and M4 carbines as well as the current SASS rifle and many other products.
What many readers may not be fully aware of is the Knight commitment to preserving the history of modern small arms.  Mr. Knight has been involved not only in the design of many modern weapon systems, but he has devoted a significant amount of time, money, and energy into the study of these systems and expanding a reference library of these weapons and their development.
In recent years, what had been a personal passion that Mr. Knight shared with a few other like-minded individuals and used in his daily research, turned into a quest to put together what many are now calling the finest and most inclusive military small arms and vehicle collection in the United States.
Mr. Knight has always shared the knowledge and learning experiences with others, but in recent years the ability to acquire more collections of small arms, vehicles, tanks, and cannon had created such an overflow situation that the KAC facility was beginning to fill.  This inspired a new commitment to building the collection into a usable and sustainable museum, and in typical Knight fashion this would not be done in a half-hearted manner.
Over the years it had become harder and harder to find qualified, trained people who would work in small arms because the US doesn't really have any educational focus on these things.  It became increasingly evident to Mr. Knight that in order to fulfill his destiny of sharing the knowledge and pushing others to excel in theirs, he must form an educational entity.  Thus, the idea of the Institute of Military Technology was born.  The Institute had to be formed with open ends on the knowledge pool to work with, and the collection was honed to fill those requirements.  (For more information on the Institute, and how you can participate in this new American think-tank or make donations to help support this massive endeavor, go to www.instmiltech.com.
Once the final form of the Institute was put together, the ideas started to gel as to what the displays of the collection might look like.  Approximately six months before the SHOT Show of 2009 in Orlando Florida, Mr. Knight realized that this was the perfect opportunity to launch the Institute, and to share his vision with the small arms community.
Mr. Knight's son, C. Reed Knight, III, "Trey" to his friends, was tasked with putting the vision of the Knight Museum together and making it a reality.  To add to the pressure, the SHOT Show was scheduled in nearby Orlando, Florida, for 2009.  In recent years, during the infrequent appearance of SHOT at Orlando, KAC would sponsor a wonderful party at their facility in Titusville and bus the invited attendees to and from the facility as well as feeding them a local Florida type meal, and giving them the grand tour of the collection.  What was becoming a tradition for Knight's, now offered the opportunity to launch the public perception of the collection to a new level and it was up to Trey to oversee the new displays and expansion.
In all, over 30,000 square feet of display space was put into place in less than six months.  Friends and employees worked for months to get the tank and cannon displays organized, and the entire organization was in a frenzy to put their best foot forward in time for the SHOT Show attendees.
When the launch day occurred, KAC and the new Institute of Military Technology had approximately 2,500 people show up.  They registered on-line and if pre-accepted by Knight's, were organized into custom bus coaches that departed from the SHOT show to the facility, and they proceeded to show the collections and serve up a wonderful BBQ and had live music for entertainment.  The event was a tremendous success and will be talked about for years in the small arms community.  Of course, that was the point.  The Knight legacy is fast moving into place: a legacy of quality merchandise, responsiveness to the customer, support of the community, and the sharing and furtherance of knowledge in our small but essential community.  The Institute and the collection will help our martial history live on and to help new generations understand where their freedom came from.
The people who put this outstanding Florida shin-dig together were C. Reed Knight, Jr., C. Reed Knight, III, June Wetherbee (replacing Ginger Vossen Roberge during this time, as she was out on medical leave) as well as Bonnie Werner (who did a big part of coordinating and scheduling volunteers, etc.) plus a host of other people – approximately 100 volunteers (KAC personnel) that helped make this event a success.  Mr. Knight would like to thank them all for helping to make the event such a success.  There are some others who helped put this production on that deserve thanks: Joe McClain of the Historical Military Armor Museum who helped tremendously with the shipping in and organizing the tanks along with Gary Perry, VP of Quality for KAC.  Mr. Knight would also like to thank Daniel Mattozzi and Dave Hoerig for helping Joe McClain in getting the tanks moved in and ready for the Open House.