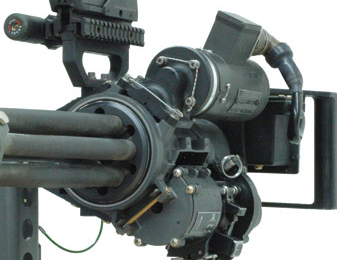 Since 2005, Garwood Industries has dramatically improved the M134 platform and systematically designed unprecedented improvements to the most critical aspects of the weapon while their patented feature enhancements are centered on two principals: performance and ease of use. These improvements are the core that separates Garwood from its competition, but are not limited to, the Garwood Feeder-Delinker, Single-Tang Bolt Assembly and Lightweight Barrel Clamp/Flash Suppresser. Most importantly, Garwood Industries' components are interchangeable with all legacy systems.

The Garwood Feeder-Delinker was designed with one purpose: Deliver the sustained firepower necessary to prosecute a mission and protect the asset, and the Garwood Feeder-Delinker is the most reliable feeder system available today. Garwood's mean-time-between-stoppages/jams is better than 200,000 rounds and as one official U.S. report indicates, "… the Garwood Industries feeder handoff sprocket has all but eliminated handoff failures." With a performance improvement exceeding 600 percent over legacy systems it is obvious why the U.S. Government now uses Garwood.
The Garwood Single-Tang Bolt Assembly is the next improvement over today's older M134's. With legacy systems the operator is required to remove the firing bolt assembly before every operational inspection to ensure the integrity of both top and bottom bolt fingers. This function is time consuming and increases the chance of an operator error during the re-assembly procedures. Garwood's bolt assembly integrity can be inspected without disassembly and increasing mission-readiness – instantly.
Lastly, the Garwood Lightweight Barrel Clamp / Flash Suppresser, also known as the "Birdcage," provides an unprecedented cost-effective advantage. The Garwood Birdcage is the most advanced design on the market today and is the lightest barrel clamp available – even lighter than a titanium version – and cools the barrels' heat signature on average 400 degrees, which, as reported by the U.S. Government, "…improve[s] barrel cluster cooling time for ground applications." This results in a longer lasting barrel life that reduces sustainment cost, which continues to set the Garwood M134G system apart from all other M134 weapon systems available.