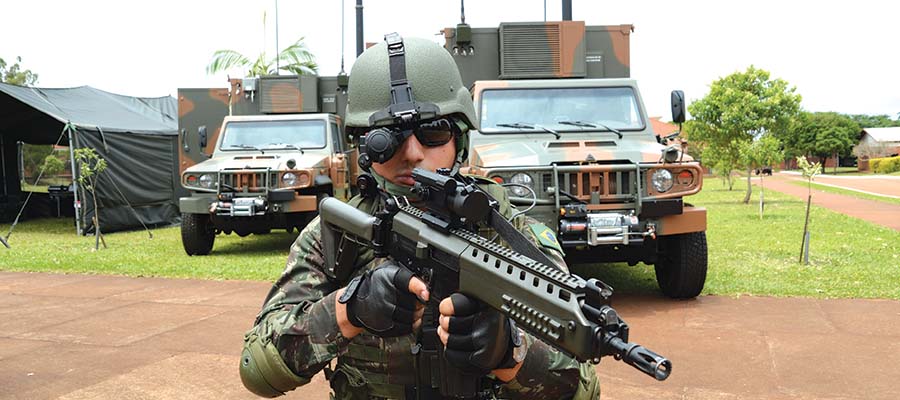 ABOVE: The new Sistema Integrado de Monitoramento de Fronteiras (Sisfron), will transforms all aspects of the Brazilian armed forces. Here a trooper demonstrates the new IA-2 rifle and new military equipment and helmet. (Brazilian Ministry of Defense BMoD Jorge Cardoso). 1A & 1B. Cropped example (BMoD Jorge Cardoso).


IA-2, Uirapuru, Marruá, Guarani & more in Brazil
With the upcoming Olympic Games in 2016 in Brazil, the military has been busy preparing security details to assure safety. The armed forces have been experiencing a metamorphosis in preparation to security challenges ahead, incorporating in the process a new advanced border surveillance system, new armored personnel carrier, new high mobility light vehicle, new trucks, new air defenses, new fighters and a new rifle. It has also upgraded or retrofitted several other systems, and continues to renovate specialized training.

So we traveled one more time to Rio de Janeiro seeking a look into some of this new equipment. We were not disappointed, spotting in the hands of the paratroopers is the new IA-2 rifle. The Brazilian Paratrooper Brigade, based at Rio de Janeiro, depends on three Batalhão de Infantaria Pára-quedista (25th, 26th and 27th), one field artillery (8th Group) and one logistical support (20th) battalions, one Cavalry Squadron (1st), the 21ª Bateria de Artilharia Anti-Aérea Pára-quedista, a Signal (20th), and an Engineer (1st) Companies, and the 36º Pelotão de Polícia do Exército Pára-quedista, to do its job while responding to an HQ Company. The Companhia de Precursores Pára-quedista is an elite outfit, and refers to the path-finding unit.

The IA-2 has been finally accepted as the new standard military rifle for all branches, with the Paras as one of the first units to test and field it. The weapon was developed by the Indústria de Material Bélico do Brasil (IMBEL), and will be replacing the M964 FAL and M964A1 MD1 (Para FAL) 7.62x51mm rifles, as well as the MD97 and HK33 5.56x45mm rifles. It is a gas-operated weapon using a number of polymer components to reduce weight to 3.6kg. It is a compact weapon, measuring 850mm in length, and having a 330mm long barrel with a flash suppressor that can be used to launch rifle grenades. It said to use a conventional piston/multi-lug rotary bolt mechanism, and has a 750 rpm rate of fire. The 5.56mm variant accepts STANAG 30-round magazines, and its design sports a foldable/collapsible buttstock, and a handguard with MIL-STD-1913 Picatinny rails to mount an array of accessories. The 7.62mm variant accepts the FAL 20-round magazine.

The IA2 was initially denominated MD-97 Mk.II, and development started in 2008 as replacement of the MD97, and eventually as replacement of the M694 series. Its design was made public in 2010, and after testing ended in 2012, a first batch of 20,000 were ordered in 2013, followed by orders of up to 140,000 examples. The baseline assault rifle has a 440mm barrel; the Carbine model has a 370mm barrel, and the CQB variant a 260mm barrel. The 7.62mm version has a different skeletal stock and a longer flash hider; and there is a 7.62mm Carbine variant with a shorter barrel. We were able to observe details of the Sniper variant, which has a 510mm barrel, a bipod, and a different buttstock with a cheek rest.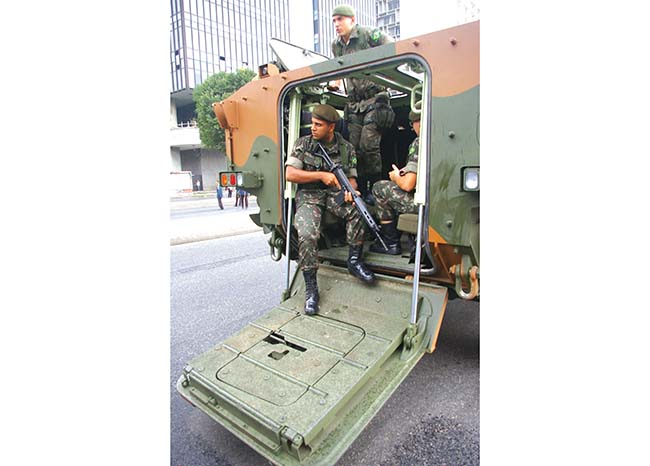 This trooper is equipped with the Para FAL M964 A1 MD1 rifle. It is a lighter (4.5Kg) and a smaller version of the M694 FAL, sporting a shorter barrel, folding stock and replacement of aluminum with high-impact polymer parts. The soldiers mount a new Guarani APC, the new 6x6 Army armored transport (J. Montes)
It will be a while before the IA-2 replaces the M964, so it was not surprising to find that most units are still equipped with the Para FAL, or IMBEL's own modification of the FAL. The Army tested the FN FAL between 1958 and 1962, and the weapon was adopted in 1964, with licensed production commencing in-country at the Fabrica de Itajubá (FI) as the M964 (Model-1964) for the standard model, and M969A1 for the folding stock version. At least 200,000 FALs of various types were produced between 1964 and 1983, and before production switched to the M964A1 MD1 (Para FAL). Indeed, the MD1 models observed in the hands of Motorized and Cavalry units was shorter than the M964, having a barrel length of 450mm, instead of the M964's 530mm. The folding stock came in handy when used in mounted and/or airborne operations.

The IA-2 is also planned to replace the MD97 (Model 1997) rifle. We did not see any of such models in the hands of the troops, but have handled a number of variants at various LAAD events in RioCentro. It is a favorite police carbine, having a gas-operated action with rotating bolt. It uses STANAG M16-compatible magazines, and follows the lines of the FAL, if in a scaled down form. The LC carbine is a shortened semi-auto only version of the MD-97L, and it is intended for police forces, while the LC model is an even a shorter model (LC stands for Light/Short), with a 300 meter range. The MD-97LM Carbine can be fitted with a sound suppressor and grenade launcher; it comes with Picatinny rails for additional accessories.

The Brazilian Naval Riflemen on the other hand, are almost universally armed with the M16A2. The Corpo de Fuzileiros Navais took delivery of more than 12,000 Colt rifles, and over 500 Carbines, and 1900 M972 (MT12). These will be replaced with the new IA-2, and the first 269 Carbine variants have been ordered.

Uirapuru is the name of a bird that lives in the Brazilian tropical undergrowth. The name was chosen by the Military Engineering Institute (IME) to name a new Brazilian machine gun in 1969. The resulting weapon was a machine gun chambered in 7.62x51mm caliber. The design continued to evolve into the 1970s, and in 1977 the Ministry of Defense ordered two prototypes from Mekanika industry of e-commerce Ltda, and the Mekanika Uirapuru was adopted in service in 1979, along with 3000 Uru SMGs from the same Mekanika. The weapon entered production at a plant near Rio de Janeiro, and it is said to have a rate of fire of 650-700 rpm, and an effective range between 800 and 1,400 meters. The MG weighs 13 kg, having a total length of 1300mm, and a barrel length of 600mm. Although the Mekanika Uirapuru is supposed to be in service, the only one we were able to observe was at the Conde de Linhares Military Museum, and instead the MAG-58 is found universally among the troops. In 2013 the army adopted the FN Herstal MINIMI 5.56x45mm as its standard light machine gun, replacing the IMBEL M964 FAP (Fuzil Automático Pesado) 7.62x51mm.

Smaller submachine guns are truly popular here. One of the Special Forces operators we were able to photograph carried what appeared to be an SMT9 G2 (for SubMetralhadora Taurus) with shoulder stock folded or removed. In fact, the shot could be of a CT-556/FAZ-556 short Carbine instead, and it is difficult to say without a good view of the gun and the magazine. What is certain is that the two firearms share a single design line. It was in 2011 that Taurus developed a 5.56x45mm caliber rifle platform, sporting a STANAG 4179 compliant magazine well, tucked into a sleek and futuristic design. The FAZ version refers to the select-fire model, firing at a cyclic rate between 650 and 800 rounds-per-minute while the CT variant is a semi-automatic police patrol rifle. The weapon has a machined lightweight aircraft-grade aluminum upper receiver, hard-anodized to military specifics, and a fiberglass-reinforced polymer lower receiver. The firing mechanism is based on an indirect gas-impingement, short-stroke piston-driven system. It has a side-folding/telescope buttstock. It features a full-length MIL-STD-1913 "Picatinny" rail, and a machined aluminum quad-rail handguard. The 9mm SMG is now dubbed the SMT (previously MT9-G2). The most striking difference between the rifle and the SMG is the different caliber. The SMT9 refers to the 9x19mm model and the SMT40 refers to the .40" Smith & Wesson caliber. It uses 15-round and 30-round magazines. The SMGs use a blowback-operated system and fire from the closed bolt at a cyclic rate of fire that may range anywhere from 700 to 800 rounds per minute.

Fully geared for MOP-4 operations, this trooper carries a M964 rifle (J. Montes)
The MT-12, on the other hand, was prominently displayed by Brazilian Navy Shore Patrol (SP) and Brazilian Air Force Police units. The MT-12 refers to the Beretta M12 SMG produced under license by Taurus. The M12 was adopted as the MtrM M1972 in 1972 and was initially produced by Indústria e Comércio Beretta S.A., in São Paulo. Taurus acquired a license to produce the gun, and re-designated the weapon as the MT-12. Production switched in June of 1993 to a new plant at Porto Alegre, producing the MT-12A and MT-12AD variants. Taurus attempted to repeat the success of the MT-12 with the MT-40/SAF in 2000, so it partnered with Chile's Fábricas y Maestranzas del Ejército (FAMAE) to produce the SIG inspired SAF submachine gun, which used a blowback-operated mechanism firing from a closed-bolt position at a high rate of fire. Although the MT/SAFG was not adopted by the military in large quantities, the CT-40 semi-auto carbine with a 16.1-inch barrel and the CT-30 in .30 Carbine found favor among police units. There are two special aeronautical police battalions (BINFA) serving under the Brazilian Air Force, and there is a Grupo Especial de Polícia da Aeronáutica (GEPA) in charge of hostage rescue and rapid response.

Elements of the Batalhão de Infantaria de Aeronáutica Especial dos Afonsos (BINFAE-AF), and Esquadrão Aeroterrestre de Salvamento (EAS) carried HK-33 rifles instead of the MT-12, and the SIG550 is also a favorite. BINFAE-AF is a security Infantry Battalion of the Brazilian Air Force while EAS, also known as Pára-SAR, are specialized commandos trained in combat rescue operations. It is understood that these rifles will be replaced by the IA-2.

Most impressive and unusual was finding the firefighters armed with IMBEL INA M953 SMGs. Indeed, the Military Firefighter Corps is tasked with civil defense and rescue in addition to the normal firefighting tasks. Since 1915 it has functioned as a military reserve force, and part of the National Public Security and Social Defense System. The IMBEL INA M953 is a modified Madsen M50 SMG. The M953 is chambered to .45 acp caliber.

Considerable infantry equipment is supplied by the Glágio do Brasil Conglomerate, to include PASGT, ACH LC 200, and ACH HC 100 helmets. These are made of Aramid, with the seven water-resistant cushions suspension system that provides for blunt impact protection. The PASGT provides for Level IIIA protection against 9mm FMJ RN / 44 MAG SJHP; while the ACH LC 200 is shaped to accept a number of accessories (lighting, communications, and night vision, among others), providing Level II (9mm FMJ RN / 357 MAG JSP) and Level IIIA (9mm FMJ RN / 44 MAG SJHP) protection. The ACH LC 200 provides protection against 9mm FMJ RN / 44 MAG SJHP.

This conglomerate also provides Tactical Vest II E IIIA, featuring inserts that are ballistic, waterproof, and of resistant fabrics to ensure safety in adverse conditions, and providing for high ballistic resistance, reducing trauma. They come with NIJ Standard Level II (0101.04) and Level IIIA (0101.04) protection plates. The Tactical Vest III E IV is more widely distributed to combat troops, and features the M.O.L.L.E system, with its advanced load distribution design, and additional protection for shoulders, neck and groin. It provides NIJ Standard Level III and Level IV protection. The Vest III model comes with two ballistic plates of Level 3, and the Vest IV comes with two stand-alone plates (front and back). These tactical vests come in the Brazilian Lizard Pattern-woodland camouflage (dark green and purplish-brown vertical stripes on light or pale green background). It is noted that the standard Brazilian Army Combat Uniform (ACU) is made of 100% cotton twill in a lizard camo design, in either green (woodland) and kaki (dry season) based patterns. The main design sports broad brush strokes of dark brown and dark green overlaid on light green. The design is a derivative of the French Leopard TAP47 pattern and more so of the Portuguese red-lizard smock camouflage (in a design combining russet and foliage green on a pale green background) from 1960, and standard issue since 1963. The Brazilian Army had adopted a woodland camouflage way back in 1967, in a pattern consisting of brown and lime green blotches on a pale green background similar to the US M1942 spot design, made of lightweight herringbone twill material. The local military also made use of the Chilean "rana" (frog) pattern in the early 1970s, but an early version of the lizard pattern was used since the early 1960s, with brown and forest green vertical stripes on a tan background. Another variant was issued to Mountain units in the 1980s, in black, red and moss green vertical stripes on a tan background, and another one to the Caatinga units, using a reddish-brown and mint green vertical striping on a pale green background.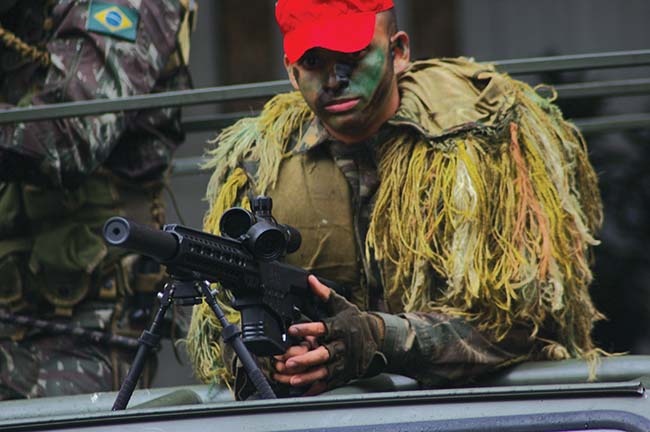 This Brazilian Sniper appears to carry the IA-2 in 7.62x51mm caliber, a precision rifle. It is a gas-operated weapon, which has a 510mm barrel, a bipod, and a redesigned buttstock with a cheek rest. It accepts FAL 20-round magazines (J. Montes)
Wider net

We were also able to view the new light utility truck, the Marruá (Wild Bull) produced by Agrale. The Brazilian Army used the Marruá years before. Then, the Army started looking for a replacement, and showed interest in the VLEGA Gaucho. The Gaucho was developed since 2004 with Argentinean cooperation, and under parameters established by the Plan Ejército Argentino (PEA 2025). The Gaucho comes with an MWM diesel V4 engine developing 130hp.

La Agrale continued to develop the Marruá, presenting a more powerful variant in LAAD 2013, and another one in LAAD 2015. This has been selected now as the new light utility vehicle for the Brazilian Army. The Marruá 4×4 is larger than the Gaucho and its development is based on that of the Engesa EE-4/EE-12 utility vehicle. The Marruá Viatura de Transporte Não Especializada (VTNE) was first accepted into service in July 2005. The Marruá AM1 is powered by a EURO II MWM 4.07 TCA diesel engine coupled to EATON FS 2305 A transmission (5 forward / 1 reverse). The newer variants come with a EURO III compliant engine.

We also marveled at the new VBTP-MR APC, a wheeled armored transport denominated Guarani, which will be replacing the successful EE-11 URUTU wheeled armored transport. A Guarani with gun turret will replace the EE-9 CASCAVEL. Those we observed had a simple machine gun pod armed with an M2HB, but a new turret has been developed for the troop carrier variant.

In November 2014, Brazil implemented its Integrated Border Monitoring System (Sisfron) at the 4th Fourth Mechanized Cavalry Brigade in Dourados, Mato Grosso do Sul. This system will help security forces detect illegal activities, such as drug trafficking and weapons smuggling, in the border, an area of 1.2 million square kilometers. It consists of four operating centers, with the other three located at Mundo Novo, Iguatemi, and Caracol. This represents an investment of about $4.6 billion USD. Sisfron, developed by Savis from Embraer, is tasked with detecting suspicious activities from distances up to 20 km, with the use of sophisticated equipment depending on 68 communication antennas, an information highway (digital computer networks), radar units, electromagnetic sensors, tactical and satellite communication components, and command and control centers, which will be gathering intelligence and conducting surveillance, information technology, and gear to conduct electronic warfare. Sisfron is expected to be completely operational by 2021.

The armed forces' preparedness is in turn spilling into local authorities. It is noted that state police units, denominated Military Police (which are part of the Armed Forces), have been honing their skills and improving equipment as well. The sharpshooters of the Military Police's Special Tactical Actions Group (GATE), for instance, are known to have attended the Tactical Sharpshooter Training Course, under the watch of the Brazilian Air Force's (FAB) BINFAE-CO – Batalhão de Infantaria da Aéronatica Especial (Special Aeronautical Infantry Battalion) from Canoas Air Base. BINFAE-CO offers its sharpshooter training to other agencies as well — including the Federal Highway Police's Special Operations Unit, and the Federal Police's Rapid Response Group.

The security apparatus is divided into federal and state law enforcement agencies. There are 26 Military Police Departments (State Police), and the Federal District has Civil Police and State Police units. Most of these organizations count on a special operations police unit, and/or a rescue team. Many of these forces are also being reequipped. The 400-strong Batalhão de Operações Policiais Especiais (BOPE), for instance, has been reequipped with M16 and M4 carbine rifles with laser sights, Taurus PT92 pistols and fragmentation and stun grenades. Some elements of the BOPE and the Grupo de Retomada e Resgate (GRR) have been equipped with AR-10A4 rifles, many of them with the EOTech 552 holographic sights, to replace their M694s.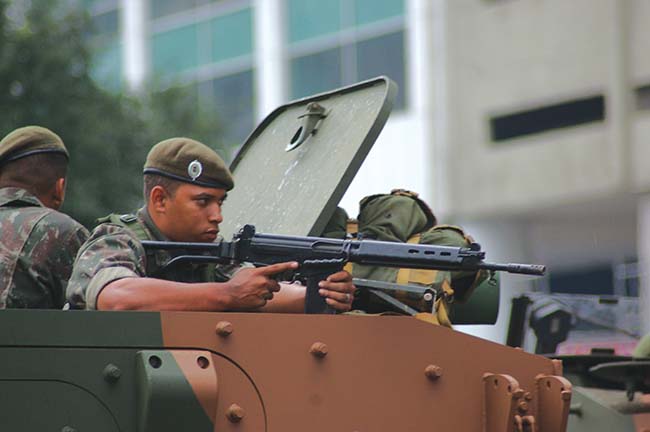 Mechanized infantryman armed with an M964A1 MD1 (ParaFAL) 7.62x51mm rifle. The MD1 has a barrel length of 450mm, and folding stock. (J. Montes)
Imposing Law

Rio de Janeiro exploded into a security crisis in November 2010, when criminal factions initiated a series of attacks in response to the government's deployment of permanent forces inside the favelas, the feared Brazilian slums. The government had decided to secure the slums as a preventive measurement for the upcoming Soccer World Cup and Olympic Games. As drug traffickers occupied Leopoldina, Vila Cruzeiro, neighboring Complexo do Alemao slums, the police and Naval Infantry charged inside the neighborhoods riding on M-113 and LVTP-7 armored vehicles; these were followed by the Police's own Caveirões ("skulls" armored vehicles).

The attacks had started on November 21st, when several vehicles were burned at Linha Vermelha and other areas inside the City, and an Air Force vehicle had come under fire. The following morning a police cabin was attacked, and the drug traffickers continued their robbery spree and attacks. On the 23rd, Military Police Units (State Police) moved against several slums searching for the attackers; these operations escalated and culminated with the intervention of the feared BOPE against strongholds in the Vila Cruzeiro slum on the 25th. BOPE chased the criminals to the Complexo do Alemao, while hundreds of soldiers and Federal Policemen arrived to place the slums under siege. By the 28th, all resistance has been subdued. The large amount of weapons captured included CZ-24 (Mauser K98) rifles, ZB-ZV medium machine guns, 0.30-caliber Brownings, Madsens, and Browning automatic rifles (BAR). There were also Garands, AK-47/AKM, AR-15/M-16/M-4s, Ruger Mini-14s, HK G-3s, Steyr AUGs, and SIG-550 rifles; the submachine guns captured included M1 carbines, Argentine FMK-3, Thompson M1, and even a MAT-49, along with a number of Glocks, and Desert Eagle pistols.

The action culminated with the use of military pacification forces mounted under Operation Arcanjo. This translate to the use of the Paratrooper Infantry Brigade under the original deployment, followed by the deployment of the 9th Motorized School Infantry Brigade (until start of 5th Military World Games), under Arcanjo II, and the 11th Light Infantry Brigade (Campinas), under Arcanjo III, and finally intervention by the 9th Motorized School Infantry Brigade (upon completion of 5th Military World Games), under the current Arcanjo IV, and at this time, the 1st Motorized Infantry Battalion remains at the Alemão and Penha complexes under Fuerza de tarea Sampaio, and part of Operation Arcanjo IV. The military presence (occupation) of civilian areas is legalized under Article 88 of the Brazilian Federal Constitution, which grants the Armed Forces police powers when requested by any of the constitutional powers. The round-the-clock presence in the slums signifies unprecedented cooperation between Rio de Janeiro's state government and the Eastern Military Command, which turned over command of all operations to the Brazilian Army.

Prior to the 2013 Confederations Cup, the Brazilian forces launched Operation Ágata 7, mobilizing troops to the borders where they seized 19 tons of narcotics. Ágata 8 followed in May 2014, which involved 30,000 troops mobilized to the borders as part of preparations for the World Cup, and resulting in the seizure of 40 tons of drugs.

At least the Soccer World Cup tournament went without incidents, and so it did the Pope's visit. Now come the Olympic Games and Paralympic Games in August and September 2016, and we'll see the preparations in action.