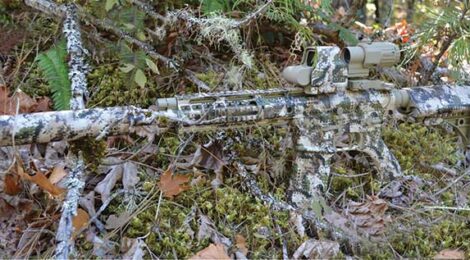 American Built Arms Introduces Aluminum Forearm T*Rail
American Built Arms Introduces Aluminum Forearm T*Rail

American Built Arms Company (A*B Arms), a veteran-owned manufacturer of firearms and firearms parts and accessories, is proud to announce the release of the A*B Arms T*Rail (TAVOR Rail) Aluminum for the IWI US TAVOR SAR bullpup. Unlike any other Picatinny rail on the market, the T*Rail Aluminum was designed and manufactured specifically for the highly popular TAVOR SAR. The TAVOR SAR has experienced incredible sales in the U.S. since it first became available in late 2012, but accessory options for it have remained limited since its debut. A*B Arms decided to fill that gap with the new T*Rail Aluminum. Its small profile and ergonomic design blend in seamlessly with this award winning rifle, allowing the end user to add more options such as lasers, lights or the new A*B Arms T*Grip, onto their TAVOR SAR. The A*B Arms T*Rail Aluminum for the TAVOR SAR is manufactured from 6061-T6 material and Type 3 hard coat anodized providing strength to the rail while remaining light weight. Completely designed and manufactured in the United States, the T*Rail Aluminum provides the user with the ability to mount accessories directly on the hand guard. By using the existing TAVOR SAR hand guard mounting holes, a simple one screw installation is all it takes to add the T*Rail Aluminum to the TAVOR SAR rifle platform. A*B Arms is committed to offering high quality, tough as nails products as exemplified in the T*Rail Aluminum. If a stronger rail can be found on the market, A*B Arms will take it back, no questions asked. The innovative A*B Arms T*Rail Aluminum for the TAVOR SAR has an MSRP of $39.99. For more information on American Built Arms Company, their products or line programs for manufacturers, distributors and dealers visit www.abarms.com.
Faxon Firearms Now Offering AR-15 Rifle With A Grip Safety
Faxon Firearms Now Offering AR-15 Rifle With A Grip Safety
Faxon Firearms will now be offering a new option on their AR-15 rifles. It is a 1911 style grip safety built right into the pistol grip of the rifle. The new grip safety prevents the gun from firing if it is not pushed in gripping the safety properly. One may ask why this is needed. As explained by owner Bob Faxon, he had been at a SWAT training session and noticed that the team members were breeching and entering doors with their rifle's safeties on. In talking to them he found out that they just didn't want to take a chance of shooting one of their own as they entered. He asked them if they would be interested in a grip safety for their AR-15/M4 rifles and they enthusiastically said they would. Being the inventor that he is, Bob went home and designed the first grip safety for the AR-15 style. He is going to offer it on his upcoming line of new rifles. With the grip safety installed the rifle selector can be left in the fire or auto position but will not fire until the grip is "gripped" making for an extremely fast safe to fire transition. For more information on this revolutionary new AR option you can contact them at www.faxonfirearms.com.
MGI's Marck-15 .50 Beowulf Now Available
MGI's Marck-15 .50 Beowulf Now Available
MG Industries, manufacturer of the modular Marck-15 AR "Hydra" platform, are pleased to announce the availability of the Hydra Modular weapon system in the hard-hitting .50 Beowulf caliber. This configuration of MGI's modular, multi-caliber weapon system, also known as the Hydra, is fully interchangeable with the rest of MGI's modular weapons systems. It includes MGI's modular lower receiver with an AR-style magazine well, the quick change barrel (QCB-D) upper receiver and a 16-inch stainless steel, bull-nosed barrel with a low profile gas block and MGI's modified bolt carrier. With this weapon, you can purchase and utilize the rest of the ever-growing system, including their conversion kits. To convert this system, the most you will need to change is three components: the barrel, bolt and magazine well – all done without tools. For some calibers, simply change the bolt and barrel on this weapon and the shooter will be able to fire multiple calibers, including .223/5.56, 6.5 Grendel, 6.8 SPC, .450 Thumper and the .458 SOCOM. Like most configurations of the Hydra, this weapon ships in a standard, hard-sided, lockable pistol case. The .50 Beowulf Marck-15 rifle has a suggested retail price of $1,499. www.mgi-military.com
GunSkins Now Available In Valdyr Camouflage
GunSkins Now Available In Valdyr Camouflage
GunSkins are do-it-yourself, high-performance vinyl wraps that can be applied to anything you want to protect and camouflage. They are waterproof and have a non-reflective matte finish. GunSkins conform to any shape and are easy to install. They are removable and leave no residue behind. GunSkins are available in a variety of tactical, hunting and traditional camouflage patterns. GunSkins come in several kits that offer precut pieces for different rifles, scopes, handguns and almost all firearms. GunSkins AR-15/M4 Skin kits come with pre-cut pieces for the upper and lower receiver, AR-15/M4 grip, and one set of mag skins. They also include additional material for the forend, buttstock, and other accessories. They are removable and have no effect on the finish. AR-15/M4 Skins are available in a variety of tactical, hunting and traditional camouflage patterns. GunSkins offer their Skins in almost 30 patterns including the new Valdyr V1-AR, V1-TR and V1-WD camouflage. GunSkins come with a 5-year warranty. For more information contact them at www.gunskins.com.
SilencerCo Announces New Threaded Pistol Barrels
SilencerCo Announces New Threaded Pistol Barrels
Silencer manufacturer SilencerCo has launched a line of threaded aftermarket pistol barrels. This step towards diversification is the first of several planned accessories expansions from the Utah-based company, who has garnered a loyal customer base by offering innovative products and excellent customer service. While rifle barrels can easily be threaded to accept a suppressor, most pistols require the purchase of a threaded aftermarket barrel to take advantage of the benefits a silencer can offer. "The only thing better than a normal pistol barrel is a threaded pistol barrel," stated SilencerCo CEO Joshua Waldron. "All pistol silencers require one. We noticed a market need for high quality pistol barrels and we stepped in to offer them. SilencerCo will begin sales with most common Glock models this year, adding select SIG Sauer, Springfield XD and Smith & Wesson M&P models in the first quarter of 2015. Barrels for Glock 17 and 21 can be purchased now on the company's website and will ship in late October. More information on the barrels can be found at www.silencerco.com.
The Development of the TL5 Pro Personal IR Marker
TL5 Pro Personal IR Marker
TAR Ideal Concepts, an international supplier of military equipment, with the support of Israeli MOD (Ministry of Defense) and IDF (Israel Defense Forces), began researching possible means to reduce the rising numbers of causalities caused from
friendly fire.
The development process of the TL5 began over 7 years ago after the 2nd Lebanon war. During the short war, over 40% of the injuries to the Israeli side were a direct result of friendly fire.
As a result, TAR has developed the TL5, a personal marker that works in both visible and IR spectrum and is used to minimize the possibility of friendly fire casualties by marking the location of fellow soldiers.
The latest version of the TL5, the TL5-PRO, has an IR light along with 3 different visible colors – White, Red, and Blue. Each light has 4 levels of intensity in order to avoid enemy detection. The marking distances are: 50, 300, 800, and 1,500 meters.
During operation Protective Edge last July in Gaza, tens of thousands of Israeli soldiers were deployed in Gaza after being issued with the TL5 marker. The TL5 proved to be extremely efficient in preventing friendly fire in urban areas where the forces may separate and rejoin frequently. The TL5 was also used to mark the location of the infantry to Air Force units. The procurement of the TL5Pro helped the IDF achieve a lower rate of injuries and casualties during the last conflict.
For more information, go to www.tarideal.com
Aimpoint Releases Two New Optics
Aimpoint Releases Two New Optics
Aimpoint, the originator and worldwide leader in electronic red dot sighting technology, has announced the introduction of a new sight designed specifically for modern sporting rifles such as the AR-15. This new product, known as the Aimpoint Carbine Optic (ACO), expands upon the company's already proven designs and focuses these features into a high quality, entry priced optic. This new sight was developed with the modern sporting rifle owner in mind, and the ACO is ready to mount and shoot directly out of the box. A full suite of branded accessories, such as front and rear flip covers, an anti-reflection filter, and spare battery holders are available from dealers, and allow users to customize the sight to fit their specific requirements. The ACO pairs a 30mm aluminum alloy sight tube with an extremely rugged fixed height mount designed to provide absolute co-witness with AR-15 backup iron sights. A two minute of angle (2 MOA) red dot is utilized to allow maximum target acquisition speed and accuracy at all distances. The ACO is completely waterproof, and offers one year of constant-on use from a single 1/3N battery.
Aimpoint Releases Two New Optics
Also new from Aimpoint is their new Micro T-2 red dot optic. Since its introduction in 2007, the Aimpoint Micro sight has become the worldwide standard for compact reflex sights. Law enforcement and military end users have embraced this sight for its compact size, durability, and extremely long battery life. Feedback received from professional end users identified a series of desired product enhancements that have now been added to this new product. These changes include: a new sight housing that allows the addition of front and rear protective flip covers and anti-reflective devices, additional physical protection for the sight's adjustment turrets, and increased ruggedness for the sight's internal electronic components. The most important development in this new sight however, is enhanced optical performance. A newly designed front lens, incorporating an important breakthrough in reflective lens coatings, provides a noticeable increase in the clarity and performance properties of the Micro T-2. This ensures that no matter what angle or conditions the shot presents, the user is able to get on target quickly and accurately. The Micro T-2 takes the level of performance available from a compact sight to an entirely new level that was formerly available only in much larger optics. The Micro T-2 can be mounted on nearly any individual weapon platform, and can be used with all existing mounts that fit the Micro T-1. This sight is compatible with all generations of night vision devices. The Micro T-2 is ideal for use with Aimpoint's wide range of accessories including the 3X Magnifier, and Concealed Engagement Unit (CEU). The Micro T-2 can operate for up to five years of constant-on use, using just one CR-2032 battery, and is waterproof to 25 meters. For more information you can contact them at www.aimpoint.com.