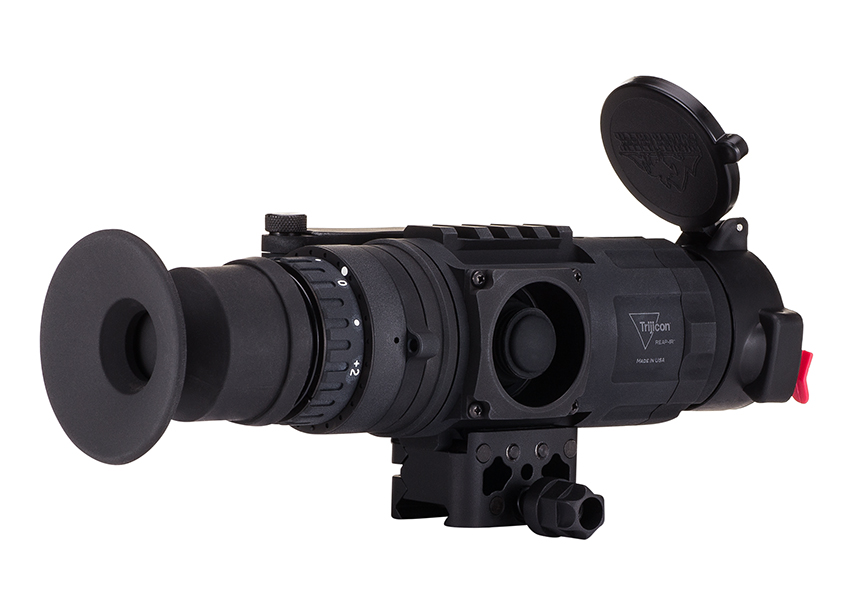 TRIJICON

REAP-IR® Thermal Riflescope Line Expanded
The new REAP-IR models offer two additional magnification options to the 35mm effective focal length variants (2.5x base optical magnification). A 60mm EFL (4.5x base optical magnification) and 20mm EFL (1.5x base optical magnification) configuration is now available along with the original REAP-IR models. A simplified "Easy Zero Method" makes sighting in the optic easier and more intuitive. Getting rounds on target is now a simple matter of aligning an on-screen digital icon with bullet impacts using provided MOA readouts.
Trijicon also updated the main housing to include an integrated Picatinny rail interface for mounting optional accessories and redesigned the battery compartment to a ruggedized, top-loading compartment with an easy-to-use thumbscrew for simpler night-time operation. Trijicon's new and improved REAP-IR thermal riflescopes retain leading image quality, ease of use and durability while adding new user friendly features.
FN HERSTAL
FN SCAR®-SC
The FN SCAR®-SC is now also available in 7.62x35mm (.300 BLK) caliber. It features a standard telescopic buttstock and is available with a wide choice of buttstock types and accessories to accommodate the specific needs of the users. Additional developments will include all FN SCAR® carbines and rifles being now available with a receiver with Picatinny type side rails or KeyMod receiver.
FN HERSTAL
FN SCAR®-L
The FN SCAR®-L rifle recently selected by Bavarian Police as their next rifle (Mitteldistanzwaffe). The semi-auto weapon features a 13-inch barrel, KeyMod receiver and RFID tag integrated into the receiver. The RFID tag is an in-house-designed electronic system developed by FN Herstal that allows digital identification of the weapon, hence enabling optimized inventory and in-and-out management of the weapon fleet. The RFID tag can be integrated in any FN SCAR® weapon, including precision rifles.
WINCHESTER
RANGER ONE™ Ammunition
The Winchester commitment to providing innovative ammunition products is paramount in serving the law enforcement community. In 2019, Winchester continues its long-standing investment in developing technology-driven ammunition into its Law Enforcement line with the introduction of RANGER® ONE™.
RANGER® ONE™ is a bonded bullet that contains a proprietary rigid, fluid directing, polymer insert that is seated within the hollow-point cavity. The technology prevents the projectile from being affected by drywall, cloth or other material, which can minimize expansion and effectiveness. Upon impact, the rigid polymer insert contributes to the expansion and segmentation of the petals to ensure maximum threat-stopping energy transfer while the bonding process maintains bullet integrity and optimal penetration depth. The bullet insert's blue color stands as a salute to our men and women of the law enforcement community.
FLIR
Scion™ Professional Thermal Monocular (PTM)
The new FLIR Scion™ Professional Thermal Monocular (PTM) is built for public safety professionals and is powered by FLIR's high-performance Boson® thermal core for greater image quality. The Scion features connectivity with FLIR TruWITNESS® to allow real-time encrypted thermal video streaming to provide professionals with greater situational awareness. The rugged Scion PTM features FLIR's most advanced thermal imaging core, which allows users to quickly detect objects with greater detail and offer clear vision in low visibility conditions. Available in a 60 hertz refresh rate, the Scion PTM features 2 gigabytes of internal storage and a microSD™ card slot to record both geotagged video or still images for later playback. Additional features include picture-in-picture zoom, global positioning system (GPS) functionality and both Bluetooth® and Wi-Fi capabilities to allow simple file transfer between devices.
OPTICAL DYNAMICS
EXUDE Illuminator
The EXUDE™ Direct Light Illuminator, by Optical Dynamics® features a patented Collimated Amplified Lens System (CALS)—four state-of-the-art lenses to focus and project a beam of light that is pure, clean and powerful. Unlike a flashlight, which disperses a wide cast of distorted light (which may be okay for a walk in the woods or down a dark hallway), the light from an EXUDE is a narrow beam of clean, intense white light that lets you see tremendous detail up close and at great distances, part of EXUDE's Direct Projection Technology. The EXUDE Direct Light Illuminator is available in two models. Both feature a USB rechargeable battery, three brightness settings and are made of machined aircraft grade anodized aluminum.
365 PLUS
3D Shooting Dummy
Our 3D Shooting Dummy is a unique, self-sealing shooting torso target. The most important feature that sets it aside from the competition is weight, which is up to 4 times less than similar products on the market, while it takes 50% more shoots then other dummies out there. The shooting dummy is weather-resistant.
The dummy is made from special Polyurethane foam which is rigid enough for the 3D shooting dummy to stands by itself but still not too hard to damage the bullets, which pass through the target easily. Due to this, the targets are highly resilient and durable, and a single dummy can take up to 10,000 shots before it needs to be replaced. For training with sniper rifles, CQB or just having it on range this dummy is a must for a more realistic training which results in a better and safer performance in a hostile environment. This dummy is now integrated in NATO standard system.
AIMPOINT®
Acro P-1™
The new Acro P-1 is the first Aimpoint sight dedicated to riding the slide of a semi-automatic handgun. It is the only fully enclosed system in its category with a sealed optical channel and electronics protected from environmental elements such as rain, dust, and ice. The Acro is NVG compatible, submersible up to 82 feet and has over a year of constant-on use with one CR1225 battery. The ultra-clear sight picture and 3.5 MOA red dot allows for extremely fast target acquisition, making it the number one choice for pistol optics worldwide.