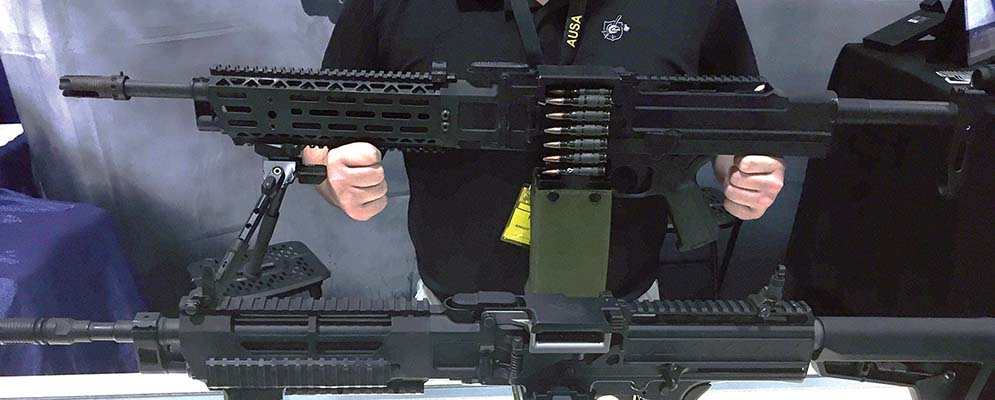 The 2017 AUSA EXPO, held Oct. 9-11 at the Walter E. Washington Convention Center in Washington, D.C., offered a number of attention-grabbing technological improvements to the weaponology bag of tricks—ranging the gamut of communications, modular assault rifle and sniper-rifle systems, advanced optics and bullets (yes, bullets) that remain on straight trajectory through both air and water, even through the transition from air to water or reverse. "Water in a box," a product so basic and simple it's worthy of note was also on display.
Magpul Industries' latest Gen 3 5.56 NATO magazine is a prime example of "idiot-proof" reliability. If you liked the Gen 2 mags, you'll really like the Gen 3. Possessing a robust over-travel step, its installed height cannot be exceeded by smash or bash. The Gen 3 mags have proprietary stainless alloy springs (sporting a black-powdered finish) fixed beneath a robust newly designed non-tilt follower, atop an easily field-removable, positive-locking floorplate. The floorplate has a field of small dots thoughtfully molded into its bottom outward-facing exterior that provides a marking surface for easy identification of specifically loaded magazines. This all-American company, located in Austin, Texas, continues to provide the firearms industry excellence and reliability across their product line. www.MAGPUL.com
Schmidt & Bender, of Biebertal, Germany, is known for superior quality optics. USSOCOM has been using Schmidt & Bender sniper scopes for years because of the ruggedness, clarity, precision and flexibility they characteristically offer to the sniper for long- and medium-range shooting. Schmidt & Bender's latest addition to its Police & Military line is the 1-8×24 PM II ShortDot Dual CC; a compact lightweight design specifically for close-quarter urban warfare operations. Possessing a 7.2-high zoom factor built into a 30 mm center tube diameter, its reticle has a special ballistic horseshoe structure for quick eye-on-target, close-quarter battle situations. www.schmidt-bender.de
Lewis Machine and Tool (LMT) in Milan, Ill., enjoys a solid reputation for its design and manufacturing of high-quality firearms and accessories. LMT's latest offering is a 24-inch overall length Confined Space Weapon or CSW. Looking more like a suppressed sub-machine gun than an assault rifle, the CSW has an integrated suppressor and is chambered in either 300 Blackout or 5.56 NATO. This little beauty is designed specifically for the mobility required in confined-space situations where a standard-length assault rifle is awkward or simply not operationally feasible. www.lmtdefense.com
Hailing from Gardermoen, Norway, DSG Technology debuted its divisive (yes, divisive) CAV-X supercavitating bullets. Under development for more than 10 years, its bi-metal dual-core bullets possess a proprietary design form (geometry) that ensures stable aerodynamic and hydrodynamic flight in both air and liquid environments, and through the transition from one environment into the other. This means you can shoot into the water (or from beneath it) with accuracy. Along the same line of bullet design, DSG offers a subsonic round that will penetrate every soft body armor offered on the market today (scary stuff). Further application of this ammunition deserves serious R&D attention (DARPA, heads-up) as it offers a truly divisive leap in scalable ballistic capability. www.dsgtec.com
Aimpoint, located in Manassas, Va., provides rock-solid quality sighting devices to the military, law enforcement and sporting communities. Its latest CompM5 2 MOA red dot rail quick attach reflects Aimpoint's ability to reliably anticipate and surpass user requirements. For starters, it uses a single AAA battery as its power source, and that is enough to provide five years of continuous on power at position setting seven. The AAA battery is the most widely available battery on the planet (brilliant). It has four NVD and six daylight settings and is submersible to a depth of 150 feet (attention, Navy SEALs). As the smallest member of Aimpoint's Comp series, the high-performance parallax-free CompM5 weighs in at a mere 5.2 ounces and is fully compatible with Aimpoint's magnifiers. www.aimpoint.com
Headquartered in McCarran, Nev., U.S. Ordnance manufactures a uniquely adaptable Mk 19 Mod 3 vehicle or tripod-mounted 40 x 53 mm (high-velocity) machine gun with an advertised weapon life of 50,000 rounds. This versatile and highly lethal belt-fed blowback-operated gun has an easily removable chrome-bored barrel that requires no head-spacing or timing adjustment. More importantly, it has a strong 28-round belt pull, allowing for a variety of gun-mounting scenarios and ammo-can locations. While the Mk 19 Mod 3 has been around for several decades, the U.S. Ordnance variant is in a class of its own when it comes to reliability, adaptability and life span. www.USORD.com
Barrett, headquartered in Murfreesboro, Tenn., is an all-American gun company known for its sniper rifles' long-range precision accuracy. While its MRAD (modular rifle) has been in production for several years, it warrants mention. With its quick-change barrels, it's offered in nine different calibers ranging from .338 Norma down to 6.5 Creedmoor (all with matching multi-caliber bolts). The barrels are available in a number of different lengths and profiles. A two-minute barrel change is accomplished by backing out two set screws (screws are not captured), sliding the old barrel out of the receiver and replacing it with the new barrel—no head spacing is necessary. Simply retighten the barrel-locking set screws and you're ready for business. The MRAD comes with a fully adjustable match-grade trigger and a unique fully adjustable folding stock that offers both comb-height and length-of-pull adjustment. Barrett's highly adaptable MRAD meets the array of operational requirements for most every conceivable sniper scenario. www.barrett.net
CSI (Combined Systems, Inc.) in Jamestown, Pa., known for its extensive line of law enforcement tactical products, debuted its Model 7290-9. The 7290-9 is a nine-banger 160 db-plus stun grenade designed specifically for hostage rescue. Firing its nine chambers in a unique arrhythmic sequence over an approximate nine-second event, it mimics gunfire, providing distraction and confusion to the hostage-taker(s). Offering both bottom and top venting, it has a tactile hand-safe hold area to protect the user. It also employs a standard M201 fuse with safety clip and pin shroud. Better still, it's made in the U.S. by CSI. www.combinedsystems.com
Trijicon showed off its latest VCOG 1×6 power parallax-free 4-inch eye-relief assault riflescope. Powered by a common AA battery, it offers six different illumination settings with an off position between each setting (a superbly thoughtful feature that eliminates the requirement to cycle through all the settings every single time you want to turn the scope off). It further offers several different selectable ranging reticles with bullet drop compensation and has turret caps to protect its zero. Its ruggedly designed waterproof body is made from 7075T6 aircraft aluminum that mounts, without additional scope rings, directly onto the Picatinny Rail with integral thumbscrews. This reduces its weight and significantly contributes to its bore alignment reliability. This sight will surely become the staple for both military and law enforcement assault rifle applications. www.trijicon.com
Gemtech, now owned by Smith & Wesson, displayed its range of quality pistol and rifle suppressors. Gemtech's suppressors are arguably some of the highest quality and most technically efficient offered on today's market. They are ruggedly built, easily maintained and they last a lifetime. S&W's acquisition of this fine suppressor company now provides S&W a quality suppressor line, which they can integrate into their many firearms under the Gemtech brand. www.smith-wesson.com
Darley Defense of Itasca, Ill., displayed one of the most unimpressive-looking yet superbly simple innovations designed to support field-deployed forces. Darley Defense calls it their Safe Water Box. It's a cardboard box that contains a filled 10-liter potable water bladder. So why is this so special? For a starter, it replaces round water jugs and anyone who has ever stacked an aircraft pallet knows square boxes possess a more efficient space versus volume characteristic than round containers. Secondly, when empty, the boxes crush flat and are easily burned. These innovatively designed boxes of water will ultimately replace the military's water jugs, and FEMA's emergency stocks of potable water. We can also expect to see the Safe Water Box offered by major retail discount stores, hardware and outfitter stores for home-emergency use. www.darleydefense.com
With corporate headquarters located in Newington, N.H., Wilcox Industries offered its RAPTAR-S (rapid targeting and ranging module), designed as a precision extremely long-range sniper sight. Powered by a single CR123a 3v battery, the RAPTAR-S provides the next evolutionary step in Wilcox's RAPTAR-series sights. With a range of integrated attributes like a red visible laser, IR laser, variable IR illuminator and ballistic computer, this rail-mounted sight offers a single solution to a multidimensional operating environment. Even better, it has a programmable rifle selection that stores up to 12 rifle and ammunition profiles. Its sophisticated computer reads temperature, pressure, humidity, inclination, cant and bearing—and factors it all into the firing solution. www.wilcoxind.com
Consider this for a moment. What would a state-of-the-art suppressor manufactured with a one-piece 3D-printed Inconel baffle inside a tube look like? Think about the level of cascading baffle geometry sophistication that could be achieved by printing the baffles rather than machining them. The DDWAVE suppressor manufactured by Daniel Defense in Black Creek, Ga., has set a new bar. The printed baffle integral to the tube eliminates the need for welds used in traditionally all-fabricated or baffled assembly-type suppressors. Since welds are the weakest part in a suppressor, the DDWAVE provides unmatched strength and durability for calibers ranging from 5.56 to 300 WinMag. It quick-attaches on a stainless steel muzzle device that replaces the weapon's standard muzzle flash hider. The DDWAVE is Cerakote-coated to provide metal surface protection and easy field maintenance. www.danieldefense.com
The E-COSI (Enhanced Clip-on SWIR Imager AN/PAS-34) offered by SAFRAN—Optics 1 located in Bedford, N.H., is small enough and light enough to comfortably fit in your BDU shirt pocket. Its lightweight and small profile add minimal additional mass to a helmet mount. The E-COSI operates on either a single CR123a battery or an auxiliary battery pack. The E-COSI attaches to NVDs in seconds without tools, using a simple bracket. This increases the effectiveness of legacy and new NVDs by overlaying a SWIR image onto the night-vision scene. Additionally, its Augmented Reality heads-up display feature provides real-time geo-referenced navigation/route execution for dismounted soldiers, reconnaissance elements, snipers, Navy high-speed boat (HSB) drivers and pilots. It also has the ability to capture still pictures for the record and/or later BDA analysis. www.optics1.com
Photonis USA, Inc. displayed their new Vyper 14-C ruggedized modular night-vision devices (NVDs) from DEP Technologies of Frisco, Texas. These well-engineered replacement tubes provide a simple upgrade path to commonly deployed systems such as PVS-14 and Mum devices. The DEP system offers two NVD versions of rugged core chassis, in either resin or aluminum. Both pass shock, drop and submersion MIL-STD tests. The chassis is a form-fit-function replacement and compatible with legacy systems' common accessories like lenses, optics, J-arms, image tubes, weapon mounts and battery packs. Operators can perform field-based equipment changeouts, without having to return their device to the depot. The DEP-improved system offers the capability to do field-related repairs without special tooling, change lenses without complete system disassembly, incorporate longer-range lenses in the field while on the fly, reduce overall system weight and configure as a left- or right-eye monocular mount. DEP says its goal was to "design out" the common PVS-14 failures and it appears it has attained its goal. www.dep-technologies.com
Short of a stand-alone art form, CheyTac's M200 Intervention is one of the most impressive long-range precision sniper rifles available today. The M200 Intervention has been successfully deployed in Afghanistan and Iraq and recently recorded a kill of 1.5 miles by an SAS sniper. CheyTac's M200 is offered in .408 or .375 caliber. Comparative caliber discussion will not be offered in this article, but suffice it to say that both these calibers deliver impressive energy at extreme range. The M200 has a CNC-machined receiver with an attached MIL-STD-1913 base, integral bipod, precision 30-inch detachable steel barrel, 3.5-pound-tuned target trigger and an extremely effective muzzle break. The rifle weighs 27 pounds and measures 55 inches (with its retractable stock fully extended). CheyTac is based in Nashville, Ga. www.cheytac.com
Leveraging all seven of its design, R&D and manufacturing facilities throughout Canada, the UK and U.S., Revision's SenSys ComCentr2 Tactical Headset System proves a perfect balance on the three key points of hearing protection: noise reduction, situational awareness and communications with cutting-edge upgradable software. The SenSys ComCentr2 circumaural headset employs ANR technology that mitigates low frequency, steady-state noise like that generated by vehicle and aircraft engines. Two forward-facing and two rear-facing microphones provide high-fidelity 360-degree situational awareness; and its integral 3D-spatial communication separates radio-net transmissions. This radically improves speech intelligibility and reduces the user's cognitive burden all in one headset. The SenSys ComCentr2 Tactical Headset System has been engineered and optimized for intense, fast-paced operations in all war fighting environments. Revision's headset can be upgraded and customized to each user and is designed to work seamlessly with most modern helmet systems. www.revisionmilitary.com
RUAG Defense, headquartered in Berne, Switzerland, presented its RUAG ARANEA communications solution. This open and scalable communication platform meets the latest system requirements for integrated network throughput, configurability and interoperability. With its simple operation, it can be quickly and easily adapted to changing requirements and situations. Chat rooms, for example, ensure team-oriented and context-specific secure communication within specific or multiple units. It additionally allows simple integration of a broad range of radio systems independent of technology, manufacturer and location into a tactical all-IP network. The connected radio devices are remotely controlled via the radio operator, allowing quick and easily managed radio access. RUAG's integrated communications technology provides a giant interoperability leap forward for both the war-fighter and first-responder communities. www.ruag.com
Judging by the number of uniformed "flag officers" walking the floor at this year's AUSA EXPO, compared to the previous eight years, it seems clear that our military entertains renewed optimism in the defense industry. In previous years, it was rare to see a uniformed flag officer walking the floor with his entourage. As nice as it was to see the generals "on the floor," it was equally nice to see them engaged with the many vendors asking hard questions and gathering first-hand information. We look forward to the 2018 AUSA EXPO scheduled for Oct. 8-10 at the Walter E. Washington Convention Center in Washington, D.C. Stay tuned.