FN HERSTAL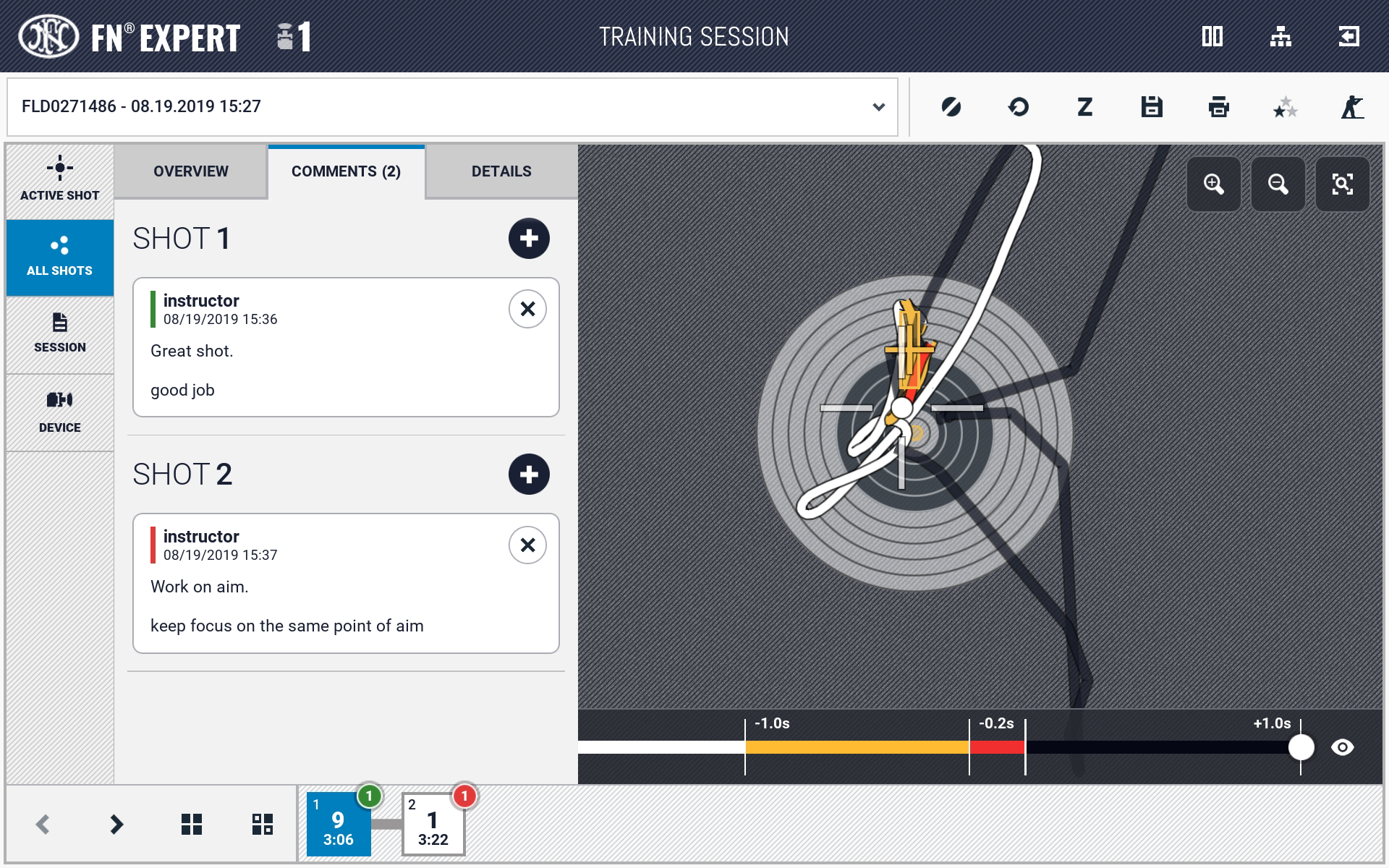 FN Expert Marksmanship Training System
FN has released the new FN® Expert marksmanship training software. Even more intuitive, the newly-revamped user interface allows the instructor to set up a scenario in no time, increasing training efficiency. A number of new features like a quick debriefing system, shots replay, comment insertions and a new scoring system have been added. In addition to Windows, the new FN® Expert software is compatible with Android (8.0 or greater) on tablets and mobile devices. The FN® Expert devices connect faster to the host controller (tablet/mobile), and more devices can be connected on a single tablet, PC or mobile. All active sessions can be connected to the network, resulting in instructors being able to analyze multiple-shooter sessions at the same time.
fnherstal.com
MEPROLIGHT USA
MEPRO FORESIGHT
Meprolight introduced the MEPRO FORESIGHT, a first-of-its-kind augmented weapon sight capable of projecting essential tactical data right on the transparent optical lens in real-time. Utilizing Bluetooth interface to connect with the FORESIGHT's mobile app for Android or iPhone, the user can store up to 10 zeroing firearms profiles or user profiles, so the sight can be removed and replaced without ever having to re-zero. It also has access to a large database of reticles for tactical scenarios and to receive firmware updates and new features, as they are released to market.
meprolight.com
INVENTUS POWER 
CWB 150 FlexPack
Inventus Power's Conformal Wearable Battery (CWB) provides the Warfighter with a safe, ergonomic, centralized power solution that reduces weight and the number of batteries needed for a mission. The CWB 150 (14.8V; 152Wh) is the only fielded and proven battery that meets 100% of the U.S. Army's requirements in several areas critical to Warfighter safety and mission accomplishment. Its FlexPack design conforms to the Warfighter's body, optimizing ergonomics. It is ballistic/penetration-safe, water immersible (MIL-STD-810G) and ruggedized for extreme temperature performance. With an extended storage life and high-energy capacity, the CWB 150 can provide up to 72 hours of continuous power without recharge.
inventuspower.com
MASTERPIECE ARMS (MPA)
MPA Matrix Chassis
Intended as the most revolutionary chassis design ever produced, the MPA Matrix Chassis provides the primary interface between the shooter and the rifle with over 100 different variations. The MPA Matrix Chassis features five different grip options (three swept and two vertical), three different thumb rest designs and four different trigger finger supports. It also has M-Lok slots along the side of the chassis forend and barricade stop holes along the bottom of the forend. The forend of the chassis is the same length as the MPA ESR Chassis, making it 2 inches longer than the standard BA or BA Competition Chassis.
The MPA Matrix Chassis is machined on MPA's CNC Horizontal Machining Centers to exacting tolerances from 6061 aluminum. The MPA-produced buttstock comes with an adjustable cheek riser and length of pull, recoil pad with height and can't adjustment, adjustable cheek riser and adjustable monopod. The v-bedding system provides additional clearance for glass bedding action and straight section of the barrel if desired.
masterpiecearms.com
FN HERSTAL
FN PERMAX™ 5.56
5.56x45mm SS109 ammunition was originally designed by FN Herstal and adopted by NATO as the second official caliber in 1980. FN Herstal has now engineered the new FN PERMAX™ enhanced performance round (EPR) 5.56x45mm cartridge so as to deliver superior performance in urban combat by passing through barriers such as windscreens, automobile bodywork, glazing or masonry to reach a protected target. The new FN PERMAX™ 5.56 has excellent mass retention behind barriers, maintaining greater incapacitating effect. Composed of a hardened steel penetrator and a brass body, the FN PERMAX™ 5.56 has been developed to meet and anticipate further environmental European and international legislation requiring use of lead-free ammunition.
fnherstal.com
NORMA
.223 Norma TACTICAL
The .223 Norma Tactical 55-grain FMJ is loaded to strict Norma standards and gives all shooters excellent reliability and consistency. This American-made offering is a great everyday range round. The all-around performance differentiates .223 Norma Tactical from the competition. .223 Norma features: 55-grain Full Metal Jacket bullets; strict quality specifications; ideal for use in high-volume range shooting and training; and American-made, excellent reliability.
norma-ammunition.com
THYRM
DarkVault™ & DarkVault-Comms™ Critical Gear Cases
Developed with input from military and law enforcement customers, DarkVault™ and DarkVault-Comms™ Critical Gear Cases provide battlefield-grade levels of protection while keeping gear immediately accessible for navigation and communication tasks. For many users who are constantly powering down their gear due to active counter-surveillance, the DarkVault case can provide isolation without constant power-cycling. DarkVault cases also provide isolation for field-acquired assets/evidence. Featuring the same protection but without the signal-blocking, the DarkVault-Comms cases keep gear safe while allowing it to remain online.
thyrm.com
WINCHESTER
Active Duty™ MHS Training Ammo
Winchester Active Duty M1152 Ball ammunition utilizes a 115-grain flat nose FMJ and military-grade primer to deliver the accuracy and reliability required by the MHS program. Active Duty™ is available in various pack sizes, including 100 rounds and 150 rounds.
winchester.com
SHIELDBOX
Otis Technology has partnered with ShieldBox, a monthly subscription box service designed for the law enforcement professional. Each box includes a variety of four to seven LE and tactical gear products carefully curated for police officers, investigators, federal agents and security personnel.
Otis' products will be included in the monthly subscriptions. For instance, subscribers received a 9mm Ripcord®, valued at $14.99. The Ripcord® is a one-pass bore cleaner, designed to make cleaning a sidearm quick, easy and thorough. Made of Nomex®, it is also heat-resistant and designed to pull through a hot barrel after use…
otistec.com / theshieldbox.com
DPx GEAR, INC.
DPx HEST 6 Decade Knife
The fixed blade combative knife, the DPx HEST 6 Decade, is available in 100 numbered units and features hollow Micarta™ scales and Bohler M390 blade steel. The HEST 6 design is a classic in that it combines military and outdoor survival requirements in a balanced, light ergonomic hard-use knife. The DPx HEST 6 Decade comes in a black, MOLLE-compatible CORDURA® sheath with an extra storage compartment.
The knife is individually numbered and engraved with the special DPx Gear 10th anniversary "Decade" logo. An additional 20 unnumbered but specifically engraved versions have been manufactured to be donated, auctioned or used to equip U.S. Special Operations units and in support of Veteran causes.
dpxgear.com