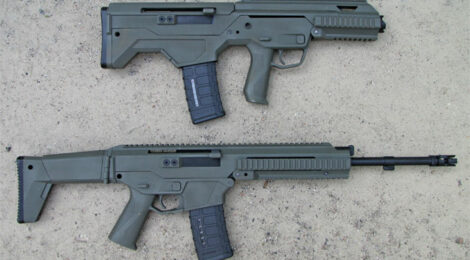 Newer model of the AR adapter features a beveled mouth for easier loading.
The XVIII International Defense Industry Exhibition MSPO 2010, in Kielce, Poland, September 6-9, 2010, has confirmed the MSPO as one of the leading European defense trade fairs – and the one with exceptional value for the Polish defense industry and Armed Forces as well.

This year's fair was attended by over 360 exhibitors from 30 countries, and visited by almost 14,000 visitors from all over the world, having an opportunity to see up-close what's best and most modern in military equipment.  As in the previous years, a companion logistics fair LOGISTYKA 2010 was held together with the MSPO, showing off uniforms, equipment and vehicles for internal security and fire services.
The MSPO opening gala has hosted Poland's newly elected President, Mr. Bronislaw Komorowski, along with many defense and state officials.  A national exhibition by a guest nation at the MSPO has been a tradition since the beginning of the new Millennium.  This year's MSPO guest nation was the United Kingdom and the exhibition, opened by Britain's Minister for International Security Strategy, Mr. Gerald Howarth, MP, showcased defensive and security manufacturers.  The UK's defense export volume and value have recently catapulted it to No. 2 in the world preceded only by U.S.
After last year's dramatic fire wrecking one of the exhibition halls on the eve of opening, this year's visitors were amazed to see a beautiful, modern, bright new structurein its place, fitted with an outdoor stage under the entrance vestibule where the gala opening took place.
The fair has traditionally aimed at somewhat heavier or more complicated equipment than small arms, but nevertheless many interesting firearms, both foreign and domestic, had their Polish premieres there.
Radon – Poland's Objective Modular Combat Rifle
Without a doubt, the star of the show and the most important domestic-interest event was the first public presentation of the Polish Army's objective Modular Small Arms System-5.56 (MSBS-5.56), now christened 'Radon' (from elementary radioactive Radon gas, Rn, atomic number 86) in accordance with the Polish periodic table prototype codenaming procedure.  The Radon, a joint venture between Warsaw's Military Technology University (WAT) and Fabryka Broni Lucznik-Radom was shown in both configuration combinations, i.e. classic (lock, stock and barrel, MSBS-K or now Radon-K) and bullpup (MSBS-B/Radon-B), of the already two generations of the rifle: the shooting Technology Demonstrators (1st Gen) and mock-up of the future 'Final Look' designs (2nd Gen).  Target Radon in both configurations would be a system comprising of: Combat Rifle, Automatic Carbine (CQB weapon), Designated Marksman Rifle (DMR), Grenade Launching Rifle (fitted with under-barrel GLM module) and an Infantry Automatic Rifle (high capacity magazine-fed heavy-barreled support weapon).  All of these are to offer 80-90% parts interchangeability.  The 1st Gen TD is somewhat blocky and sketchy, but it was just a working model of the concept, while the 2nd Gen 'Final Look' offers a much more 'High-Speed Low-Drag' design.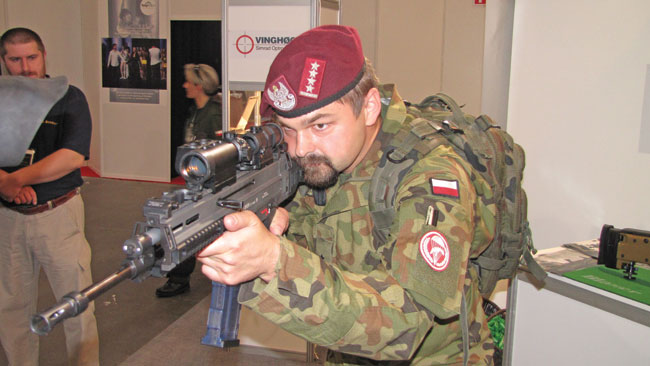 The new Czech rifle created much interest but precious little praise as it was found too nose-heavy and the Army ordered it with an awkwardly long side-folding butt, so one can either have too much of it – or nothing at all.
The main component of a thus configured system is a 100% common upper receiver, which is to be mated with different barrel modules, lower receiver modules, and butt-stock (or butt-plate – according to the configuration) modules.  The upper receiver in both 1st Gen and 2nd Gen is to be made of light alloy.  Radon is totally ambidextrous, including fire control levers, magazine and bolt release buttons mounted on either side, as well as reversible bolt handle, ejection port cover and a truly reversible bolt, enabling the ejection direction to be changed in seconds without the use of tools and requiring no parts to be exchanged.  The lower receiver module has a magazine interface for the STANAG 4179-compatible (AR-platform) magazine.  The choice of lower receiver module governs the configuration of the weapon, as it comes in two different versions: one with the classical folding buttstock interface and the other butt-less with multiple fire control group configurations possible (military selective with fully automatic and/or burst capability, and semiautomatic-only for the DMR and civilian-legal rifle).  The Radon offers a choice of interchangeable barrel subassemblies with different length barrels complete with muzzle device, gas chamber, piston and locking chamber.  Individual barrel modules differ in length and thermal capacity or contour (e.g. the IAR or DMR barrels).  If a classic configuration lower is chosen, a butt-stock is attached with a choice of folding telescoping or fixed telescoping; both offering an adjustable cheek-piece capability. The bullpup lower can only accommodate a butt plate module, as governed by the weapon's overall canard configuration.
The modular rifle fires the NATO-standard 5.56×45 round, fed from various plastic or metal magazines of different designs – provided they are AR-platform compatible.  Additionally, it can be fed from a large-capacity drum and/or double drum magazines, dedicated to the IAR support weapon.  For the future, a 7.62×51 NATO standard rifle round system is being considered.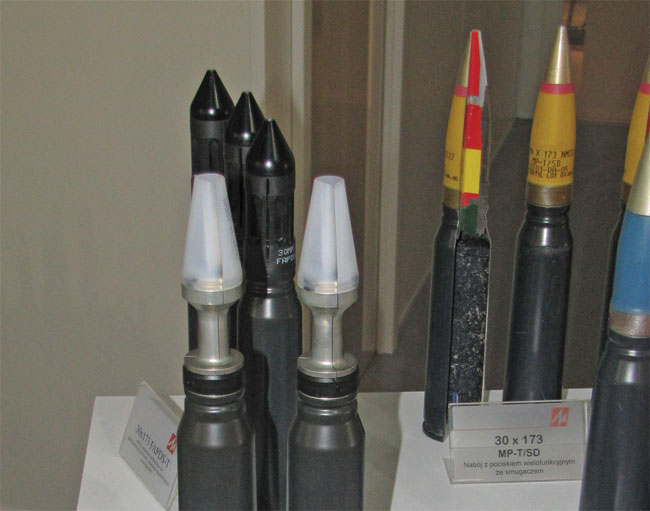 Mesko of Skarzysko-Kamienna displayed Polish-manufactured 30x173 ammunition for the Bushmaster II Mk 44 mounted in the M1 Rosomak, the IFV model.
Radons (in its 1st Gen, or TD guise) are currently undergoing a rigorous testing program aimed at achieving total reliability in various operational environments.  Seeing as how these demonstrators are still more of test appliances than weapons ready for issue, efforts are being made at enhancing their ergonomics and aesthetics.  Part of that effort are the 'Final Look' mock-ups, a sneak-peek into the Radon's future, offering a mature, elegant form of the Radon's 1st Gen TD.  These were designed by a team of eager young men from WAT and elsewhere, combining a rich knowledge of technology, industrial design, and SF combat experience, promising that the finalized Radon, expected to be accepted and manufactured within several years, could be a superb combat rifle.
Other Polish Rifles in Kielce
Other than Radon, the FB Lucznik-Radom also showed another batch of now seemingly endless line of modernized Beryl rifles.  After many years of design stagnation, we can witness a veritable fountain of Beryl modifications rolled-out each year since 2007.  This year's novel features were a hinged receiver cover and a STANAG 4179 magazine adapter, as well as a Beryl-specific Beta C-Mag, a joint-venture between FB and Beta, Co.  The beefed-up hinged receiver cover, coupled with a Picatinny rail welded on top of it to offer a semi-solid (5 mm gap at the hinge) same-level 1913 rail all along the top from the gas block to the top cover edge, cured the most cursed-upon by the Polish military ailment of the Beryl: being the necessity of re-zeroing the sights on the overhead rail after each field-stripping requiring the rail to be detached in order to open the receiver for routine maintenance.  The AR-magazine adapter for Beryl required a minor re-shaping (opening to full rectangular shape) of the magazine well – which however is still capable of holding an AK magazine as well.  The Beryl-specific Beta C-Mag has an AK-style feed-tower enabling it to hook into most 5.56mm AK rifles.  There was also a brand-new .22 LR training rifle based on the Beryl rifle, possibly offered to the Army for basic firearms course training.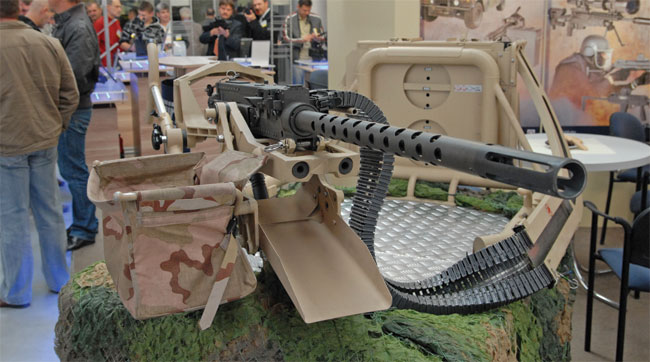 Helicopter .50 cal. GAU-21 weapons station with the FN M3M – modified aircraft open-bolt Browning capable of 1,000 rpm.
New Czech Army Rifle and SMG Displayed
Of the foreign premieres, those most interesting were centered at the booth of the Warsaw-based MK Szuster company.  Mr. Krzysztof Szuster, the proprietor, has a long history of representing hunting rifles and scope manufacturers in Poland (including Blaser, Krieghoff, SIG-Sauer, CZ, Zeiss and Schmidt-Bender), but also ventures into the military market representing the brands' military lines, as well as Accuracy International and Colt of Canada.  This year his booth showcased the SIG 516/517 (true AR) system, but the really exciting and new items there were the new Czech military long arms with old names:, the CZ 805 Bren and the Scorpion 3A1 9mm SMG.
The CZ 805 won the controversial Czech Army rifle tender in February, 2010, and is as of this writing (December 2010) in series-production, with first units already delivered to the Czech Army's Rapid Reaction element.  It is another Central European iteration of the modular rifle concept available in three different barrel lengths (Combat Rifle, CQB Automatic Carbine and DMR) and intended to be chambered in three principal calibers: 5.56×45 NATO, 6.8mm Rem SPC and 7.62×39 Russian.  The CZ 805 Bren A1, displayed in Kielce, was a 5.56mm Combat Rifle.  So far, only the 5.56mm system is manufactured but the first prototypes shown in 2008 were of the 7.62mm version.  The caliber-changing kit consists of a barrel, bolt head and interchangeable magazine-well of the lower receiver (somewhat akin to the MGI Hydra concept).  There are three different magazine-well adapters so far, two for 5.56/6.8 magazines (one takes a CZ proprietary plastic clip interchangeable with HK G36 and the other holds the AR magazine, and a third one is for the plastic 7.62mm magazine that is not interchangeable with the vz.58 rifle.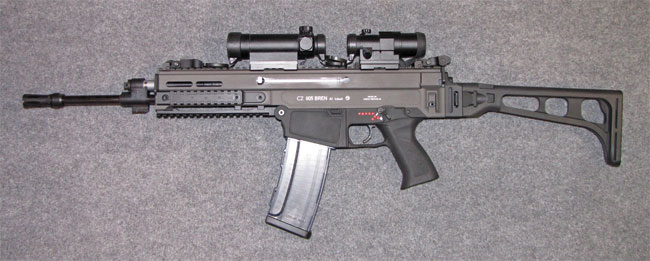 CZ 805A1 in standard Combat Rifle configuration with a Czech ZD-Dot red dot sight and DV-Mag 3, a 3-power image magnifier, both designed, manufactured and delivered by Meopta Prerov.
Just as the 805 has nothing in common with its great World War II-era namesake – the joint Czech-British-designed Bren LMG – so is the Scorpion.  There is no overlap whatsoever between the new Scorpion and the former trademark small Czech SMG, be it in original .32 ACP caliber or the recently revived 9mm Luger variant.  This is a hi-tech polymer-receiver SMG, like the HK UMP, but more along the lines of the MP5 but rather handier, shorter, better balanced and fitted with a much better stock.  Atypically, this is not a CZ in-house design – but probably the first license built weapon there since the vz.24 Mauser 98 variant, even though still almost domestic.  The new Scorpion, first known as LAUGO, was designed by Slovak engineer Mr. Jan Lucansky, then brought over to CZ and finalized.  This is a very simple closed-bolt, hammer-fired blowback design, with just one movable part – the bolt, but still featuring a fully-ambidextrous 4-way fire control group (safe, single, burst, fully automatic), bolt hold-open device with an external release lever, as well as a pistol grip movable in a horizontal plane to adjust the trigger reach.
Rosomak
Polish-built, Finnish-designed KTO Rosomak (Patria Oy AMV) proves its mettle successfully in Afghanistan, spawning still new models and modifications with various specialist equipment, including amongst others a casevac and self-propelled automatic mortar vehicles.  Rosomak, much maligned when first purchased, eventually proved itself one of the most successful licenses ever implemented by the Polish defense industry.
The Rak is a Polish-designed 120mm automatic mortar turret system capable of being fitted to multiple tracked or wheeled chassis.  Last year its prototype was displayed on the MPG tracked carrier.  This year, the first series-manufactured system was installed in a Rosomak, giving a Rosomak-carried mechanized infantry a bigger punch with a 15 km reach.
Enhanced firepower Beryl with a 100-round Beryl-specific Beta C-Mag and hinged receiver cover. Note the semi-solid, semi-continuous 1913 rail on top.