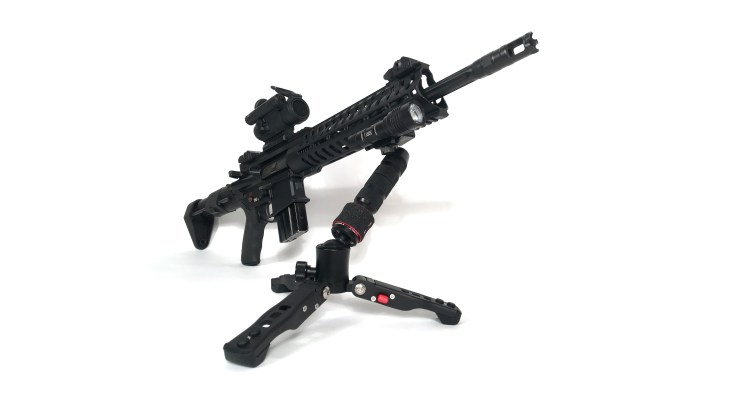 TEAM WENDY
CloudLine™ System
Team Wendy® announced the immediate availability of the CloudLine™ System, a new drop-in helmet liner designed for exceptional comfort while upholding the safety standards operators have come to expect from the brand. The liner, named CloudLine™ for its unique comfort grade, features the softest Team Wendy-patented Zorbium® foam to date, used in strategically placed hexagon-shaped comfort pads designed to prevent hot spots while maintaining protection. CloudLine is designed to fit a broader range of helmets, including those used throughout Special Operations communities. CloudLine exceeds ACH blunt-impact requirements (AR/PD 10-02) and is compatible with nearly all standard ground-combat helmets, though some models may also require a CAM FIT™ Retention System retrofit in order for the CloudLine System to fit properly.
OTIS
Reality-Based Training Cleaning Kit
Otis announced the launch of a Reality-Based Training Kit, specifically for the law enforcement and military markets. This kit includes all the necessary tools to keep your training in session and is available in 9mm and .223 caliber/5.56mm variations. These kits are for firearms that are converted to use paint marker training ammunition. Training in real-life simulated scenarios is incredibly important and so is maintaining training guns. A portion of sales proceeds will be donated to the National Law Enforcement Officers Memorial Fund.
MISSION FIRST TACTICAL
Extreme Duty Window Magazine
Mission First Tactical, LLC (MFT™) is proud to introduce the latest addition to the MFT magazine line, the Extreme Duty Window Magazine, designed for the AR-15/M4 but allowing use with a wide range of non-AR-15/M4 platforms. Utilizing new material technology and manufacturing processes for enhanced strength, durability and reliability, the Extreme Duty Window Magazine has durable dual-side, anti-glare transparent windows, numerical markers and high-visibility indicator coil on the spring allowing for quick visual identification of the approximate number of rounds remaining. Additionally, the Extreme Duty Window Magazines offer increased durability through a more efficient energy transfer between the polymer and the longer fiber filaments during an impact. The long-life USGI-Spec stainless steel spring is corrosion-resistant. The four-way, anti-tilt, self-lubricating follower keeps the rounds aligned and makes mag feeding consistent and reliable, while virtually eliminating jams. An oversized bolt-catch provides enhanced reliability of the bolt catch operation. The flared floor plate allows for an easier grip in handling, extraction, and one-hand reloads.
MAXIM DEFENSE
MDX and MD:15 Series
Maxim Defense unveiled its MDX and MD:15 line of firearms along with Maxim Defense Ammunition SBA (short barrel ammunition) at SHOT Show 2020. The MDX Weapon System was developed to fulfill the broad spectrum of needs by today's military and law enforcement operations. The family consists of the PDX/MDX:505 (5.5-inch barrel), the MDX:508 (8.5-inch barrel) and the MDX:510 (10.3-inch barrel).
STEINEL AMMUNITION
6.5 x 52mm Carcano
The 6.5x52mm Carcano cartridge has been around since 1891 and was only phased out of military service in the 1970s. Carcano rifles were strong actions, and most used gain-twist rifling to extend barrel life and improve accuracy. Heavy for the caliber projectiles, it retained useful energy levels despite the round nose form. The original lead core bullets had poor terminal performance, so later designs filled the bullet nose with less dense aluminum to promote tumbling on impact. Fortunately, an excellent target load is now available from Steinel Ammunition. The new cartridges use soft point expanding bullets that provide excellent terminal effect and accuracy while promoting reliable feeding. Loaded to 1,770 fps (from 17.5-inch barrels), this load offers a significantly lighter recoil than the original, while retaining good terminal performance at distances reasonable with iron sights. This ammunition is non-corrosive and made to much higher quality and more consistent specifications than either military surplus or other commercial loadings.
MID-EVIL INDUSTRIES
360° VFG QD Tripod
The 360° VFG QD Tripod is the next evolution in quick-detach accessories. This quick-detach mini tripod (can also be used as a bipod) is compatible with and exclusive to the 2nd Generation 360-degree VFG (Vertical Fore Grip). The adjustment possibilities are almost infinite. The smooth 360-degree rotation and full-tilt function allow you to acquire targets quickly for an accurate shot every time.
The Quick Detach Tripod has a single hand-operated lock and unlock mechanism. There's no button, no twisting—just a simple slide down to release and slide up to lock. It can be set to three different angles (20°, 50° and 78°). Just push, click and lock. It is constructed of aluminum, has extreme temperature resistance, and is sturdy, long-lasting and lightweight with a high quality finish. Patent pending.
TASMANIAN TIGER
TT First Responder Move On MKII Pack
The customizable TT First Responder Move On MKII consists of a large main backpack that has a removable front smaller backpack zipped to the front of it that can also be used on its own. You get two packs in one. It has a Padded Back Carrying System with laser cut MOLLE on the front and sides. Inside, there is MOLLE hook-and-loop on the interior walls for customizing the configuration, and there are internal fixation points for medical equipment. It includes three removable transparent pouches, detachable panels with elastic loops and a rain cover. Made with CORDURA 700d fabric and YKK zippers, it is designed to be durable, versatile and reliable. All of Tasmanian Tiger's products are made to endure the toughest environments.