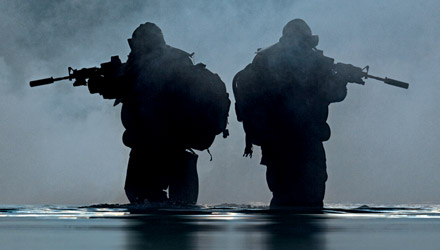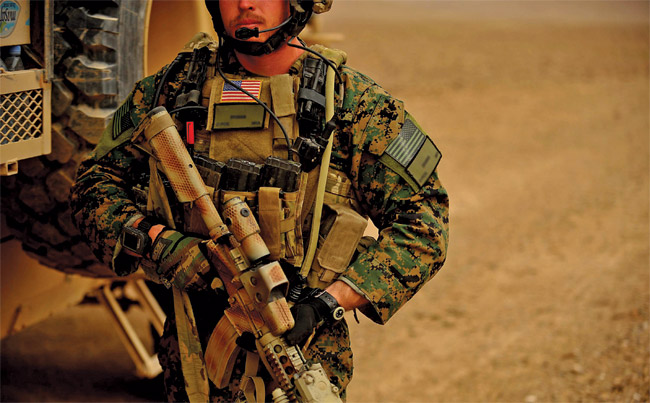 20 April 2010, Farah Province, Afghanistan. This is a rare close-up look at a real MARSOC operator in recent action, taken during a combat recon patrol with elements of the Afghan National Army in the mountainous area of Bagwa. It has been intentionally cropped to deny facial recognition but offers a very good look at his paint-camouflaged M4A1 SOPMOD Carbine with in-line red dot and optical magnifying sights, laser aiming module and white light. (Official photo by USAF Staff Sergeant Nicholas Pilch)
"If we describe an all-volunteer force of warriors who share the core values of honor, courage and commitment and who are renowned for their professionalism, expertise, innovation, and superior physical fitness, you would be hard-pressed to decide whether we described Marines or SOF (Special Operations Force) operators.  We found plenty of common ground to build on, but … the question at the heart of the issue is what is a MarSOF warrior"  – MARSOC Information paper

It defies logic that United States Special Operations Command did not include the Marine Corps until a little over five years ago.  All the more so because the Corps is arguably the most nimble, aggressive and experienced component of the U.S. Armed Forces in the dirty and demanding business of fighting "small wars" in remote corners of the world.
Marines, also colorfully known as Leathernecks and Devil Dogs, are proud to be major players in more conventional aspects of the Global War on Terrorism, launched by the U.S. and allies following the murder of thousands of innocent Americans in horrific suicide attacks by Islamic extremists on September 11, 2001.  But, until recently, SPECOPS missions against freedom's many foes have been the exclusive domain of soldiers, sailors and airmen.
Lucky for USSOCOM – and not so lucky for bad guys around the globe – the puzzling omission of the Corps, with a long and rich history of success in expeditionary warfare and home to hard-charging, superbly trained Marine Force Recon, was corrected by President George W. Bush.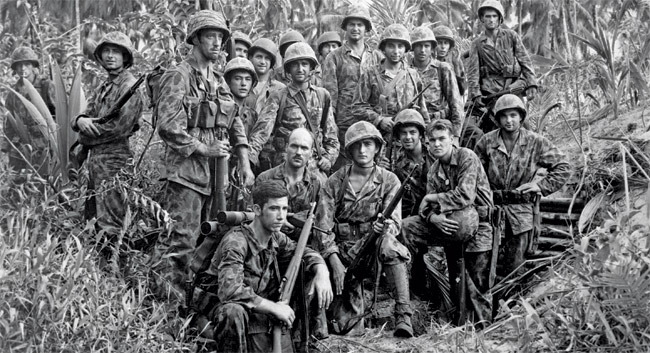 January 1944, Bougainville, Solomon Islands. U.S. Marine Raiders, gathered in front of a Japanese dugout they helped to take on Cape Totkina, have earned the bloody reputation of being skillful jungle fighters. Today's Marine Corps Special Operations Command carries forward the Raiders' proud heritage. (U.S. Navy/National Archives)
In October 2005, Donald H. Rumsfeld, the Bush administration's Secretary of Defense, directed the formation of a 2,500 man Marine Component to serve with USSOCOM.  Four months later, on February 24, 2006 Marine Corps Special Operations Command, led by Major General Dennis Hejlik, was formally activated at Camp Lejeune, NC.
Fast, Steep Climb
MARSOC immediately moved forward at double time with a small but highly motivated headquarters staff, drawn primarily from personnel who became available following deactivation of the 4th Marine Expeditionary Brigade (Anti-Terrorism).  Urgent demands of the GWOT necessitated building force structure and conducting initial operations at the same time, which one insider said was like "painting a car while driving 50 miles per hour."
The Foreign Military Training Unit (FMTU) was the first fully operational element, tasked with hands-on training as well as conduct of Foreign Internal Defense missions to assist friendly nations struggling against terrorist networks.
FMTU was fortunate to have quickly attracted a heavy concentration of experienced and capable NCOs with proficiency in relevant foreign languages and ability to effectively teach a wide range of practical military skills.  It grew to two companies, began taking on some Unconventional Warfare/Foreign Internal Defense taskings, and its teams regularly deployed to train and advise several developing countries engaged in counter-terrorism operations.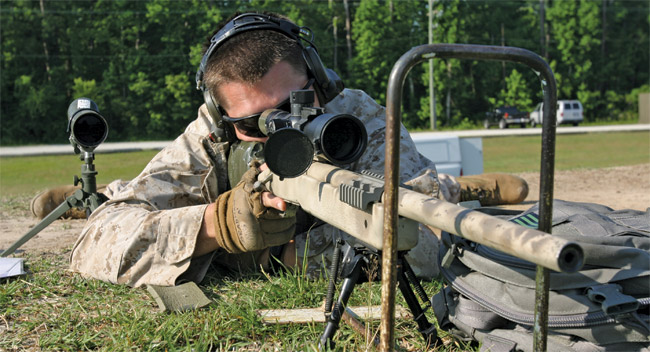 22 May 2008, Camp Lejeune, NC. Marines with MARSOC's Special Operations Advisor Group sight in an M40A3 rifle on distant targets during two weeks of scoped weapons training. This is part of the weapons subject matter expert course for selected SOAG students. (MARSOC photo by Sergeant Steven King)
Hejlik, appearing before a congressional committee in January 2007, noted with pride a particular success that followed MARSOC assistance to the African nation of Chad.  A major assault the previous year by Islamist rebel forces advancing on the capitol was stopped and pushed back, he said, by two battalions of the Chadian military that had been trained by FMTU teams.
With FMTU's expanding and evolving role came a name change to Marine Special Operations Advisor Group, and it has most recently restructured to become the Marine Special Operations Regiment's Headquarters and its 3rd Marine Special Operations Battalion, both close to MARSOC's flagpole aboard Camp Lejeune.
Door Kickers
The Corps' Force Reconnaissance companies – repeatedly proven effective for the most demanding missions launched from land, sea and air – were essential assets in the fast and steep climb to full operational capability.  In the months after the activation of MARSOC, the structure and personnel of both 1st and 2nd Force Reconnaissance Company transferred to MARSOC to form the 1st and 2nd Marine Special Operations Battalions.  Both MSOBs retained their traditional home bases, with the 1st at Camp Pendleton, California, and the 2nd at Lejeune.

2007, Afghanistan. In a very interesting photo that appeared only briefly on official Department of Defense news outlets, a MARSOC operator is seen picking off Taliban fighters with the exotically rare HK 417 rifle. This accurate, reliable and heavy-hitting 7.62x51mm semi-auto was developed by the respected German gunmaker Heckler & Koch in response to a request from 'unspecified elements' of U.S. Special Operations Command. (U.S. Army photo by Specialist David Gunn)
In the beginning, all operators in these "tip of the spear" companies already held the 0321 Reconnaissance Man MOS (military occupational specialty), designating them as elite Recon Marines.  The current training pipeline for what are now called Critical Skills Operators (CSO) accepts experienced Marines and Sailors from any MOS who can meet a long and serious list of requirements.  Graduates of the Individual Training Course may eventually receive an Additional Skill Identifier signifying qualification as a CSO, but for the time being a special code on their training record notes this achievement.
Marine Special Operations Teams are the basic building block for highly flexible and tailorable employment in a wide array of taskings.  Marine Special Operations Company structure calls for four Teams, each usually consisting of 12 Marines plus two Navy Corpsman, all qualified CSOs with a common set of capabilities and each having additional special skills.
Teams usually deploy as part of a task-organized MSOC that is augmented by detachments from Marine Special Operations Support Group.  MSOSG specialists provide necessary skill sets such as EOD (explosive ordnance disposal), K-9 working dogs, targeted intelligence, sophisticated communications, and others.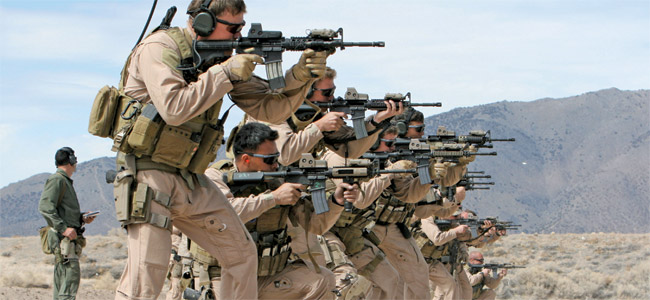 7 April 2009, Reno, Nevada. Marines and Sailors with a company from 2nd Marine Special Operations Battalion ventilate targets in a rapid fire shooting drill that's part of the Dynamic Assault Course at the Washoe County Regional Shooting Facility. Note the EOTech holographic red dot sights on their SOPMOD (Special Operations Peculiar Modification) M4A1 Carbines. (USMC photo by Lance Corporal Stephen Benson)
Operational tempo for these first two hard-charging battalions – colorfully known as "door kickers" for the Direct Action part of their mission capabilities – started fast and quickly grew.  The first Marine Special Operations Company stood up in June 2006 and deployed to GWOT in December with 26th Marine Expeditionary Unit (Special Operations Capable).  Their role was similar to the MEU's Maritime Special Purpose Force, well equipped and manned with specialists in the conduct of maritime interdiction, deep recon, direct action, and close quarter battle.
Security requirements necessarily cloud details of most subsequent missions but cross-referencing various sources reveals the number of operational activities rapidly increasing each year, most notably in Iraq and Afghanistan.  By March 2009, the third anniversary of MARSOC, Marine Special Operators were regularly deploying for dozens of missions in support of Operations Enduring Freedom Afghanistan, Philippines, Horn of Africa, and Trans Sahara.  The number and variety of deployments continues to grow and task forces are operating in at least four of USASOC's Theater commands including Central, Europe, Pacific, and South.
Essential Training and Support
Providing intensively trained operators to round out all twelve "door kicker" companies in the regiment's three battalions is the responsibility of the Marine Special Operations School.  Building on the structure and field work of 1st and 2nd Special Missions Training Branch, MSOS was activated in June 2007 at Camp Lejeune.
Pages: 1 2