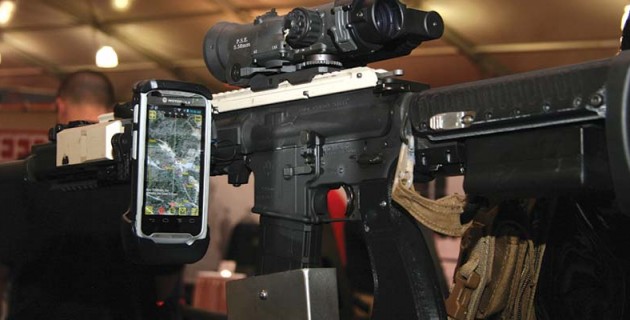 ABOVE: New SWORD Technology Demonstrator. Based on the company's patented Network Power Data System, the modular Soldier Weapon & Observation Recon Devices system links the weapon, the shooter and his spotter with power, data and navigation. Integration of data from UAVs, laser range finders and spotting scopes provides exceptional combat performance in real time. Contact: coltcanada.com. (Robert Bruce)

We are asking more out of our Marines today than we have at any point in our history – a trend that will likely define our future. In fact, conflict attributes such as violent extremism, battles for influence, and disruptive societal transitions will likely be the norm for tomorrow's Marines. We must maintain a force that can balance an increasing focus on the Asia-Pacific with sustained engagement in the Middle East, combined with a continuous effort to counter violent extremists operating across multiple domains. Additionally, and at the institutional level, we face substantial fiscal challenges. All threaten to have significant impact on the way we organize, train, and equip, and the way we fight as a naval force." General James F. Amos, 35th Commandant of the Marine Corps, in An Amphibious Force For Emerging Demands, US Naval Institute Proceedings, November 2013
The latest in a long and distinguished line of top Marines who are staunch defenders of the Corps in its unique and critical overseas combat role, as well as the often hostile domestic political arena, four star General Amos passed the torch to the next Commandant in October 2014.
Commenting in what some see as a farewell address to the influential Brookings Institution on 14 July 2014, General Amos unflinchingly detailed the long list of increasingly damaging effects from serious cuts to the defense budget under Congress' ongoing "Sequestration," a cynically bipartisan deal. Only by reducing manpower while simultaneously starving infrastructure and long term viability, he said, is the Corps currently able to support its remaining cadre of tip-of-the-spear war fighters; a situation that can't be sustained:
"…we are trading home station readiness and procurement and things and modernization to maintain that level of readiness in that forward-deployed force," he said. "Somewhere around 2017 to 2018, the 36th Commandant is going to have to take a pause and say I can't continue to do business this way. I'm going to have to recapitalize the equipment that needs to be modernized."
Amos' successor, General Joseph "Fighting Joe" Dunford, will have increasingly difficult choices to make to keep the Corps' first line units at
optimal effectiveness.
While these ugly realities are being faced right now throughout the badly stressed Marine Corps, it is MARCORSYSCOM (Systems Command) that has the tough job of identifying and acquiring the most cost effective and battlefield efficient items to buy with rapidly dwindling funds.
Report to industry
At Thursday's invitation-only Report to Industry, a panel of high level representatives within SYSCOM's nine program offices outlined major efforts and potential business opportunities.
The moderator, Lieutenant General Ronald Bailey, deputy commandant for plans, polices, and operations, reiterated the long-standing and mutually beneficial relationship between the Corps and the private sector.
"We've always had two 'ships' with industry: partnership and craftsmanship. You arm us with equipment, and we take it and shoot, move and communicate."
William Taylor, program executive officer for land systems (PEO LS), tried to put the best face on the likelihood that congress is probably not going to undo sequestration. As such, the plunging fire trajectory of funding will continue on a its previously charted course. "There are signs of budget stability," he said. "With that stability we can make predictions once again." At the same time admitting that "we have more programs being sustained than under development," Taylor offered some hope for business opportunities included in the Advanced Technology Investment Plan that lists the top 10 technology issues within PEO LS. (defenseinnovationmarketplace.mil/industryresources.html)
Of direct interest to our readers are initiatives under PMM-113 Infantry Weapon Systems, noting major efforts in an upgrade to the SMAW, a Squad Thermal System, Sniper Range Finder, Non-Lethal Weapons, Ocular Interruption ("dazzlers"), and a Light Weight Tripod.
Potential opportunities are identified in suppressors, body armor, night vision, propellants, and the broad category of "Small Arms Technology." (Editor's Note: Detailed information is available at MARCOR SYSCOM's website marcorsyscom.marines.mil)
MCSC/PEO Land Systems Exhibitor Meetings
The opportunity for industry representatives to have face-to-face conversations with significant "doorkeepers" in the USMC's warfighting procurement structure is an important feature of this annual show.
A case in point is provided by Night Vision Depot's John Lesniak, himself a veteran Marine and now Senior Director for Business Development, in a scheduled meeting with the Program Manager, Optics and Non-Lethal Systems.
"We discussed some of the Marine Corps' ongoing requirements and how NVD products and capabilities could
effectively align," he said.
Also, Lesniak noted, NVD's first time exhibiting at this year's MDM attracted the attention of a Marine officer with particular interest in a recent official RFI (Request for Information) for an infrared-capable sighting system for the Stinger manportable anti-aircraft system.
"The captain urged us to respond, saying that the range of potential suppliers was narrow and that NVD's offering would be carefully considered."
Tent City
Billed as "the world's largest military exposition focusing on enhanced capabilities for expeditionary forces," this year's Modern Day Marine Expo was held from September 23 to 25 aboard Marine Corps Base, Quantico, Virginia.
Co-sponsored by the base, the Marine Corps League, and Marine Corps Systems Command, the 34th MDM showcased the products and services of some 375 firms and entities – companies that support military land, air and sea operations.
Exhibits at this year's exposition filled three enormous, modern, climate-controlled tents, as well as the spacious outdoor display area, presenting the latest operational equipment and technology, along with videos, models and prototypes of items soon to enter service.
Defense contractors from throughout the U.S. and some allied nations signed on to show their products and services, get feedback from the warfighters, and respond to questions.
Much of the equipment now used by Marines and other U.S. and allied forces confronting enemies in Iraq, Afghanistan, and around the world was first presented to military leaders, operations planners and acquisition managers at previous editions of the expo.
"Crossroads of the Marine Corps"
Strategically located about 30 minutes drive south of Washington DC, America's capitol city with powerful lawmakers, the Pentagon, numerous defense contractors, and foreign embassies, MCB Quantico is an ideal Expo location.
It is home of the Marine Corps Combat Development Command, charged with developing Marine warfighting concepts and determines the Corps' capability requirements for doctrine, equipment, organization, training, education and support.
The Marine Corps Warfighting Laboratory at Quantico is part of the Development Command and responsible for improving current and future naval expeditionary warfare capabilities for the Marines and their amphibious roles and missions.
Also at Quantico is Marine Corps Systems Command, principal agency for acquisition and sustainment of systems and equipment for the Marines' warfighting mission. Many of the personnel who staff those organizations took advantage of continuously-running shuttle buses to visit the exhibit halls and discuss missions, capabilities and requirements with defense industry professionals.
Guns and Ammo, Sights and Accessories
In spite of the Corps' shrinking budget, the expo was once again filled with thousands of items needed for expeditionary warfare, an ongoing challenge to SADJ's mission to find and report on the best in guns and related gear for infantrymen.
This year's roster included weapons from prominent names like Beretta, Colt, FN, General Dynamics, Glock, HK, Knight's, Rheinmetall, Ruger,
and SIG Sauer.
While paying suitable homage to the latest entries from these "big boys," we were delighted to find that John Moses Browning's legendary BAR – held in highest esteem by generations of Marines from WWI to the early involvement in Vietnam – has been resurrected by a much smaller company. Robert Landies, III, Special Projects Manager for Ohio Ordnance Works, was proudly showing off the company's exciting H.C.A.R. (Heavy Counter Assault Rifle), a 21st century BAR at half the weight of the original yet still firing hard-hitting .30-06 cartridges.
Other firms, offering innovative weapon sights, ammo and accessories, enjoy not only our attention, but that of seasoned Marines of all ranks. Word of particularly notable items gets around quickly and reps from DEFCOM, Defend Safe, Geissele, Leopold, Magpul, Manta, Nammo, Proof Research, Surefire, Trijicon, and others were kept busy with show and tell duties.
Our perennial favorite at MDM is keeping tabs on progress with LSAT, the Lightweight Small Arms Technologies program at Textron/AAI. Although this mature and well proven Squad Automatic Weapon, firing 5.56mm plastic cased, telescoped ammo, stands ready, willing and able, it remains in limbo for a complicated array of reasons.
Undaunted, work continues on a companion 5.56mm carbine version as well as the newest development; a multi-million dollar DoD contract for beefing up LSAT's "lipstick tube" ammo to push 7.62mm NATO projectiles. Stay tuned.
GBAD to the Bone
Without minimizing the value of new and improved hardware for traditional ways of punching holes in soft and hard targets, the future of line-of-sight weapons clearly lies in the "directed energy" arena. While this includes concentrated sound waves and even spookier things to be beamed, lasers
lead the pack.
The Office of Naval Research, always on the cutting edge of technology for the troops, lured us over for a look at what their latest work has wrought with GBAD, the "Ground Based Air Defense Directed Energy On-the-Move" program. Raytheon is supplying the system's Humm-vee carried laser weapon to demonstrate the capability of "killing" enemy drone aircraft in the forward
battle space.
Proof of the program's viability was on display in the form of a beam-burned and heat crumpled piece of aircraft structural tubing. It's real and right now.
Photo Gallery
What follows here is a photo essay zeroing in on some notable examples we found of weapons, ammo, sighting devices and mounting systems. Although space requirements necessarily limit the number of items shown, a full listing of exhibitors and other information may be found at www.marinemilitaryexpos.com.
Honors and Awards
With so many high-level Marine leaders converging on the Expo, it works well to put several ceremonial events on the schedule.
Congressman Howard P. "Buck" McKeon, Chairman of the House Armed Services Committee and tireless advocate for the Marine Corps, received the Iron Mike Award at Tuesday evening's Grand Banquet and Awards Dinner.
At Wednesday morning's colorful Enlisted Awards Parade, featuring the world-renowned USMC Drill Team and Drum and Bugle Corps, eleven outstanding Marines and one Navy Corpsman were honored.
For us, the Gunnery Sergeant Carlos Hathcock Award for outstanding contribution to marksmanship training is most prominent among these, this time going to Gunnery Sergeant Robert Mendoza of the 2nd Marine Division.
Modern Day Marine Exposition 2015
Next year's Modern Day Marine Expo is scheduled for September 22 to 24, once again at MCB Quantico, Virginia. This is the largest of three related shows where exhibitors meet the Marines on their own turf.
Marine West Expo, slated for January 28 to 29 at Camp Pendleton, CA, and Marine South Expo, April 22 and 23 at Camp Lejeune, NC, are held at home installations for two of the Marine Corps' expeditionary forces, which are continually training and dispatching fighting elements to a broad spectrum of missions around the world "in the air, on land, and at sea."
Exhibitors at the Marine Military Expos meet and exchange information, face-to-face, with not only the users of their equipment but also the men and women responsible for equipping the Corps, tasked with a broad range of existing and emerging demands.
In addition to displaying products before thousands of users, Marine Military Expo exhibitors also exchange information with their target audience, listen to their needs and gain valuable insight into what works best in a wide array of combat, combat support and combat service support situations. Marines who have recently returned from wartime missions not only provide feedback but also convey suggestions and ideas that are often considered and adopted in designing or improving equipment and systems.
The decision-makers and procurement experts exhibitors want and need to meet attend the expos for up-close and personal exposure to the leading-edge equipment, systems and services – solutions – their Marines need for the years ahead. At the Marine Military Expos, networking opportunities among the buyers, the users and defense industry professionals are unlimited. Take advantage of those opportunities for your company by exhibiting at the Marine Military Expos: www.marinemilitaryexpos.com