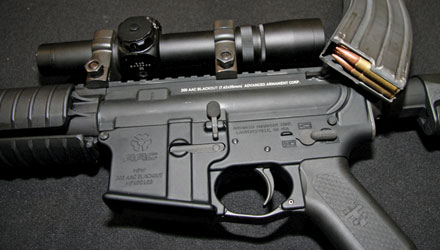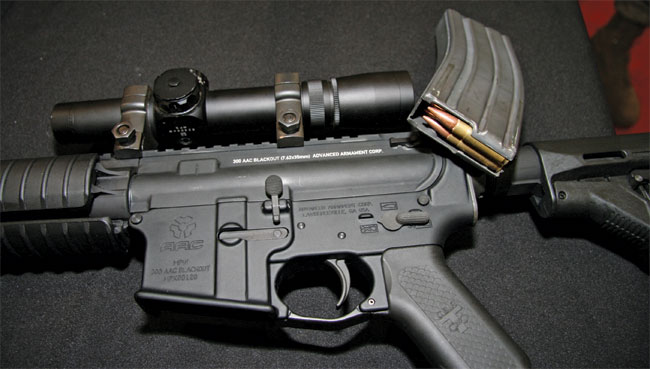 Advanced Armament Corporation's new 300BLK, an AR-15 type rifle chambering the hard-hitting new 7.62x35mm wildcat cartridge. The 300BLK (Blackout) round fits standard AR mags and pushes a 123 grain projectile that significantly outperforms the terminal effects of common rivals. www.advanced-armament.com. (Robert Bruce)
"…that's going to require us to replace an awful lot of gear that's been used very hard over the last ten years or so.  We know what we need and we're going to work with you to get it."  – Lieutenant General Richard P. Mills, Marine Corps Combat Development Command

Mills, the three-star general who heads the Corps' concepts and capability command, was offering a glimmer of hope to a large audience of high level defense industry representatives attending the exclusive, invitation-only Report to Industry briefing at the 2011 Modern Day Marine (MDM) Expo.
Report to Industry
A tangible force-multiplier in the effectiveness of MDM's annual Expo is much more than an ordinary trade show.  The Report to Industry and Marine Corps Systems Command's Program Director Briefings that immediately follow cover equipment and systems research, development, testing and acquisition programs and policies.  These give representatives of America's defense industry a clear picture of what today's Marine Corps is intent on acquiring now and in the near future.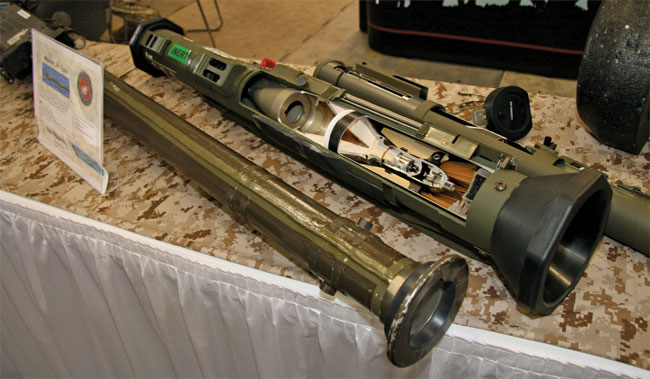 Inside its own large display tent, Marine Corps Systems Command showcased a variety of tools used by "Leatherneck" Warfighters to move, shoot and communicate. SYSCOM's displays included man-portable missiles for bunker busting, tank killing and anti-aircraft applications. Note the cutaway AT-4, a particularly versatile shoulder-fired slugger. www.marines.mil/unit/marcorsyscom/. (Robert Bruce)
An earlier Report to Industry presenter – among other top Marine generals with unquestioned credibility in analyzing the cold, hard realities of Congressional intent to drastically cut America's defense spending – had warned of a possible "fiscal Armageddon."  But these same generals were careful to emphasize that the United States Marine Corps would adapt and overcome to faithfully perform its traditional role as America's expeditionary warfare force.
Acknowledging the likely demise or restructuring of big ticket initiatives like next-generation replacements for the Corps' aging tactical rotorcraft and ground vehicles – worn out during a decade of fighting the Global War on Terror – Mills and others made it clear that economical upgrades to items supporting the holy trinity of "move-shoot-communicate" would still find favor.
High-Tech Tent City
Billed as "the world's largest military exposition focusing on enhanced capabilities for expeditionary forces," this year's Modern Day Marine Expo was held from September 27 to 29, hosted once again by Marine Corps Base, Quantico, Virginia.
Co-sponsored by the base, the Marine Corps League, and Marine Corps Systems Command, the 31st MDM showcased the products and services of more than 500 companies that support military land, air and sea operations.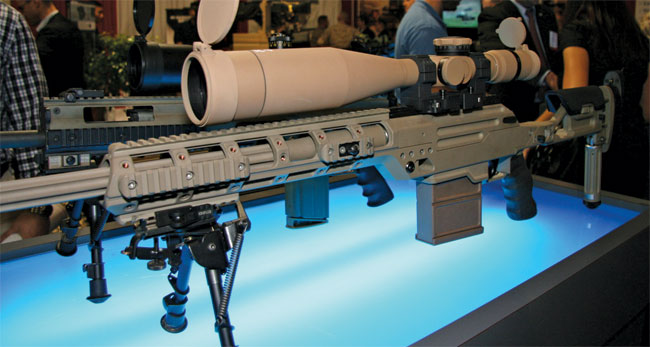 Eerily seeming to float on blue light as the center of attention in FNH USA's display area, the Ballista Precision Sniper Rifle is said to be under consideration by the USMC. Built to FN specifications by Unique Alpine AG, this modular, magazine-fed, bolt-action rifle can be quickly modified by the operator to fire .308 Winchester, .300 Winchester Magnum or .338 Lapua cartridges. www.fnhusa.com. (Robert Bruce)
Exhibits at this year's exposition filled three enormous, modern, climate-controlled tents, as well as the spacious outdoor display area, presenting the latest operational equipment and technology, along with videos, models and prototypes of items soon to enter service.
Defense contractors from throughout the U.S. and some allied nations signed on to show their products and services, get feedback from the warfighters, and respond to questions.
Much of the equipment now used by Marines and other U.S. and allied forces confronting enemies in Iraq, Afghanistan, and around the world was first presented to military leaders, operations planners and acquisition managers at previous editions of the expo.
Because a lot of what was on display included types that can be used not only in military applications but also in law enforcement and counter-terrorism operations, Expo officials issued a special invitation to federal, state and local law enforcement personnel to attend.
"Crossroads of the Marine Corps"
Strategically located just a few miles south of Washington DC, America's capitol city with powerful lawmakers, the Pentagon, numerous defense contractors and foreign embassies, MCB Quantico is an ideal Expo location.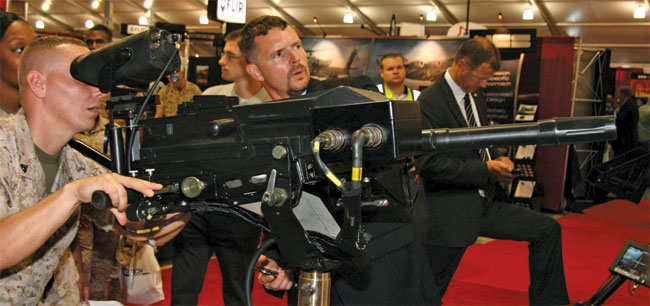 Sophistication and realism in Rheinmetall's Vingmate FCS (Fire Control System) Trainer with its computer driven simulation makes for effective and economical training on ammo-intensive 40mm automatic grenade launchers and other heavy machine guns. www.rheinmetall-defense.com. (Robert Bruce)
It is home of the Marine Corps Combat Development Command, charged with developing Marine warfighting concepts and determines the Corps' capability requirements for doctrine, equipment, organization, training, education and support.
The Marine Corps Warfighting Laboratory at Quantico is part of the Development Command and responsible for improving current and future naval expeditionary warfare capabilities for the Marines and their amphibious roles and missions.
Also at Quantico is the Marine Corps Systems Command, principal agency for acquisition and sustainment of systems and equipment for the Marines' warfighting mission.  Many of the personnel who staff those organizations took advantage of continuously-running shuttle buses to visit the exhibit halls and discuss missions, capabilities and requirements with defense industry professionals.
Warfighters Corner
An excellent innovation, now in its second year at the Expo, is the "Warfighters Corner," open to all attendees and featuring presentations by Marines recently back from service in combat zones.  Seasoned combat veterans describe what equipment and systems worked best for them, and also provide suggestions and recommendations for how improvements, modifications or replacements might be made to better help Marines survive and win on the battlefield, in seaborne operations and in aerial engagements.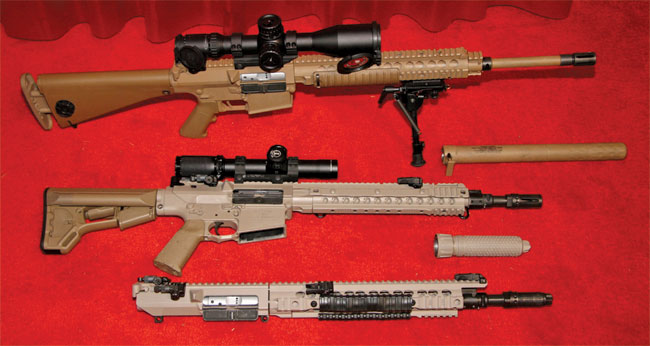 A very good thing gets even better for CQB when the Knight's Armament M110 Semiautomatic Sniper System rifle (top in the photo) goes leaner and meaner with the M110 Carbine Conversion Kit, designed and built by Knight's for USMC Special Operations Command. Major components include a quick swap upper receiver group with 16 inch barrel, a tailored sound suppressor and multi-position telescoping buttstock. www.knightarmco.com. (Robert Bruce)
Naturally, we were drawn to the Warfighter topic "Role of the Marine Sniper in Combat."  Captain A.B. Rozic, officer in charge of the Scout Sniper School aboard MCB Quantico, introduced Gunnery Sergeant K. E. Sutherby who gave a vivid presentation on lessons learned by scout snipers in recent combat actions.   Other Warfighter topics included Mine Resistant Ambush Protected Vehicles, USMC Energy, Navy Marine Corps Medical Team, and Chemical, Biological, Radiological and Nuclear Combat Equipment.
Guns, Ammo, Sights and Accessories
While this 31st annual MDM Expo was jam-packed with more than 500 exhibitors offering the complete range of items needed for expeditionary warfare, SADJ's mission is to find the best guns and related gear on display that maximize a Rifleman's ability to put steel on target.
"Every Marine a Rifleman," is a basic tenet of the Corps that also serves us as a true and steady compass bearing.  There was plenty to catch our attention at dozens of elaborate display booths manned by representatives of the world's foremost arms merchants.  From ARES to Zeiss, the roster included the most prominent names in small arms as well as several up-and-coming firms.
Weapons and related items for both long range precision shooting and close quarters battle dominated the field this year.  Not surprising given the proven effectiveness of the "one-shot-one-kill" fraternity as well as lessons learned and re-learned from the last decade of unforgiving urban and open terrain combat.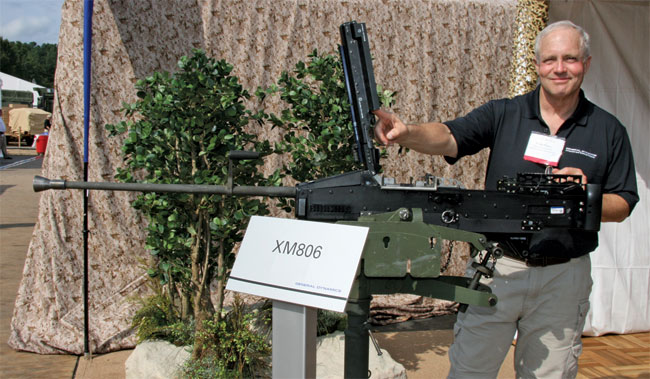 Frank Hance of General Dynamics engages the attention of passers-by, drawn in by the distinctive profile of the XM806 .50 caliber machine gun. Developed as a lightweight replacement for the classic Browning M2HB, it hits the scale at 40 pounds for superior man-portability and significantly reduced recoil that's easy on smaller vehicle mounts. The quick-change barrel with conical flash suppressor needs no headspace and timing adjustment. www.generaldynamics.com. (Robert Bruce)
What follows here is a photo essay zeroing in on some notable examples of weapons, ammo, sighting devices and mounting systems.  Although space requirements necessarily limit the number of examples shown, a full listing of exhibitors and other information may be found at www.marinemilitaryexpos.com
Honors and Awards
With so many high-level Marine leaders converging on the Expo, it works well to put several ceremonial events on the schedule. When Wednesday's colorful Enlisted Awards Parade, featuring the crack USMC Drill Team and Drum and Bugle Corps was rained out, the ceremony itself was held indoors. Awards, sponsored by the Capital Marines Detachment of the Marine Corps League, were presented to ten outstanding Marines and one Navy Corpsman.
That evening, the Expo's Grand Banquet and Awards Dinner was held at the Ritz-Carlton Hotel in the Crystal City section of Arlington, VA. Highlights included presentation of the Marine Corps League's top awards. Major Paul F. Hastings, USMC (Retired), received the Iron Mike Award for his long time distinguished service to the Marine Corps League. Ms. Bonnie Carroll, founder and president of Tragedy Assistance Program for Survivors, received the Dickey Chapelle Award.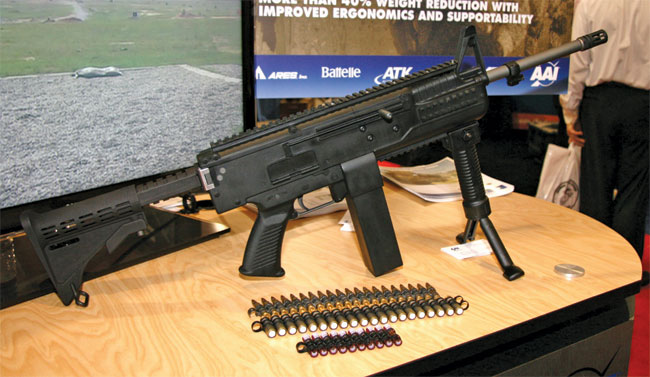 A realistic mockup of the magazine fed rifle/carbine version in the U.S. Army's Lightweight Small Arms Technologies program. Three belts of ammunition provide a useful comparison of old vs. new fodder for Squad Automatic Weapons. At top is standard steel-linked, brass cased 5.56mm for the M249. Next come two versions of AAI's experimental, polymer cased, telescoped 5.56mm for the Lightweight Small Arms Technologies' SAW, offering significant reduction in weight and volume. SADJ has been covering LSAT development for longer than we care to note but persistence may finally be paying off for all parties. Eight AAI's Squad Automatic Weapon variants, belt-feeding polymer cased telescoped ammo, are said to have done well in the recent Military Utility Assessment at Ft. Benning, Georgia. www.aai.com. (Robert Bruce)
Modern Day Marine 2012
The 32nd annual Modern Day Marine Expo is scheduled for 25-27 September 2012, once again at MCB, Quantico, Virginia.  This is the largest of three related shows where exhibitors meet the Marines on their own turf.
Marine Corps Base, Quantico, VA, is headquarters for the Corps' combat development center and home to Marine Corps Systems Command, where warfighting requirements are defined and determinations made on equipment and systems to be used by Marines in worldwide operations for years to come.
Marine West Expo, slated for 1-2 February 2012 at Camp Pendleton, CA, and Marine South, 11-12 April 2012 at Camp Lejeune, NC, are held at home installations for two of the Marine Corps' expeditionary forces, which are continually training and dispatching fighting elements to a broad spectrum of missions – in the air, on land, and at sea – around the world.
Exhibitors at the Marine Military Expos meet and exchange information, face-to-face, with not only the users of their equipment but also the men and women responsible for equipping the Corps, which is rapidly expanding to meet a broad range of existing and emerging demands.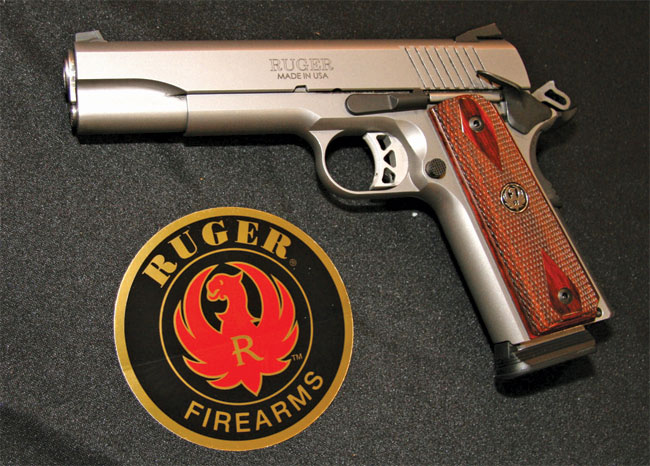 The SR1911 in eye-catching stainless steel is Ruger's tribute to John M. Browning's incomparable Model 1911, a .45 ACP hand cannon that U.S. Marines have carried into battle for a century. www.ruger.com. (Robert Bruce)
At the same time, funding for equipment modernization programs to meet the far-reaching, high-tempo operations in which Marines are engaged on a daily basis is increasingly uncertain.  Political pressure from all sides on Marine Corps and Navy budgets will affect not only on the current demands of combat in Southwest Asia but also existing and developing threats in other regions.
In addition to displaying products before thousands of users, Marine Military Expo exhibitors also exchange information with their target audience, listen to their needs and gain valuable insight into what works best in a wide array of combat, combat support and combat service support situations.  Marines who have recently returned from wartime missions not only provide feedback but also convey suggestions and ideas that are often considered and adopted in designing or improving equipment and systems.
The decision-makers and procurement experts exhibitors want and need to meet attend the expos for up-close and personal exposure to the leading-edge equipment, systems and services – solutions – their Marines need for the years ahead.  At the Marine Military Expos, networking opportunities among the buyers, the users and defense industry professionals are unlimited.  Take advantage of those opportunities for your company by exhibiting at the Marine Military Expos:  www.marinemilitaryexpos.com