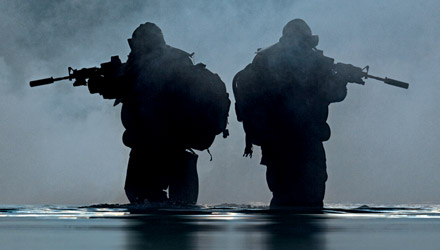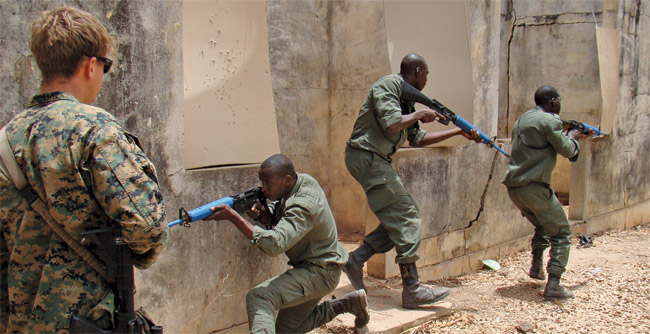 12 May 2010, Thies, Senegal. A MARSOC Marine observes a fire team from the Malian military, armed with SIMUNITION-modified M16s, rehearsing urban counter-terrorism tactics as part of Exercise Flintlock 10. This is a SPECOPS initiative, sponsored by AFRICOM, focused on military interoperability and capacity building with partner nations in Northern and Western Africa. (MARSOC photo by Max Blumenfield)
Informally known as the "schoolhouse," it is tasked to screen, assess select, train, and certify Marine Special Operations Forces.  It also has responsibility for doctrine development and serves as the proponent for evaluation of weapons and optics used throughout MARSOC.

In October 2008, all Marines seeking to become MARSOF Operators began attending Individual Training Course, an in-depth training program that covers required culture, technical, and tactical skills.  The grueling seven month program of instruction gives all operators the same baseline training.
After graduation, most report to the Regiment where they will undergo further specialized training based on the unit that they are assigned to.  Others will first go on to more advanced training in language and other skills like Airborne, SCUBA, and emergency medical care.
(Editor's Note:  Part two of this series will take a close look at how MARSOC's Critical Special Operators are trained in high-stakes weapons handling and employment, as well as other critical combat skills.)
Marine Special Operations Support Group provides combat support and combat service support to MARSOC units.  A Logistics Company handles food, fuel, ammunition, heavy transport, maintenance, and other essentials.  A Support Company provides communications, K-9 and control elements for external sources of heavy firepower.  Plans call for a full spectrum of intelligence capabilities to dramatically expand with formation of a dedicated Intel Battalion.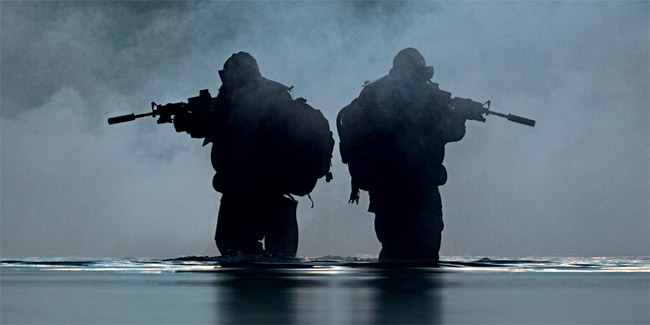 A pair of MARSOC operators in swim gear and carrying suppressed M4-series SOPMOD Carbines emerge from a low-hanging mist as they stealthily move ashore during a clandestine amphibious mission. This dramatic photo captures the essence of Marine Corps Special Operations Command and its motto, 'Always Faithful. Always Forward.' (MARSOC)
With its organizational structure in place and the number of assigned personnel trained and performing at acceptable level, MARSOC announced in October 2008 that it had achieved the remarkable feat of full operational capability.
Worldwide Reach
"In all fighting, the direct method may be used for joining battle, but indirect methods will be needed to secure victory."  –Sun Tzu, THE ART OF WAR, ca. 500 BC
As directed by the Commander of USSOCOM, MARSOC deploys task organized, scalable, and responsive U.S. Marine Corps special operations forces worldwide in support of combatant commanders and other agencies.  While MARSOC's contributions are not dissimilar to some in other components of USSOCOM, they are strongly influenced by the unique culture and character of the Marine Corps:
Foreign Internal Defense (FID) – Providing training and other assistance to foreign governments and their militaries to enable the foreign government to provide for its country's national security.
Counterinsurgency (COIN) – Those military, paramilitary, political, economic, psychological and civic actions taken by a government to defeat insurgency.
Security Force Assistance (SFA) – Operations, actions or activities that contribute to unified action to support the development of the capacity and capability of foreign security forces and their supporting institutions.  Also, the augmentation of a foreign security force or its supporting institution in order to facilitate the achievement of specific operational objectives shared with the U.S. government.
Special Reconnaissance (SR) – Acquiring information concerning the capabilities, intentions, and activities of an enemy.
Direct Action (DA) – Short-duration strikes and other small-scale offensive actions taken to seize, destroy, capture, recover or inflict damage in denied areas.
Counter-Narco Terrorism (CNT) – Military capabilities that support domestic law enforcement agencies and foreign security forces to counter activities that aid, benefit from, or are related to drug trafficking.
Additionally, MARSOC is developing capabilities in Unconventional Warfare (UW), Counter Terrorism (CT), and Information Operations (IO).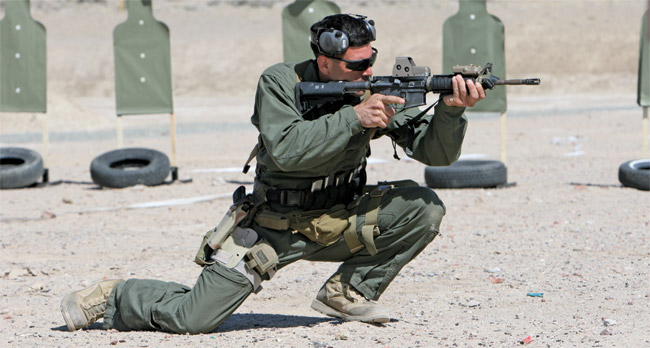 7 April 2009, Reno, Nevada. A Marine instructor from 2nd Marine Special Operations Battalion demonstrates a low profile snap shooting position prior to live fire drills in the Dynamic Assault Course at the Washoe County Regional Shooting Facility. His M4A1 SOPMOD Carbine is equipped with an EOTech holographic red dot sight and a laser aiming module. (USMC photo by Lance Corporal Stephen Benson)
Building future capabilities
At the end of February, 2010, MARSOC's roster listed 1,965 Marines, 180 Sailors, and 124 civilians.  This puts the command at better than 90 percent of the 2,500 personnel currently authorized.  Intensified recruiting efforts within active and reserve units of the Marine Corps and Navy are underway to fill specialized MOSs in the Support Group, as well as to encourage those with the potential to become Critical Skills Operators.  There is talk of an increase in the number of Individual Training Course classes to boost quantity without diminishing quality.
Under Major General Paul Lefebvre, MARSOC's third commander, who succeeded Major General Mastin M. Robeson in November 2009, MARSOC continues reshaping and reorganizing to better balance the capabilities of MARSOF and its operator/support ratio.  Standardization of the three MSOBs under the Regiment, establishment of an Intelligence Battalion and other important initiatives in the Support Group, are designed to enable a long term relevant special operations force with greater agility and self sufficiency in the execution of direct and indirect missions.
Under Construction
Evidence of some $700 million in construction projects underway was inescapable during our visit in early 2010 to MARSOC at its central complex at Lejeune's historic Stone Bay.  While an imposingly large and modern looking headquarters building, opened for business in November 2009, stood tall but alone among capacious parking lots and acres of recently-cleared land, construction crews were hard at work in several nearby locations.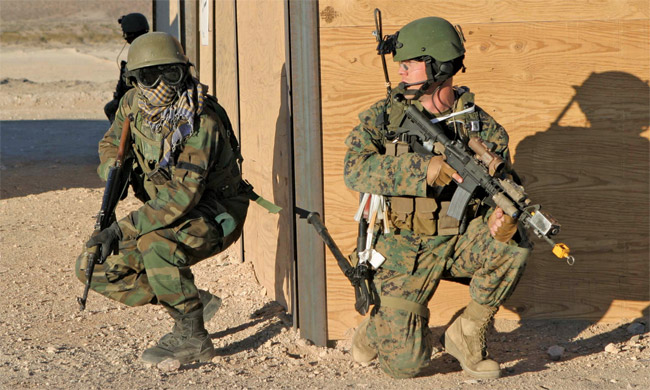 26 March 2008, Fort Irwin, California. A Marine with MARSOC's Special Operations Advisor Group maintains security while instructing a role-playing partner nation counterpart on what to look for during a village patrol training exercise at the National Training Center. Note the MILES laser module box and bright yellow blank adapter on the barrel of his M4 series Carbine. MSOAG has since been reorganized as 3rd Special Operations Battalion. (USMC photo by Lance Corporal Stephen Benson)
A master plan drawing shows a sprawling campus with numerous specialized ranges, shoothouses, tactical training areas, armories, logistics centers, motor pools, helipads, and much more.  These, along with the excellent infrastructure and air/land/sea geographical advantages of MCB Camp Lejeune and Marine Corps Air Station New River, as well as tactical and strategic airlift assets at nearby Pope Air Force Base, provide most everything needed for training, launching and sustaining global-reach special operations.
Marine Corps Warriors
"The MARSOC Marine secures victory by going forth with our allies to fight the next battle before it begins."  (MARSOC recruiting video)
So, what is a MarSOF warrior?  How does he differ from other Marines?
Answers to these fundamental questions were provided by MARSOC in a particularly detailed information paper that was published in the Marine Corps Gazette's August 2008 issue and excerpted here with MCG permission:
Whether deployed as part of a joint special operations task force, a Marine MSOC or MSOT, or as a task-organized enabler detachment of just a few Marines and corpsmen, our silent warriors are strategic and tactical force multipliers.  They must be able to operate in austere environments far from the combat service support generally available to Marine Corps forces. 
For example, one of the key distinctions between MSOCs and traditional rifle companies is that MSOCs are deployed to an area of operations in order to find, plan, and execute missions independently rather than to conduct a preplanned mission.  Such missions can range from direct action and special reconnaissance one day to foreign internal defense or unconventional warfare the next based on intelligence gathered and opportunities identified.  This does not require a better Marine, but it does require a Marine with a unique combination of skills, experience, traits, and specialized training.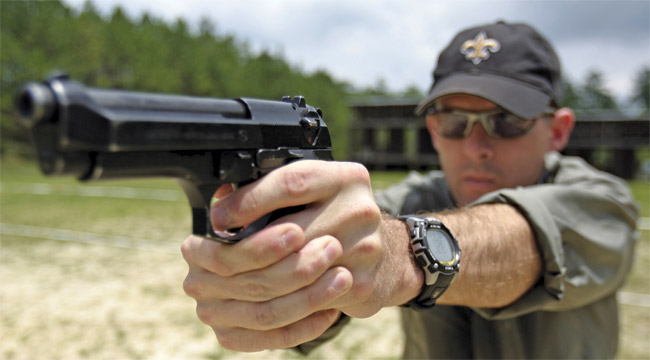 30 June 2008, Camp Lejeune, North Carolina. A Marine with MARSOC's Special Operations Advisor Group practices drawing, sighting and dry firing his 9mm M9 semiautomatic service handgun from a concealed holster. These repetitive drills are designed to build muscle memory in preparation for live fire during the Defensive Pistol Course at Stone Bay's Military Operations on Urban Terrain Course. (MARSOC photo by Lance Corporal Richard Blumenstein)
To succeed at the range of specialized missions they will conduct, MarSOF Marines and corpsmen must be multilingual, compassionate, determined, mature, team oriented, culturally aware, physically fit, capable, disciplined, independent, experienced, and mentally fit.  Many of these qualities are developed during initial Marine Corps training; others are honed during deployments in Iraq, Afghanistan, and other areas of operations throughout the GWOT.
Learn More
MARSOC has an excellent website, with information on all aspects of this vital "tip of the spear" component: www.marsoc.usmc.mil.
Up Next
SADJ visits MARSOC's "schoolhouse" for a look at special operations weapons training.  Our report includes conversations with some of the battle-hardened Marine NCOs who've been brought in from muddy-boots operational deployments.  These men have a critical role as Instructors in the Individual Training Course and some follow-on Advanced coursework.  Don't miss it!
(SADJ extends special thanks to MARSOC's Public Affairs Office for exceptional assistance in arranging interviews and photo opportunities during our visit, then following up with much additional information and graphic elements.)
Pages: 1 2