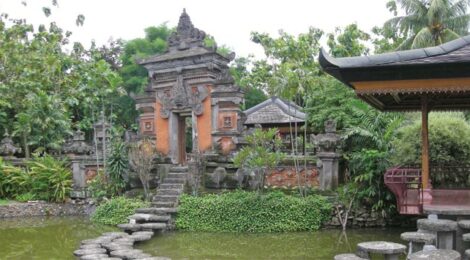 Indo Defence is the Indonesian military's third in a series of bi-annual tri-service expositions.  It is a good, solid, Southeast Asian military show with strong regional military attendance.  While not as inclusive of small arms as Defense & Security Thailand or Defense Services Asia in Kuala Lumpur, Indo Defence in Jakarta is certainly in the top shows in the region.  SADJ was able to view some regional manufacturer's presentations as well as indigenous Indonesian developments.  In a country of 80 million, that was over-run by outside conquerors in recent memory and freedom is less than a century old, one expects to find an active arms design and production infrastructure.

The Indonesian military production groups and technical institutes have been busy.  Examples of armed robots and drone aircraft designed and made in Indonesia were in several places around the show, mingled with the expected major international manufacturer's offerings.  The Indonesian offerings seemed to hold their own on the playing field in the eyes of many military procurement personnel.  Reports from the Internationals were fairly good, there are large vehicle and weapon procurements coming up and offerings from Sweden, Poland, Romania, Britain and the US were mentioned competitively.
The weather was oppressively hot and humid to any US or Euro-centric attendees, but the indoor exhibits were comfortable enough.
One Honorable Mention should go to the stalwart gents from Foster & Freeman, who travel much of the world with their forensic technology products.  The products are state-of-the-art, and their repertoire extends beyond the average offering – from fingerprint gathering to forensic data and passport forgery detection devices, and their LED based Crime-lite handhelds that are in 5 different levels for crime scene inspection.  A bit off topic for SADJ but many of our readers are involved in LE and forensics, so have a look.  Website: www.fosterfreeman.com
Bulgarian Anti-Helicopter Mine
SADJ considered that the Bulgarian made Anti-Helicopter "Mine" was one of the most important units to inform our readers of. These are manufactured by the Institute for Metal Science along with many other mine warfare products. www.ims.bas.bg/index_en.html
The Anti-Helicopter Mine AHM-200-2 (shown in photo) is a single unit mine that shares most of the characteristics with the below described 4 unit set, but is individual-set capable. It will detect a target at up to 500 meters, track it, determine if the helicopter is within height range, and only initiate if the helicopter is a viable target. The "kill" zone is up to 100 meters above this model of mine, although the danger area is higher.
The Anti-Helicopter Mine 4AHM-100 (not shown) is also designed to destroy low flying helicopters, but is a squad operation to set up and far more effective. The mine unit consists of four individual mine warheads arranged in a square pattern with a combined control sensor positioned in the center. The warheads are each provided with built-in fuzes, which are activated simultaneously by the sensor through coded signals, launching the mines skyward.
The warheads are placed horizontally on the ground and the combined sensor controller is positioned on a horizontal platform at the terrain level. All components may be camouflaged through standard methods.
The fuzes are resistant to disturbances and have two levels of protection against accidental activation before being set into an armed state. The fuzes can be activated or neutralized by signals from the sensor after expiration of the programmed safety time, to comply with current international mine criteria.
The combined sensor consists of an acoustic type and a radar type and it is able to identify low flying helicopters either by DSP analysis of their acoustic signatures or by their Doppler signals. On a client's request the acoustic sensor can also "learn" to identify and select various types of helicopters. A control system processes the signals detected and sends commands for initiation on detection of a target or for neutralization/self-destruction on expiration of the pre-programmed time. On a client's request, the commands for neutralization or detonation, as well as for the complementary functions, i.e. temporary neutralization and testing the armed state, may be performed by a remote control station through coded signals.
The mine can not be activated by occasional noises, moving people, animals or ground military machines, or by sideways or high flying helicopters. It is protected against activation by a direct hit from bullets or fragments, storm, heavy rain and snow, sand storm, etc., and is efficient in any climate conditions.
The mine's electrical power is supplied from replaceable batteries assembled to the mine immediately before arming.

Indonesian built bolt-action, integrally suppressed pistol with buttstock, reminiscent of the British Welrod pistols of WWII. Caliber appeared to be 9x19mm.

Indonesian built submachine gun appearing to be a 9x19mm weapon. It is a very lightweight and slim design.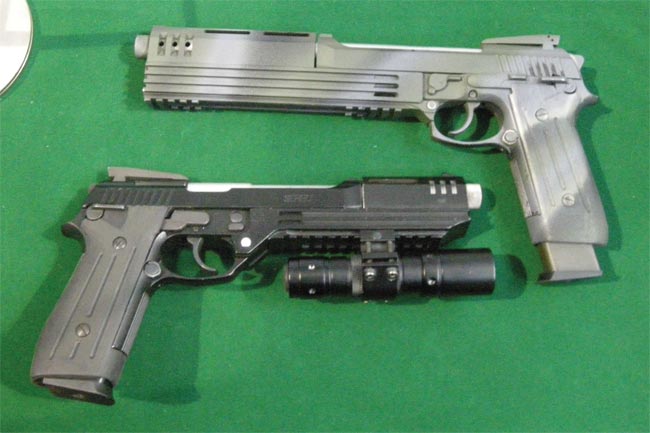 Various literature labels this Indonesian pistol as the "PS1" or "PS-01 Serbu", in the short case length, proprietary caliber 5.56x21mm. Some literature also referred to this as 5.56x23.5mm caliber. Little ballistic information could be found on this cartridge. Email: r&dsubdismatut@yahoo.com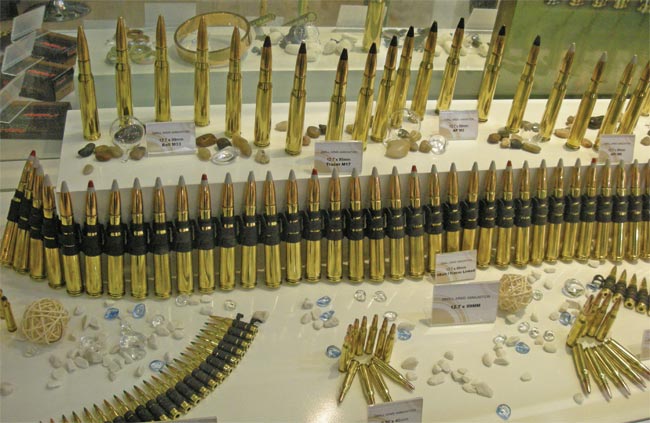 Mega-defence contractor Hanwah, Corp. from South Korea was displaying with a large setup of ammunition, hand grenades, mortar and cannon ammunition, fuzes, and rockets. www.hanwhacorp.co.kr.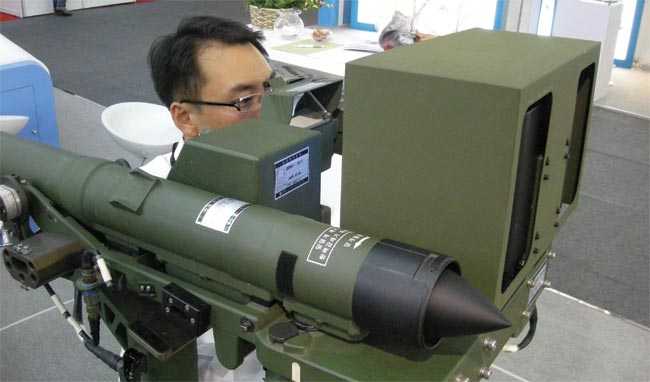 From South Korea, the Chiron is a man-portable, fire-and-forget system that is day-night operational with full night vision capability. It has excellent IRCCM and a two color seeker, and can be linked with alert systems via radio. The missile has a high terminal velocity using dual thrust propulsion, and is designed to give ground forces a portable method to counter fixed wing aircraft, helicopters, UAV, and Cruise Missiles. (SADJ tried to gain more information on the Anti-Cruise Missile claim, more on that in a future issue if we can substantiate it.) www.lignex1.com/eng/product/product_main.html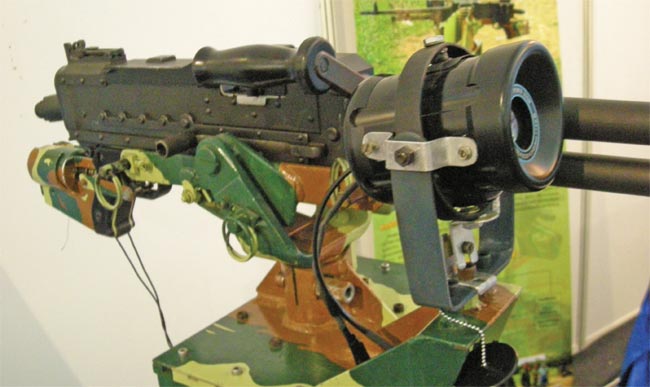 The Indonesian Technical Institute had a number of new designs on display, including this lightweight MAG58 mount.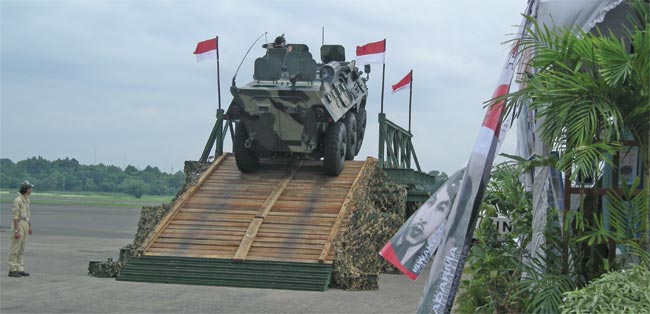 In the outdoor part of the exhibition, there was a concurrent airshow and displays of many vehicles that are standard in the Indonesian military or are being offered for sale by vendors. Some historical vehicles and howitzers were outside on display as well. One very popular event with visitors and their attending families was an APC (Armored Personnel Carrier) ride, with one lucky person per ride able to "man" the MK19 Mod 3 mounted on the ring mount. Live rounds were not provided, so spectator's experience was limited to fantasy.