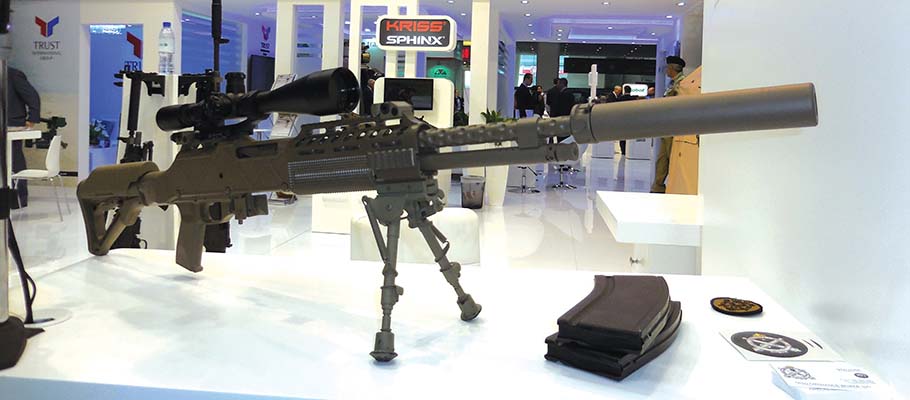 ABOVE: In another part of the Trust International Group's booth, Jerry had placed the OOW HCAR in 30-06 caliber with suppressor. This rifle system, the final piece of the venerable 1918 BAR's evolution, is quickly achieving legendary status as a long range rifle. Note the OOW 30 round magazines on the table.

The International Defence Exhibition and Conference (IDEX) of 2015 is a biannual show that reached its 12th anniversary with this event. It is a mature show with well developed habits and procedures for the exhibitors and attendees. Having established itself as a benchmark show much like Eurosatory, Milipol, DSA or AUSA, IDEX attracts a rich diversity of attendees from around the world. The show itself is centered in Abu Dhabi, the capital city of the United Arab Emirates. The UAE controls 9% of the world's oil reserves, and 5% of the natural gas. As such, the UAE has a strong interest in their defense industry and tries very hard to stay modernized and up to the best technology in the region. Many Middle Eastern/Southwest Asian countries had their military in attendance, and the technology innovations were flying.

This year's show was full to the brim with over 1100 exhibitors, and the "New Exhibitors" section in Hall 1 was also filled. More than 50,000 attendees roamed the halls, and there were exhibitors from over 50 countries. This shows growth from the 2013 show, but in any event this is a massive defense show. Being paired with NAVDEX gives both events a boost as well.


Modiar

Azerbaijan group MODIAR is working hard to reach the world market, and they are set up at many shows worldwide. SADJ was impressed with two of their sniper rifle offerings- both original to MODIAR. Their traditional offerings are also welcome due to low world supply, so their small arms ammunition is reaching the end users now. Ammunition belts, boxes, and blank cartridges are good market starters as well. Modiar is offering 30x29mm cartridges for the AGS-17-AGS-30 family of automatic grenade launchers, including training ammunition; VOG-25 series grenades for the front loading Soviet style under-barrel grenade launchers; and 60mm, 82mm, and 120mm mortar ammunition. The Azerbaijanis offered for SADJ to visit and test weapons, so as soon as we can arrange, we will bring you the reports. We're especially looking forward to testing their 14.5x114mm long range sniper system. www.mdi.gov.az