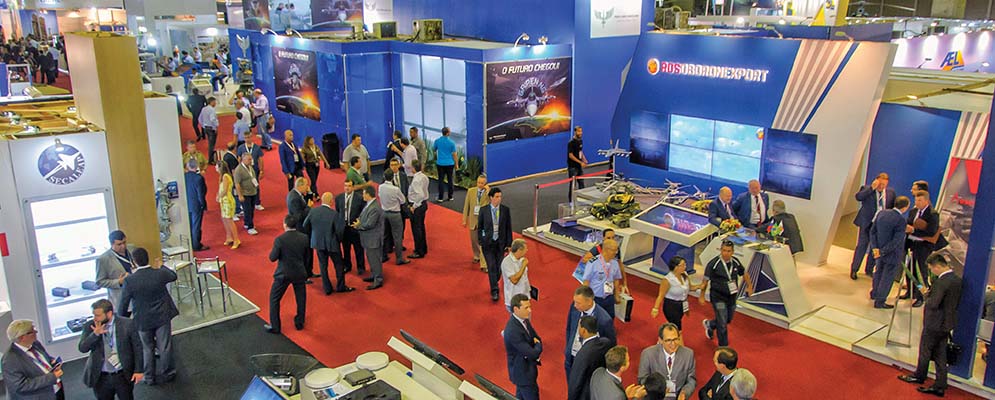 ABOVE: General view of one of the three Riocentro Convention Center halls used for LAAD Defence & Security 2017.

The 11th edition of LAAD Defence & Security, which took place in Rio de Janeiro's Riocentro Convention Center April 4–7, 2017, was once again a great success. It was attended by over 30,000 visitors and 175 official delegations from 83 countries, plus about 350 public security authorities from all Brazilian states. Significant guests included President Michel Temer, Defense Minister Raul Jungmann and Finances Minister Henrique Meirelles. This showcase of more than 500 products from around 20 countries ranged from naval and land warfare systems and air defense systems to small tools and combat knives, plus everything in between. Small (and others not so … ) arms were, of course, fully present in all three gigantic exhibition halls.
The 5th Defence Seminar was also held at the Riocentro premises on April 4–6, during which top local and international authorities covered a number of relevant themes, including satellite military communications, military cooperation, inter-agency UAV operations, the use of the armed forces in internal security operations, anti-terror operations and Brazil's participation in international peacekeeping operations.
The forthcoming LAAD Security, held in even-numbered years and focused primarily on public and corporate security, will take place at a new location: the Transamerica Expo Center in the South Zone of São Paulo. It should be recalled that São Paulo State has the largest public security budget in Brazil (about US$8.3 billion) and the largest police force in Brazil, employing more than 138,000 officers in the military, civil and scientific areas. LAAD Security 2016 brought together more than 8,450 visitors and 100 exhibitors from different countries.