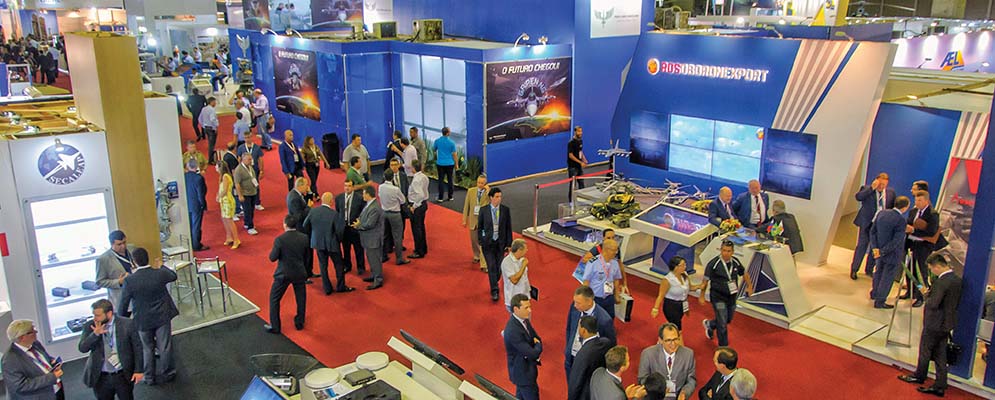 ABOVE: General view of one of the three Riocentro Convention Center halls used for LAAD Defence & Security 2017.


The 11th edition of LAAD Defence & Security, which took place in Rio de Janeiro's Riocentro Convention Center April 4–7, 2017, was once again a great success. It was attended by over 30,000 visitors and 175 official delegations from 83 countries, plus about 350 public security authorities from all Brazilian states. Significant guests included President Michel Temer, Defense Minister Raul Jungmann and Finances Minister Henrique Meirelles. This showcase of more than 500 products from around 20 countries ranged from naval and land warfare systems and air defense systems to small tools and combat knives, plus everything in between. Small (and others not so … ) arms were, of course, fully present in all three gigantic exhibition halls.
The 5th Defence Seminar was also held at the Riocentro premises on April 4–6, during which top local and international authorities covered a number of relevant themes, including satellite military communications, military cooperation, inter-agency UAV operations, the use of the armed forces in internal security operations, anti-terror operations and Brazil's participation in international peacekeeping operations.
The forthcoming LAAD Security, held in even-numbered years and focused primarily on public and corporate security, will take place at a new location: the Transamerica Expo Center in the South Zone of São Paulo. It should be recalled that São Paulo State has the largest public security budget in Brazil (about US$8.3 billion) and the largest police force in Brazil, employing more than 138,000 officers in the military, civil and scientific areas. LAAD Security 2016 brought together more than 8,450 visitors and 100 exhibitors from different countries.
The relatively new Austrian company Ritter & Stark attracted more-than-casual attention with its bolt-action, multi-caliber (.308 Win, .300 Win Magnum, .338 Lapua Magnum) SX-1 Modular Tactical Rifle, aimed at the military and LE sniper market. It is claimed that much of its reported accuracy of 0.5 MOA 3-round groups or better is the result of a patented ECM (Electrochemical Machining) barrel rifling process. The different-caliber barrels have the MIL-STD 1913 Picatinny rails directly mounted on them, thus allowing operators to change barrels with preset scopes, no zero-adjustments required. Depending on the caliber used, the MTR ranges between 1202–1291 millimeters in length and 5.9–6.3 kilograms in weight.
Forjas Taurus used LAAD 2017 to showcase its apparently final entry into the 5.56x45mm carbine and rifle market. Following previous different attempts in the 2009–2015 period (local production of the IWI Tavor, its own ART-/CT-556, and the U.S.-made Diamondback DB-15), the company has opted to go with AR-15 type platforms made at its new facilities in São Leopoldo, Rio Grande do Sul State. Shown in the photo is the T4A2, a flat top model with 11.5- or 14.5-inch barrel options and an aluminum handguard. By contrast, the T4A1 features the more conventional M4-type cylindrical polymer handguard and an added-on carry handle. Barely visible in the background are the company's new TS (striker-fired) and TH (hammer-fired) series of semi-auto pistols with polymer frames
If one thought that the old Kalashnikov rifle wouldn't draw any special attention in a modern military show, the crowd around the Israeli stand at LAAD 2017 proved otherwise. As in previous exhibitions, such as IWA, Eurosatory and SHOT Show, the different variations of the AK Alfa family of assault rifles developed by Kalashnikov Israel demonstrated that the combination of proved mechanics with modern-day technology and design may find a good market niche in the military/LE arena.
With its 5.56x45mm IA2 selective-fire rifle and semi-auto carbine (SADJ, V8N2) in full production and in Brazilian Army and LE agencies service, IMBEL—Indústria de Material Bélico do Brasil—now has a 7.62x51mm semi-auto carbine undergoing certification tests at CAEx—Centro de Avaliações do Exército (Army Evaluation Center). Although it employs some of the components (the steel 20-round magazine, tilting block bolt and firing mechanism) of the FAL rifle, a long-standing product of the company's Fábrica de Itajubá (Itajubá Factory), the so-called IA2 has a redesigned piston-actuated gas system, foldable polymer stock, reshaped pistol grip and handguard with Picatinny rails, among other refinements. With a 265-millimeter barrel, it has an overall length of 800 millimeters (550 millimeters with the stock folded) and weighs 4 kilograms when empty. A longer (390-millimeter) barrel, selective-fire assault rifle version is scheduled to start official certification tests in 2017.
The Brazilian ammunition company Companhia Brasileira de Cartuchos (CBC), which became the stock controller of Forjas Taurus in 2015, has for a very long time produced 12-ga pump-action shotguns for the commercial, military and LE markets. Its most recent offering is the Pump 12 Military 3.0 (a.k.a. Taurus ST-12), which is available with three barrel lengths (14, 19 and 24 inches), weighs 3.2–3.7 kilograms and features an adjustable polymer stock with an internal shock-absorption system and removable rubber buttplate. Magazine capacity (2 3/4-inch or 3-inch chamber cartridges) varies from five to seven rounds.
The Turkish state-owned MKE (Makina ve Kimya Endüstrisi Kurumu) is a long-standing manufacturer of HK-based weapons of the well-known G3, HK33 and MP5 families. To meet the requirements of the local armed forces, the company has developed and is now producing the 7.62x51mm MPT-76, the so-called National Infantry Rifle. The gas-operated (short-stroke piston system with rotary bolt) weapon appears to be somewhat based on the HK 417, but it does offer some individual characteristics, mainly in the ergonomics department. The retractable polymer buttstock offers 12 adjustment positions, the same material being used in other parts, while the skeletonized carry handle is of the see-through type to allow the use of the foldable sights. The free-floating barrel (6 grooves, RH, 1:10-inch pitch) is 406 millimeters long, giving the weapon an overall length of 900/1000 millimeters (stock extension). Empty weight is 4.2 kilograms.