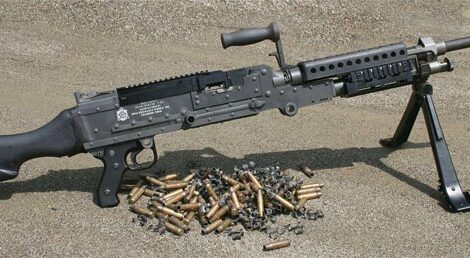 It is a rare opportunity to have the ability to own such a close copy of a current General Purpose Machine Gun.  If you are a collector or military arms enthusiast looking to fill a void in your collection, this may be the chance to fill a vacancy you may have thought would remain empty.

Since its release, an unidentified U.S. government agency has already contacted Ohio Ordnance Works about potential future purchases.  Testing has been taking place with match ammo, and the M240-SLR has the ability to shoot 1 minute of angle.  When combined with the capability for remote firing and an enormous ammo capacity due to the belt-feed mechanism, it has received the attention of at least one government institution with a necessity for just such a system.  This is also a good solution for trade members who need to travel and do displays in areas where it is difficult to transport fully automatic firearms to.
If you have a professional necessity to own an extremely accurate rifle with an infinite magazine capacity you may have just found your solution.  If you live in an area where machine guns are restricted but semiautomatic firearms are permissible, this may be an alternative to own something as exotic and current as possible.  If you are a soldier who has returned from duty and would just like to have an example of the weapon you proudly carried in service without wanting a second mortgage, the M240-SLR is a reasonable solution.  The MSRP of the Ohio Ordnance Works M240-SLR is $13,500.
Caliber: .308 (7.62×51 NATO)
Operation: Semiautomatic
Feed: Belt fed
Weight: 27.5 pounds (12.47 kg)
Overall length: 48.25 inches (122.56 cm)
Barrel weight: 7 pounds (3.18 kg)
Barrel length: 23.75 inches (60.33cm)
Trigger pull: 5-9 pounds (22.27 to 4.08 kg)
Maximum range: 3,725 meters
Max. effective range: 800 meters