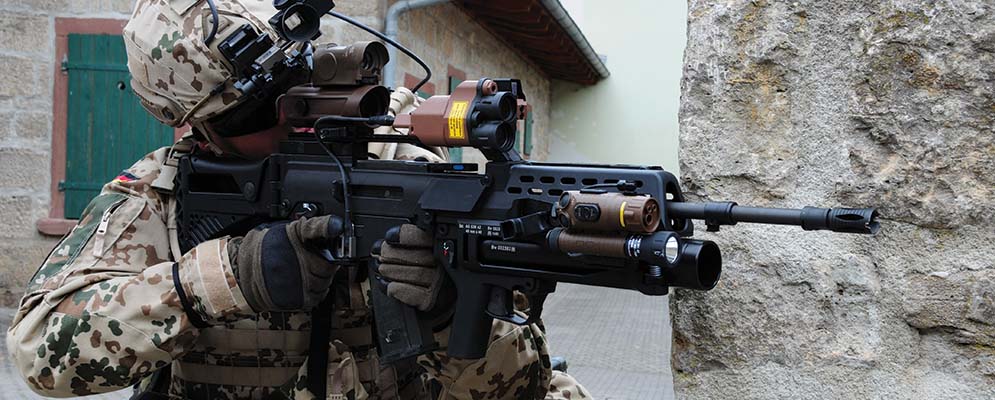 The Gladius by Rheinmetall Defence is designated as IdZ-ES ("Infanterist der Zukunft – Erweitertes System") by the German defense. "ES" means expanded set of capabilities.


This article describes the digital connection of the IdZ-ES equipment mix with the infantry squad's small arms and the Recce Equipment used in the platoon. The light infantry platoon's squads are led by Sergeants and the squad can form a self-contained system of ten soldiers. The light infantry's command- and squad vehicle is the battle proven armored 8×8 wheeled GTK BOXER. IdZ-ES is based on advanced technologies contributing to improve the five main capabilities of modern warfare: Lethality, Protection, Command and Control, as well as Mobility and Sustainment.

IdZ-ES is modular in which the individual system's components are designed to achieve optimum overall performance of the infantry squad when performing various operational tasks. Hence reducing volume, weight and power consumption. It's easy to use even under harsh conditions and in stressful combat situations when performance and low weight are paramount. That ensures greater operational flexibility and the ability to quickly adapt to new situations and mission requirements. It's proven that well-protected soldiers, equipped with integrated weapons, with a clear picture of the tactical situation and reliable means of communication, have enhanced combat effectiveness.

Brown color equipment, first line from left: Binocular rangefinder VECTOR 21(Vectronix), Zeiss ZO 4x30 optical sight with a superimposed RSA-S reflex sight, Fire Control Unit (FN Herstal), Zeiss IRV 600 Thermal Sight (Hensoldt). Next and above: Observation unit monocular and (Hensoldt) NSV 600 medium range night vision sight "Clip On" device with day optics.
IdZ-ES improve performance in all five capability areas without over-burdening the individual rifleman. IdZ-ES is modular and consists of several subsystems. Each subsystem consists of several equipment components. The core system enables task oriented information from each individual squad member, communication and data exchange within the squad and connection to next command level. The system's "artificial intelligence" is inside the so-called "Electronic back" which has:

– UHF – squad radio (data and voice simultaneously);
– Soldier Backbone Computer;
– Two Li-Ion batteries and GPS receiver and complemented by peripheral equipment such as A control and display grip, A digital magnetic compass, A helmet monocular VISION2ST, A Nacre's In-Ear Communication Headset with noise protection function, Night image intensifier goggles with thermal imaging module and integrated position display.

Each squad has a VHF radio and a portable control computer for the squad leader and his 2nd in command. The base station unit in the squad's vehicle allows the integration into networked operations, provided via the link in the squad's vehicle. The "Electronic back" connects the electronic components of the system with one another and processes data etc. and radio link within the squad. The infantry squad soldier's individual UHF radio has a fully IP-enabled communication processor with three interfaces to the soldier's computer. Voice is transmitted in duplex mode, in which the squad members can talk and listen simultaneously. The data received from other members of the squad is also transmitted with this radio. Power is supplied via two lithium-ion batteries designed for a 24-hour combat day, and one battery lasts temporarily for the power supply.

A battery adapter makes it possible to use other conventional batteries (AA cells). The ability for soldiers to identify, process, and comprehend critical information, and to communicate clearly in their environment is key to the safety and success. Clear in-ear communication is essential for understanding and adapting to rapidly changing environments. The communication headset is connected to the core computer and consists of both an integrated miniature microphone and inner tube speakers. In-Ear system provides smart hearing protection and clear communication through a full range of deployment operations, especially in high noise. Both voice recording and audio playback mode come with the set. The audio system in the core computer analyzes the surrounding noise and adjusts the hearing protection continuously to ensure both hearing protection and acoustic perception. It can be replaced with a headset with a separate micro-phone. To view information, the infantryman has a hand control grip with cable connected to his soldier computer. The hand control is composed of an ergonomically optimized grip with an eight-way switch button for selection and ON/OFF, as well as buttons for operation of the radio. Furthermore, an OLED display with 800 x 600 pixels and a digital magnetic compass are installed in the hand control grip. The display presents the soldier situation information and messages.

(Photo: Ralph Zwilling) The leader uses his hand control grip with cable connected to his soldier computer to monitor the situation.
The direction of viewing- and the movement of Boots on Ground are displayed on the display. Digital situation information can be presented by tactical symbols on maps, sketches, aerial images and object photos. An automated Blue-Force-Tracking allows the marking of all squad members on the map. It thus supports control and interaction in the squad. Associated with the core computer is the navigation device with GPS – receiver and inertial navigation system which allows position determination with and without GPS – reception. In the absence of GPS signals, the position is determined by the moving direction and paces based on the last received GPS position data. All information that can be seen in the OLED display can alternatively be presented in the helmet mounted monocular or in the night vision image intensifier goggles. Tilted to the eye, the helmet monocular shows each individual soldier's position of all squad members – even if no line of sight exists. The helmet compass allows the presentation of observation and direction of movement of the respective user in the helmet display. Lamps or helmet camera can easily be attached to the helmet.

The core system provides the individual squad member the following applications:

– Receiving and reading instructions;
– Receiving and reading other squad members' messages;
– Becoming acquainted with difficult terrain and relay distances information;
– Determining own location and the squad members'/squad leader's;
– Monitoring the environment in the visibility angle and out to the detection range;
– Planning and setting a march route or behavior;
– Monitoring and reporting by radio;
– Create notes and delivering written reports including reporting sketches, and activation of the radios without changing the grip on the weapon during a fire fight by just operating the buttons on the weapon.

The squad leaders can lead their subordinates via the core system's radio applications by voice- or data transmission, day and night, and in all types of terrain and climate; especially in difficult terrain where there is no line of sight and it is not possible to lead the squad by hand signals. When dismounted, the squad leader has signal communication to his squad vehicle with the UHF radio. This radio allows transmission of voice and data on three channels with a range of up to 1.3 km and in built-up areas up to 700 m. The squad leader also has a portable, touchscreen operated computer and the hand-held VHF radio set, which connects to platoon net and platoon commander. This provides the squad leader with additional C2 features.

(Photo: Håland) The portable computer gives the squad leader access to necessary information.
The IdZ-ES program also has had a considerable impact on the squad's "mothership" design. BOXER was introduced ten years ago and the seats had to be redesigned to allow IdZ-ES-equipped soldiers to properly fit in them to ensure maximum safety in case of mine or roadside bomb explosion. The network-enabled communication system on-board is upgraded, which ensures the integration of dismounted soldiers in the squad to the vehicle. The squad's vehicle can serve as a network node. Executing commands either dismounted or from the vehicle can be done in an un-restricted manner via the squad leader's portable computer. The squad commander gets access to the Army's CI4 Network via the platoon. When the soldiers are mounted in the vehicle, they are integrated by the communications system in the "mothership's" radio, and their own radio in the electronic back is switched off. Mounted inside the vehicle the squad soldiers use their headset to talk through the intercom, reload their batteries and update the C2 system from the vehicle C2. With the GPS position also being updated, the soldier will immediately know his own position upon debussing. An enemy's position can be transmitted to the vehicle's C2 system, and the vehicle gunner can then immediately provide fire support with the vehicle's RWS.

Protection and clothing includes the "Fast Ballistic Helmet" (Ops-Core). It's light and weighs 20 percent less than the old one. The helmet is composed of hybrid materials for complete superior protection and performance. The lightweight design encompasses raised ears for integration with communication headsets/hearing protection. The integrated holder for night vision goggles was introduced along with the VISION-2ST and a digital electronic compass. The helmet's shape offers additional integration possibility of a capsule-ear protection. The soldier's body protection against shrapnel and blast injuries as well as against rifle bullets can be increased by various protection layers/inserts depending on task and mission of the squad. The higher the threat level protection of the body armor is, the heavier the protection weighs. The clothing, including a functional, sweat and heat absorbing and flame retardant base layer, is adjustable for the most severe climatic conditions and cold and wet weather equipment in order to increase the survivability of the individual rifleman. The new items, the Fast helmet and the improved body armor, result in a 20-25% weight reduction over previous similar subsystems.

Night vision equipment gives capability to fight at night time which is a key factor for mission success, protection and effective engagement. Even in case of short ranges, the performance requirements for night vision equipment are therefore increasing.

(Photo: Ralph Zwilling) "Electronic back": UHF – squad radio, SOLDIER BACKBONE COMPUTER, two Li-Ion batteries, a GPS receiver and power supply (two lithium-ion batteries)
To identify an opponent by means of a picture ID prior to engagement requires highest resolution. The mix of thermal and I2 night vision equipment provides the best compromise referring to performance, weight/power consumption and cost. I2 night vision are lightweight, can be helmet mounted and offer the soldier visibility and engagement capability for short ranges. Night vision goggles LUCIE II D and IR modules are considered as Bundeswehr's standard NVG for IdZ-ES. The goggles features a modular design, an integrated organic light-emitting diode (OLED) technology based data and video display, as well as operationally enhanced night vision component. With a 51° wide field of vision, the goggles improve the soldier's reconnaissance performance and night-combat capabilities in the battlefield. With add-on, the Lucie II D can be used in modes for night vision only, image display only, showing terrain layouts or maps, or mixed-mode operation, overlaying tactical and status information in the upper or lower display area over night vision.

The G 36 assault rifle in caliber 5.56mmx45 was introduced in 1997. The newer version G36 A3 is modularly adapted to the requirements of the "IdZ-ES". Picatinny rails (MIL-STD 1913 with integrated hinged mechanical emergencies sights) enable mounting of a variety of targeting and sighting devices for acquiring targets in daylight, at night or in poor visibility. All control elements (i.e. buttons) of the system are arranged in a simple, intuitive way, enabling the soldier to operate, for example, the system's radio without lowering his weapon. G36 A3 has an ergonomic adjustment with the protection system for faster reaction and higher efficiency. The sighting devices are versatile on different weapons to meet the demands of day-and night combat. A thermal imaging target device and a fire control device for the 40 mm ammunition grenade launcher AG36 can be attached to the G36 A3 rifle. G36 A3 is a true modular weapon system made almost entirely of a tough, carbon-fiber reinforced-polymer and uses a simple, clean-shooting, self-regulating operating rod gas system. The assault rifle G36 use an 18.9 inch (480mm) chrome-plated specialty steel barrel, manufactured using HK's proprietary cold hammer forging process for long service life and accuracy. The main weapon components (receiver, trigger group and buttstock) are made of corrosion-proof polymer with stainless steel inserts. This keeps weight low without sacrificing strength, durability, or robustness. Magazines are also made of translucent high-strength polymer and lock together without a magazine clamp. The G36 gas system does not direct fouling back into the weapon's interior like earlier AR15 conventional gas operated rifles. This ensures reliable operation even after firing thousands rounds without cleaning. The polymer components can easily be cleaned with water-based cleaning solutions, or even water. The buttstock is foldable and adjustable in length and height for the adjustable cheek rest. Even when the buttstock is folded there are no restrictions when shooting the weapon. The H&K G36's intended lifespan was 20 years and it shall be replaced with a new model. When the G 36 was intended for the infantry, H&K recognized the need for a light MG with the same caliber.

MG4 5.56mmx45 is the standard-issued light machine gun of the German Army. Increased ability to act is achieved by using the light machine gun MG4, and in particular through improved fighting capability at night, effectively supported with the help of a high-resolution objective lense with a larger field of view and clip-on night sights. The light machine gun MG4 has been used since February 2005 and replaced the one machine gun 7.62x51mm MG3 in the infantry at dismounted squad level. Now the squad has two MG4Es, one for each maneuver element within the squad. MG4 is a gas operated, belt fed, air cooled automatic weapon. The gas group is located under the barrel and uses a conventional gas piston to operate the bolt group. The barrel is locked using a typical rotating bolt design. MG4's barrel is quick detachable, and has a folding carrying handle to assist replacement of the hot barrels. The two-pawl belt feed is operated by the roller on the top of the bolt carrier. Belt is fed from separate or clamp-on plastic boxes, from left to right. Spent belt links are ejected to the right, spent cartridge cases are ejected down from the window on the bottom of the receiver. The folding bipod is integral to the fore end, and has a standard interface for M2-type infantry tripods or vehicle mount. The plastic buttstock can be folded to the left side to save space, and gun can be fired with the butt folded. The front sight is mounted on the barrel and can be folded down when not in use. Rear sight is graduated up to1000 meters, and is mounted on the Picatinny rail and can be easily detached if not required. The foldable charging handle is located at the right side of the receiver. Ambidextrous safety switch is located on the pistol grip, and allows only for full automatic fire mode.

(Photo: Ralph Zwilling) LUCIE II D has a modular design, with an integrated organic light-emitting diode (OLED) technology based data and video display, as well as operationally enhanced night vision component.
Weapon Accessory Equipment make small arms into a system. The hand guards on G 36 A3 and MG4 have a keypad with Push-To-Talk capability. The flip-down iron sights are for emergency use, the assault rifle and machine gun are used with a laser light module Vario Ray and a Zeiss ZO 4×30 optical sight with a superimposed RSA-S reflex sight (red dot) to aim very quickly in close combat situations or to use it as a quick aiming support. The RSA-S is designed for use with both eyes, allowing shooters to survey their surroundings when they are sighting a target. The target dot brightness automatically adjusts depending on the ambient brightness, but can also be manually set to the brightness in the target area. With use of the 40mm grenade launcher AG36, a Fire Control Unit (FN Herstal) can be used to give a high first shot hit probability (90%). The FCU has a laser range finder – laser beam, visible laser pointer and infrared laser pointer. The night vision devices are:

– A compact and lightweight Night-Vision Attachment NSV 600, intended for assault rifles, lightweight machine guns and sniper's weapons, can be put on without that this residual light amplifier must be specially zeroed in on the weapon;
– An ultra-lightweight (390 g) multipurpose thermal short range weapon/Surveillance sight, DRAGON COMPACT that provides all round capability for the dismounted close combat user;
– A Thermal Targeting Sight to meet the requirements for IdZ – HuntIR/RangIR. It combines day/night surveillance and targeting. With two fields of view, 2.3° x 3.0° for range performance and 6.8° x 9.1° for panoramic view it provides an identification range of 1,700 meters as required for long-range sniper rifles or crew served support weapons.

A force enhancer besides other weapons in the platoon is the Recce Equipment which includes:

NYXUS BIRD Long Range Target Detection and Measurement at Day and Night. NYXUS use for target acquisition allows for reliable observation and long range object measurement during day and night. Its uncooled thermal imager (forward looking infrared, FLIR) offers noiseless operation and long autonomous battery operation time. The direct view glass optics (monocular) requires no energy and extends the detection range of night vision goggles due to its optical 7-fold magnification. It features many inbuilt functions, such as object measurement, fall-of-shot correction, guide-me-home, and more.

Spotter 20-60 x 72- for observing, spotting and target hit monitoring. It is distinguished by coveted features and specifications that are inclusive of 20x to 60x range of magnification; 72mm lens; and MIL-DOT reticle pattern, the size of which changes congruent with the level of magnification and the illumination of which can be progressively adjusted. Its high-performing optical system is coupled with a first focal plane reticle, photo tripod adaptability, compatibility with up to five Picatinny rails. In addition to that, it comes with a residual light attachment which makes it apt for use at night.

Binocular rangefinder VECTOR 21with outstanding day optics, an integrated 3-dimensional 360° digital compass, and a precise Class I eye-safe laser rangefinder. It increases the range for distance measurements up to 12 km.  It also has a 1550 nm laser invisible to image intensification devices.

MOSKITO Compact Day and Night Observation and Location Unit for measuring range, azimuth and vertical angle with capability of range measurement up to 10 000 meters with DMC, GPS and BT optionally. It gives the possibility to transfer data results from the laser rangefinder by pressing a button via Bluetooth to the computer core. The data can be transmitted to all squad members to be seen in the control grip and on the helmet display. This data can also be passed on to the next command level, or as a target message to artillery or mortars as request for fire support.


Here seen in first line from left (brown color equipment): Zeiss ZO 4x30 optical sight with a superimposed RSA-S reflex sight, Laser Light Module (LLM) Vario Ray. Next the thermal sight AIM long range, DRAGON Compact thermal weapon sight (Qioptiq). MOSKITO Day & Night Observation and Location Unit. Second line from left: NSV 600 night vision device (Hensoldt), on tri-pod: Spotter 60 Compact 20 – 60 x 72 spotting scope (Hensoldt). It is designed for concealed observation. It has rubber armoring and it can also be used handheld. Next: Zeiss IRV 600 Thermal Sight and Binocular rangefinder VECTOR 21 (Vectronix).
For ranges up to 1,500 m, the (3 kg) cooled thermal sight AIM (AIM INFRAROT-MODULE GmbH).