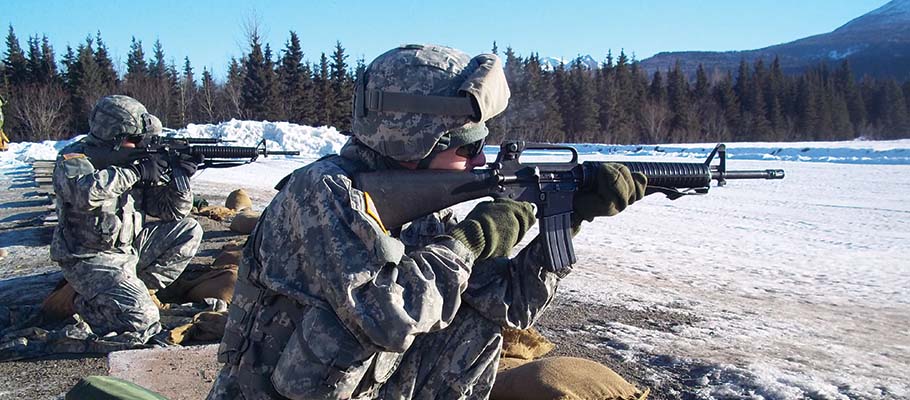 ABOVE: 14 March 2014, Alaska, USA. Soldiers on the range engage targets with M16A2 rifles during the 59th Signal Battalion Soldier of the Year Competition. The M16A1 was adopted during the Vietnam War and the improved A2 has been the Army's standard battle rifle since the late 1980s. (U.S. Army)


We have seen great strengths emerge from the two legacy organizations and are beginning to harness these… in a way that will allow us to operate in a much more agile, proactive, market-oriented way that we hope will really benefit our customers immediately and in the years to come." Mark Cherpes, FN America
President and CEO


The "legacy organizations" that Cherpes notes are U.S. firearms industry powerhouses FNH USA and FN Manufacturing. Following a merger finalized in October 2014, they are now a single entity under the name FN America, LLC.


While this might seem to be of only passing interest to the legions of admirers and users of the highly respected Belgian firm FN Herstal's distinguished line of military, law enforcement and sporting arms – many of which have long been in production in the U.S. at FN Manufacturing and all distributed in North America by FNH USA – Cherpes sees significant benefits for the new company and its customers.


"Consolidating our operations in the U.S. has created a unique opportunity for us to gain efficiencies and has opened the door to some exciting new opportunities for growth and profitability," he said. "This merger will ensure a stronger, more agile organization that is better poised to meet current and future U.S. market challenges."


Cherpes, elevated to the top position at the new FN America, brings years of experience as FNH USA's Vice President of Military Operations. He foresees multiple benefits for distributors, dealers and consumers, including streamlined development and production of existing and new products and services.


An indicator of current and future benefits to consumers from this consolidation can be seen in an announced $100 cut in MSRP for a popular model of the striker-fired FNS Pistol line, long being made by FN Manufacturing. Other price reductions are likely.


Also, of particular importance to major military, law enforcement and commercial firms, Cherpes points out that the merger will also enable the company to better manage the complete product and customer care lifecycles.


Herstal Group


While FN America, its U.S. operation, is a distinct entity, it is a subsidiary of Fabrique Nationale Herstal. FNH is known worldwide for 125 years as a leader in the development and manufacturing of reliable, innovative, high-quality firearms for military, law enforcement and commercial customers. A pioneer in innovative firearms technology since the days of John M. Browning, FN supplies a variety of products to customers in more than 100 countries worldwide.


FNH itself is part of the Herstal Group, along with FNH USA, Browning North America (Morgan, UT) and Browning International (Herstal, Belgium). FN Herstal also has manufacturing facilities in Viana, Portugal and Miroku, Japan. The Herstal Group employs more than 2,500 people worldwide, of which more than 1,000 are in the U.S.


Its new FN America, operating in four U.S. locations, employs approximately 500 people, offers customers in the U.S. a portfolio of products, training and support services under the well-established FNH USA brand name.


Headquarters, Development and Manufacturing


In addition to its headquarters in McLean, Virginia, FN America also has a Development and Technical Center (DEVTEC) in Fredericksburg, Virginia and manufacturing operations in Columbia, South Carolina.


Its sprawling, state-of-the-art, ISO 9001 certified manufacturing complex produces a wide range of small arms for the U.S. military such as Mk19 grenade machine guns, M249 SAW, Mk46, Mk48, M240, M240C, M240D, M240E1, M240H, M240B, and M240L machine guns, as well as M4/M4A1 carbines and M16 rifles.


Particularly noteworthy from the listing above are two metaphorical earthquakes that shook the world of U.S. military rifle makers. Way back in 1988, FN underbid Colt to take over production of Uncle Sam's M16 series rifles, and in 2013 got the M4 series carbine contract. Since then, hundreds of thousands of these U.S. military standard infantry shoulder weapons have rolled off the production lines at FN Manufacturing.


Consider how there is little doubt that this figures into the somewhat belated but now most welcome decision for FNH USA to recently begin offering semiautomatic versions of these for civilian sales such as the new FN 15 Carbine.


In addition to making small arms for the U.S. military, FN America's South Carolina plant builds FN's commercial handguns including the FNX series of hammer-driven pistols, the FNS line of striker-fired pistols, and the FN 15 Rifle and Carbine line of modern sporting rifles. All of these made and marketed under the FNH USA brand.


Its U.S. warehousing, warranty department and repair facility is located in Arnold, MO.


Cold Hammer Forged


Carrying forward FN's more than a century of arms manufacturing experience; FNH USA has long since perfected the cold hammer forging process to ensure accuracy and durability.


Current US M-series machine gunners enjoy the extreme durability and long range accuracy of FN's cold hammer forged barrels. Now, civilian AR owners who covet these tough, precision barrels can have this wish come true.


"With the addition of this new AR-15 commercial barrel line, FN customers now have the option of upgrading their standard AR-15 barrel to an FN," said Ken Pfau, Senior Vice President of Commercial and Law Enforcement Sales. "This will allow shooters to customize their AR-15 platforms with top-notch components that give them a great return on investment both on and off the range."


FN AR-15 barrels are hammer forged using the same proprietary high-grade Chrome Moly Venadium steel used in FN's venerable machine gun barrels produced to handle the punishment of sustained fully-automatic fire.


After forging, each barrel is magnetic particle tested to ensure that it is free of micro-stresses or flaws, resulting in consistency and quality in every barrel shipped from the factory. The bore and chamber are chrome lined to help resist corrosion and provide resistance to heat erosion, which greatly improves barrel life and reliable chambering/extraction.


The M4 style feed ramp and barrel extension provide consistent feeding and the matte black Manganese Phosphate finish resists external corrosion and oxidation.


Available in popular lengths and configurations from 14.5 to 20 inches, MSRP ranges from $349 to $379.


Team FNH USA


Success in shooting competitions underscores what the company calls its all-around "Distinct Advantage." The goal of Team FNH USA is to enhance the company's products during competition and promote sportsmanship, integrity and respect for the shooting sports.


Comprised of some of the world's best competitive shooters, members include police officers, state troopers, FNH USA employees and stay-at-home moms. All bring a love of the sport, appreciation of our Second Amendment rights and dedication to grow shooting sports for old and young alike.


The full line of products from FN Herstal and FNH USA are available to military, government and qualified law enforcement entities. Certain weapons and accessories are available for commercial sales to individuals through authorized dealers nationwide.


The website at www.fnhusa.com provides detailed information. Or telephone (885) 5-FNHUSA (Virginia, Eastern U.S. Time Zone).


FN 15 Carbine: Live Firing FNH USA's First M4 Clone

by SADJ Staff Writer


"The new FN 15 product line of modern sporting rifles incorporates all of the best features and benefits FN has developed over the last 125 years of our history and expertise in building high-quality and reliable firearms that are well-known around the world. We are pleased to bring this new line to our customers looking for the latest in FN technology to add to their collection. With this addition, FN now offers our customers robust and affordable products in all categories, whether they are looking to purchase a product for personal defense or use in the pursuit of sport or competitive shooting activities." FNH USA news release


An AR-15 type semiautomatic rifle and carbine are the first two versions in the new FN 15 product line, unveiled in 2014 and likely to be offered with upgraded options at the 2015 SHOT Show. Both weapons closely resemble their current U.S. military, selective-fire counterparts that were originally made by Colt but are now in production by FN under U.S. Department of Defense contracts.


The light and handy 5.56mm NATO caliber FN 15 Carbine version is the focus of this hands-on evaluation, featuring a 16-inch chrome-lined, alloy steel, military profile barrel. Its textured polymer forearm and butt stock are both matte black, and the stock is collapsible into six positions for individual preferences, making the total length 31.9 inches at its shortest and 35.2 inches
at its longest.


The FN 15 Carbine also features an A2-style compensator and a 1:7-inch RH rifling twist rate. It comes with fixed A2-style front sights, a removable M4-style rear carrying handle with adjustable sight, and one GI pattern 30-round aluminum magazine.


A Close Look


FN America, the new consolidation of U.S. operations of Belgium's FN Herstal, provided a sample FN 15 Carbine on loan for our evaluation. The weapon arrived in the usual heavy cardboard shipping box along with standard accessories including a 30-round magazine, removable carry handle and operators manual.


Our overall impression of the weapon was favorable, with points awarded for workmanship, fit and nicely matching satin black anodized finish on the upper and lower receivers. Its matte black phosphate protected barrel is made in the familiar M4 contours with a distinctive recessed collar for mounting an M203 grenade launcher. At the necessary 16 inches for conventional civilian legal purposes, it is only slightly longer than that of its military counterpart.


The very large, laser-engraved FN logo on the right side of the magazine well jumps out at the observer in raw aluminum-silver color against the black background. While a notable departure from the military versions, it is, no doubt, a selling point for many of us who are attracted to FN's long and distinguished line of weaponry.


Field stripping the carbine is done in the traditional manner as taught to countless soldiers, marines and others beginning with the Vietnam War. In the process, observations and commentary for this feature were provided by a gunsmith from Virginia-based Freedom Forge Armory with extensive experience with both civilian and military versions of the AR-15.


This exercise gave us the opportunity for a close look at the all-important internals, principally the bolt carrier group. No surprises here; a sturdy and well machined assembly, strictly conforming to Eugene Stoner's innovative multi-lug, rotating, direct gas operated AR-15 pattern that runs the entire M16 family.


Its nicely machined and aligned M4 type feed ramps at the junction of the barrel extension and upper receiver are important details to assist with reliable feeding in fast semi-auto fire from a wide variety of magazines.


While the lower receiver closely resembles its military brothers, selector settings are marked on both sides for SEMI and SAFE only, with civilian-legal parts inside. The "high shelf" internal cavity is narrowed at the top rear to block drop-in installation of most "auto sear" devices for illegal-when-unregistered automatic fire.


Crisp CNC machined markings indicate the serial number, nomenclature and the surprising designation of caliber as MULTI. This might be because it is an early version receiver, interchangeable for the rifles and carbines, marked with an eye toward calibers other than standard 5.56mm NATO.


The FN 15 Carbine's field-strip parts layout is familiar to all who have experience with any version of the AR-15/M16.


Clarifications, Please


In the process of close examination of the FN 15 Carbine some questions arose that were conveyed to FN America's press office. Here's what we asked and what we got in the way of answers.


SAR: Why "button broached" rifling in the barrel instead of FN's signature "cold hammer forging ?"


FN America: FN America produces the button broached (barrels) used in the FN 15 Carbine and Rifle. It was selected because the original M4 contract specified a button broached barrel.


SAR: Why a smooth and ribbed handguard instead of the more popular (and more "M4ish") quad rail type that FN is making for the current U.S. Army M4A1 contract?


FN America: The FN 15 series was built as a basic, entry level AR platform that provided the user the most bang for his/her buck coupled with the ability to add their own aftermarket upgrades.


SAR: Noting hints in sales literature for the product line, what changes or "improvements" to the FN 15 carbine and rifle are under consideration?


FN America: Future FN 15 variants will be offered with extended rails, cold hammer-forged barrels and other options. There will also be AR-15 barrels and upper/lower receiver options sold as accessories to the FN 15 line.


SAR: Having noted a small, distinctive "keyhole" icon cast in the upper and lower receivers, is FN making these?


FN America: (no reply).


SAR: Is FN making the bolt carrier group?


FN America: (no reply).


On The Range


Assisted by a currently-serving U.S. Army NCO with recent combat experience carrying an M4, we put the FN 15 Carbine through a live fire evaluation on a local range. Steps included "zeroing" the weapon and then firing it from various positions and distances with green tip M855 ammo.


We also fed the carbine with a variety of different 5.56mm cartridges including some old type M193, soft point hunting loads and steel cased Russian ammo. It all worked fine.


The sergeant pronounced it "good" in handling, performance and accuracy, while saying he missed having full automatic capability… Our turn confirmed his observations, with the practical note that a semiautomatic weapon can be legally owned by most American citizens with no expensive permits needed.


Bottom line is the FN 15 Carbine is a worthy entry in the increasingly crowded field of M4 type weapons from dozens of manufacturers. While others may be priced lower or higher, those who have a particular affinity for the FN line will want one.


What's Next?


Recognizing that many customers want something that looks and performs closer to the Army's product improved M4A1, in production by FNH USA, we look forward to seeing what changes or improvements to the FN 15 Rifle and Carbine might be showcased at the 2015 SHOT Show.


(Special thanks to Freedom Forge Armory, New Kent, Virginia, for handling the transfer, for sharp eyed technical evaluation, and for combat experienced, hands-on performance testing of the FN 15 Carbine sample. Find Freedom Forge Armory LLC on Facebook. Email freedomforgearmory@comcast.net).