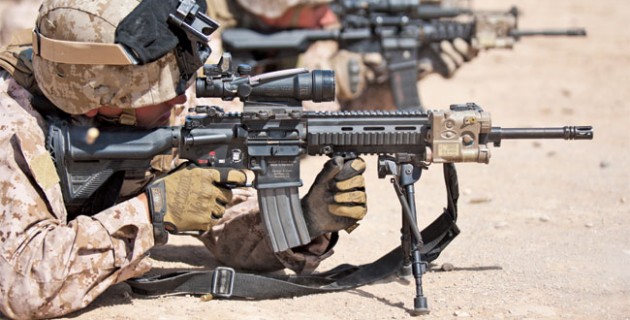 Above: 5 September 2011, Camp Leatherneck, Afghanistan. Shoulder to shoulder with members of his fire team who are armed with M4 carbines, a Marine Squad Automatic Rifleman, MOS 0311, with 1st Battalion, 25th Marine Regiment, continues his transition to Infantry Automatic Rifleman, battle sight zeroing his new M27 IAR soon after the unit's arrival in country. While the distinctive outline of the belt fed M249 tends to draw unwanted attention from the enemy, the M27 closely resembles the rest of the squad's rifles. (U.S. Navy photo by Petty Officer 2nd Class Jonathan Chandler)

– – – Part Two of this article appears in SADJ Volume 4, Number 4. – – –
For the past several years SADJ has been following progress of the US Marine Corps' program to identify and field a suitable alternative to the M249 Squad Automatic Weapon.  While the 5.56mm belt fed SAW is touted as a relatively portable weapon that can pump out a high volume of fire, many of the Leatherneck MOS 0311 grunts who have been humping this twenty-plus pound package since 1985 have been asking for something lighter, simpler and more reliable.  This sentiment has been repeated by many in their chain of command from fire team leaders to flag officers.
Like most any significant change to the status quo, the SAW-replacement process has been difficult as various factions have made their often contentious positions known.  Details of this struggle within the Corps, spanning more than two dozen years, will be provided in Part 2.
Meanwhile, the decision has been made and the Corps is well on its way to issuing more than 4,400 M27 IARs as fast as gunmaker Heckler & Koch can deliver them.  By early 2013, every Squad Automatic Rifleman in Infantry fire teams and Light Armored Recon scout teams will be carrying the new IAR.
But don't mourn for the M249.  A half dozen SAWs will be retained in each Infantry Rifle Company, available to the commander as tactical situations arise.
21 November 2011, The Crucible training center, Stafford County, Virginia. In Reidsma's hands, the M27's approx. 12 rounds per second full auto cyclic rate is no impediment to effective target engagement from prone to standing. In addition to a favorable ratio of 12.7 lb. weight vs. the relatively light recoil of its 5.56mm ammunition, the rifle's in-line stock, broomstick grip, quick adjusting sling, and forward-mounted bipod combine with the inherent accuracy of the weapon's 16.5 inch cold hammer forged barrel for remarkable long range performance. (Robert Bruce)
Right to the source
Knowing that SADJ's readers deserve a close look at the Marines' new machine rifle, our contacts at U.S. based HK Defense answered the call, generously providing hands-on live fire and detailed information on this history-making addition to the Devil Dog arsenal.
Small Arms Defense Journal interviewed Robert "Robbie" Reidsma, on November 21, 2011, following the exclusive M27 briefing and live fire session he had arranged for us earlier that day at a special operations and law enforcement tactical training center called The Crucible in rural Stafford County near Fredericksburg, Virginia.  Reidsma, a retired USMC Infantry Senior NCO, was hired by HK Defense in 2007.  He was named by HKD as the IAR Program Manager in December 2009.
SADJ:  Your duty position title and responsibilities as they relate to the M27 program?
Reidsma:  I started off as one of the technical guys with Heckler & Koch Defense in our response to the Marine Corps' Infantry Automatic Rifle solicitation in 2007.  I later became the Deputy Program Manager for HK's IAR effort, and then Program Manager.  I still have other responsibilities at HKD related to military, government and federal law enforcement sales and programs.
SADJ:  Briefly describe the experience and qualifications you have that are particularly valuable to the M27 program.
Reidsma:  Twenty plus years enlisted in the Marine Corps, the majority on the infantry side of the house.  Sniper and sniper instructor, worked alongside with SYSCOM (Marine Corps Systems Command) with the Scout Sniper Day Scope and Scout Sniper equipment programs.  That's where some of my acquisition experience comes from.  I retired as Gunnery Sergeant in 2006 and went to work as a contractor for the Department of Defense.  I was only there a short time before I came into HK about four years ago.
HK's M27 IAR, while sharing many of the characteristics of the M16/M4 family of weapons, differs substantially in ditching the "Stoner system" direct gas tube that operates the bolt carrier. Instead, HK engineers chose a piston driven operating rod along with other mechanical refinements and improvements for greater reliability and durability. (HK Defense graphic)
SADJ:  We understand that you aren't at liberty to talk to us about the Marine Corps' information-gathering, evaluation, test, and selection process.  But tell us what HK did in response to the initial solicitation and follow-up stages.  
Reidsma:  In the first place, everything coming out of HK has to meet NATO requirements under NATO AC/225 specifications.  HK ensures that each weapon actually meets that regardless if it's going to military, law enforcement or civilian customers.  If you buy a commercial handgun from HK it has met that process.  That's why HK has such a good reputation for the quality because we don't say, 'this didn't meet a certain requirement so now we're going to sell it on the commercial market.'  All HK products meet the same NATO requirement and we're ISO 9001 certified on the manufacturing side as well.
We reviewed the government's requirements and solicitation to determine what HK products would meet the requirements, ensure we can meet the timelines, and support the evolution.  We look at if we need to further test the item or modify and test an existing item, etc.  Then we'll do an internal testing process.  Whenever possible, depending on the size of the program, we'll try to mimic as best we can whatever the government is going to do.
So we have our set of results to compare with the potential customer's test findings; two sets of data that hopefully should come out similar.  They don't have to be exact, but it should point in the same general directions.  All said and done the testing came out pretty good for HK's IAR.
SADJ:  Comment on any significant tradeoffs necessary to meet IAR's specifications.  Things like piston vs. gas, open bolt vs. closed, cookoff, barrel swap, belt vs. mag, etc.