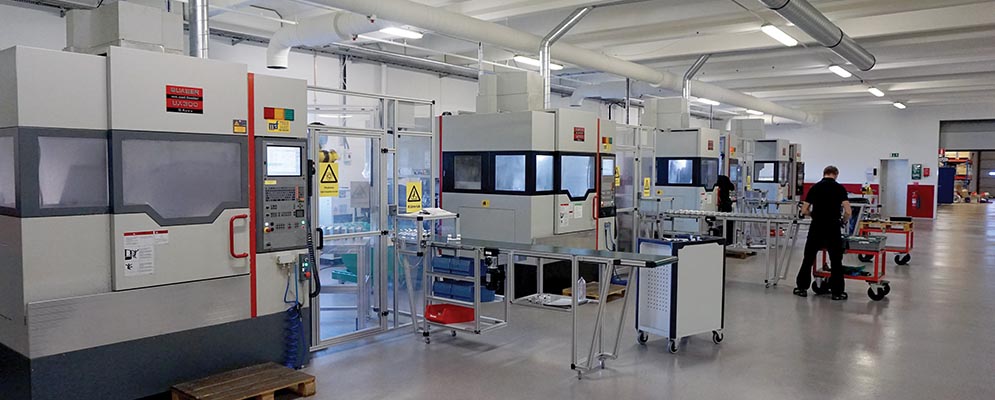 As a competition shooter, not only do I spend my free time practicing and shooting matches, but I also spend a lot of time reading about the latest gear and equipment so I can have the most advantages possible when competing. In North America, sports/competitive shooters easily outspend hunters in equipment and there are a lot of products made specifically for them.
With the recent rise in popularity in Precision Rifle Series (PRS) matches, these shooters are always looking for the best scope mount for their rifles. In my humble opinion, the scope mount is just as important as the scope itself. For example, you can have the most expensive $4,000 rifle scope but with a set of cheap rings, it's almost a guarantee that your rifle will not hold zero. The scope mount has to be lightweight yet very strong, and offer additional features such as a bubble leveler or optional Angle Cosine Indicator (ACI). The three-gun competitors also want to have the best cantilever mount for the latest 1-6x or 1-8x rifle scopes on their AR rifles.
Spuhr Aimpoint M4 quick-detach mount with elevation knob with integrated magnifier twist mount.
The Idea
In 2009, a Swedish man named Hakan Spuhr came up with the idea to make a rifle scope mount where the rings are cut diagonally instead of horizontally. The idea first came when he noticed army snipers had to modify their rear A.R.M.S. ring by cutting a corner off as the ring itself blocked the view of the windage turret. He looked at it and thought, why not turn the scope ring 45-degrees, so the screws are not blocking the elevation and windage turrets? This may sound like a fairly simple idea; however, nobody had attempted to make scope rings that way before. He patented the design but, in addition, he wanted to make it into a modular system and with the ability to add accessories such as Picatinny rails, red dots, laser aiming or night-vision devices. He shared his scope mount design in a popular online precision rifle forum called Sniper's Hide; allowing potential customers to provide input and suggestions as a way to have open development. One of the more useful suggestions was that he add lines inside the scope rings for the ability to glue the rings to the scope for extreme conditions. In addition, he heard from his friends in the Swedish army that they were in the process of switching to the new Accuracy International Arctic Warfare precision rifles and new scope mounts would be needed. This created the perfect business opportunity. In 2010, the first batch of scope mounts were made and they immediately sold out. But who is Hakan Spuhr? And, what was his background in scope-mount design and manufacturing?
Spuhr knew he wanted to be a gunsmith at the age of 10. To become a qualified gunsmith, he was told, he had to become a tool maker—so he spent the early part of his career working for a tool and die shop. There he learned how to use the mill and lathe as well as worked with plastics. Later, he worked for Voere, an Austrian firearms company, for six months. When he returned to Sweden, he worked for a gunsmith shop, building 1911 and other custom pistols. And in early 2000, he did some design work in Malmo, Sweden, for Aimpoint AB, the world-renowned manufacturer of red dot sights. There, he helped with designing scope mounts. He designed the quick-detach, twist-mount for the 3x magnifier. The magnifier can be installed or removed simply by twisting it 90-degrees by pressing the locking lever. The operation can be done all with one hand. He also designed the mount for Aimpoint MPS, a red dot sight designed primarily for .50 caliber machine guns, which has a side-mounted knob with three settings for 200, 800 and 1,200 meters for quick elevation adjustments.
Machining in progress.
Spuhr's latest product is the full co-witness mount for the Trijicon MRO; it says it is the strongest MRO mount in the market that features a recoil lug. It's offered in both black and flat dark earth. The company is also expanding the quick-detach scope mount model offerings, which were introduced last year, to include additional levels of build-in inclinations and various ring sizes. The company currently has approximately 180 products and that number continues to increase.
The Spuhr NVG (Night Vision Goggle) Head Mount/Helmet Mount was actually the first product made under the Spuhr name. Hakan Spuhr designed it under the request of an army unit that was using night-vision goggles with another mount; they found there was too much play on the mounts themselves. His mount allows either one or two monocular units to be attached and removed quickly. It features multiple adjustment settings for tilt, eye width and/or eye relief. The setup looks very slick, and all the levers and knobs are easily accessible, even when using gloves. It took four years to develop and was first available in 2010.
Spuhr ISMS (Ideal Scope Mount System) is one of the most flexible scope-mounting system in the market today. The mounts feature the Spuhr Interface, which unlike Picatinny rails, creates negative space for mounting accessories and offers return to zero capability for night vision or thermal attachments. Unlike other mounting interfaces available today such as KeyMod or M-Lok, it's primarily designed for mounting optics.
One of the first Spuhr ISMS prototypes with early design of the Spuhr Interface.
Factory Tour
Over the years, I met Hakan Spuhr at the annual industry trade show, SHOT Show, in Las Vegas. He knew I was at Heckler & Koch in Oberndorf, Germany, working on a factory tour article (published in the SAR issue Vol. 21, No. 9) and he asked if I would be interested in coming to Sweden to visit the new facility, which the company recently moved to just a few months ago. Spuhr AB is located about 20 minutes north of Malmo, Sweden, in an industrial area where a lot of other manufacturing companies are located. Upon my arrival, I was doubtful if I had arrived at the correct address, as there were zero signs of the company name or logo anywhere in the building. I was relieved as soon as the staff that opened the door knew who Hakan Spuhr was, and the lobby had several display cases and stands showing the product line.
We started the tour in the receiving area at the back of the building. When the raw materials arrived, a unique batch number marked each of the boxes. This is done so they can be tracked if there is ever a chance of defective materials. If a container of raw material arrives without the batch number label, it gets sent back to the supplier.
Several feet away from receiving, six large CNC machines are housed, with five set up and running. The machines each integrate a robotic arm that feeds raw aluminum blocks into the machine as well as putting the finished product back on the tray. When the aluminum blocks are first inserted into the machine by the robotic arm, the machine quickly switches from its drill tip to a probe and it checks the block's dimensions by touching it in several spots.
Spuhr Heckler & Koch MP5 Handguard with The Spuhr Interface.
In the morning when the machine operators come in, they check the drill bits for wear, in addition, the machine checks itself on a regular basis. Each CNC machine can cut two mounts at the same time.
Once the parts are perfectly machined, they are then put into a giant rock tumbler to clean all of the sharp edges. After that is completed, they are stored in the warehouse in preparation for sending them to external contractors for hard coat anodizing or Cerakote coating. Spuhr mentioned that, lately, a lot of his customers prefer Cerakote, mainly due to its low infrared-reflection properties but also to the flexibility of Cerakote, in that it comes in colors such as RAL8000, which is a standardized shade of tan used by many reputable small-arms manufacturers such as Heckler & Koch.
Since the machines are fully automated, Spuhr runs a lean company of 12 staff that includes the sales staff. Spuhr himself travels frequently to various law enforcement and military trade shows across Europe as well as the SHOT Show in the U.S. The company produced 13,000 mounts last year alone and are on track to at least double their output this year, to fulfill increasing demands worldwide.
The size of the new building is 18,000 square feet, which is more than three times bigger than the old 5,500 square-foot building. There is certainly a lot of space in the production area for expansion, and I was told their old facility was fairly cramped.
Robotic arm ready to move the partially machined mount to the second position.
Spuhr sales are split evenly between military contracts and commercial sales. Most recently, the company supplied approximately 5,000 collapsible polymer stocks for the Heckler & Koch G3 rifle for the Swedish military; that allows the cheek to sit higher for use with optics. In addition, the company also supplied a few hundred of the slimmer, more lightweight aluminum handguards for the Swedish G3 Dedicated Marksman Rifle (DMR).
The new stock, as Spuhr explained, has a shorter length of pull when retracted but offers the exact same length of pull when fully extended. The new shooting doctrine is facing your target square on with your weak hand fully extended, grabbing the front of the handguard. This way, you have much more control over the rifle, especially during full-auto fire. Spuhr demonstrated this in one of his videos on the company's Instagram. His stock seems to resolve one of the biggest complaints of the G3, that it is difficult to control in full-auto or even in controlled bursts. It's simply great to see rifles other than AR15 getting modernized to today's standards.
It's interesting to note that with the exception of the U.S. market, Spuhr's website ships direct worldwide. Unlike the U.S., scope mounts are not considered to be restricted items for export in Sweden. There's zero export paperwork required; however, the buyer may have to pay extra duties and taxes upon receiving the order, depending on his country.
Spuhr is an avid collector of pre-WWII German binoculars and scopes from the likes of Carl Zeiss. He also collects vintage small arms from various prototypes to the classic Stg 44. He believes that in order to predict the future, one must study the past, as a lot of new ideas are improvements over old firearm designs. He is as passionate about firearms and the history of firearms, as he is in designing new accessories for them.
Laser probe checking the aluminum block's dimensions and alignment.
Conclusion
I am curious as to what will the future will bring for Spuhr AB. Hakan Spuhr is the man behind his own successful company, and he is a man with many ideas. Not only does he have the ideas but he actually executes them and turns them into marketable products. He is a man that "leaves no stone unturned" when it comes to design, and he is always in search for lighter weight, better strength and improved efficiency. What will he come out with next? That's something only he himself knows.
40mm grenade launcher sight mount.
Large tumbler removing all sharp edges.
Spuhr Accuracy International AX forend with Spuhr Interface and QD mounting points.
Fully machined pieces, put in place by the robotic arm.
ARMS next to a Spuhr mount.