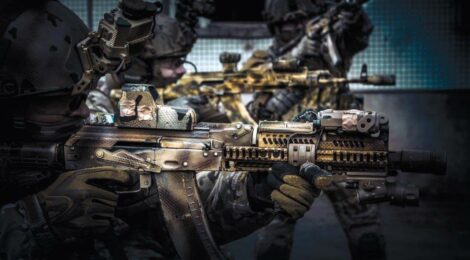 On March 3, 2019, India's Prime Minister Narendra Modi made an unexpected statement while visiting the city of Amethi during his election campaign.

According to his speech, very soon, the new Russian AK-203 Kalashnikov rifles will be manufactured at the Korwa Indian Ordnance Factory in the state of Uttar Pradesh, India.
The immediate goal is to use the new manufacturing facility to produce 750,000 rifles. The AK-203 is supposed to completely replace the domestically developed INSAS rifles currently being used by the Indian Army and other forces.
Anyone who was ever involved in Indian arms procurement will take those statements with a grain of salt, but one question remains—what is the AK-203, and is it really a good choice to be the next Indian assault rifle?
For those who follow recent Russian small arms development, the last few years created a lot of bewilderment and confusion. It seems like every 6 months there is a new version of an AK coming out: AK-12, AK-15, AK-400, AK-103M3, AK-100M series, AK-200, AK-103-3, a so-called "Ratnik modernization kit"… and so on.
Typically, those weapons only have minor differences in features, so it is quite easy to get lost among all those prototypes, concepts and modernization efforts.
Since the author had an opportunity to participate in testing of all the above-mentioned rifles, this article will try to sort things out a little bit.
The Story of the AK-200 Series
The story of the AK-200 series began in 2007, when the R&D facility of the famous Russian Izhmash factory started working on several modernization projects, including a new version of AK-74M and AK-103 assault rifles with hinged receiver covers that have a Picatinny rail.
The idea was not anything groundbreaking—in 2004, the Polish Army started issuing their troops in Iraq the WZ.2004, a new version of their AK variant called the "Beryl." It had improvements very similar to the AK-200 series: rails on a handguard and receiver cover, adjustable stock and improved safety selector with additional tab for a trigger finger.
Combat experience in Iraq and exposure to small arms of other NATO countries forced the Polish military to adapt and overcome, quickly developing an improved version of the Beryl. At the same time, the Russian military completely ignored the growing demand for its primary assault rifle modernization.
Meanwhile, Russian soldiers and officers started buying parts and accessories on their own dime. Sometimes, weapons were becoming completely unrecognizable, because certain individuals took accessorizing too far. Very soon buying one's own sights, stocks and grips became a new norm in many units.
By the mid-2000s, the situation was becoming preposterous—Special Forces were demanding an improved version of an AK, but manufacturers were not ready to do anything without a formal request from the army or large law enforcement agency.
In 2007, technical director of Izhmash (now Kalashnikov Concern) N. Bezborodov decided to start several modernization projects on his own initiative, without any government funding. Among those projects was a future AK-200.
On February 19, 2008, the first prototype was demonstrated to First Deputy Prime Minister Dmitry Medvedev while he was visiting Izhmash.
In 2010, the prototype was demonstrated to the public for the first time. Many expected this weapon to go into mass production and, at last, fulfill a demand for a modernized rifle that Russian Special Forces had all those years.
Unfortunately, the project was discontinued after the new chief designer, Vladimir Zlobin, who started working at Izhmash in May 2011, came up with the first version of his famous AK-12.
But after less than two years, the concept of the AK-200 was suddenly revived under a different name—AK-103-3. The Russian Ministry of Defense created a new "Ratnik" program with an aim to transition to a new generation of equipment and assault rifles in the Big Army.
Requirements of the "Ratnik" trials demanded each participating company to submit two weapons; one chambered for 5.45×39 and the second one chambered for 7.62×39.
At the time, the AK-12 chambered in 7.62×39 was not ready for trials, so Izhmash was forced to do some simple updates to AK-200 and submit it for testing under a new name: AK-103-3.
The gun did fairly well, but in late 2015, both the original AK-12 designed by Zlobin and AK-103-3 were replaced with a final version of the AK-12 and AK-15, respectively. The AK-103-3, formerly AK-200, after years of successful testing and trials, suddenly became redundant and almost went quietly into the night.
However, in 2016, the AK-200 project was reestablished again. Several years before that, the Russian military finally recognized the urgent need to modernize its fleet of weapons and opened an R&D project called "Obves" which roughly translates as "stuff you put on your gun."
The winner of the Obves project trials was, predictably, a modernization kit called KM-AK developed by Kalashnikov Concern. Some American AK enthusiasts now call it the "Ratnik modernization kit" which could not be more wrong. KM-AK was developed independently of the Ratnik project and has nothing to do with it.
The idea behind the new revival of AK-200 was to combine features of the AK-103-3 and KM-AK and finally design an AK with integrated Picatinny rails. Development took only several months, and by the summer of 2016, the future AK-200 was ready. Now there was one thing left to do—give it a name. But this part turned out to be more difficult than actual development. In 2016, it was called "AK-300." In 2017, the same rifles were presented under the designation "AK-100M-series."
In 2019, the Army finally made a decision to name it AK-200 and use an additional GRAU index "1" for it. Therefore, while AK-103 has a 6P45 index, AK-203 will be called 6P45-1 in the official documents.
Testing
But enough about history. This author had a chance to spend some time on the range with this rifle and shoot some groups.
While some consider AKs inaccurate, design engineers at the Izhmash factory take this issue to heart. In the last few years, there were several attempts to enhance the accuracy of a standard AK. On AK-203, tolerances of the bore and chamber were tightened, which definitely affected accuracy.
Unfortunately, there is no match grade ammunition in 7.62×39 available in Russia, so every accuracy test turns into a guessing game: was it the ammunition? The shooter? The gun itself?
After shooting six or seven groups at 100 meters, the overall picture was pretty clear. Even with flyers, the gun generally shot around 2MOA. If one disregards the flyers, like he is supposed to do according to a Russian manual, groups will look just great.
But in Russian special operations there is a saying: "your worst shot shows your real level of proficiency," so this author is not going to sugarcoat the results. In this author's experience, an ordinary AK normally shoots around 3-4MOA with the same ammo used for the test.
The internals of the AK-203 are identical to the AK-103's. Bolt, carrier, trigger mechanism and other parts are interchangeable. External features include a birdcage type flash hider, where the vent in the bottom is closed to help with recoil compensation.
The story behind this flash hider is also interesting. The original prototype looked more like a B.E. Meyers 249F flash hider, had open prongs and was slightly more effective in reducing flash. But during the testing, the military asked an interesting question: "flash eliminating capabilities are great and all, but how are we going to fix a bayonet on this muzzle device?" Design engineers shrugged and changed the design to a birdcage.
The reliability of the receiver cover was this author's main concern. I opened and closed it multiple times between shooting groups and found no zero shift at 100 meters.
The design engineers, who worked on an AK-203 project, did multiple drop tests, fired a GP-34, an underbarrel grenade launcher that has such brutal recoil that it is famous for "beating weapons to death," and attested that zero did not shift.
We will see what results long-term use will show, but for now, the mechanism looks solid.
A Solid Upgrade
In conclusion, this author likes the AK-203. Readers have reasons to call this author biased, but the AK-203 is a solid upgrade to the venerable AK-100 series.
It would have been much better if such upgrades were implemented in the early 2000s, but it is what it is. Now, when AK-203 is finally available, it will be a solid, honest, reliable workhorse that does not try to be what it is not.
It is not a groundbreaking, "never seen before," "new generation" weapon; it is an effective and long overdue OEM upgrade to the most popular rifle on the planet.
As far as the Indian decision to use AK-203s instead of INSAS arms, the author thinks it is a good idea. I spent some time in India with certain Indian special operation units; saw their manufacturing capabilities; tested INSAS rifles; and believe that AK-203, if manufactured properly, would be a huge step forward for the Indian small arms industry.