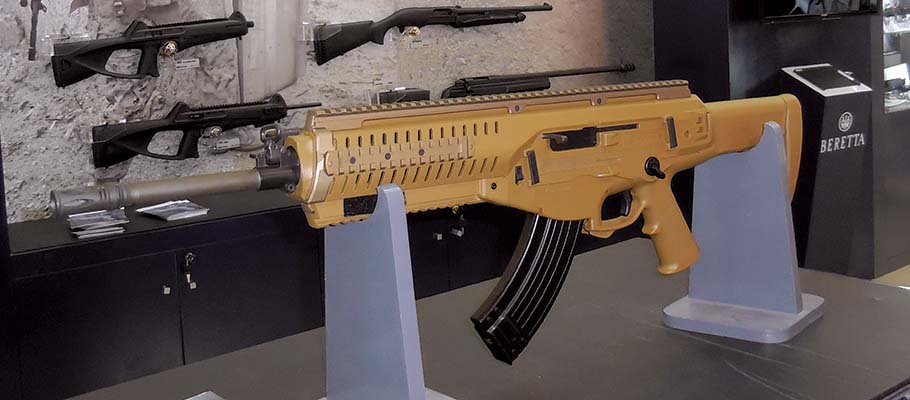 ABOVE: Beretta's ARX160 5.56x45mm rifle was on display, and has been purchased for testing by Jordanian Armed Forces. Of course, the ARX160 is available in other calibers and with the 40x46mm underbarrel grenade launcher.

The Hashemite Kingdom of Jordan is host to the SOFEX military trade show held every two years in Amman, Jordan. Regionally, this is one of the most important shows that concerned people can attend. It's not just the juxtaposition to current combat areas; Jordan has always been a meeting ground for concerned military groups. Vendors report a lot of success if their products meet the current threats, but the Jordanian Armed Forces have always looked at different possible solutions to the threats, and tried many alternatives. In other words, if you have an innovative weapon or military product, the odds are that there will be people in authority willing to give it a test. And, those people are definitely at the SOFEX show, looking to talk with the vendors.
This atmosphere attracts a lot of interesting companies, thus, SOFEX has become a gathering place for interested end users as well. A lot of exhibitors were from U.S. companies, as always. This doesn't mean that the Russians and Chinese aren't heavily represented; they are and have their own buildings. It's just that a plethora of U.S. small arms manufacturers were there at the show, with real weapons on display instead of just posters. That tends to draw more interest. Poland, Bulgaria, Serbia, France, and the UK also had heavy representation.
Every two years SOFEX coincides with the annual KASOTC Warrior Competition with SADJ attending both. While the SOFEX show has a concentration of vendors in a variety of buildings around a central parade ground, with outdoor exhibits, there is also an air show, and numerous demonstrations of tactical skills. The heliborne assault that is presented is not only visual, but a crowd pleaser. Special Forces troops ride in to rescue "hostages" in a very high speed and theatrical manner. So, the show is broken up for the attendees by outdoor events that are right on premises and don't take the attendees away from the displays for very long. All in all, a very satisfying event, and SOFEX, while a mature show, shows all the signs of continuing to grow.
ADS (Advanced Defense Systems, Inc.) had a variety of targeting systems and optical systems.
Barrett's M107 series is the standard in long range rifles worldwide. Here it is shown with suppressor and BORS sniper system.
Dillon Aero has had quite a few contracts with the Jordanian military, and hopes to continue that relationship in upgrading more of the weapons<br /> platforms in use there.
Karl Lewis (center) introduced the new LMT stand-alone mount for the M203 40x46mm grenade launcher. What makes this launcher stand out is that it can be ordered with the ability to mount a standard M203, not just a rail mounted one.
Bob Landies III and Jerry Hurd of Ohio Ordnance Works show the tactical HCAR rifle – what might be the final evolution of the venerable 1918 BAR. Caliber is .30-06 with all the range and capability that implies.
Steve Herberth has done a lot of business in Jordan, and brings the AA12 fully automatic select fire shotgun to the demonstrations there.
Aselsan from Turkey had their remote weapon system with M2HB .50 caliber machine gun.
NAMMO presented their standard shoulder fired anti-tank and anti-bunker systems like the M72 series, but also showed some thermobaric capabilities.
SIG Sauer's new MPX series submachine guns, along with their rifles and suppressors, proved popular with the attendees at SOFEX.
ResQmax presented some very versatile air tools including this grappling hook launcher with multiple line-throwing capabilities.