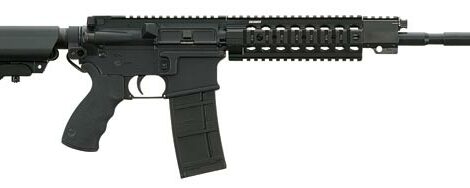 Historically, the annual AUSA Show is not known for debuts of the latest small arms technology.  The big dollar programs like MRAP and Future Combat Systems seem to garner all the attention in their large, flashy booths and multi-billion dollar budgets.  One has to look carefully for new small arms developments hidden away in the aisles of AUSA.  However, the fine folks from SIG Sauer debuted for the first time for the U.S. Army their latest assault rifles; the SIG516 and SIG517, at the annual meeting in October.

SADJ has been invited to participate in prototype testing of the new SIG rifles soon.  A more in depth look into the new op rod SIGs will appear in a future issue of SADJ.  For the moment let us explore the significance of yet again another gas-operated M16/M4-style assault rifle, this one from the German/Swiss/U.S. small arms company SIG Sauer.
While there are more than 30 different M16/M4-style AR's available on the market today, few have been designed as a family of weapons in multiple calibers and with modular features.  Even fewer have truly novel features included in their design configuration.  The new SIG516 in caliber 5.56mm/.223 Rem., and its bigger 7.62x51mm/.308 Win. brother, the SIG517, look fairly conventional from a distance.  Both are gas-operated Stoner pattern rifles employing the common multi-lug rotating bolt head seen for many decades throughout a wide range of select-fire rifles.  Common features include machined aircraft-grade 7076-TG receiver forgings, chrome lined barrels, free floating Mil-Std 1913 quad rail systems and various barrel lengths in multiple models.  The free-floating receiver mounted rail system encompasses a user removable piston rod-style gas system that is removable from the gas block positioned just forward of the rail system.  An assortment of commonly available retractable and fixed stock options, pistol grip accessories and after market trigger packs and gadgets fit the SIG rifles.  The SIG516 upper and lower receivers are fully interchangeable with M16 and M4 receivers. Both full auto and commercial semiautomatic models will work with all NATO-type M16/M4 magazines.  Ambidextrous safety/selector levers are standard as are back-up mechanical sights.  Barrel length options include 7, 10, 14.5, and Match-grade 16 and 20 inch barrels will be standard options for the SIG516.  12.5, 16 and Match-grade 16 and 20 inch barrels are planned in 7.62x51mm for the SIG517.
Where the new SIGs step forward slightly from the pack is by the addition of the well known and durable, long lasting and forgiving SIG cold hammer forged barrels and a 3 or 4 position adjustable gas regulator that is adjustable without tools for optimum function when suppressed or when using special-purpose low or high impulse ammunition, such as training or subsonic rounds.  Where the true leap forward happens is not even apparent on the basic tier-two models shown at AUSA, Modern Day Marine and UK DSEi 09 expos earlier in 2009.  What sets the SIG516 and 517 apart from the competition is what is planned for the system in first tier "Combined Spaces Carbine" models in both calibers, to be publically debuted at the 2010 SHOT Show in January in Las Vegas that will allow for modularity of the butt stock by the operator without tools.
Compact 5.56mm assault rifles have been all the rage in U.S. units for CQB and special roles since the terminal performance demise for general combat purposes in the 1990s of the pistol-caliber MP5 submachine gun.  Short barreled, highly portable and concealable 5.56mm compact carbines like the 5.56mm U.S. MK18 CQBR and 10-inch HK416 have replaced the MP5 in those confined spaces roles.  Original user requirements for Combined Spaces Carbines usually demanded the reliability of the full size carbine combined with a desire for minimal overall size and weight – two competing demands in conventional direct impingement gas-operated ARs.  The conventional Stoner-type AR design with its protruding six and a half inch buffer tube generally prohibits the maximum length reduction of the weapon to just a few inches (3.25 inches to be exact – not much of a reduction).  Attempts to build side-folding stocks around a shortened buffer tube (a la U.S. M231 Port Firing Weapon) have never been popular with shooters.  They do not greatly lessen the length of the weapon and all but destroy shooter comfort and cheek weld.  Side folding stocks have to be extended before effective firing can commence.  Conventional M4-style retractable or collapsible stocks allow the weapon to be instantly fired with the stock in any one of their many multiple positions but extend 6-7 inches or more from the rear of the receiver.
A modular stock system wherein any number of various stock modules can be fitted to the receiver by the operator and without tools in seconds, similar to the U.S. XM8 or MP5, has been strongly desired by many in the user community for decades.  A fixed stock, MP5-style retractable stock, a side-folding stock or sniper stock, even a butt cap are all modular opportunities in such a configuration.  The problem with the presence of the buffer tube and return spring usually has sidelined that appreciable system upgrade.  Not the case in the new SIG516 and SIG517.  SIG has found a proprietary way to eliminate the buffer tube and still keep the upper receivers interchangeable with standard M16/M4 lowers, and most importantly preserve the superior functional reliability that the modern op rod ARs bring to the users tactical tool box.  More about just how this is accomplished will be covered in the full future SADJ write-up.
So it seems that SIG is on track to elevate the already brilliant Stoner AR platform to new heights for the war fighter.  Their timing could not be better, and clearly not a coincidence, as the release of the U.S. Army's new "Individual Carbine" draft solicitation is expected out in early 2010.  A long standing U.S. Army requirement for a Sub Compact Weapon (SCW) in 5.56mm sharing common modularity with the new carbine is also under development at the Infantry Center at Fort Benning.  The new SIG516, to be produced in America by Americans in Exeter, New Hampshire, may place SIG near the head of the pack in what can be expected to be a very full field of competing systems in the first full and open commercial U.S. carbine competition since the M1 Carbine was adopted in 1941.  We at SADJ are watching this one very closely.