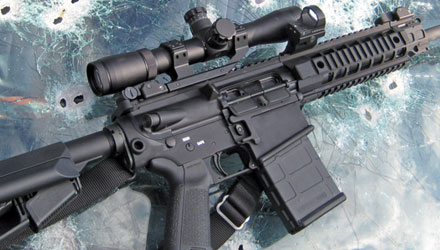 The SIG 716 Patrol accepts Magpul PMag 20-round magazines. Magpul's PMag 20LR is quickly becoming the standard .308Win/7.62x51mm AR magazine with several manufacturers setting up their lowers to utilize the Magpul product. Quality magazines are a linchpin for a reliably functioning semiautomatic or select-fire weapon. The SIG 716 Patrol's magazine is shown next to one of Magpul's 5.56 magazines for comparison.
Further flexibility is possible by taking advantage of the rail system by mounting an ATN PS 22 night vision device and switching out the factory flash hider with one that serves as a mount for a suppressor such as the Yankee Hill Machine (YHM) QD Phantom flash hider.  The entire ATN PS 22 concept is based on wanting to give the user the convenience of using their day optic at night without have to switch out aiming devices or having to dedicate a weapon solely for use at night.  Any weapon can be adapted for night use as long as the PS 22 can be placed in front of a suitable day optic device.  The available choices for the day optic that are compatible to use with the PS 22 is wide ranging.  The PS 22 is attached or detached with no impact on the day optic's point of aim and parallax is not an issue.  Another benefit of the PS 22 is that a scope's reticle does not need to be illuminated or IR compatible for it to be visible when using the PS 22.  This differs from NV products that mount to the rear of the scope.  The PS 22 is right at home on any AR style weapon platform equipped with full length Picatinny rails.

The QD YHM Phantom Flash Hider contributes to the adaptability of the SIG 716 by allowing for the quick mounting of the YHM 7.62 Phantom suppressor.  YHM's Phantom 7.62 Sound Suppressor is a .30caliber suppressor utilizing Mike White's Sound Technology, Inc.'s patented (US Patent #7,073,426) baffle design.  The Phantom 7.62 Sound Suppressor is manufactured from Chrome-Moly steel and features a matte black Parkerized finish.  Its overall length is 8.5 inches with a diameter of 1.6 inches and weighs 25 ounces.  Besides manufacturing and proofing the Phantom suppressor with Sound Technology's patented baffle design, YHM created the Phantom Flash Hider (Patent Pending) muzzle device that enables the quick mounting/dismounting (QD) of the suppressor.  Hand tightening is all that is needed with the Phantom Flash Hider to hold the suppressor firmly in place.  Conversely, the suppressor can easily be removed via hand pressure when no longer needed.  The Phantom Flash Hider supports the suppressor in two places helping to ensure bore alignment.  A patented gas seal keeps the Phantom Flash Hider threads clean so the suppressor will not bind when removed from a weapon no matter how many rounds are fired.
In an effort to exploit the SIG 716 Patrol's versatility, a Leupold Mk 4 2.5-8x was mounted. Others could choose to go with a red dot optic in a strictly CQB role. It is simple enough to keep the Leupold Mk 4 in place and mount an offset mount bracket featuring a Leupold Deltapoint. This allows a quick rotation of the rifle in the shoulder pocket a few degrees accessing the red dot optic with minimal effort or disturbance of handling.
Conversation with YHM indicates that most users of sound suppressors do not use sub-sonic ammunition in conjunction with the Phantom Sound Suppressor.  Many users feel the Phantom suppressor's ability to minimize muzzle blast signature is well worth using it even though the prominent sonic crack is still present when using standard super-sonic ammunition.  Along these lines, the SIG 716's gas valve can be turned to its 3rd position when using a suppressor.  This limits gas to the action when using a suppressor with normal supersonic ammunition.  The 3rd gas valve position prevents "over gassing" the action which could cause damage due to increased bolt carrier velocity.  The loss in terms of ballistic capability combined with the cost of specialized sub-sonic rifle ammunition and difficulty of finding quality sub-sonic ammunition being the root reasons.  Fortunate some time ago to discover Engel Ballistic Research (EBR) as a primary source of quality sub-sonic ammunition due to the variety of calibers and loadings offered.  Another reliable source for .308Win sub-sonic loads is Corbon.  Readers will find that sub-sonic loads do not typically cycle in an automatic rifle.
Range evaluation with Black Hills Ammunition, Hornady, Winchester, and Federal loadings with suppressor mounted showed it best to keep the gas valve in the normal (#1) position.  Normally reliable function was affected with the gas valve in the suppressor (#3) position.  That is the great thing about a variable gas system allowing the user the flexibility to adjust to fit condition.  The 4th position on the gas valve completely isolates the action from muzzle gas.  This ensures the quietest operation possible in conjunction with a suppressor, especially with sub-sonic ammunition, due to no action noise and no escaping gas from the action since it remains shut.  This creates the need for manual operation of the action to eject and load another round.  This is not a great hindrance as an AR rifle is almost as quick to cycle manually as a bolt action.  The EBR and Corbon sub-sonic loads were eerily quiet from the SIG 716/YHM Phantom combination until the rounds impacted TacStrike steel silhouettes dotting the EVTC range berms.
The SIG 716's point of impact (POI) did shift when the YHM Phantom suppressor was installed.  This is to be expected whenever hanging something off the end of a rifle barrel.  It changes the barrels harmonics.  What was closely monitored was if the point of impact stayed consistent once logged in for when the suppressor was installed.  Another important consideration for a suppressor is if the accuracy of a rifle is impacted negatively.  This is important if long range work is considered with standard "supersonic" ammunition.  The SIG 716's accuracy was not impacted by the suppressor use and POI change remained consistent between removing/installing the YHM Phantom suppressor.
The SIG Sauer 716 Patrol utilizes a self-regulating, short-stroke gas piston operating system, ensuring unparalleled reliability in the harshest theaters of operation. It is simple to remove for cleaning and does not require the handguards to be removed as it displaces out of the front of the gas valve adjustment portal.
Reports from Afghanistan and Iraq have exposed the 5.56mm poor performance in putting an adversary down quickly with minimal rounds fired, especially at distance.  This is why rifles chambered in 7.62x51mm are gaining popularity with the upgrade in power it offers in conjunction with its familiar AR configuration and handling.  The 16-inch barreled SIG 716 Patrol handled better than expected from a .308Win/7.62×51 caliber weapon.  This is based on previous experience with HK91, M1A, and FAL weapon platforms.  Range comparisons alongside 5.56mm AR-15s showed only slight differences in split times in hitting multiple targets in quick succession.  Anecdotally, a casual observer can easily tell a steel target smacked with a .308Win/7.62×51 versus .223/5.56 at any distance.  Much is made of the increased number of .223/5.56 rounds that can be carried compared to .308Win/7.62×51 as measured in pounds.  While this line of thinking is appreciated, unless one is on an extended patrol or mission that is not easily re-supplied the extra power and lethality of the 7.62×51 over the 5.56 trumps this.  As with most weapon system comparisons the pros/cons can be debated forever.  Individual users will make the decision of what best suits their needs.
It is rare to find a rifle that can perform multiple roles so well that the user does not feel something has been compromised for utilities sake.  The SIG 716 Patrol is no compromise candidate.  The 16-inch barreled 716 can serve as a benchmark for performance whether in a CQB, patrol, or precision rifle role.  The 308Win/7.62×51 chambered piston-driven SIG 716 Patrol has power to spare and the 16-inch barrel creates handling comparable to its junior 5.56 brethren.  This is a combination hard to argue against in terms of utility for LE and military personnel or security conscience civilian.  This article is intended to stimulate readers to re-evaluate their needs and how to best satisfy these needs in terms of an AR platform chambered in .308Win/7.62x51mm.  There are some missions a 5.56mm chambered AR cannot satisfy.
The basic M16/AR-15 design is hard to improve upon when it comes to launching bullets downrange accurately.  The piston-driven AR SIG 716 is no different.  Various ammunition of different makes regularly produced 1-1.5 inch groups at 100 yards.  Winchester 168gr Match, Federal 168gr Match, Hornady 168gr TAP, and Black Hills Ammunition 168gr & 175gr Match along with BHA Gold 180gr AccuBond loads were tested.  Various kinds of FMJ loads were also used including British and German manufactured 7.62x51mm surplus and Winchester 147gr FMJ.  No ammunition, including full metal jacket surplus ammunition, generated greater than 2.5 MOA accuracy levels. The piston driven SIG 716 proved reliable throughout this evaluation with over 700 assorted rounds sent downrange.  The only time any hiccups were encountered was when gas valve adjustments were being explored.  The 16-inch barrel sacrifices approximately 150-200 fps compared to 24-inch tubes.  The handiness gained from the shorter barrel outweighs the velocity lost in this writer's opinion.  The 16-inch barrel combined with 147gr and168gr bullets produced velocity in the low-to-mid 2,500 fps range when tested over a RCBS chronograph.
Further flexibility is possible with the SIG 716 Patrol by taking advantage of the rail system by mounting an ATN PS 22 night vision device and switching out the factory flash hider with one the serves as a mount for a suppressor such as the Yankee Hill Machine (YHM) 7.62 Phantom suppressor.
The 16-inch SIG 716 Patrol was evaluated at Echo Valley Training Center (EVTC).  In conjunction with the individual training bays, Echo Valley Training Center features multi-stepped target berms that are strewn with reactive steel targets, fluid drained automobiles, and moving targets at ranges varying from 150 yards out to 350 yards.  Echo Valley Training Center is further enhanced by the existence of prepared firing positions.  This allows for more realistic prone and "dug-in" trench-style firing points.  The 16-inch SIG 716 showed its true promise by performing not only within the 100 yard bays at EVTC firing from barricades and engaging multiple targets, but also back at the prepared firing position line with targets placed out to 300 yards.  Numerous drills were run involving magazine changes and moving between barricades simulating cover.  A Mayflower Research & Consulting LLC 7.62 Hybrid Chest Rig was used during range evaluations.  The Mayflower 7.62 Hybrid Chest Rig is a low-profile vest built to be used when a lightweight small package is necessary for climbing over obstacles and/or maintaining a low profile.  The chest rig is designed to carry three 7.62mm magazines in integral pouches with an adjustable shock cord retention system closure.  The front of the magazine pouch has three general purpose pouches sized to carry miscellaneous items as decided by the operator.  TacStrike steel silhouettes were situated randomly from 20 yards to 110 yards.  The SIG 716 Patrol with Leupold Mk 4 and offset Deltapoint red dot made short work of striking various targets in quick fashion.  The offset mount arrangement is a solid solution for anyone contemplating placing a variable power optic on a rifle, yet still wanting CQB optic option.  The SIG 716 Patrol supported via bipod proved just as efficient against a fluid drained automobile located at EVTC with TacStrike steel popper targets located inside the cab; some of the scenarios involved firing through the front windshield.  The Black Hills Ammunition 180gr AccuBond load is a top consideration for this type of engagement.  The bonded AccuBond round is a more reliable performer for barrier penetration compared to Match or other high accuracy bullet types.  Firing from the prone position supported by a bipod produced consistent hits out to 300 yards on TacStrike 1/4 scale steel targets.
The 16-inch barrel SIG Sauer 716 Patrol is much more than a general purpose rifle chambered in .308Win/7.62x51mm destined for rural LE departments: it should be considered for the full gamut of operations including urban deployments.  It can serve as an entry weapon, patrol rifle, or precision tactical option.  Everyone is dubious of something that promises to do several tasks well versus a specifically designed product.  The underlying concern is that compromises involved with making something adaptable invariably leads to compromises in performance.  The SIG Sauer 716 Patrol refutes this assumption.  7.62x51mm characteristics, i.e. lethality, ballistics, and manageable recoil, makes it an ideal all-purpose cartridge candidate, especially packaged in the short-stroke piston operated SIG 716 Patrol.  Chambered in .308Win/7.62x51mm takes full advantage of the AR platform maximizing firepower whether at CQB or extended range engagements.
Pages: 1 2